In order to be certain that your professional resume will support your goals, use this host/hostess job description to be informed on what you should highlight on your resume.
This article will help you identify the relevant skills, credentials and work experience that matter most to an employer in your target field.

Host/Hostess Job Description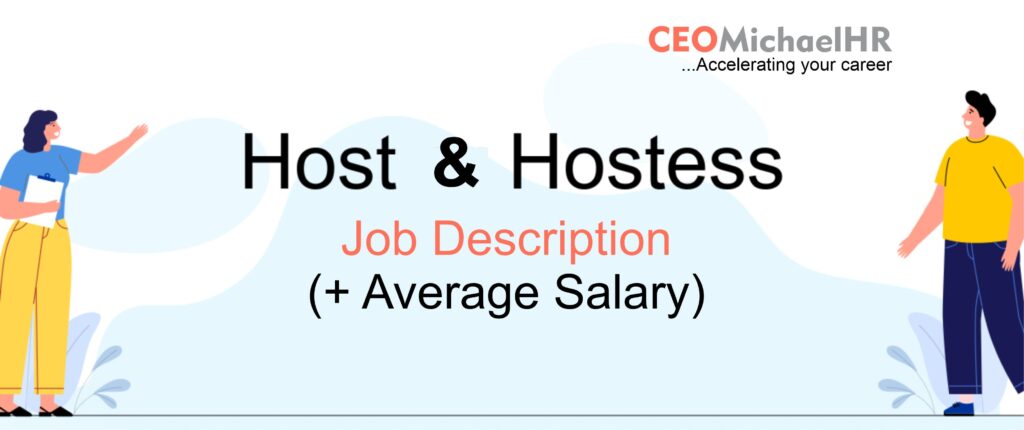 The word "host" and "hostess" describe the same job at a restaurant.
A" host" refers to a male staff member, and "hostess" refers to a female staff member.
Have you ever been to a function and welcomed by some beautiful and personable individuals with a pleasant ambience?
A host/hostess is responsible for playing this vital role and can really set the tone for a wonderful guest dinning experience.
The host/hostess at a restaurant is the first to meet the customer to ensure they feel welcomed, comfortable, cared for and valued.
They create a warm and enjoyable environment for their guest from the moment they enter the establishment.
A host/hostess greet guest upon arrival, inform guests of their wait time, monitor a waiting list, enter guest names into the computer system, show guest to their table and bid them farewell as they depart.
A Host/Hostess must be able to converse fluently and sweetly with guests without sounding scripted or intrusive.
Additionally, the Hostess performs light housekeeping duties such as passing out menus, cleaning glasses, and ensuring restrooms are tidy, and orderly.
The Host/Hostess may also need to answer phone calls and fill to-go orders when needed.
He/she must be readily available at all times.
You might like: Bartender Resume Examples – Writing Guide

Hostess Job Description Duties And Responsibilities
A host/hostess primary duty is to focus on ensuring that guest have a positive experience as soon as they enter the restaurant.
Examples of hostess responsibilities and duties include:
Warmly welcoming guests to a venue
Greet incoming and departing guest with courteous
Attend to special guest needs and requests (e.g., children, elderly)
A host/hostess ensures tables are ready and neatly arranged for seating guests
Answer incoming calls to the restaurant, address customers query and managing of reservations in a prompt and professional manner
Provide guests with menus and announce waiter/waitress's name
Manage the flow of guests into the dining and bar areas, provide accurate wait times to incoming guests if appropriate
Inspection of guest menu for cleanliness and rendering assistance to servers when necessary
Give topnotch service and uses guest recognition and preference
Host/hostess serves as intermediary between restaurant guests and restaurant staffs
Give guests sincere advice and obliging recommendations
Maintaining a positive and full energy altitude at all time
Protect establishment and patrons by adhering to sanitation, safety and alcohol control policies
Ensure that opening, closing and operational duties are completed daily
Ability to stand and walk smartly for long hours
Do table visits systematically at each meal period to ensure guest satisfaction
Issue dining charges by verifying orders; calculating taxes; totaling bill for to-go orders
Performs other job-related duties as assigned by management
Contribute to team effort by accomplishing related results as needed

Requirements:
A good host/hostess should have the following:
Must possess strong problem-solving skills
High school diploma or equivalent
Must be able to read menus
Must posses an excellent communication skill (via phone and in person)
Must posses a warm, friendly, positive and personal demeanor
Must be able to clearly communicate guests' needs to waiter/waitress's, Bussers, Managers, etc.
Must be able to hear well in a loud environment in order to answer telephone and respond to guest requests
Must be able to walk smartly and stand for a long period
Must have understanding of restaurant etiquette
Must be able to articulate clear greetings and farewells to guests
Must be able to understand a request for assistance
Always ready to render genuine assistances where needed and work effectively within a team
Passionate in providing extraordinary service
Ability to handle guest complaints as per instructions and procedures
Have an excellent knowledge about different items on the menu in order to be able to help guest answer questions and give other suggestions
Ability to bend and lift heavy objects weighing up to 30pounds
Ability to work a variety of shifts
At least 6 months experience in a full-service restaurant, preferred
Must be able to follow instructions and work with minimal or no supervision
Ability to work positively under pressure
Must follow appropriate food safety guidelines
Acute attention to details in order to track guest reservation
Self-motivated, enthusiastic and attractive personality

Educational requirements are not really necessary for this role, since this is an entry- level position.
Many hosts or hostesses are either in high school or college.
The hostess duties are one that may require on- the-job training.
You might like: Best Nanny Resume Examples (+ Writing Tips)

Host/Hostess Top Skills & Proficiencies
Customer Service
People Skills
Professionalism
High Energy
Adept Multitasking
Thoroughness
Planning
Basic Math
Teamwork
Attention to Detail
Verbal Communication
Organization
Flexible
Management Skills

Average Salary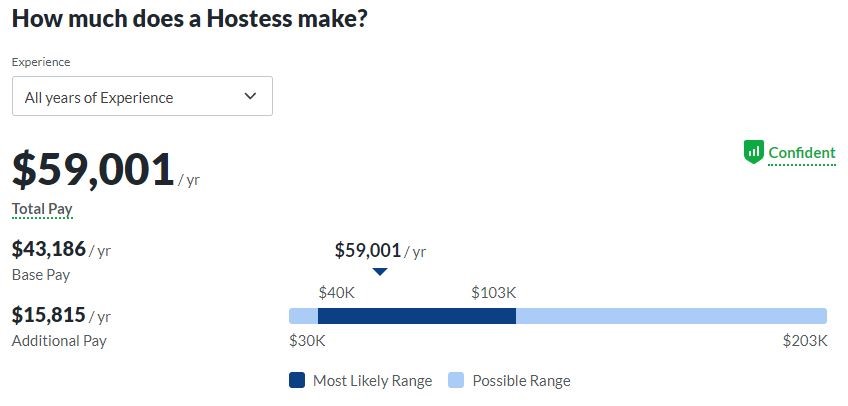 Conclusion
A host/hostess create a warm and welcoming ambience for their guests.
Their primary aim is to ensure that their guests have a positive and satisfactory experience as they arrive and depart from the restaurant.
A good hostess must be an effective communicator and well- mannered at all times.
Whether they are talking to customers in person or taking reservation via phone, they will always speak clearly and coordinated without rushing their conversation or showing any sign of disrespect.
A hostess attitude towards guest can have a lasting impact and leave them with the decision of wanting to come back or otherwise.