Land 3x more job offers and learn proven tricks for your resume with our free, carefully crafted Bartender Resume example.
Contact A Professional Bartender Resume Writer Now!
Some of the best people you will ever meet on planet earth are bartenders. But don't get fooled by those smiles, the bar jokes, and the display of mixing drinks to perfection, as with all those fun comes a whole lot of hard work and consistent practice coupled with a professional bartender resume.
In this article, I'll be showing you what to include on your bartender resume to give you an edge over fellow experienced and non – experienced bartenders seeking the same job.
Our resume samples are written by certified resume writers and it's an excellent representation of what recruiters are looking for in a Bartender resume. Use this example for reference as you create your own resume.
Sample Bartender Resume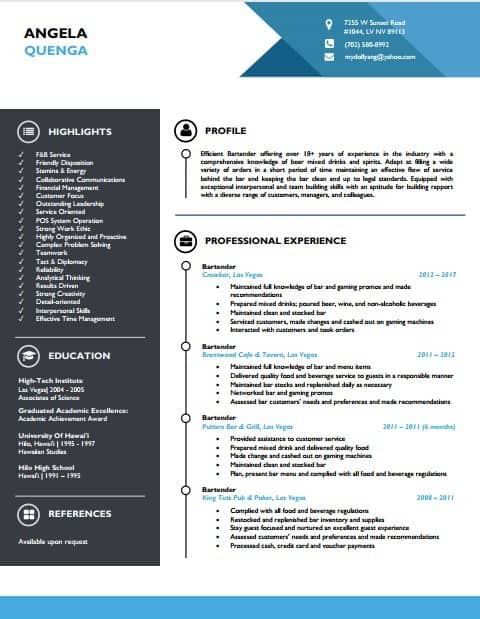 Sample Bartender Resume (Infographic Version)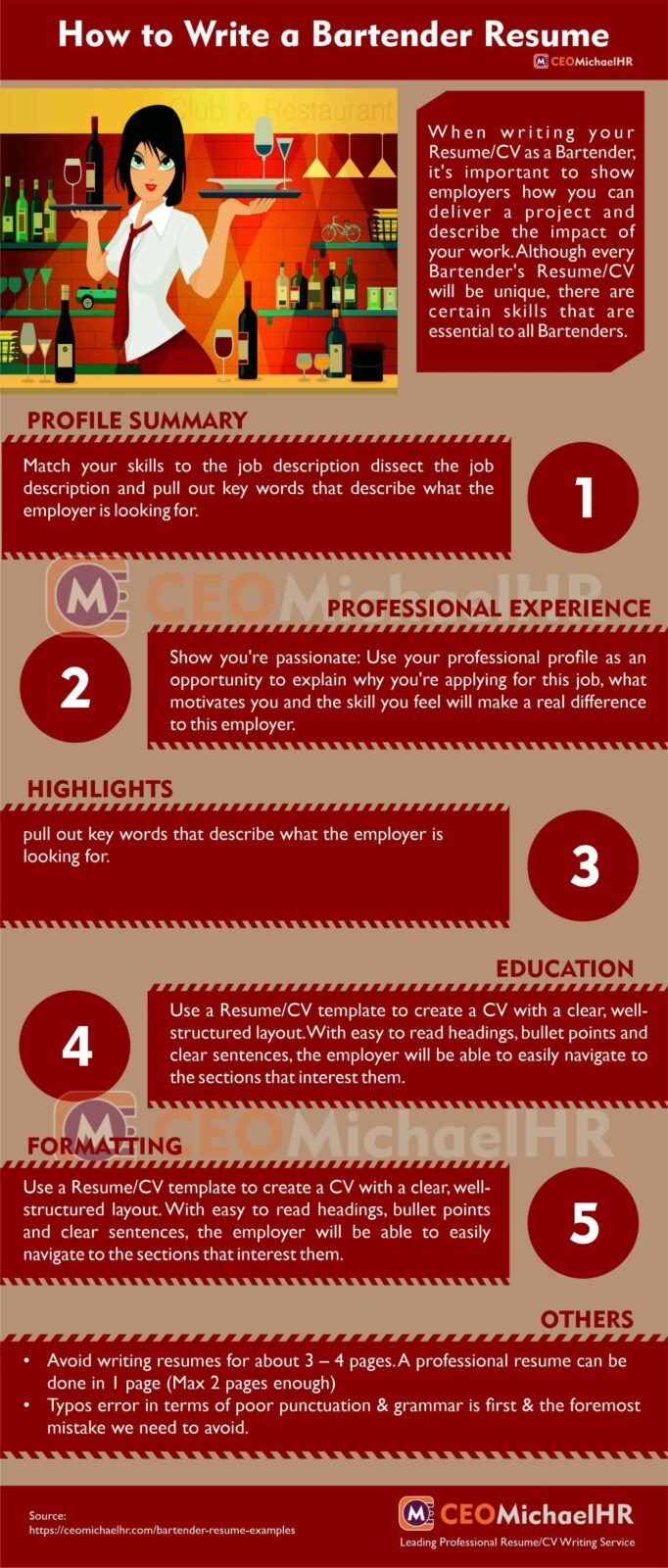 You can check out our customers reviews here.
Sample Bartender Resume (Text Version)
Angela Quenga
7255 W Sunset Road
#1044, LV NV 89113
(702) 580-8992
mydollyang@yahoo.com
Profile
Efficient Bartender offering over 18+ years of experience in the industry with a comprehensive knowledge of beer mixed drinks and spirits. Adept at filling a wide variety of orders in a short period of time maintaining an effective flow of service behind the bar and keeping the bar clean and up to legal standards. Equipped with exceptional interpersonal and team-building skills with an aptitude for building rapport with a diverse range of customers, managers, and colleagues.
Professional Experience
Bartender
Crowbar, Las Vegas | 2012 – 2017
Maintained full knowledge of bar and gaming promos and made recommendations
Prepared mixed drinks; poured beer, wine, and non-alcoholic beverages
Maintained clean and stocked bar
Serviced customers, made changes, and cashed out on gaming machines
Interacted with customers and took orders
Bartender
Brentwood Cafe & Tavern, Las Vegas | 2011 – 2012
Maintained full knowledge of bar and menu items
Delivered quality food and beverage service to guests in a responsible manner
Maintained bar stocks and replenished daily as necessary
Networked bar and gaming promos
Assessed bar customers' needs and preferences and make recommendations
Bartender
Putters Bar & Grill, Las Vegas | 2011 – 2011 (6 months)
Provided assistance to customer service
Prepared mixed drink and delivered quality food
Made the change and cashed out on gaming machines
Maintained clean and stocked bar
Plan, present bar menu and comply with all food and beverage regulations
Bartender
King Tuts Pub & Poker, Las Vegas | 2008 – 2011
Complied with all food and beverage regulations
Restocked and replenished bar inventory and supplies
Stay guest focused and nurtured an excellent guest experience
Assessed customers' needs and preferences and make recommendations
Processed cash, credit card, and voucher payments
Highlights
F&B Service
Friendly Disposition
Stamina & Energy
Collaborative Communications
Financial Management
Customer Focus
Outstanding Leadership
Service-Oriented
POS System Operation
Strong Work Ethic
Highly Organized and Proactive
Complex Problem Solving
Teamwork
Tact & Diplomacy
Reliability
Analytical Thinking
Results Driven
Strong Creativity
Detail-oriented
Interpersonal Skills
Effective Time Management
Education
High-Tech Institute
Las Vegas| 2004 – 2005
Graduated Academic Excellence: Academic Achievement Award
University Of Hawai'i
Hilo, Hawai'i | 1995 – 1997
Hawaiian Studies
Hilo High School
Hawai'i | 1991 – 1995
References
Available upon request
There are several bartender resume samples or bartender resume templates out there but we've picked the best sample (above) for you. Like or don't like what you see? Chat with a professional for FREE!
Also, for those in Austin Tx, check out our resume writing service plans currently ongoing.
Bartenders are people who mix, prepare, and serve beverages and drinks to customers. They even offer cocktail recipes to customers at bars and pubs. Their job requires them to mix and garnish cocktails as well as non-alcoholic beverages. In all, they handle basic cleaning, create cocktail recipes, and are generally people-oriented.
Certain skills and abilities are required of a good bartender, which includes being observant, meticulous, courteous, and always concerned about customers' satisfaction.
Bartender Resume Descriptions
This bartender resume description will help tailor your resume to suit the need of employers.
Some bartender responsibilities include:
Preparing, mixing, and serving alcoholic or non-alcoholic beverages to customers at the bar
Interacting, taking orders, and serving drinks to customers
Evaluating customers' needs and preferences, while making appropriate recommendations to management
Bartender Job Description Adverts from Employers:
We are looking to employ a highly motivated Bartender to offer excellent bartending services
Excellent Bartenders should be able to create classic cocktail recipes and innovative drinks while exceeding customers' preferences and expectations
Payment includes salary and tips
Bartender Job Responsibilities by Employers
Prepare, mix and serve alcohol or non-alcohol beverages to bar/restaurant patrons
Interact, take orders, and serve snacks and drinks to bar/restaurant patrons
Assess the needs, preferences, and expectations of patrons, while making recommendations to management
Garnish ingredients to prepare cocktails
Plan and present bar menu to patrons
Run customers' identification and confirm if it meets the legal drinking age
Restocking and replenishing bar inventory and supplies
Adhere to food and beverage regulations

Bartender Job Requirements by Employers
Proven job experience as a Bartender
Good grasp of mixing, garnishing, offering cocktail recipes, and serving drinks
Computer literate
Proficiency in a second language is a plus
Excellent communication skills and a positive attitude to work
Able to keep the bar area clean, sterile, organized, and stocked
Relevant certification

How Do I Include Bartending on a Professional Resume?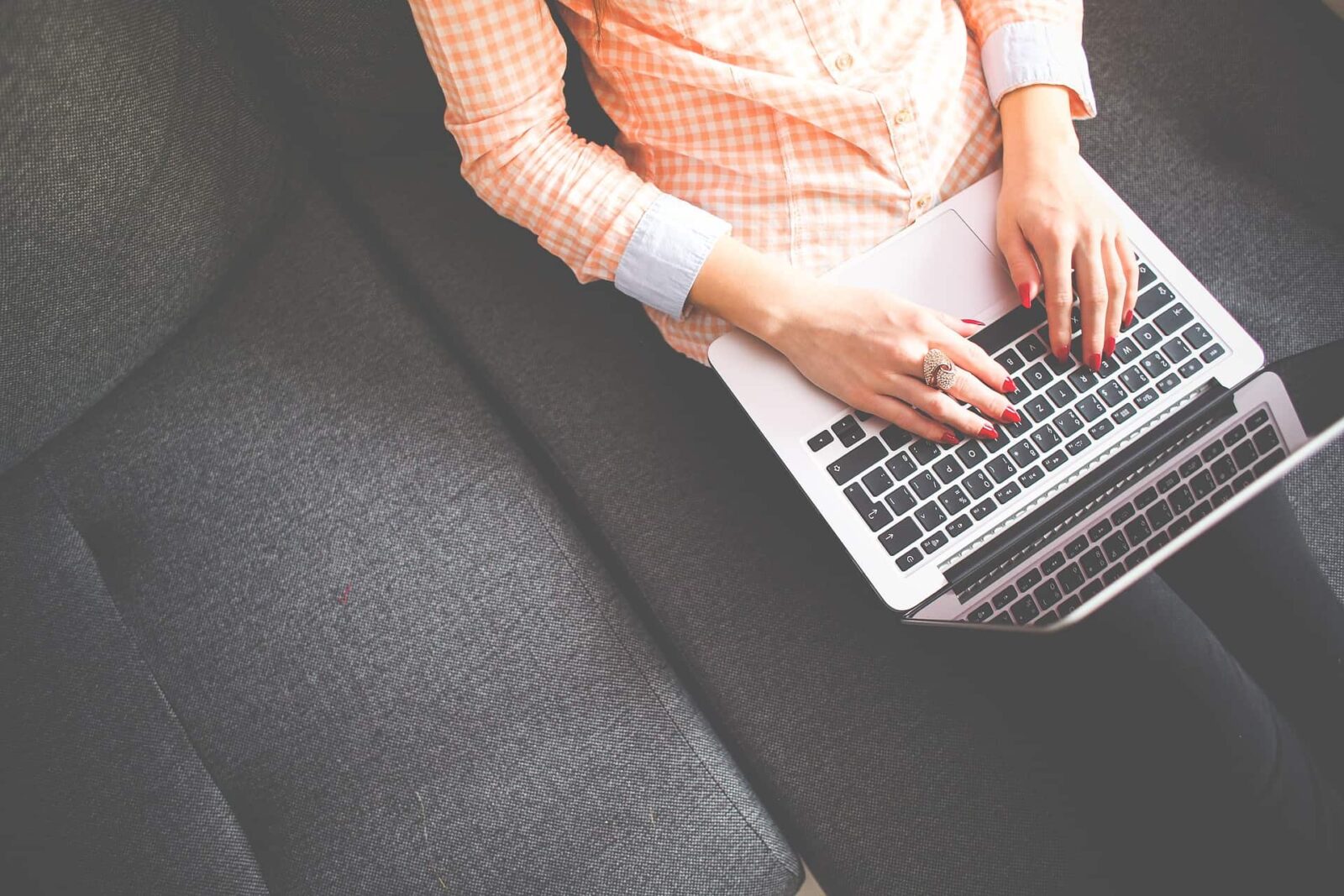 Wondering how to make that bar job look professional on your resume? Here's how…
Usually, when you step into the job market, you are most likely going to start off in the hospitality/tourism sector, with such job roles as a Waiter/Waitress, Cashier, Bartender, Chef, etc.
This sector usually helps you build your career while providing the needed experience for future jobs in life.
So, it is not uncommon for people to think that a bartending job does not look professional enough to fit in a resume. Therefore, it is a great chance to show off your bartending skills on a large scale.
Job skills are those excellent qualities that recruiters look out for, aside from academic qualifications.
Some of the skills encompasses IT skills, the ability to work in a team, logical reasoning, and all knowledge you have acquired in previous jobs.
So, basically, there are skills that employers look out for when hiring.
While writing a bartender resume, cover letters, or during interviews, you should always highlight those skills that are relevant to the job you're putting in an application.
Endeavor to emphasize the skills that are mentioned in the job description. Research the company and the job advert for the skills to highlight on your bartender resume.
Typical skills that employers look out for include:
Teamwork
Communication Skills
Personable skills
Leadership skills

How to put Bartending Skills on a Professional Resume?
Here are examples of what you should include:
Time management: Prioritizing work and drawing up schedules to meet deadlines
Writing skills: Dissertation, essay writing, etc
IT skills: Proficient in the use of word processing, spreadsheets, graphic design, and managing emails
Interpersonal skills: Liaising with fellow workers and communicating with customers
Touching up these skills will surely give your bartender resume a professional look.
Bartender Resume Objectives
Writing a Bartender Resume Objective that will catch the attention of the recruitment manager is very crucial to landing a job interview, hence the need to be meticulous about it.
While crafting bartending resume objective, it is paramount that you highlight all the qualifications and skills you possess that would catch the attention of the recruiter.
For a bartender resume objective, always include the name of the business outfit in your resume objective. It shows you're sincerely desirous of being part of the business.
Here are sample bartender resume objectives:
Sample1:
Looking for a Bartender role with XYZ business that will benefit from years of experience in preparing, mixing, serving drinks, balancing cash receipts, and ordering supplies
Sample 2:
Looking to secure a Bartender job at CDE business in order to offer customer service and marketing skills
Sample 3:
Highly organized with 8+ years of work experience, preparing, mixing, garnishing, and serving cocktails, planning and preparing bar menus with cocktail recipes, looking to fill a position with EFG company as a Bartender
Sample 4:
Committed professional with skills in establishing interpersonal communication and customer service, seeking to fill a Bartender position with BCD company
Furthermore, a good Bartender should possess some marketing skills, in order to get the customer's patronage. Your bartender resume objectives should be able to convince the recruitment manager that you are capable of successfully managing your bartending duties.
Eye-Grabbing Bartender Resume Objective Writing Guide & Examples
The resume objective section of your Bartender resume is the section of your resume that states or rather tells your prospective employer right away the position you wish to fill, without hesitation.
In addition to that, it is a chance to immediately begin to sell your skills to the recruitment manager by clearly stating your abilities, knowledge, work experience, and qualifications as a bartender.
There is no doubt that the recruitment manager will be very interested in what skills and abilities you possess and able to bring to the table.
So, stating those at the outset of your resume will urge him/her to read the rest of your resume.
The resume objective statement can come in different formats and styles, but in all, keep in mind that it has to be short, detailed, and descriptive.
While writing your resume specifically for a known company, you should endeavor to include the name of the company in your resume objective.
This is very important!
If you know the required work experience or skills that the employers are looking for, which you possess, then you should write a strong resume objective by highlighting those skills or work experiences.
Generally, for a bartender resume, some of the common skills, knowledge, and experience needed by employers and recruitment managers, which you should include while writing your resume objective include:
Knowledge of drinks, beverages, and regulations/laws pertaining to serving of alcoholic drinks
Ability to receive payments and make change without errors
Ability to work in harmony with colleagues and treat guests politely
Ability to give customers great satisfaction so they could come again
Ability to organize equipment, clean and sterilize the bar environment

Good objective examples for bartending resume:
Looking for a position with ABC company as a Bartender where I can offer exceptional knowledge of liquor laws and regulations regarding service of alcoholic drinks, and knowledge of wines and spirits quality to provide exceptional bar services to customers
To work as Bartender in a high-end lounge environment utilizing exceptional customer service and friendly demeanor in providing bar and liquor service to guests quickly and accurately
Looking to fill the position of Bartender in a challenging hotel environment where five years bartending experience in top hotels will be utilized in providing responsible alcohol service following state and local laws and regulations as well as company policies
Desire the job of Bartender in ABC Company, employing exceptional skills and knowledge of beverage preparation, liquor, to give customers an awesome experience
To be part of the CDE Bar service team as Bartender, bringing excellent cocktail preparation skills and great knowledge of alcohol awareness procedures for recognizing underage persons, avoiding intoxication, and handling intoxicated guests
Looking to fill the position of Bartender in a reputable hotel where my six years experience serving wine, liquor, bottled beer, and other beverages will be maximally put to use to render excellent customer service to clients
Incorporating these approach to write your resume objectives will earn you a job interview and possibly a job at that bar.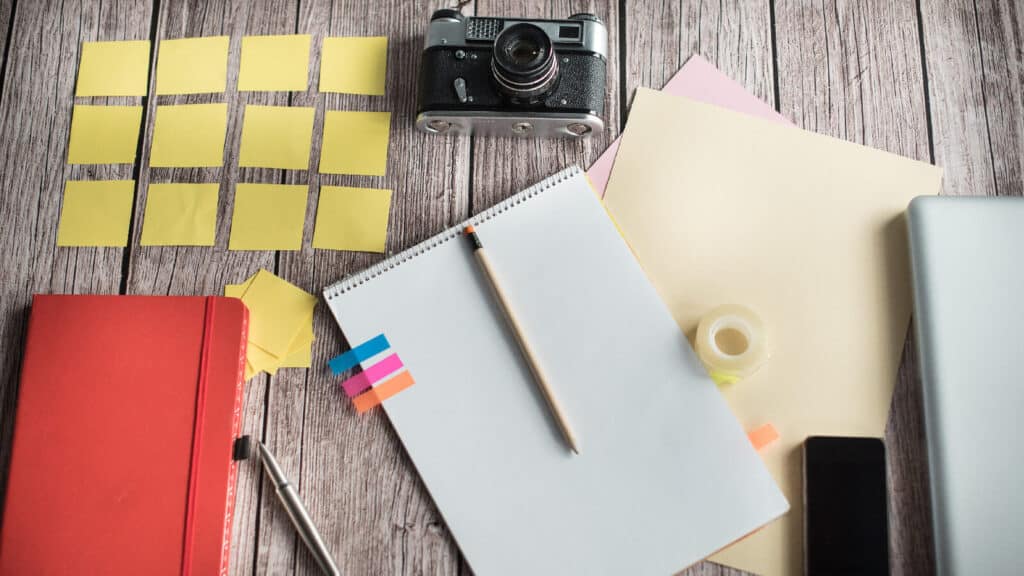 What Strong Adjectives Should I Include In A Bartender Job?
Strong adjectives you should include in a bartender job.
Your resume needs to be as comprehensive and detailed as possible and to achieve this; you'd need to highlight your bartending skills using strong descriptive word adjectives.
You should be able to capture your greatest work achievements in three to five sentences.
Assuming you created a cocktail recipe or a drink that became everyone's favorite or increased the number of patronages, you should use strong adjectives to describe how you achieved that.
Also, use strong adjectives to explain how you probably stayed calm, while handling a three-deep bar on a Friday night.
This information will come under your resume summary and it occupies a top position on your resume, so don't mess it up!
Emphasize those key attributes that stand your qualifications out, as well as those achievements you've garnered from previous positions as a bartender.
Bartender resume examples with strong adjective:
Highly motivated professional Bartender with exceptional customer service skills.
Knowledgeable about pricing, drink mixing, and dedicated to service with a positive attitude.
Proficient in maintaining clean, sterile, and organized bar area, and committed to providing patrons a satisfying experience.
A good bartender resume should highlight your ability to provide excellent drink and customer service. It should also contain work experiences in food and beverage environments, with a focus on how satisfied your customers were.
A bartender resume should prove your dedication to customer satisfaction, plus your ability to solve problems when they arise.
How Do I Describe Bartending On A Resume?
Bartenders prepare, mix, and serve drinks to customers themselves or through waiters.
A bartender's resume usually highlights duties and responsibilities such as collecting cash, keeping bar equipment and area clean and sterile, limiting excessive drinking by patrons, maintaining stocks, planning, and preparing bar menus and appetizers.
While describing bartending on your resume, you should consider important qualifications for a bartender job including service skills, attention to detail, multitasking, communication and interpersonal skills, excellent customer service, and teamwork.
Here's a format of how to describe bartending on a resume
Sample 1:
Recruited, trained, and supervised restaurant staff of 15 to uphold standards, food and drink quality, and ensure customer satisfaction
Sample 2:
Managed bar, cocktail recipes and bar menu, inventory, and ensured regulatory compliance
Sample 3:
Maintained inventory of alcohol, beverages, and supplies to ensure a high volume of weekly and daily sales
Sample 4:
Prepared and balanced daily and weekly sales reports; assessed and coordinated staff, while increasing profit
Achievements:
Optimized social networking sites to increase revenue and timely collaboration with patrons
Collected and organized over $25,000 in gross revenue/tips on a monthly basis
Allocated time management, efficiently working 15-25 hours while enrolled as a full-time student
Demonstrated multitasking ability, dealing with various situations/individuals with over 1,000 customers weekly

What Are Bartender Job Duties and Responsibilities?
A Bartender has a variety of duties and responsibilities, and they include:
Verifying and identifying age requirements of customers
Mixing and creating cocktail recipes
Processing payment for clients
Cleaning glasses and bar equipment
Making suggestions based on customers' needs and preferences
Recording and balancing cash receipts; preparing cash deposits and taking inventories
Opening and maintaining tabs throughout shifts
Building a rapport with regular customers to create a friendly atmosphere

Bartender Resume Summary
Resume summaries are gradually replacing resume objectives, taking the topmost section on every job resume, including bartending.
Recruitment managers who are looking to hire bartenders are most likely to favor resume summary than resume objectives, in any case, it's important you learn how to write an effective resume summary for your bartender resume.
Good thing is, it's easy to write one. Here's how…
A bartender resume summary should contain all your key skills, certificates, and special job experiences you've been able to gather over the years in your past bartending jobs.
Are there skills you boast of for an excellent bartending job? Include them!
Can you clean up real good?
Because for the job of a bartender, you'd need the ability to clean up real good, keep a place sterile, mix drinks excellently well, possess knowledge on the pricing, and how the drink machines work.
A bartender resume summary should contain all your people-skills because they too count for a hirer. In all, highlight those skills and make them stand out, that's your leverage!
How to Write an Effective Bartender Resume Summary
You need to know the format you should follow to write an effective bartender resume summary.
The first paragraph of your resume should highlight five or at most six of the skills, certificates, achievements, and job experiences that you possess for the job, at the uppermost section of your resume.
This gives you a simple chance to present what makes you the most suitable candidate for that bartender job.
The most costly mistake any job seeker would make is to sound vague while writing a resume summary, more so, for a bartender job.
Here's what I mean, rather than sounding vague and downright plain, for instance 'professional bartender with years of experience in mixing and serving drinks'.
You could be more specific and flowery, here's an example: 'Energetic bartender with four years' experience in garnishing, mixing, serving cocktails and offering cocktail recipes.
Now, this is a more descriptive and detailed alternative to the first one. This is important because your hirer is looking out for your experience and your capabilities when employed.
Here's another important tip for writing an effective bartender resume summary. Ensure your bartender resume summary contains only skills that you can substantiate.
There is really no need to be dishonest about your skills. Lying on your resume is such an unwise thing to do because it often comes back to haunt you.
So, keep your resume summary clean and honest.
Here are samples to follow when writing your bartender resume summary:
Sample 1:
Carefully organized bartender with 7 years' work experience; mixing and serving varieties of beverages to customers; Possess excellent communication skills in both English and Spanish languages, excellent knowledge of the pricing and mechanics of drink machines and organizational skills that allows for high productivity
Sample 2:
Five years' work experience in mixing, garnishing, serving drinks, and cocktail recipes with ease and accuracy; Ability to operate drink machines and cash register with ease and accuracy; Demonstrated ability to keep work area clean and sterile, while stocking and keeping work area organized
Sample 3:
Professional bartender with 3+ years' work experience in mixing, serving drinks and cocktail recipes at high-end bars; Excellent knowledge of pricing, inventory levels, and operating drink machines; Proven record in handling pressure at work and managing a crowd of customers; Demonstrated ability to keep the bar area clean and sterile, while organized and stocked
Now, that's how to show off your bartender skills, work experience, and achievements on a bartender resume summary.
I hope from the various bartender resume examples I have shown above, you've been able to have an idea on how to write your own bartender resume yourself.
Having issues writing your bartender resume? Let us help you write a professional bartender resume that will land you the job you deserve 3x faster!
Recommended articles for resume:
How far back should a resume go?
How to write a resume with no work experience.