Employers or recruiting managers come in contact with hundreds or thousands of resumes on a daily basis, some of which are bypassed or downsized while some are paid keen and rapt attention to.
The question we are faced with is why would a resume be downsized and another given rapt attention to? Our selection of bad resume examples gives a perfect answer to this question.
In this article, I will show you what a bad resume is, several bad resume examples, good resumes vs bad resumes, and much more.
A bad resume is not entirely bad in itself, just that it won't land you an interview and I bet you wouldn't want that to happen to you right?
Before we dive deep, I will like us to have an understanding of what bad resumes are and what differentiates it from good ones.
Good Resume VS Bad Resume Examples
What is it that makes a bad resume bad and a good resume good? Let's find out.
A good resume is one that is:
Simple and precise
Reader-friendly
Impresses and gets the hiring manager attention
Bypasses over 270+ applicant tracking systems
Lands you an interview
Gets you the job

Good Resume Example
Check the example I have provided below that shows how a good resume should look like: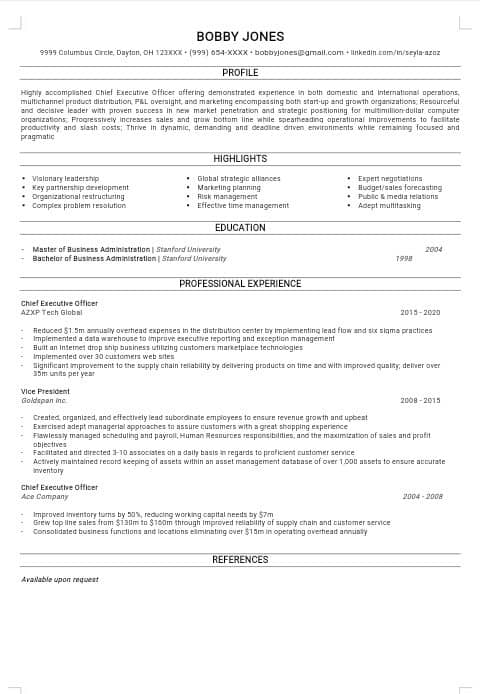 Looking for other good resume examples? Click here.
Also, for those in Austin Tx, check out our resume writing services plans currently ongoing.
Bad Resume Examples
Bad resumes are common and a lot of people don't know that the reason why they keep getting rejected is because of the resume they carry. A bad resume won't attract the hiring manager's attention, rather it would be laughed at and won't land you the job.
A bad resume sometimes:
Takes the form of a cover letter as information is represented in a paragraph instead of bullet points
Exceeds the two-page limit unnecessarily
Do not tailor skills and qualifications to the job the applicant is applying for
Has a shallow work experience in which the work experiences provided cannot be quantified and is not tangible
Has lots of bad grammar and typographical error
Contains an invalid email address
Recommended reading: The differences between a curriculum vitae and a resume
If you are a job seeker, below are common resume mistakes to avoid while drafting your resume. They are:
Bad Resume Example 1
Poor layout
A good resume should not look anywhere like a short story, and avoid the use of long blocks of text.
Your information should be split into designated sections and represented using bullet points.
Your work experiences and educational qualification should follow the chronological format of resume writing.
Check out the bad resume below: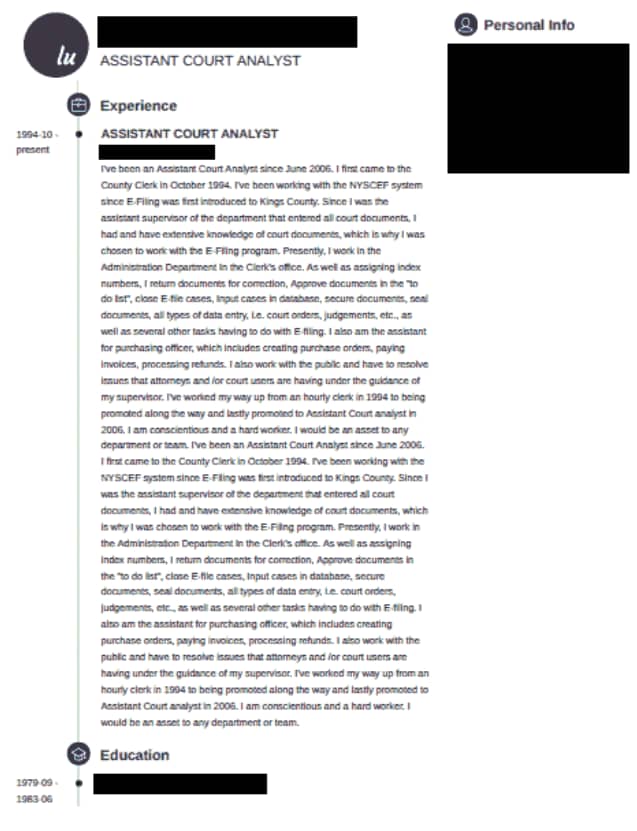 Bad Resume Example 2
Including too much information in your resume
The professional experience section of your resume should contain experience, achievement, and accomplishment tailored to the job description.
Don't go overboard providing the necessary and unnecessary details about the duties you carried out in your past jobs.
Stick to experiences that are tailored to the job you are applying for and avoid providing too many details.
If your resume looks like the bad resume sample above, I guarantee that the recruitment manager won't bother reading or skimming through your resume

Contact A Professional Resume Writer Now!
Bad Resume Example 3
Not using the right format
While drafting your resume, avoid the use of random capitalization, special characters, unnecessary spacing, large font, and inappropriate punctuation, like the one used in the resume below.
This makes your resume incomprehensible for the recruitment manager.

Bad Resume Example 4
Irrelevant skills
Highlighting Skills on your resume matters a lot because this is part of the criteria used by employers to gauge whether or not you are suitable for the job.
Providing skills that are irrelevant to the job or that are not properly highlighted is what I would call a total waste of time, however good your resume looks, your skills have a lot to say about you.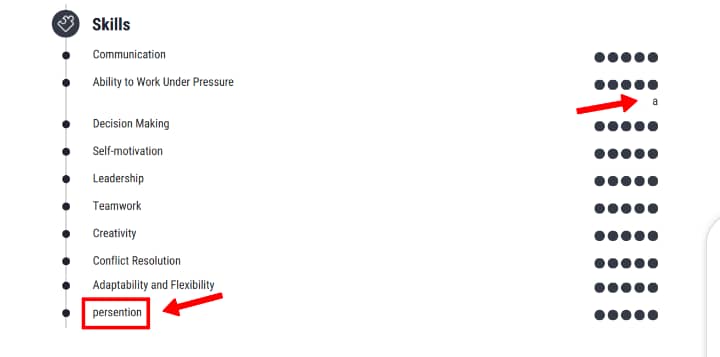 Bad Resume Example 5
Spelling errors
This is another example of a bad resume. Spelling errors are one of the worst things that should not be found on your resume as a single spelling error can disqualify you.
To avoid these spelling errors, ensure you go over your resume over and over again. After you must have completed the resume, you should also give someone else precisely an editor to help you proofread, this will help avert unnecessary spelling errors from your resume.
Not including action verbs
Every bullet point in your work experience section should begin with an action verb.
Adopt the use of strong action verbs in your work experience section as this helps to measure the level of role and responsibilities you carried out in your past jobs.
There are other reasons why your resume might not land you a job, but I have made mention of the bad resume examples the recruitment manager comes in contact with on a daily.
Bad Resume Example 6
You may avoid the use of a passport photograph
Except if it is one of the criteria in your job listing, adding a photo to your resume may not be a very good idea especially when you are not good with graphics designing.
Your whole resume will end up looking shabby because of the passport photograph you may have incorporated wrongly.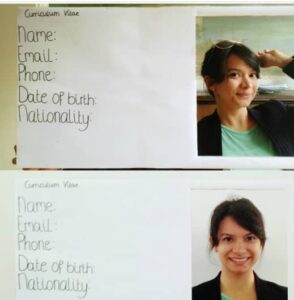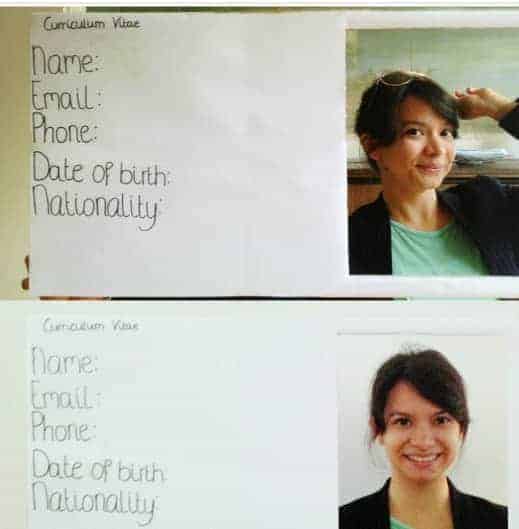 Should I use a resume template?
Using a resume template for a professional job isn't a good idea. The reason being that you won't stand out as a lot of job seekers like yourself are probably using the same resume template.
We always advise you to go for a custom resume template as this will improve your chances of getting hired greatly.
If I may ask you, which of the following resumes would most likely get thrown in the garbage:
A resume template used by 10 different people?
A custom resume designed by our ceomichaelhr professional writers?
Let me know your answer in the comments below.
Need help writing your resume? Let's help you write that professional resume that will land you your dream job. Please leave a comment below, let's know your thoughts.
Related Articles:
Bartender Resume Examples
Q&A: How Far Back Should A Resume Go (FOR WORK HISTORY) 2021?