Looking for some really bad resume examples you definitely should avoid in 2023?
Well, we've got 6 of the most common bad resume examples to cover in this article.
Employers or recruiting managers come in contact with hundreds or thousands of resumes on a daily basis.
Some of which are bypassed or downsized while some are paid keen and rapt attention.
The question we are faced with is why would a resume be downsized and another given rapt attention?
Our selection of bad resume examples gives a perfect answer to this question.
In this article, I will show you what a bad resume is, several bad resume examples, good resumes vs bad resumes, and a whole lot more.
Let's dive in!

Good Resume Vs Bad Resume Examples
There're a range of resume errors or mistakes that can have an immediate ruin on your chances of landing a job interview.
Tailoring a winning resume that's going to grab the attention of a potential recruiter is more of a fine art where even the tiniest of details can make the biggest of differences.
We have honed in on those little details that differentiates a bad resume from a good one.
What is it that makes a bad resume bad and a good resume good?
Let's find out.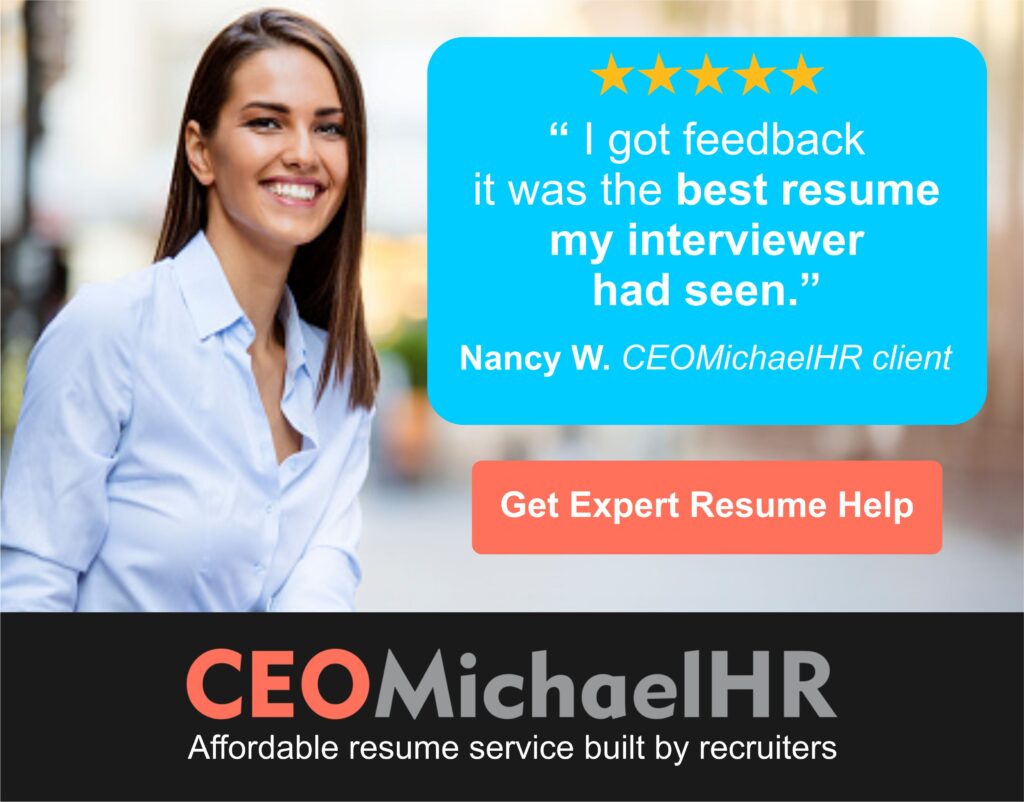 Good Resume Example
A good resume is one that is:

Simple and precise
Reader-friendly
Impresses and gets the hiring manager attention
Bypasses over 270+ applicant tracking systems
Lands you an interview
Gets you the job


Want to save time and have your interview-ready resume in just 2-5 days?
Let our CEOMichaelHR certified resume writers take the guesswork out of resume writing by summing up and professionally showing off your industry skills and experience.

Good Resume Example Template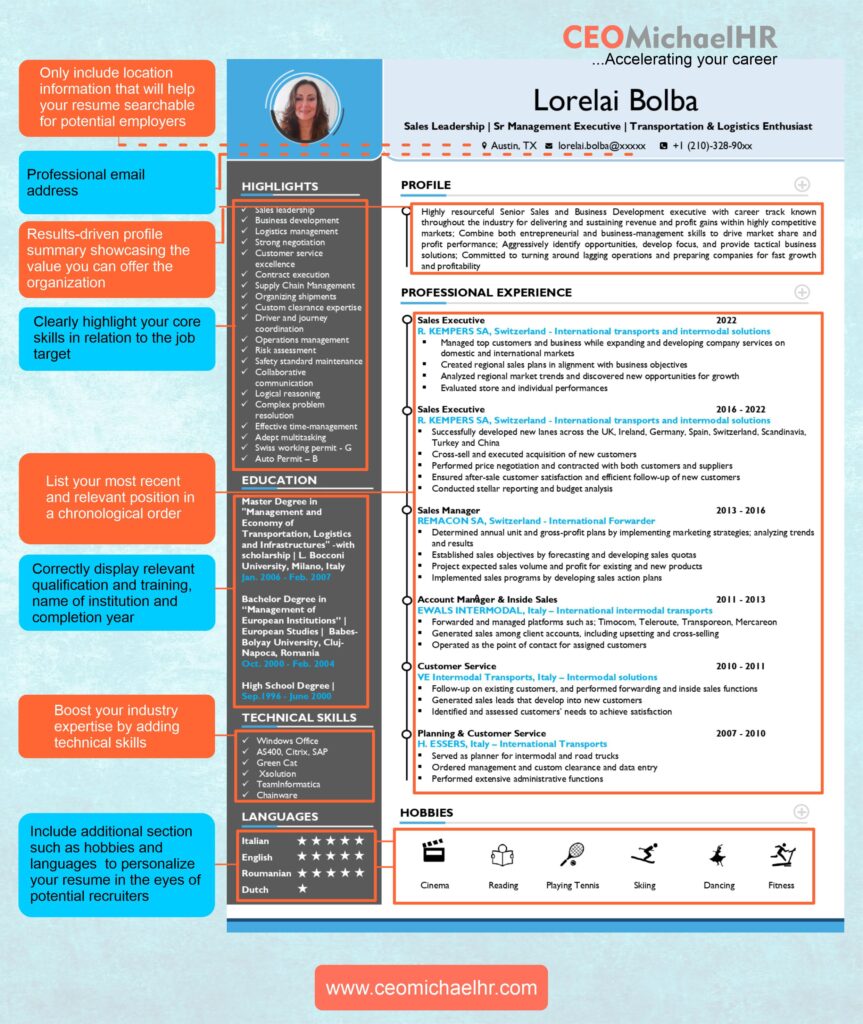 Our resume samples are written by certified resume writers and this is an excellent representation of what recruiters are looking for in a good resume.

One of our customers, Ashphu, had this to say:

My resume writer Rolyns, did a great job with the format, as well as the content. He wonderfully conveyed my skills in a concise and direct manner. I started getting phone calls from potential employers almost immediately after the resume rewrite.

A good resume as seen above can most definitely shoot your career to the next level.
According to a 2018 Study by The Ladders, they added that;

A good resume is characterized by a simple, reader-friendly layout, with a resume summary or resume objective statement up top.


How about a bad resume then?
It definitely won't cut it to land you an interview.
Lets see why?

Bad Resume Example
According to a recent study by CEOMichaelHR, we gathered that making any of these resume mistakes below would be an immediate turn off to potential recruiters:

A bad resume is one that has:

Grammatical errors and typos (89%)
Unprofessional email address (42%)
Tasks based duties without metrics (40%)
No use of bullet points (35%)
Generic resume not tailored to the job (27%)
Resumes with length up to 3 pages (22%)
No attached cover letter (12%)


Graph showing the % of recruiters that would reject the resumes with the above errors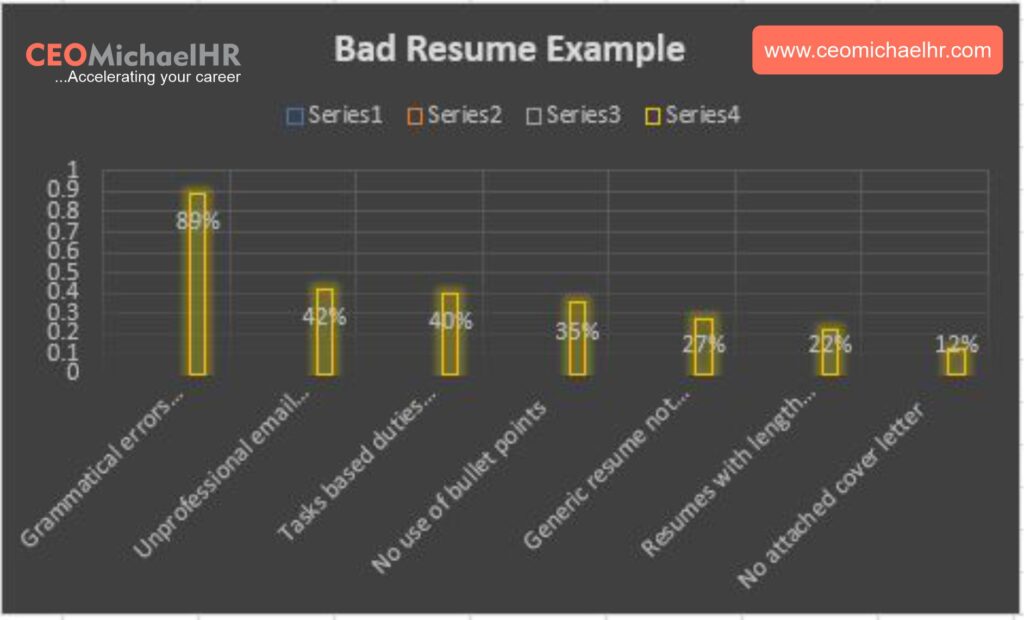 Bad resumes are common and a lot of people don't know that the reason why they keep getting rejected is because of the resume they carry.
A bad resume won't attract the hiring manager's attention, rather it would be laughed at and won't land you the job.

A bad resume sometimes:
Takes the form of a cover letter as information is represented paragraphs instead of bullet points
Exceeds the two-page limit unnecessarily
Do not tailor skills and qualifications to the job the applicant is applying for
Has a shallow work experience that is not tangible or metric-driven
Has lots of bad grammar and typographical error
Contains an invalid email address

Bad Resume Example Template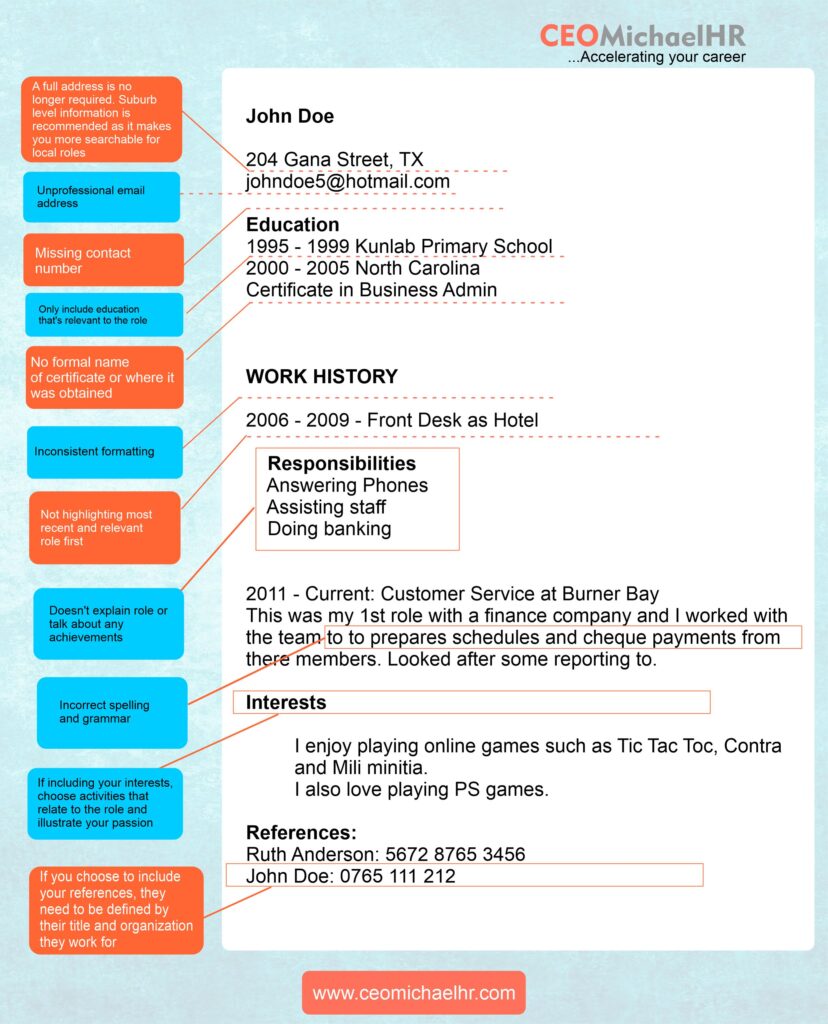 You might like: Is Canva Good for Resumes?
So, without wasting much time, below are some of the worst resumes we found.

Bad Resume Example 1
Poor layout
A good resume should not look anywhere like a short story, and avoid the use of long blocks of text
Your information should be split into designated sections and represented using bullet points
Your work experiences and educational qualification should follow recommended formats of resume writing (chronological, functional or combined) depending on your unique situation

Check out the bad resume below: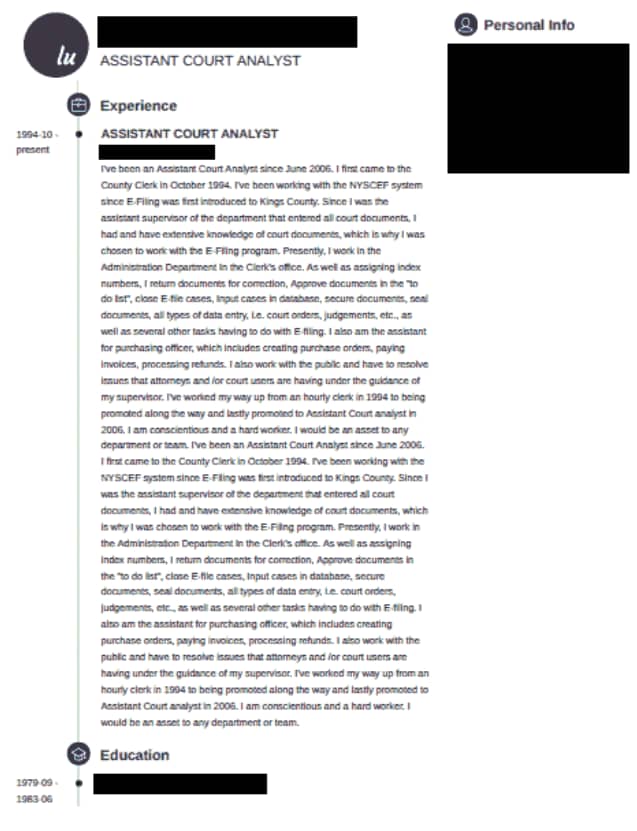 Bad Resume Example 2
Including too much information on your resume
The professional experience section of your resume should contain experience, achievement, or accomplishments tailored to the job description
Don't go overboard providing https://whitespools.com/ unnecessary details about the duties you carried out in your past jobs
Stick to experiences that are tailored to the job you are applying for and avoid providing too many details
If your resume looks like the bad resume sample below, I guarantee that the recruitment manager won't bother reading or skimming through your resume
You might also like: The Predictive Index Test (All You Need to Know)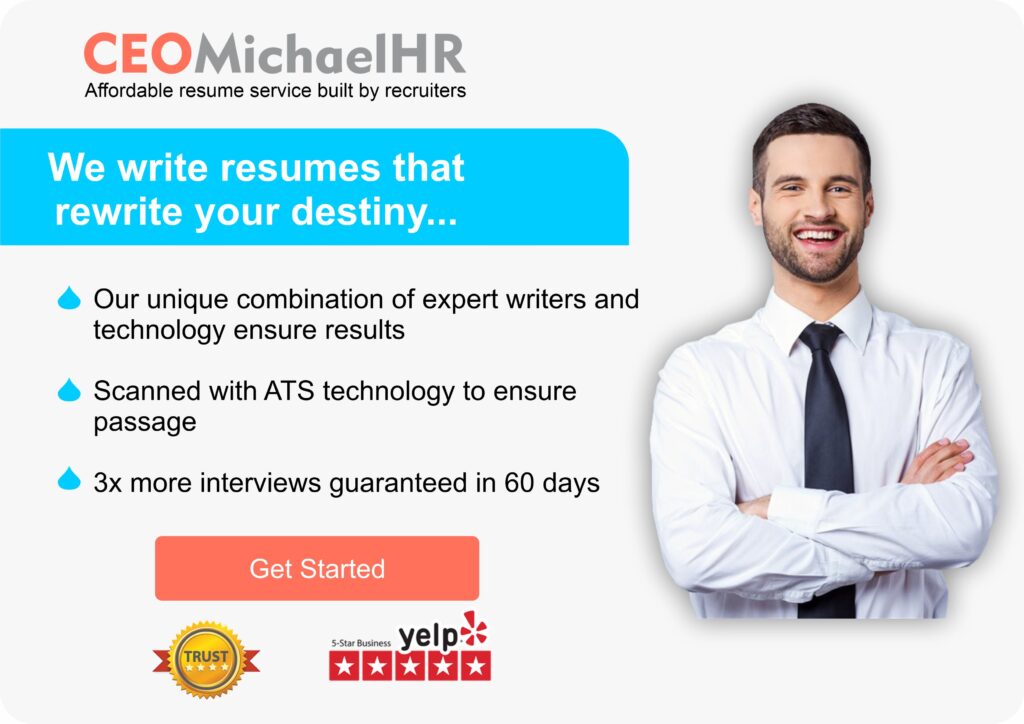 Check out the bad resume below: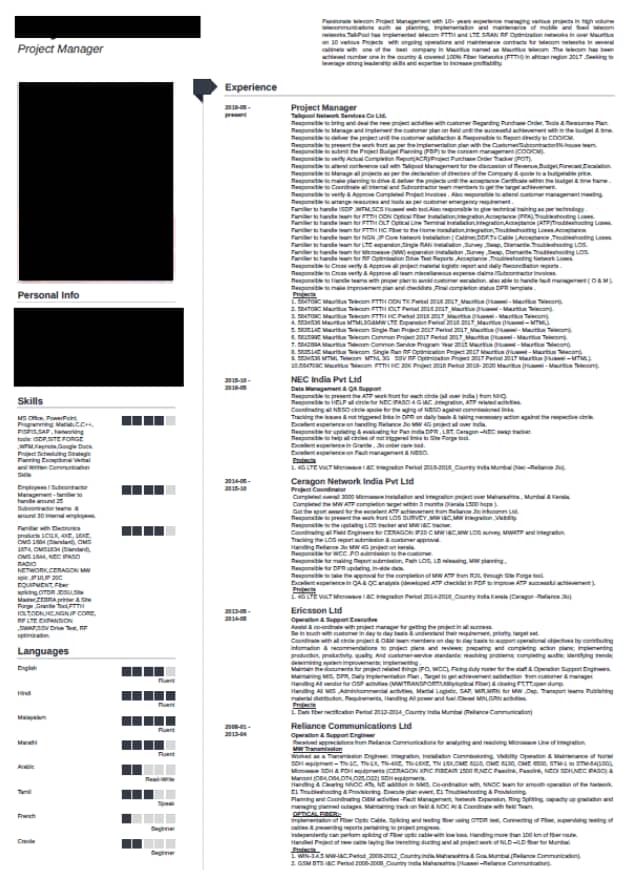 Bad Resume Example 3
Not using the right format
While drafting your resume, avoid the use of random capitalization, special characters, unnecessary spacing, large font, and inappropriate punctuation.
This makes your resume incomprehensible for the recruitment manager.
The bad resume example below is so terrible that if it were to be used in any eye-tracking study, the recruiter would be left cross-eyed.

Check out the bad resume below: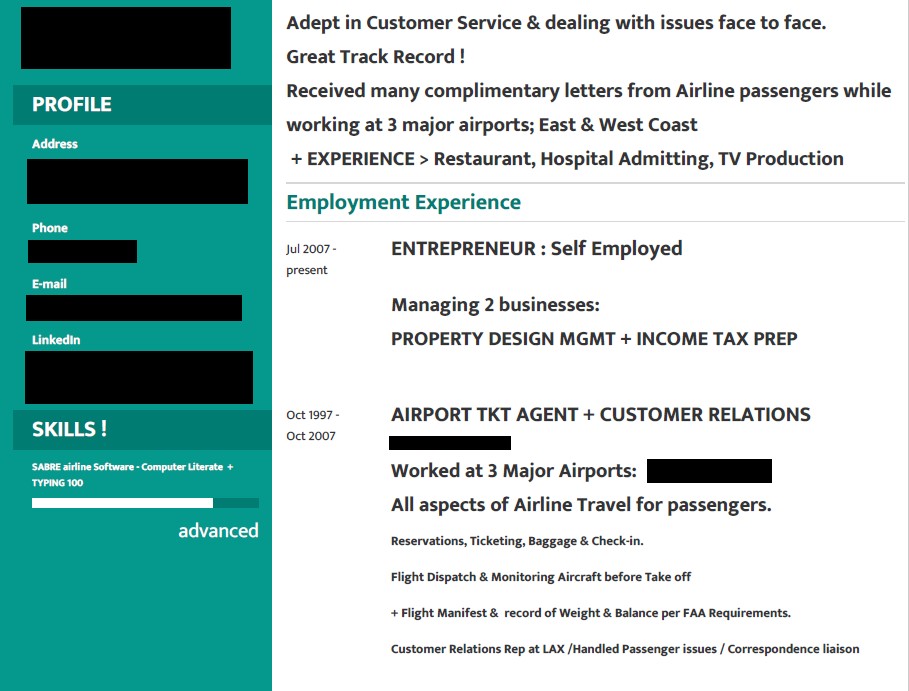 Bad Resume Example 4
Irrelevant skills
Highlighting skills on your resume matters a lot because this is part of the criteria used by employers to determine whether or not you are suitable for a specific job role.
Providing skills that are irrelevant to the job or that are not properly highlighted is what I would call a total waste of time.

However good your resume looks; your skills have a lot to say about you.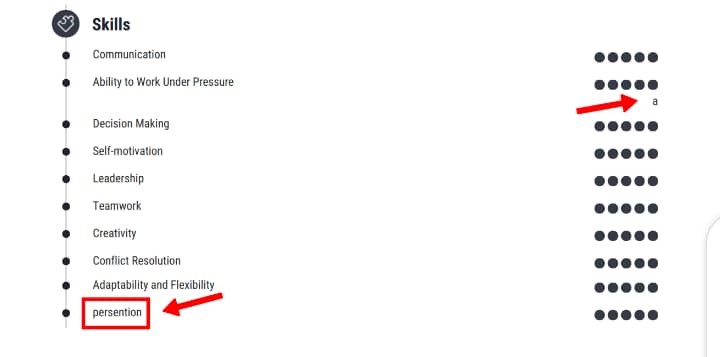 You might like: 15 Key Skills to Put On a Resume Right Away (+ Bonus Infographic)


Bad Resume Example 5
Spelling errors
This is another feature of a bad resume example.
Spelling errors are one of the worst things that should not be found on your resume.
A single spelling error can disqualify you immediately.
To avoid these spelling errors, ensure you go over your resume at least 3 times over.
We advise you give your finished resume to someone else precisely an editor to help you proofread.
This will help avert unnecessary spelling errors from your resume.

Not including action verbs
Each bullet point in your work experience section should begin with an action verb.
Adopt the use of strong action verbs in your work experience to help measure the level of role and responsibilities you carried out in your past jobs.
Recruitment managers come in contact with a lot of these bad resumes on a daily basis.
To be on a competitive edge, it'll be great you take note and make necessary adjustments ASAP.

Check out the bad resume below:



Bad Resume Example 6
You may avoid the use of a passport photograph
Except it is one of the criteria in your job listing, adding a photo to your resume may not be a very good idea especially when you are not good with graphics designing.
Your whole resume can end up looking shabby because of the passport photograph you have incorporated wrongly.

Check out the bad resume below: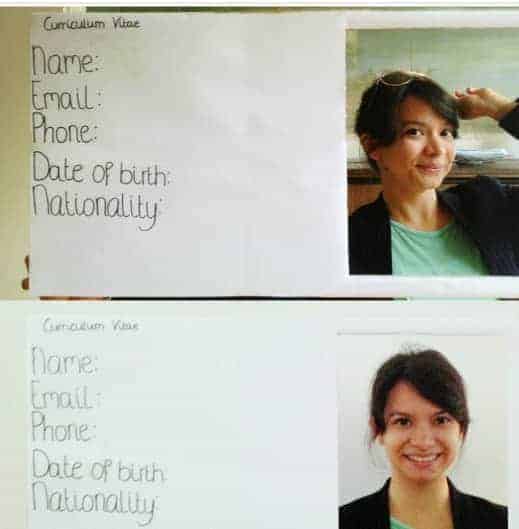 Bad Resume Example 7
Funny resume typo
Did you know that previous stats revealed 82% of recruiters would reject a resume that has typos or bad grammar?
Well, now the new stats reveal 100% of recruiters upon receiving a resume with typos and bad grammar would not only reject it but burst out laughing.
You'll do yourself a lot of good to always embrace the power of spell-check.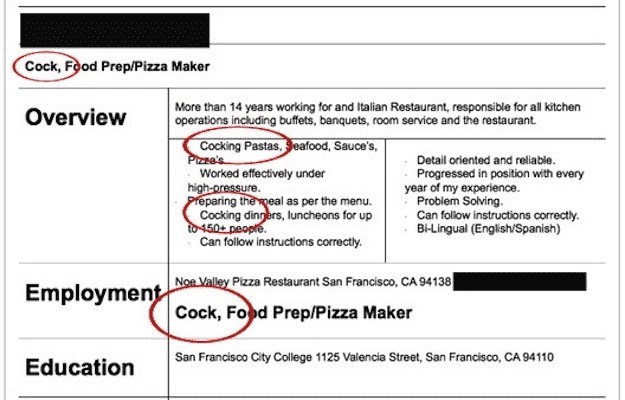 Should I Use A Resume Template?
Using a resume template for a professional job isn't a good idea.
The reason being that you won't stand out as a lot of job seekers like yourself are probably using the same resume template.
We always advise you go for a custom resume template as this will greatly improve your chances of getting hired.

Tired of not landing interviews?
Get our free 3-step guide to writing better resume bullet points, featuring
70+metric ideas you can use!



You might like: 32 Best Paying Jobs in Finance Consumer Services


Conclusion
Diligently follow these steps below to avoid tailoring a bad resume:
Make a killer resume summary
Include your contact information
Include a professional email address
Tailor your resume in sections
Use reader-friendly headings in labelling each section
Choose the right resume format
Tailor your resume to specific job postings
Proofread thoroughly to avoid typos
Choose legible resume fonts
Cut down unnecessary information
Tailor a metric-driven resume
Attach a job-winning cover letter

Would you love to contribute, ask questions or share more tips on bad resumes? We'd love to hear from you!
Need help writing your resume?
Our certified resume writers can help you tailor a metric-driven resume that land interviews 3x faster.
Your CV can also have a professional overhaul at very affordable rates with our experts.
Please leave a comment below, let's know your thoughts.