Highlighting skills on a resume is one important thing to do. But sometimes, it can be very difficult to know the key skills to put on a resume.
We have tailored this article to highlight a comprehensive list of skills you can put on your resume to enable you attract the hiring manager's attention.
This unique set of job skills will help employers to understand what qualifications and talents you can bring to the table that'll make you shine like a star!
Most prospective employers just don't indicate interests in candidates who merely know how to do certain things. When deciding their preferred candidate for a job, they also have specific skills they look out for in that candidate.
In other words, they need a special candidate who has prospect in particular abilities.
As you read further with deeper insight, you will know what these key skills are and how to put them on your resume?
Related Post: 15 Key Strengths You Can Include on Your Resume
Want to save time and have your interview-ready resume in just 2-5 days?
Let our CEOMichaelHR certified resume writers take the guesswork out of resume writing by summing up and showing off your key skills and experience.
What users say about CEOMichaelHR:
It was an easy process working with CEOMichaelHR. My resume specialist, Rolyns listened carefully to my career story and followed through in an amazing way delivering superb results! I am grateful.
Ated Taotao

I believe my resume writer did a great job with the format, as well as the content. He wonderfully conveyed my skills in a concise and direct manner. I started getting phone calls from potential employers almost immediately after the resume rewrite.
Ashphu Lari

What Are Skills to Put on a Resume?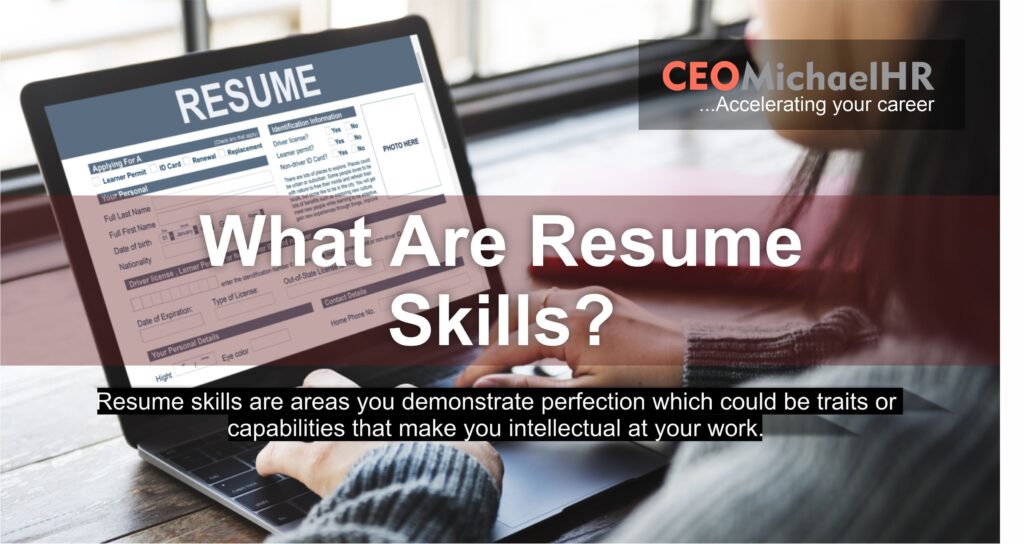 Resume skills are areas you demonstrate perfection which could be traits or capabilities that make you intellectual at your work.
They can be best defined as talents or gifts that propels you beyond your employer's expectations.
Perhaps, they are even special abilities you may not be knowledgeable about because they're part of what makes you different.
In order to help figure out your key skills, bear in mind that they're closely related to your personal values.
Now, let's take a close look at the type of skills we can find in a unique resume.

What are Soft Skills?
Soft skills are said to be intangible skills that can intertwine between any job.
In simple term, they're skills that allow employees get along and maintain a good working relationship with their coworkers.
Soft skills include the following; the ability to work well with others, communicate effectively, or resolve conflict.
An employer may ask about your soft skills in order to know what it will be like to work with you as a person and if you'll be a good match for their work environment.

What are Hard Skills?
Hard skills refer to tangible skills that are linked to a particular job.
They include required skills that an employee will possess in order to carry out their job perfectly. Hard skills are sometimes referred to as technical skills.
Examples of hard skills are knowledge and specific abilities that a job expects an employee to have. This ranges from the practical use of Microsoft Excel to the operation of heavy machineries.
It all depends on the job's specifications allotted to you.
You might like: Cover Letter vs. Resume: Are there any Differences or Similarities?

How To Put Skills On A Resume
The skills you sprinkle throughout your resume depend on the company's needs therefore when adding skills on your resume, it will be a great idea to have a section listing all the hard and soft skills you have.
After all, since the record of your experience and qualifications are listed in the experience section, it can be difficult to have another section for job skills on a resume.
Almost all resumes attach job skills section at the bottom or a small section enclosed at the right-hand side of the resume page.
On a resume, the section at the bottom of the page reserved for job skills may appear like this:

Technical Skills
Microsoft Excel, Microsoft Word, InDesign.

Soft Skills
Team player, adaptable, organized, excellent time management
Bullet points can be used to highlight skills found on the side of the resume page by fitting it nicely into the section as given below:

Technical Skills
Microsoft Excel
Microsoft Word
Adobe
InDesign

Soft Skills
Team player
Adaptable
Organized
Excellent time management

A question like this can be asked; in what order should hard and soft skills on a resume be maintained?
It is assumed that most employers may want to see how effective you can perform on the job or not. So, it is encouraging to list out your hard skills first.
Since they are also skills required then technical skills found in the job description section can be the exact skill set highly soughed-after by the employer.
You might like: Should I Put Pronouns on My Resume?

15 Essential Skills to Put on a Resume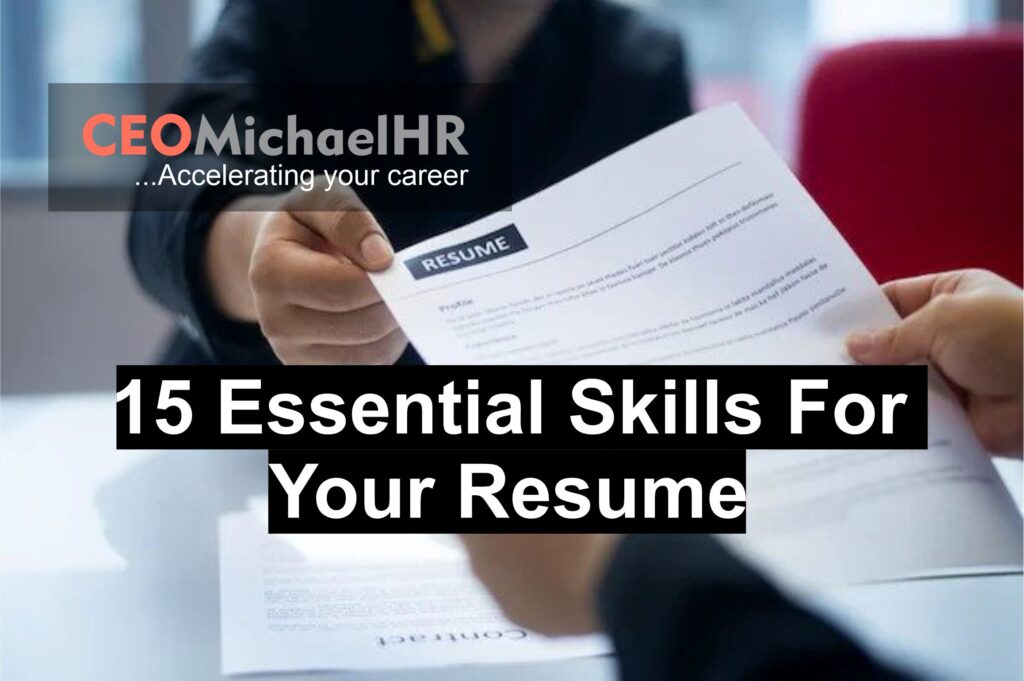 Skill #1: Technical Skills
These are resume skills employers are going to be interested in the most. The skills proves to them that you can do the job accurately.
While being able to work well with your coworkers matters most to the hiring manager, if the job position depends heavily on being able to use a specific program that you've never heard of, then your teamwork skills won't guarantee you.
Technical skills mentioned in a resume might include you having knowledge of how to use certain software, knowing how to code, or project management depending on your field or industry.
Technical skills listed on a resume could also include having to know how to operate a machinery you would be expected to handle at a job. This could be anything from printers and copiers to forklifts and backhoes.
Some other jobs might demand a knowledge of how to gather and interpret data. This could also require some mathematical skills where necessary.
If a job requires you having an in-depth knowledge of a specific field or topic, that could also be listed under your technical qualifications and skills on a resume.

Skill #2: Analytical Skills
Skills that tell of how analytical you can be maintains same lines as critical thinking and problem solving.
Many jobs require the ability to think critically, analyze information, and make decisions based on available data.
As a soft skill, being analytical can also demonstrate that you know how to identify patterns, think critically, investigate, find solutions, recognize problems, and be observant.

Skill #3: Interpersonal Skills
Interpersonal skills are all about your people skills. They show how you can interact and work with others successfully, peacefully, and productively.
Some important building blocks to interpersonal skills are communication, emotional intelligence, maturity, listening, patience, tact, conflict resolution, and persuasion, just to name a few.
Having many of these interpersonal skills makes you become an amiable coworker that your fellow employees and employer will enjoy working with.
When brainstorming on the kind of interpersonal skills you have, think about what makes you an ideal person to work with.
You may find out how much of a really good listener you are or how you can easily resolve conflicts.

Skill #4: Leadership Skills
There are different views on being a leader. There are also different leadership styles to understand.
Democratic Leaders seek counsel from respective team member before making a decision.
Autocratic Leaders do not consider any decision from team members, but instead make the decisions best known to them.
Laissez-Faire Leaders allow their team members to decide on their own instead of deciding for them.
Strategic Leaders strive to keep many variables in mind when making decisions. They strategize for the best possible solution while considering employees, executives, and the company's best interest.
Transformational Leaders like to pressure the company and employees to think out of the box. They welcome new, transformational ideas to help the company and its employees grow and succeed through innovation.
Transactional Leaders reward their employees for the input they put in and after work. They like to use incentives to help employees feel motivated to do their jobs well.
Coach-Style Leaders see all of their team members as individuals with varying strengths and weaknesses to consider. They like to concentrate on each member of a team one after the other to grow the skills of each team member.
Bureaucratic Leaders like to carry out instructions written in books. They always adhere strictly to company policy and traditional practices. They greatly emphasize the rules, guidelines, and tradition.
There are pros and cons to each leadership style. Different industries and companies will like to have their own leadership style and preferences.
Irrespective of your leadership style, remain confident. Your sense of confidence will have a strong impact on your coworkers.
When you appear confident, your coworkers and managers are more likely to trust and follow your lead.
You might like: How Do I List Self-Employment & Freelance Work on Resume?

Skill #5: Communication Skills
It is a great feeling being a communicator.
Each time you communicate well, you create a sense of harmony and competence amongst your team within the office.
Good communication is a valuable job skill that should be encouraged no matter the level you are on your career path.
It is also an important resume skill that virtually any employer will be glad to see you have.
Don't forget to counsel workers on both nonverbal and verbal forms of communication in the workplace.
Nonverbal Communication
These includes aspects like your body language and conduct. Being an engaged listener can allow you practice good nonverbal communication via good posture.
Verbal Communication
Verbal communication includes things like sharing one on one, talking on the phone, or talking via virtual video calls.
Each industry and workplace will have a system they operate and follow for verbal forms of communication.
Below are a few tips to consider in order to be a good communicator:
Be respectful.
Be relevant.
Be specific.
Be focused

Skill #6: Problem Solving Skills
Learn to be a problem solver.
Hiring managers watch out for workers who can dedicate time to solve all kinds of problems across job lines and also be an active participant in the successful running of the business.
When you are motivated to learn new expertise and solve problems that arise, you succeed in boosting your level of knowledge and your value to the company.
The simplest way to solve almost any problem is to take the following steps:
Understand the Problem
You can achieve this by first defining the problem, followed by listing all the obstacles and related variables, and then define the root cause of the problem.
Study the whole picture so you won't be missing any important details that may finally be the key to the solution.
Reverse Engineer the Problem
Sometimes deconstructing the problem will help you find the root cause, which may be the key to the solution.
Also, thinking about things backward can give the new perspective necessary to see the solution.
Communicate with the Team
There will probably be coworkers and other departments that you will have to communicate with in order to understand the problem completely.
Sometimes the knowledge these other people have could be the missing link you need to prepare the entire solution.
You might like: How to Get More Results with a C.A.R. Resume

Skill #7: Teamwork
You must be a team player! In almost every working environment you will have to collaborate with others to some degree.
Being so good at teamwork doesn't necessarily come naturally either. That's why it's a skill for your resume that you can work on developing with practice and patience.
Employers always wish to provide a productive and peaceful work environment where coworkers not only get along but work well together.
So anytime you demonstrate your ability to work with a team, you increase your attractiveness as an employee.
Working together with others also builds strong unity and foster productivity in the workplace.

Skill #8: Pressure and Stress Management
Condition your mind to work well under pressure. Today's workplace can be full of pressure.
When you develop a sense of calm amongst the chaos, you exponentially increase your ability to rise in the workplace.
There are some other basic stresses reducing practices you can use to handle the pressure and distress each passing day:
Get More Sleep
You need to be getting a full eight hours of sleep each night, maybe a little more.
When you're stressed all day, you also need more sleep than normal to recuperate to stay refreshed.
Exercise
A good exercise is a natural medicine for countering stress. It can help increase happy hormones and release tension after a stressful day.
The average person needs about 30 minutes of physical activity each day.
Use those 30 minutes to spend some time on yourself doing physical activities you love.
Prevent Burnout
Job burnout is a situation when the stress from a job overpowers you causing extreme mental and physical fatigue.
Getting job burnout can greatly impact your ability to do your job well. It can also adversely impact your personal life and happiness.
Changing your routine or embarking on vacation can be just the solution you need to become active again when trying to prevent and treat burnout.
You might like: Is Canva Good for Resumes?

Skill #9: How to Give Feedback
There are times your job will expect you to give feedback to others. Understanding how to give and receive feedback effectively is an essential skill for your resume.
The main purpose of giving feedback is that you want to see something improve.
It can be via actions, an individual employee, or a project in which you are simply concentrated in making something the best it can be.
So, your feedback needs to be helpful, effective, and clear.

Skill #10: How to Receive Feedback
When you find yourself in any workplace you are about to receive feedback concerning your work and performance, kindly adhere to these few steps:
Listen
Most times, when faced with criticism about a project you worked on, your initial reaction is to talk back just to explain yourself, to help them see what you were seeing, or to defend your work and therefore yourself.
Although when you are talking, you are also missing out on the feedback the other person could be giving if you do not let them have the floor.
You should understand that the work at hand is not "your work" but "the work".
You should separate your work from yourself and let it be on its own, so you and the critic can both work on together.
Wait Until the End to Ask Questions
Waiting until you know they are finished to ask questions is the best way to make sure you don't miss anything.
Asking questions will also help you understand their feedback more.
Feedback is only helpful if you have a clear understanding of it, so don't be afraid to ask questions at the appropriate time.
Turn Negatives to Positives!
Sometimes criticism is not so constructive. Bear in mind that other times even constructive criticism can just come with a lot of negativities.
If the feedback is poorly given, or includes a lot of negatives, focus on what good you can take from it to be better.
Thank the Critic
Make it a habit to always appreciate your critics for their feedback.
Even if it was given on a poor note, thanking them can help them relax and realize they don't need to be hostile to get through to you.
Implement the Feedback
Construct a plan to display how you will implement the feedback. It was meant for your benefit so take full advantage!
This is where you take the wheel back again and start driving forward.
You might like: Bad Resume Examples: The 6 Mistakes You Definitely Should Avoid

Skill #11: Time Management
Always manage your time well. You can be the best employee in the world if you do so, but if you constantly miss deadlines due to poor time management, you undercut yourself.
Learn how to schedule your time for each task wisely to boost your marketability.
Time management skills will not only help you be more productive but will also help you take care of yourself better.
If you need a starting point for learning then better manage your time wisely.
You can start by assigning a "planning day" each week. On your designated planning days, lay out the following plans:
Plan your month.
Plan your week.
Plan your weekend.
Plan your day

There are lots of time management tools made available that can help you have what you need to effectively manage your time and your work.
Popular Time Management Tools:
Toggl

is great for keeping track of how you use your time.
Google or Microsoft Tasks are great for making and organizing your to-do lists.
Bullet Journals

are a great agenda for the creative spirit or if you want to organize a lot of different things in one place.
Trello

is a great app if you like to organize with post-it notes.
Mind Meister

is a great tool if you like to organize in a map or thought-web form.
Hard copy calendars are great for a big picture visual.
White boards are also great for a big picture visual.

Skill #12: Organization
Effective organization gives you more control in the area of your work and life.
If your tasks are all planned out in doable chunks then you can tackle your workload better and with less stress.
For instance, you will not have to bother about task B today because you have plenty of time allotted to you on Thursday to tackle that item.
In addition, try having a list of all the things you've finished so you can have a full list of accomplishments to remind you of how productive you've been.

Skill #13: Adaptability
Have the ability to adapt.
The workplace today is changing rapidly. Instead of being angry and resistant to changes, develop flexibility to welcome new innovation.
Flexibility is a winning strategy in today's business world.
It is also encouraging to prioritize and be flexible with your time in order to take care of your own well-being, while still being productive.

Skill #14: Good Work Ethic
Give room for a strong work ethic.
Work ethic can constitute a lot of different things. Ultimately work ethic is the idea behind why hard work and quality work are very important.
Having a good work ethic means that you put in good, valuable, high-quality work and that you give priority to the kind of work you are doing.
It also encompasses how you carry yourself in the workplace.
Here are some great components of what it really means to have a good work ethic:
Productivity
Efficiency
Quality work
Dependable

Skill #15: Positive Attitude
Build a positive attitude.
Whether you hate or love your job, be grateful and show a positive attitude to keep morale up!
Along with having an overall positive attitude become empowered in your work, it is yours to do and how you do it and your attitude toward it, will reflect you more than it reflects your job.

BONUS INFOGRAPHIC: Skills to Put on a Resume


Conclusion
Employers are at the verge of looking for a lot of attributes when interviewing new employees.
You don't have to list every single one of these top skills on your resume either.
Just mention a few of these key job skills along with some solid examples to show you have these skills and you'll be good to go.
Are you in doubt if your key skills are properly highlighted on your resume? Check today with a free resume review!