When you consider key strengths to put on a resume, you'll be thinking about the quality of valuable skills your resume should possess.
These strengths qualify you before your hiring manager.
When writing a resume, it is important to advertise your capabilities before potential recruiters. Though the most reliable way to achieve this is to include key strengths to boost its relevance.
A good understanding of which strengths to put on your resume can help you select the ones that best demonstrates your potential to perform a specific job.
For example, if you have succeeded at managing a team of accountants, then leadership is not just a skill you possess but a key strength to put on your resume.
Most prospective employers just don't indicate interests in candidates who merely know how to do certain things. When deciding their choice candidate for the job, they also have specific strengths in mind to watch out for.
In other words, they need a special candidate who has prospects at particular abilities.
As you read further with deeper insight, you will know what these strengths are and how to efficiently put them on your resume?
You might like: How to Get More Results with a C.A.R. Resume

What are resume strengths?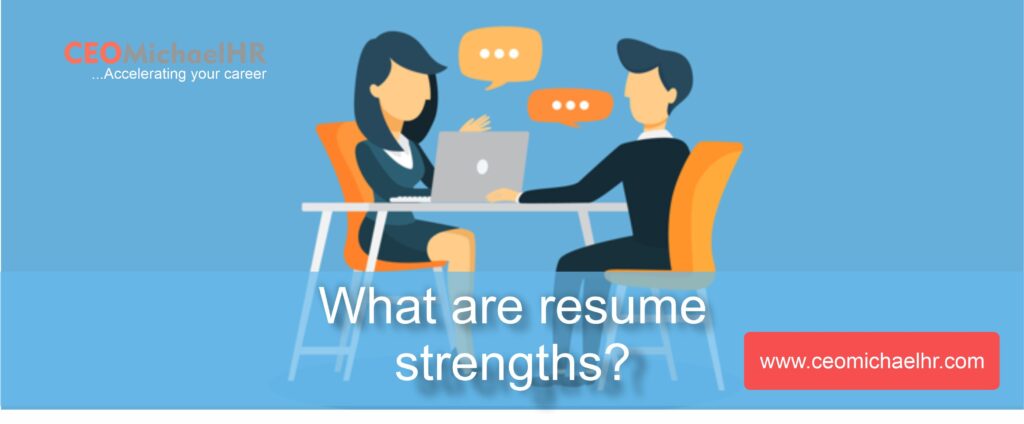 Resume strengths are areas you demonstrate perfection which could be those traits or capabilities that make you intellectual at your work.
They can be best defined as talents or gifts that propel you beyond your employer's expectations.
Perhaps, they are even special abilities you may not be knowledgeable about because they're part of what makes you different.

Why Is Showcasing Strengths In A Resume Important?
Advertising strengths in a resume is very necessary when applying to jobs since it enables the hiring manager or employer to understand what value you can offer them.
This is where you can clarify to employers why you will be a good fit for a position and that you have the talent to perform the job excellently well.
Furthermore, it also can help them decide if they should interview you.
In order to help figure out your key strengths, bear in mind that they are closely related to your personal values.
Now, let's take a look at the type of key strength we can find in a unique resume.
You might like: How to Include A Minor on Your Resume

15 Key Strengths To Put On A Resume
Here are some top-notch examples of strengths to put on your resume:

1. Leadership
Leadership as one of your key strengths demonstrates to employers your ability to coordinate, manage and supervise a team.
This is a vital skill to include on your resume when looking out for managerial positions.
It can reflect your ability to delegate assignments as a team lead.

2. Self-motivated
A lot comes with being self-motivated as it shows potential employers that you take delight in working for the interest of their company.
Many employers may see this as promising and also a sign of your potential to be very productive.
This trait shows you're able to accomplish any assignments tendered.
Example: I volunteered to help assist with upcoming projects.

3. Active listening
Another powerful strength to put on a resume is active listening which is very helpful, particularly in jobs where you get to interact with customers.
It can also be enabling when working with other team members since it helps you receive direction.
This skill projects your ability to collect necessary information.
Example: I took careful notes while interviewing and also asked insightful questions.
You might like: Is Canva Good for Resumes?

4. Communication
Adding communication in your resume can steer up employer's belief to see you as one who can collaborate with others.
It's also a sign that you are able to share quality ideas with project stakeholders.
Ensure you list this trait if you have excellent verbal or written communication.
Example: Put up with monthly newsletters for the museum, sharing upcoming events.

5. Honesty
Honesty is another stronger strength to consider putting on your resume to showcase your work ethic.
This makes employers know how well they can trust you with private details and special projects.
It also helps them know you keep your promises.
Example: Shared ideas openly to help improve the business process.

6. Strong work ethic
A strong work ethic makes you perform your job to the best of your abilities.
Think about including this on your resume if you're a hard worker who strives to complete tasks in order to meet up with company standards.
Hiring managers may watch out for this trait so seriously since it demonstrates that you would be a productive employee.
Example: Make a routine to help complete all daily tasks.

7. Customer service
Customer service is an important strength for those who interact with clients often.
This means you can help solve problems whenever it arises and provide a positive experience with your company.
Being able to provide excellent service is important for roles such as cashiers.
Example: Demonstrate attentiveness to customer needs.

8. Creative
Most top-notch jobs may require candidates to be highly creative.
This involves coming up with new ideas, innovation and valuable solutions. Being creative can also comprise designing artistic work.
Example: Identified possible ways to come up with new ideas that enhanced the design of company website.
You might like: CEO Resume Examples and Tips (+ Writing Guide)

9. Patience
Being patient means that you can deal with delays where necessary.
This is an important strength to have in jobs where serious interruptions occur during work.
Your ability to wait helps employers believe you can handle setbacks in the midst of chaos.
Example: Maintaining a sense of peace while waiting for assignments.

10. Dedication
Dedication is another key strength which demonstrates to employers that you have the potential to bear with a company for quite a long time.
This helps companies looking for employees with reassurance and the ability to hold on.
This strength also presents you as a hard worker committed to your organization.
Example: An experienced nurse with more than 15 years working at GTM Hospital.

11. Versatility
Listing versatility on your resume defines your ability to be flexible as an employee.
It also shows you can accept changes and new ideas easily.
Company employers who are determined to succeed really look out for employees with this trait.
Example: The readiness to learn a new workflow to help another department.

12. Trustworthiness
Trustworthiness is another powerful strength to put on a resume.
It means someone else can totally count on you.
Employers may look for this characteristic in employees who are determined to handle confidential information.
This strength can also assist in a role where you may have many responsibilities.
Example: Able to maintain company files on sensitive and confidential matters.

13. Public speaking
Public speaking is an important strength exclusive to those who may have to present ideas to others who need it.
This talent gives you the ability to express your information clearly.
Public speaking can be helpful in activities where individuals freely communicate frequently in front of others.
Example: A Presentation at a national level conference on the benefits of grooming dogs regularly.
You might like: Professional Resume Writing Basics: Defining Standards of an Outstanding Resume

14. Detail-oriented
When you are detail-oriented, it means that as an employee, you notice different components that may improve a company's project greatly.
Giving attention to details is important in areas where mistakes can rob a company of its image.
Some company employers are interested in employees who possess this strength since they pay close attention to all matters.
Example: Reviewing website code to make sure it is free of errors.

15. Project management
Project management can help you lead a team in completing a given project.
Possessing this strength shows you can divide and delegate tasks.
It can also support organizations to save money and run their business smoothly.
Example: Delegated projects into manageable tasks in order to reach deadlines.

BONUS INFOGRAPHIC: Strengths to Put on a Resume


Conclusion
Employers look out for a lot of attributes when interviewing new employees.
You don't have to list all the top strengths on your resume either.
Just mention a few of these key job strengths on your resume along with some excellent examples to show you have these strengths and you'll be good to go.
Are you in doubt if your key strengths are highlighted on your resume? Check today with a free resume review!