Administrative Assistant Job Description (Overview)
Administrative Assistants are considered next in rank to the company's administrators.
They generally act on their behalf and are known to carry out general clerical tasks.
An admin assistant's day-to-day duties are so multitasking that they take phone calls and messages, coordinate calendars, send emails, take minutes during meetings, organize larger meetings for administrators, cover presentations, greet office visitors, and other related activities.
The personality of an administrative assistant makes them look friendly and outgoing.
They work well with various leadership personality types and encourage interpersonal relationships among member staff.
A dynamic administrative assistant excels at building a solid organization, managing multiple peoples' time and expectations, and has a self-starter attitude, getting things done while preparing his team for more advanced responsibilities.
Few people who become successful in this role will usually progress and be allowed to work with higher-level leaders.
Sometimes they become an Executive Assistant, manage other administrative assistants, or work as an office manager.
Being an administrative assistant can broaden your mind to several different career opportunities. That's why knowing and understanding the skills critical for the job is essential as you prepare for the position.
Are you looking forward to a career as an administrative assistant? If yes, we are here to help you achieve that goal at a brace.
As we advance further in this article, the information about this job profile can help revitalize your understanding of the Administrative Assistant role.
From day-to-day activities to salary structure and interview tips, we've covered all you need to feel confident while exploring administrative positions.
You might like: Best Executive Assistant Cover Letter

What Does An Administrative Assistant Do?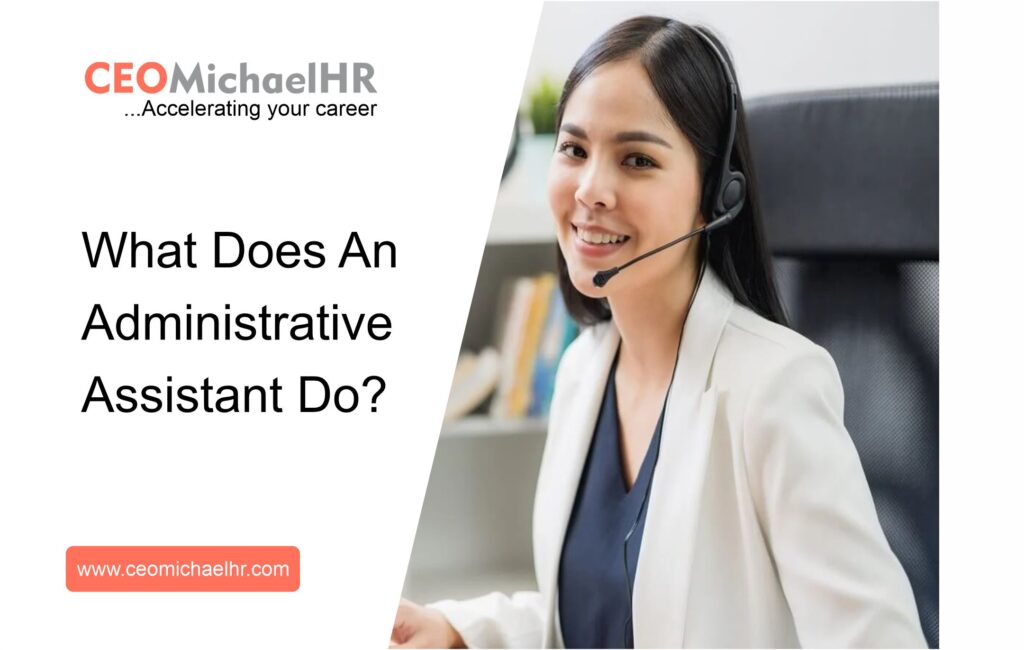 In this section, you will find out more about the duties expected of an admin assistant. Let's dive in!
As administrative assistants, their primary role begins with the ability to organize, manage, and keep the office running.
Other administrative assistants are allocated unique roles like being in charge of clerical and organizational tasks, scheduling appointments, assisting other staff members, and drafting correspondences or messages.
Administrative assistants also use computers extensively to work with spreadsheets, design presentations, create reports, and manage databases.
Based on the type of business, administrative assistants may also be in charge of purchasing, managing supplies, and working with vendors.
Administrative and office professionals are regarded as many businesses' backbone and life wire. Unfortunately, offices won't run smoothly or efficiently without them.
You might also like: The Predictive Index Test (All You Need to Know)

Administrative Assistant Duties And Responsibilities
Below is a sample job description for administrative assistants:
Extensive Duties/Responsibilities
Assist in the coordination of administrative functions, including budget, personnel, meetings, and clerical duties.
Research and collect information.
Assist with all budget activities, including accounting.
Help implement new programs, procedures, methods, and systems.
Conduct fiscal reviews, surveys, and collect information on administrative matters.
Responsible for preparation of confidential documents and reports.
Maintain meeting minutes.
Coordinate and schedule meetings and conferences.
Coordinate operations, including purchasing, equipment, property inventory, building, equipment, and disposal.
Maintain complete stock of all office supplies and accuracy of inventory.
Connect with building vendors to carry out fixes and improvements.
Review and maintain written and computer files, plus conduct data entry.
Answer and direct phone calls.
Organize and schedule appointments and meetings.
Produce and distribute correspondence memos, letters, faxes, and forms.
Assist in the preparation of regularly scheduled reports.
Develop and maintain a filing system.
Book travel arrangements.
Submit and reconcile expense reports.
Provide general support to visitors.
Provide information by answering questions and requests.
Research and create presentations.
Handle multiple projects.
Prepare and monitor invoices.
Develop administrative staff by providing information, educational opportunities, and experiential growth opportunities.
Ensure operation of equipment by completing preventive maintenance requirements; calling for repairs; maintaining equipment inventories; evaluating new equipment and techniques.
Maintain supplies inventory by checking stock to determine inventory level; anticipating needed supplies; placing and expediting orders for supplies; verifying receipt of supplies.
Maintain professional and technical knowledge by attending educational workshops; reviewing professional publications; establishing personal networks; and participating in professional societies.
Contribute to team effort by accomplishing related results as needed.
Carry out administrative duties such as filing, typing, copying, binding, scanning, etc.
Organize travel arrangements for senior managers.
Write letters and emails on behalf of other office staff.
Book conference calls, rooms, taxis, couriers, hotels, etc.
Cover the reception desk when required.
Maintain computer and manual filing systems.
Handle sensitive information in a confidential manner.
Take accurate minutes of meetings.
Coordinate office procedures.
Reply to email, telephone, or face to face inquiries.
Develop and update administrative systems to make them more efficient.
Resolve administrative problems.
Receive, sort, and distribute the mail.
Answer telephone calls and pass them on.
Manage staff appointments.
Oversee and supervise the work of junior staff.
Maintain up-to-date employee holiday records.
Coordinate repairs to office equipment.
Greet and assist visitors to the office.
Photocopy and print out documents on behalf of other colleagues.
Provide polite and professional communication.
Implement clerical duties and administrative processes.
Confirm restaurant reservations for senior staff

A well-tailored resume will furnish all your relevant skills for an administrative assistant position.
These skills will help your resume match the applicant tracking system (ATS), which is your first move to getting your application approved.
Make use of these administrative assistant top skills and proficiencies below to help you effectively create a top-notch resume in a brace.

Top Administrative Assistant Skills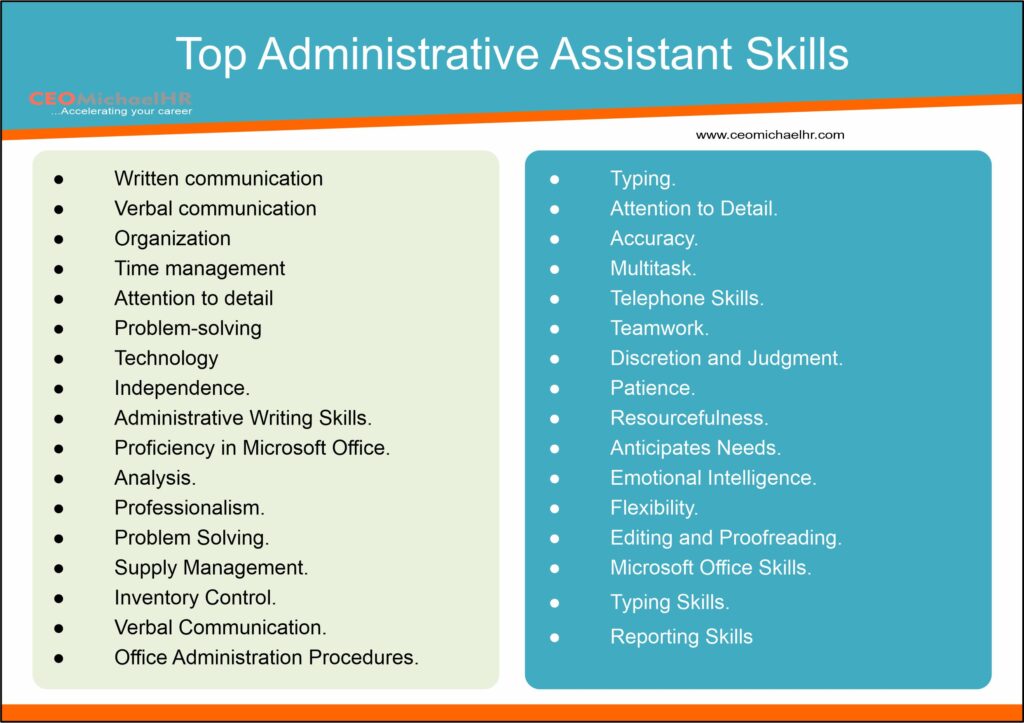 Administrative Assistant Requirements
Proven admin or assistant experience.
Knowledge of office management systems and procedures.
Excellent time management skills and ability to multitask and prioritize work.
Attention to detail and problem-solving skills.
Excellent written and verbal communication skills.
Strong organizational and planning skills.
Proficient in MS Office or Google Workspace.
Ability to write persuasively.
At least 7 years of experience in the field or in a related area.
High school diploma or equivalent; college degree preferred. An associate's degree from an accredited college or university is usually preferred, but not required.
Ability to type a certain rate of words per minute.
Familiarity with graphic design and desktop publishing.
Prepare accurate reports.

Where do Administrative Assistants Work?
It's mind-blowing that the current demand for administrative assistants is highest in New York City.
More than 2,000 openings at this time allow you room to apply for it.
New York is one of the best top states for Administrative Assistants, along with Alaska, Massachusetts, Washington, D.C., and Connecticut.
Employment growth is expected in the field of medical secretaries, all because the healthcare industry is growing as the baby boomer generation ages.
These positions can be in any industry, such as education, technology, finance, government, legal, and healthcare.
Administrative assistants play an essential role in organizations daily with a wide range of industry-specific needs.

Conclusion
Do you wish to work as an administrative assistant? If yes, then we are here to help you get there.
Contact us by clicking ceomichaelhr.com, where your tailored resume advances from hello to hire!