The job hunting process for a Senior Accounting Manager can feel as though you are constantly under scrutiny from potential employers.
Still, it works both ways: 86% of recruiters think that the present labor market is candidate-driven, so employers are in the limelight more than ever.
To overcome the first hurdle of recruitment and find qualified candidates, an effective Senior Accounting Manager job description advert is the best way to attract quality applicants.
This senior accounting manager job description will provide recruiters the means to create an advert that will stand out to job seekers and also potential applicants the opportunity to craft a professional resume that will support their job goals.
While you read, you'll be able to identify the responsibilities, work experience, qualifications, and technical and soft skills needed for a senior accounting manager position.
You might like: Should I Reapply for A Job That Was Reposted?

Senior Accounting Manager Job Description Overview
The Senior Accounting Manager typically oversees a team of accountants, clerks, and payroll team.
They're vastly involved in preparing reports to support financial statements, accounts receivable, and accounts payable processors.
They ensure the total compliance of set accounting activities with generally accepted accounting principles, corporate policies, and external audits.
A Senior Accounting Manager assists the Director of Accounting and others in planning, organizing, analyzing, and reconciling accounts.
This professional executes the development and implementation of accounting policies, procedures, and controls, as well as responding to questions related to accounting.
The perfect applicant for a senior accounting manager must possess strong communication skills, the ability to make quality decisions independently, strong leadership, customer service, account management skills, and a passion for driving results.
They must have a high level of integrity, be a self-starter, be flexible, possess critical thinking ability, and be result-oriented and goal-oriented in a fast-paced, team-oriented, collaborative environment.

How To Write A Winning Senior Accounting Manager Job Description Template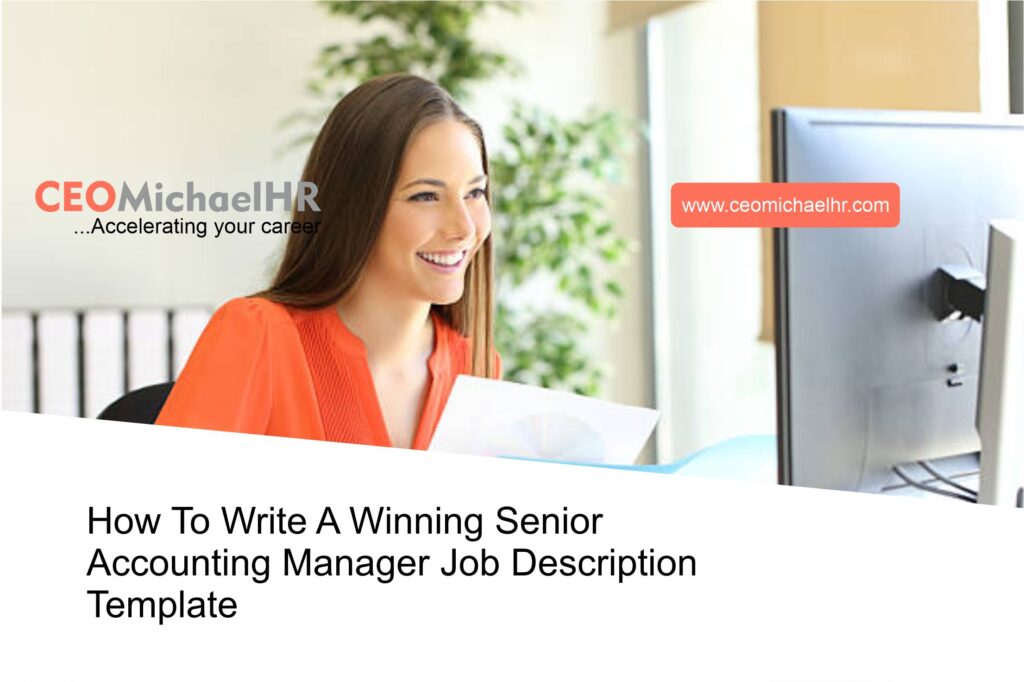 If your job advert isn't captivating in the eyes of your potential candidate, they may not even read past the first couple of paragraphs, let alone apply for the role.
That is to say, you need to ensure that your advert seizes the attention of job seekers, furnishes them with many reasons to want to work for your business, and shows them how they could benefit from a senior accounting manager role with you.
The tailored senior accounting manager job description template below has plenty of ideas to help you furnish an advert.
This advert template is divided into four distinct components of a winning job description:
Job Summary: It is vital to ensure that your summary is clear, concise, and candidate-centered since this is the first thing a job seeker will see.
Make sure your job title reflects the position, describe the role in terms of how it fits into the company structure, and use action-oriented words.
Duties & Responsibilities: This section should comprise 6-8 bullet points detailing the core tasks associated with the role.
As you can see from the senior accounting manager job description template, it's also a good idea to include details of which departments and clients the accounting manager will be working with.
Skills: Ensure that the required qualifications that your senior accounting manager possesses are included and make a clear distinction between those necessary and those just desirable.
List the software candidates will need to use and any personal qualities you are looking for
Company Overview: Include anything that will make a candidate want to work for you, such as a description of the company's ethics, incentives, and any promotional images or videos.
Job seekers will likely look at similar job adverts, so this is another chance to make yours stand out.

You might like: 9 ways to make the most of unemployment

Senior Account Manager Job Description Template 1
We are looking for a passionate and solution-oriented senior account manager responsible for multiple client accounts.
The senior account manager core responsibilities include:
Maintaining a thorough knowledge of our business and offerings.
Developing and implementing strategic plans to grow accounts.
Managing and strengthening client relationships.
Identifying new business opportunities.
Coordinating with internal teams to deliver on client expectations.

Senior Accounting Manager Responsibilities
Below are some responsibilities of a senior accounting manager in an organization:
Analyze the effect of statutory accounting practices and studies regulations and guidance to ensure correct application of Generally Accepted Accounting Principles (GAAP)
Providing quality customer service and ensuring client satisfaction
Work as the key link between the Finance and Data Center Operations teams on expansion projects
Participate in the ongoing development/establishment of accounting system, policies, procedures and operational strategies including the review and implementation of process and system changes
They make sure that the accounting systems, processes and procedures are strictly complied by all members of the accounting department
Coordinate staff audit schedules and establish timelines for completion of achievable project goals
Prepare monthly, quarterly, and yearly budget and forecast reports for delivery to upper management
Manage the monthly, quarterly and yearly financial close process, including ensuring all costs incurred are properly recorded, reviewing journal entries, account balance reconciliations and report preparation
They make recommendations for changes were needed and establishes the proper techniques to detect and prevent fraud
Following up on leads and winning new clients
Communicating and coordinating with internal teams to deliver solutions
Developing and maintaining excellent knowledge and understanding of our business, offerings, competitors, and industry
Identifying opportunities for improvement and proposing new tools and processes
Supporting sales teams to improve their performance and reach targets
Prepare summary feedback of financial statements variances to budget
Actively involved in strategic financial projects including upgrades and implementation of ERP software
Work with Audit, Tax and Treasury Manager to ensure overall coordination of all financial accounting activities through annual report
Monitor and review general ledger account reconciliations to ensure accounts are reconciled in an accurate and timely manner
Assist with the selection and hiring process of accountants and managers for the Accounting and International Finance team.
Maintain deep knowledge of team functions and ensure all team members are adequately trained to effectively and efficiently perform their assigned tasks
Provide in-depth analysis of identified accounting related issues, implement changes, and revise the Fixed Asset policy
Research and lead implementation of new fixed assets system that's in line with company's high growth needs
Oversee accounting/tracking maintenance expenses, and work on special projects and ad hoc reports as requested by upper management
Lead the implementation of newly acquired modules and tools to achieve cost savings and efficiencies
Manage online expense management platform, conduct trainings to employees and act as its administrator and main contact with the provider
Assist Staff Accountants in resolving issues or difficulties in the performance of their work and knowing when issues should be escalated
Advise on new or changed accounting principles and practices that impact non-profit finance and compliance
Ensures proper cash handling procedures; maintains contact with financial institutions
Perform various administration level tasks for the accounting software
Act as a primary point of contact for the corporate credit card and all foreign vendors
Manage the currency selling bids and ensure effective and cost-efficient treasury operations
Responsible for hierarchy and scalability in chart of accounts and accuracy in the general ledger and financial statements and has ultimate authority over classification and booking of all transactions
Ensure a detailed journal entries and account analyses are prepared
Prepare monthly Indirect Cost Recovery Calculation and Revenue Recognition and submit to Director of Accounting for approval
Serves as a backup for Manager of Financial Reporting and Analysis to prepare monthly financial statements for management review to include income statement, balance sheet and supporting schedules
Act as a subject matter expert on Drill point (MIP's excel based reporting tool) to develop and maintain templates and schedules that will be used by the Senior Management Team for review and analysis
Periodically review and edit documented work procedures and responsibility grids to ensure they accurately reflect work being done. Suggest updates to department policies to reflect actual practices

The Senior Accounting Manager Qualifications/Requirements
Bachelor's degree in Accounting, MBA and/or CPA preferred
2+ years of experience with business development, sales, or account management.
3+ years of supervisory experience
Accounting knowledge of applicable rules and regulations
Exceptional planning, analytical and organizational skills
Experience managing large account portfolios.
Proven ability to accurately work with large amounts of financial and accounting data
Strong ability to independently exercise sound judgment and discretion effectively
Excellent customer service and project management skills
Very sound verbal and written communication, interpersonal, and negotiation skills
Proficiency in Microsoft Office and CRM software
Experience working with and setting up an accounting software package
Highly team-oriented and solution-oriented
Detail-oriented and able to prioritize
Self-starter and able to work efficiently under pressure

Senior Accounting Manager Top Skills & Proficiencies
Process Improvements
CPA
Accuracy
Timeliness
Attention to Detail
Organization
Adept Multitasking
Communication Excellence
Team Player
Interpersonal Skills
Leadership
Collaboration
Analysis

Senior Accounting Manager Job Description Writing Do's & Don'ts
As a company publishing the post of a vacant senior accounting manager position for job seekers to apply, here are some writing do's and don'ts that would help you craft a perfect senior accounting manager job description to attract candidates that are fit for the position.
Do consider where candidates will find your advert and ensure to include relevant keywords so that it will show in search engine results.
Don't fail to remember that many job seekers will be browsing for jobs via their mobile phones, so make the page user-friendly, easy to read, and bookmark.
Do pay attention to how your advert looks on the page. Instead of long lists or paragraphs of text, consider using a bulleted list.
Don't use too much jargon or technical terminology, but use action-oriented words and address job seekers directly, as shown in the senior accounting manager job description template.
Center on what makes the role appealing to a candidate and how they could benefit from working for your company
Don't make the application process too long or complex for candidates; instead, make it clear what is required of candidates who want to express an interest in the role.

Senior Accounting Manager Average Salary
How much does a Senior Accounting Manager make?
According to Glassdoor, the average Senior Accounting Manager in the US makes $103,588 per year.
The average bonus for a Senior Accounting Manager is $15,146, with 75% of people reporting that they receive a bonus each year.
Senior Accounting Managers make the most in San Francisco, CA, at $156,048, averaging total compensation 40% greater than the US average.
However, the salary is based on geographical location and company capacity.
You might also like: The Predictive Index Test (All You Need to Know)



Senior Accounting Manager Job Description Summary Template

Job Overview Template
We're looking for an experienced, hands-on Senior Accounting Manager to join our rapidly expanding accounting team.
You'll be tasked with the monthly closing of the company's fixed asset sub-ledger and ensuring the timely and accurate completion of account analysis, reconciliations, and reporting requirements.
You'll also be responsible for ensuring a smooth-running end-to-end process, from budgeting, interaction with operations teams, financial statement disclosure, analysis, and board reporting of capital project data.
This high-visibility role is where you'll interact with senior leadership across accounting, finance, and operations.
If you're looking for a challenging, rewarding step-up in your accounting career, we want to hear from you!

Conclusion
Are you a recruiter who needs help writing a job description for a specific role?
Use these job description examples to create your next awesome job posting.
By taking this extra step to optimize your job posts using our template above, you can entice a diverse pool of applicants and attract more candidates.