A systematically crafted cold email for job can offer you great connection and open possible opportunities to your next position.
In this article, we'll be discussing what cold emails are, benefits of sending cold emails, how to send cold email for job that gets you hired, etc.
Without much ado, let's get in!

What Are Cold Emails?
Cold emails are unsolicited emails that you send to someone you do not know to create a business or networking opportunity connections.
It is sent to a receiver without prior contact.
This email are personalized massages targeted at a specific individual.
Cold emailing can be used for numerous situations, such as:
> When you intend to expand your network

> When you want to email your dream company

> When it's necessary to email someone, you don't know or have connection

> When you want to say thank you after a successful interview

> When you want to follow up after an unanswered cold email

> When you want to let a recruiter know you applied for the job

> When you want to crowdfund for your business and much more.

You might like: How to Use LinkedIn to Get a Job

What Are The Benefits Of Sending Cold Email For Job?
Since the advancement in technology one of the best ways to reach out to people for jobs may be cold mailing for conveniences' sake.
Some of the benefits of cold emails are:
They are easily and frequently accessible by users: Majority of professionals check their email inbox multiple times a day. This make it more likely that your email is going to be read.
It can be haunting: Follow-up emails can be sent along with the original cold email, but ensure you don't over bug your receiver.
Easy and on time reply: Recipient of cold email can reply very fast and easily.
They are not invading: Cold emails can help the potential employer feel like they have the option of how and when to respond.

How To Send A Cold Email For Job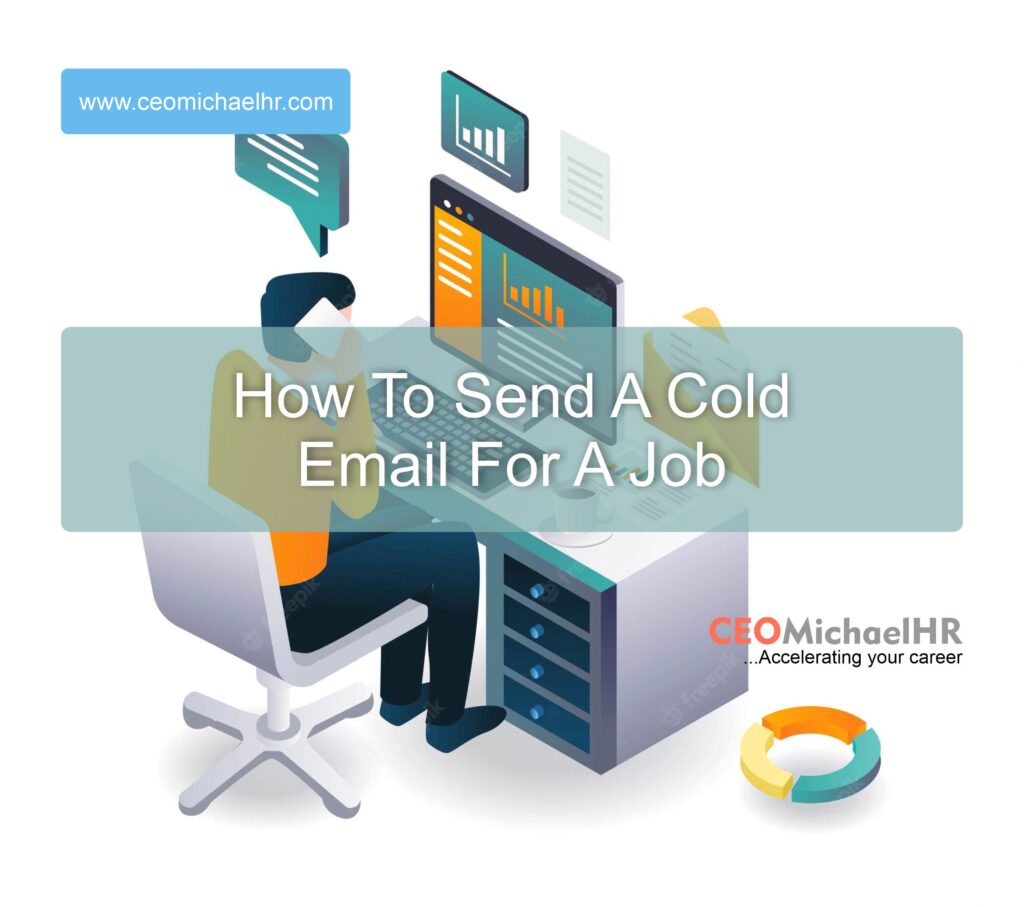 Below are the general steps to follow in crafting a successful cold email for job to increase the chances of your email being outstanding in a very crowded inbox.

1. Identify The Best Person to Contact
It is important to identify the right person to contact for the role you are targeting at the company, and most times some thorough research is needed.
A good place to begin is by checking the company website and/or their business social networking sites (e.g., LinkedIn, Facebook, Twitter etc.).
Most companies usually list their top-level employee on their website which makes it easy to access their emails directly from the company site or from their personal or business social media.
You might like: How to say you were fired on an application

2. Use A Strong, Relevant Subject Line
Your cold email should be simple and originative but pragmatic enough to give the recipient a strong reason to open and read your email.
As soon as you discover what the company wants and what you intend to gain from the email, you can then build your subject line on those areas.
Your subject line should be appealing to get the reader's attention.
Example of subject line include:
Business Compliment: "I love your LinkedIn article on investment"
Mentioning a common connection: "Michael Tease recommended I contact you"

3. Be Concise and Specific
Always remember you only have few seconds to create a great first impression once your email is opened.
It is necessary to introduce yourself and your purpose early in the email inquiry.
Tell them who you are, how you got their information and why you are interested in that position in the company.
Ensure you shine out your relevant skills and experience to pique their interest and give them reasons to continue to read your cold mail.
Try as much as possible to focus on what you can offer in the company rather than what they can offer to you.
You might like: Should I Reapply for A Job That Was Reposted?

4. Have A Reasonable Request
Your first conversation shouldn't be a direct job request because this can turn off your reader thereby ending your golden opportunity to make connection.
Start slow and develop a relationship first.
You can suggest a phone call or coffee date in order to learn more about your reader, the prospective company and available positions.
With this strategy, you are likely to get more job discussion response.

5. Personalize Your Message
Learn to personalize your messages as this can increase your chances of getting response.
Do this by using the recipient's name in the email, and referencing some of their notable work you admire.
It is best to state your availability and let them choose the date and time that works best for them if you request for a meet up with your recipient.
This shows you genuinely take interest in them rather than wanting them to take interest in want they can do for you.

6. Follow Up with Reasonable Expectations
It's acceptable to send a short follow- up email, if you didn't receive any response a week or two after your cold email was sent.
In your follow- up email don't sound desperate but rather acknowledge the fact that you know they might be busy and ask if they've seen your email or need any other information.

Sample Of How To Write A Cold Email For Job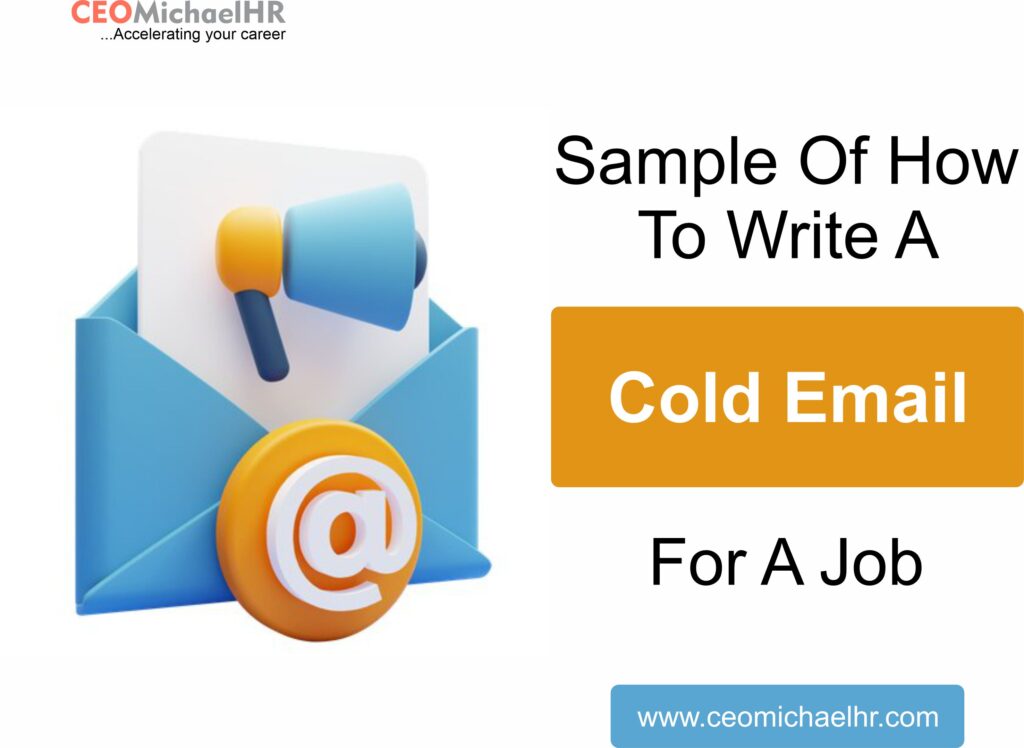 Here is a good sample template that will help you get started in creating your own cold email for job.
Dear/Hello/Greetings [First Name or Mr./Ms. Last Name],

My name is [your name], and I am interested in finding out more about the [position/role] listed on [company website/job board/LinkedIn]. Your assistant provided me with this email so I could get in touch with you [or state the specific way you located the person's name and email].

I noticed that your company won [award name] for four consecutive years, and I also saw you mentioned in an article regarding [subject]. I would enjoy meeting with you because of our shared interest in [career area, business strategy, etc.].

I'd love to schedule a time to discuss my suitability for the [position/role] within the next couple of weeks. I will follow up with you next week if I haven't received a reply from you before then.

Sincerely,

[Your Name]
You can add a paragraph that includes your related skills/experience, or anything that would capture the heart of your reader, or you can modify the second paragraph with that information.
Remember there is no "one size fits all" template.
Once you can write and send a cold email for a job, try to be dedicated in sending as many as possible until they open the door to your future success.

Make sure your professional resume is ready before sending that email. Our expert writers can channel you towards the right direction.