You might think an executive housekeeper resume is the only important document that attract the attention of the hiring manager?
Well, an executive housekeeper cover letter is as important as the resume.
Cover letters are the first job search instrument that appeal the minds of your potential recruiter.
A cover letter that is written in an effectual language, detailed format with impressive and concise content will always leave a very good impression on the hiring manager.
In this article, a lot will be discussed in relation to executive housekeeper cover letter example such as;
Who an executive housekeeper is?
Duties/responsibilities of an executive housekeeper?
Skills & requirements for an executive housekeeper
Salary outlook of an executive housekeeper
Executive housekeeper trend and work environment
Executive housekeeper cover letter writing tips
Two sample cover letter templates that would guide you in crafting your own exceptional executive housekeeper cover letter

You might like: How to Use LinkedIn to Get a Job

Who Is An Executive Housekeeper? (Overview)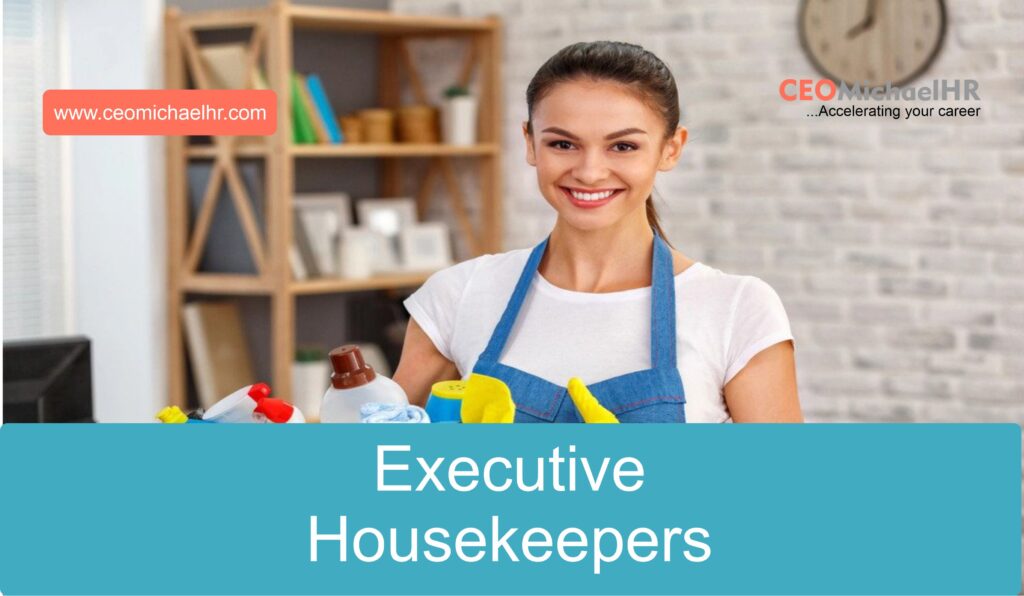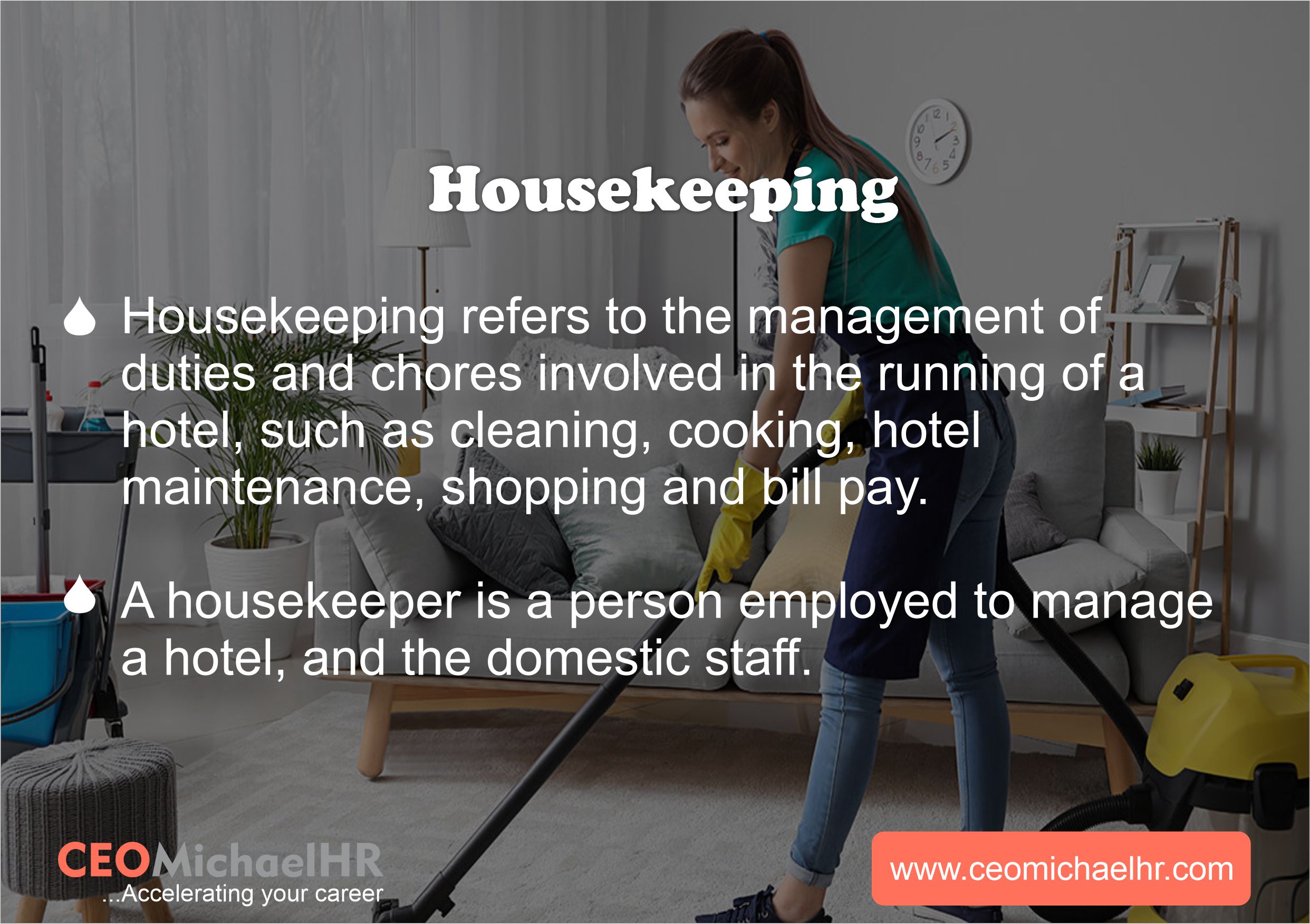 An executive housekeeper is the Head of Department that oversees housekeeping operations and staff directly and systematically managing them to ensure quality cleanliness and standards are always met.
They have the potency to employ or sack, organize, assign and inspect housekeeping work assignments, hold training for newly hired employees, handle budgeting, inventory checks and control on expenses.
The executive housekeeper is accountable for taking care of an entire building to ensure it is always in a tidy and presentable state.
This includes hovering, dusting, cleaning and washing of floors, bathrooms, windows, shining furniture, and even arranging flowers or other ornamental elements etc.
They are tasked with maintaining the entire aesthetic appeal of a building.
They're also able to solve problems, support staff, as well as carry out the duties of a housekeeper when required.
The professional is dedicated to rendering a great level of comfort and hospitality to guests, which result to achieving maximum guest satisfaction and organizational profitability.

Executive Housekeeper Top Skills
For an executive housekeeper to be successful in the job, the following skills are required;
Leadership
Having leadership skills can aid in motivating and inspiring others.
As an executive housekeeper, a team of housekeeping staff are kept under your supervision; with this skill you can effectively manage your team to complete tasks and achieve set goals.
You can also apply leadership skills to motivate your team to work harder and be friendly to guests.
Communication
Communication is the process by which information is exchanged between individuals through a common system of symbols, signs, or behavior.
As an executive housekeeper, it is important you know how to effectively communicate with your team, your employer and the staff.
Communication skills can be used to pass information, answer questions and solve problems.
Organization
It is very important for an executive housekeeper to possess organizational skill, as this skill allows you to complete your tasks efficiently.
Organizational skills can be used to design and prepare for events, as well as to maintain trail of supplies and inventory.
Time management
Time management is another skill that is useful for an executive housekeeper.
This is because you are responsible for organizing the agenda of many staff members, as well as handling the cleaning of multiple rooms and other section of the home.
Having excellent time management skills can help you ensure that you discharge all of your responsibilities in a timely manner.
Problem solving
Problem-solving skill allows you to detect issues, provide solutions and implement them.
As an executive housekeeper, you are responsible for overseeing the cleaning of different areas of a huge property.
You are also responsible for training and monitoring other housekeeping staff.

Executive Housekeeper Job Duties/ Responsibilities
An executive housekeeper typically has a broad range of responsibilities, which may include:

> Making sure that all areas of the facility are neat and orderly at all times

> Plan and organize the activities of housekeeping supervisors and their crew

> Manage administrative and complete financial management tasks, such as setting and adhering to a budget

> Apply human resource management skills, such as hiring, training, scheduling, evaluating performances and firing when necessary

> Establish and/or implement operating procedures and standards

> Coordinate scrutinizing of assigned areas to ensure standards are met

> Analyze and recommend best practices and technology in hospitality

> Make decisions and come up with innovations for better client experience

> Conduct presentation to senior management and provide information for management to make decisions

> Improve self to maintain professional competence at senior management level

> Organize and coordinate the redecoration of rooms so they can be used for various purposes or events

> Manage and direct negotiations

> Strain for service excellence to attract customer loyalty and satisfaction

> Ensure that cleaning supplies are readily available to all staff members who need them

> Collaborate with architects and interior designers to ensure that design elements such as carpet patterns, lighting layouts, or paint colors are accurately reflected in the finished product

> Organize and plan housekeeping services including laundry, cleaning, and maintenance for large houses or businesses

> Coordinate with event planners to arrange for catering, event setup, decoration, and other services needed for special events

> Ensure proper utilization of resources

> Lead managers to develop organizational and governance strategies

> Assess and review hospitality data.

> Communicate with staff members and other departments/sections within the hotel

> Manage cross-functional and culturally diverse teams

> Manage asset and inventory

> Coordinate the preventive maintenance schedule of rooms and a public area with the maintenance department


Executive Housekeeper Job Requirements
Executive housekeepers need to meet the following requirements/qualifications:
Education:
A degree, high school diploma or GED certificate is often a minimum requirement for executive housekeepers.
Some recruiters may prefer or require a college degree in hospitality, hotel management, business or a related field.
A degree can help you advance your career and earn a higher salary.
Training
Executive housekeepers typically receive on-the-job training from their current or previous employer.
They may also receive training from their employer's current executive housekeeper.
Experience
Minimum of 8 to 10 years experience of which at least 2 to 3 years is in a similar role.
Strong Operational/Technical Knowledge
Successful Pre-opening experience & records will be a distinct advantage.
Previous experience working in housekeeping is required.
Previous supervisory or managerial experience is a plus.
Certifications & Licenses
While certifications are not often required for the role of an executive housekeeper, they can be useful in demonstrating to potential employers that you are a professional who is dedicated to excellence.
Workplace Hazardous Materials Information System (WHIMIS) certification is an asset and may be required
You might like: Personal Branding: Tips Critical to Your Career's Future

Executive Housekeeper Salary & Outlook
According to Glassdoor,
The estimated total pay for an Executive Housekeeper is $55,894 per year in the United States area, with an average salary of $45,064 per year.
These numbers represent the median, which is the midpoint of the ranges from our proprietary Total Pay Estimate model and based on salaries collected from our users.
The estimated additional pay is $10,830 per year.
Additional pay could include cash bonus, commission, tips, and profit sharing.
The "Most Likely Range" represents values that exist within the 25th and 75th percentile of all pay data available for this role.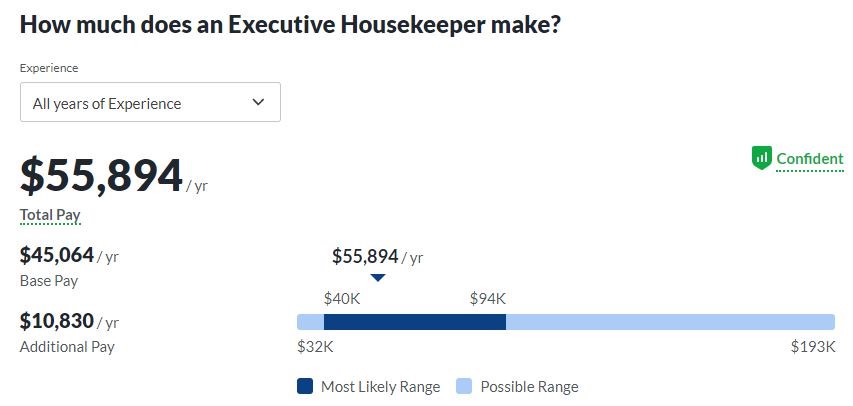 The engagement of executive housekeepers is forecasted to grow much faster than average over the next decade because the demand for hotel and resort services is increasing as more people travel for both business and pleasure.
As hotels and resorts compete for customers, they are likely to employ more housekeeping staff to provide better service.

Executive Housekeeper Trends
Below are three trends regulating how executive housekeepers' work.
Executive housekeepers will need to stay up-to-date on these trends to keep their skills relevant and maintain a competitive edge in the workplace.

1. More Attention to the Guest Experience
The hospitality industry is focusing greatly on providing an excellent guest experience.
This means that executive housekeepers will need to concentrate on providing a very comfortable environment for guests.
Executive housekeepers can create a positive guest experience by paying attention to details such as serenity, interiors, and hospitality services.
They can also work with other members of the hotel staff to make sure that guests are satisfied.

2. Better Focus on Sustainability
As businesses become more environmentally aware, various industries are discovering more ways to trim down their impact on the planet and one of the ways of doing this is by focusing on sustainability in their operations.
This trend is impacting the hospitality industry substantially, as executive housekeepers with expertise in sustainable cleaning practices are on high demand by hotels.
By acquiring the knowledge of this practices, executive housekeepers can assist the hotels they work for to be more efficient and cut down cost in the process.

3. Excellent Use of Technology
As technology becomes more prevailing in our world today, executive housekeepers will need to learn how to utilize the new technologies released effectively in order to manage their jobs and keep up with the latest trends.
These includes using software to track inventory, schedule appointments, and communicate with employees.

Executive Housekeeper Work Environment
An executive housekeeper is responsible for the overall operation of the housekeeping department in a hotel, motel, or resort.
In prominent establishments, the executive housekeeper may have one or more assistant housekeepers to assist with the supervision of staff and the day-to-day operation of the department.
The executive housekeeper typically works a regular Monday-to-Friday schedule, though sometimes he or she may be required to work weekends and holidays.
Some executive housekeepers also work on-call hours to respond to emergency cases, such as a guest complaint about a dirty room or spoilt equipment.
You might also like: 5 ways to write a cover letter

Executive Housekeeper Cover Letter Example
When writing an executive housekeeper cover letter, remember to shine your relevant work history and skills in accordance to the job you are applying for.
Exposing your relevant achievements in your cover letter can make you outstanding and get you that job interview.
This Executive Housekeeper cover letter example is a great representation of what recruiters are looking for in an applicant.
Feel free to make use of this sample for reference as you tailor your own cover letter in just a few minutes.

Few Tips on Writing an Executive Housekeeper Cover Letter
Decide one format and stick to it
Include all the necessary information like name, contact details, educational qualifications etc.
A typed cover letter is always preferred to a hand written one
Outline your letter by choosing words very carefully and striking at the target

Below is an executive housekeeper cover letter example. Make reference to the sample given here to tailor your own and get your desired job.
Note: The example below is for demonstrative purpose only. If you need unique Cover Letter, please proceed to our Cover Letter specialists.
The hospitality industry accepts only the best written cover letters. Let our expert cover letter writers prove your compliance with ease. Get Started!

Executive Housekeeper Cover Letter Example (Template 1)

Dear HR Manager,

As a highly skilled Executive Housekeeper, I read your posting for a new Executive Housekeeper with interest. My experience aligns well with the qualifications you are seeking at ABC Hotels, in particular my role as Executive Housekeeper at Ashley Lugard Stay, and I am certain I would make a valuable addition to your organization.

With more than 15 years' experience as an Executive Housekeeper, I am adept in team leadership, staff development, and budgeting. Moreover, while my on-the-job experience has afforded me a well-rounded skill set, including first-rate strategic planning and time management abilities, I excel at:

> Managing up to 30 team members at a time

> Managing cross-functional and culturally diverse teams

> Establishing and implementing operating procedures and standards

> Creating schedules, administering budgets, and mentoring staff

> Assessing guest satisfaction and developing improvement plans

> Responding quickly to guest requests

In addition to my experience and personal qualities, I have a solid educational foundation and a passion for leading high-performance teams. I am extremely enthusiastic about JMK Hotels' focus on guest satisfaction and would welcome the opportunity to contribute to your continued success.

Please peruse my attached resume for additional details regarding my expertise and career achievements. I will follow up to request an appointment to discuss how my experience and background meet your needs.

Thank you for your time and consideration.

Sincerely,

Debbie Rise



Executive Housekeeper Cover Letter Example (Template 2)

Dear Mr. Joel,

If you seek a new Executive Housekeeper who is a proven leader with verifiable team-building skills, then we have a good reason to talk.

Please peruse below summary of my qualifications and experiences in this regard:

> 10 years of successful track record in housekeeping out of which 4 years have been spent as an Executive Housekeeper for Hilton Towers

> Highly skilled in serving hotel guests and club members in a friendly and courteous manner

> Demonstrated ability to oversee housekeeping personnel in order to maintain the cleanliness of the hotel

> Hands-on experience in managing laundry services, renovations, and coordinating room service

> Track record of hiring and training of housekeeping staff

I am aware of the fact that all hotels depend heavily on the housekeeping team to keep it running smoothly, and I would like to offer my services to assist you in managing this effectively.

I am looking forward to meeting with you to further discuss why I believe that I am the right candidate for this job. Please do not hesitate to call me at 111-222-3333 if you need more information regarding my credentials.

Thank you for your time and consideration.

Sincerely,

Annabel Lawrence



So many opportunities out there, but bad cover letter is making you lose out.
Worry not because our CEOMichaelHR expert writers are here to help you tailor a cover letter that immediately captures the attention of recruiters and make you stand out from the competition.