As we spend more time online, it is our duty to ensure our professional identities are well secured through a key practice of what we call personal branding.
Personal branding in simple term, is the process of intentionally creating and influencing the public perception of an individual. 
Influential companies today that started several years ago didn't go global by magic. One thing propelled their determination on the wheel of success which is personal branding.
Take for example; Apple challenged the world to "Think Different", Nike inspired people to "Just Do It", CEOMichaelHR inspires jobseekers in their slogan "Accelerating your career"
Years later, these renowned slogans have transformed, setting the pace for how each company communes and represents itself in the open market.
Companies in just a handful of words, form slogans that tell a story and influence how people recognize them.
It interests me to say that these companies represent all together the power and potential of branding.
Branding is what companies stand for, (it's reflected in the way the company acts, the value that the company gives as well as how it projects those values to serve its people).
Professionals on the other hand are also known for what they stand for.
Professionals have their own individual stories to tell, they can be known to share more in the areas of their goals, skills and expertise respectively.
As we take a leap into today's ever evolving digital world, a personal brand is no longer optional but expected as it takes a strong brand to stand out from the crowd.
Personal branding is highly patronized for increased sales, increased awareness, and better customer experience.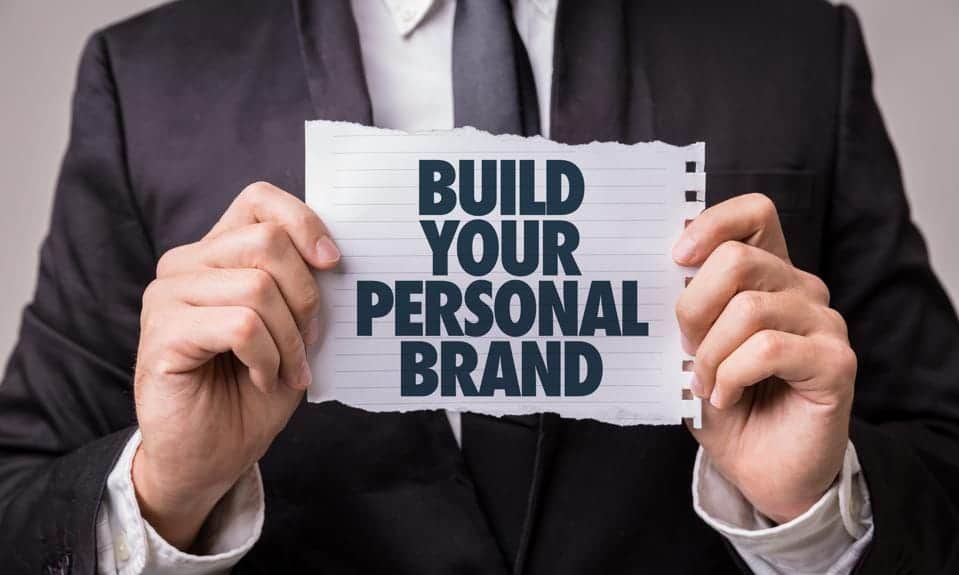 You might like: The Best Super Bowl Jobs
Let's dive into learning more personal branding tips below;

What Is Personal Branding?
Personal branding is the method employed in identifying, positioning, and promoting one's self in the professional world, and its popularity and importance are reaching an all-time high.
Interesting! Isn't it, as it asks the question "Why you?"
Here is the answer to the question; Personal branding helps individuals to become enlightened about their differences, at the end making them to position in a way that makes them stand out among other potential job applicants.
You don't really have to bother treating yourself like a product neither faking it till you make it nor merely posting your name and content online instead.
You'll have to be determined to build your own personal brand and to achieve these, your brand must strategically, creatively and professionally present what defines you to be you!
When building your personal brand, you don't have to be too famous to achieve this; rather all you simply need to do is to get people to know who you are and remember you.
Your brand tells how much other people perceive you.
This can be further explained as what you stand for, the values you embrace and the way in which you express those values.
Personal branding has the same similarities with corporate branding.
While a company's brand helps to communicate its value to customers and stand them out from competition, personal branding does the same for individuals helping them to communicate a unique story and clear value to potential employers or even clients.
…such a story can play a vital role in building a great career according to Gresh summary which states; "Personal branding is one's story"
Personal branding helps in career boost: 85% of hiring managers attest to how their hiring decision is positively influenced by a job's candidate personal brand.
The features of a personal brand should list out your strengths, foster trust, create a reputation and help express unique attributes that you offer to your desired industry.
You might like: How to Say You Were Fired on an Application?
Your personal brand will certainly be a pointer to your employers if you will be the right fit for an open role.

7 Personal Branding Tips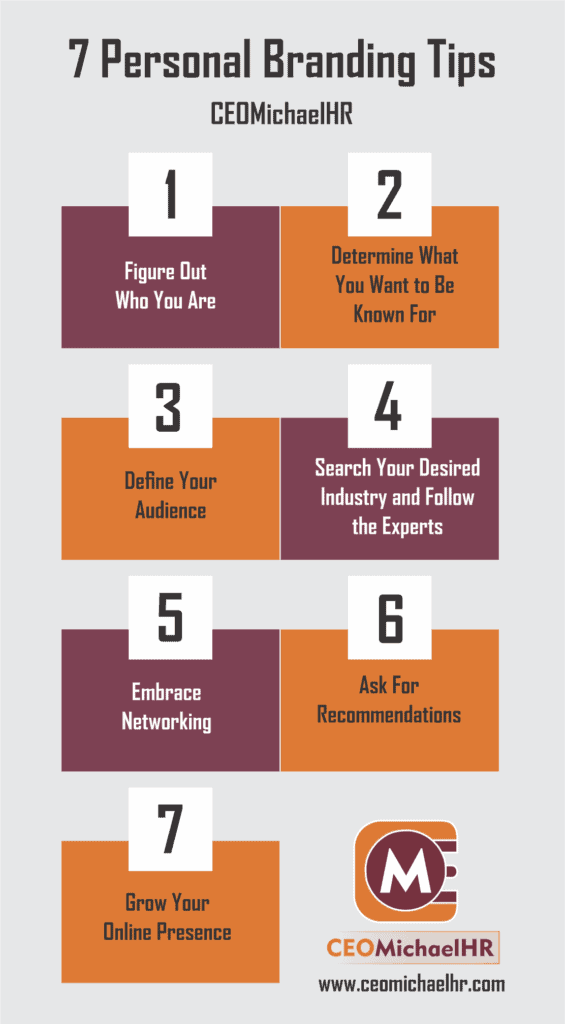 1. Figure Out Who You Are
Knowing who you are matters most. Never settle for the least.
As you build your personal brand, let it reflect your personal and professional identity.
Create a list of your personal strengths and weaknesses.
You can get to discover more about yourself from your friends and family, external relatives and colleagues if you're finding it hard to answer questions like;
In which areas of work do I excel?
What inspires me?
What character have others complimented me on?
Which role seems to drain my energy?
Which projects can I devote hours on without feeling tired?

Once you have gathered information from the question asked about personality, you can now decide on how best to brand them.
Your personal brand just like a corporate one requires constant update as your career advances.
You might like: Senior Business Analyst Job Description
The best way to start is to choose a specific area you would like to focus on and watch it grow with time.

2. Determine What You Want to Be Known For
Be highly inclined about your personal brand which is more than a reflection of who you are currently, in fact it is the road map to wherever you choose to go.
Personal branding advertises your skills and competencies, helps you access more about your strengths and weaknesses, and prepare you to withstand any career or industry you wish to launch into.
Determining what you want to be known for will help reveal to you the skills and traits that makes you different.
You will also discover areas where your improvement is needed as well as gain new knowledge in order to advance in your chosen field.
Furthermore, you'll be able to make a forecast of where you wish to see yourself in five years and what attributes you will want to be known for.
Finally, it can help you better in determining the next step you should take in order to get to that point you anticipate.

3. Define Your Audience
Defining your audience is one interesting personal branding tip as this helps you determine who your targeted audience are even before you begin your personal brand design.
Your audience here could be some group of industry leaders, a staff in a particular company, hiring managers etc.
Note that the earlier you define your audience, the easier it will be to write your story.
In addition, it will help you to have a clearer understanding of the type of story you want to tell especially where you need to express it.
You need to be as specific as possible.
For example, if your objective is to reach an audience of recruiters and hiring managers, you might begin by updating your LinkedIn profile information.
The reason: about 92% of hiring managers leverage social media to identify with excellent candidates while 87% make use of LinkedIn to find credible candidates.
If you are a highly skilled graphic designer trying to reach your existing customers and looking forward to attracting new customers, all you need to do is to craft a strong professional bio that can help you to conveniently tell your story matching your talents.
You might like: How to Use LinkedIn to Get a Job

4. Search Your Desired Industry and Follow the Experts
When you start listing out the careers you desire, it is important to compile research on professionals handling those roles.
According to Gresh's findings;
"Identify who the thought leaders are in any field you are interested in and don't just follow them alone. Instead, go online and find out if they have blogs or where they contribute their thinking. Look for people who are successful and examine what they are doing… imitate them and then do it better."
When building a personal brand, you should ensure against all odds that your goal or objective is to stand out.
You should also take note that you can't get to the apex without taking into account those who are already there and ahead of you as far as your chosen field or industry is concerned.

5. Embrace Networking
It is important to network more often and effectively to increase your professional circle as you cultivate your ideal personal brand.
Make it a duty to connect with peers and industry thought-leaders by attending formal and informal networking events.
It will interest you to know that the more connections you are likely to have will eventually result in the more value you can give in your interactions.
In addition, the more chances you'll likely have for your personal brand to be recognized.
It is also impressive to know that 85% of all jobs are filled through networking.
Making it a habit to constantly attend these events will help you not only build your brand but help you increase in your knowledge and successful career advancement.
When you find yourself in events like that make it a point of duty to always reach out, interact freely, and develop acquaintance with people you meet for the very first time.
Do not be shy to book a light appointment or a casual coffee chat with fellow attendees when the opportunity counts.
Finally, you can reach out via email or LinkedIn to start a conversation especially when you don't get a chance to connect at the event.
You might like: 9 ways to make the most of unemployment

6. Ask For Recommendations
One of the easiest and most effective ways to define your personal brand and allow others share and communicate your values is to have your current and former colleagues and managers recommend you.
You can cultivate your own reviews in the form of recommendations the same way as a company or business cultivates customers' reviews and feedback to improve their sales and marketing system.
Furthermore, you can leverage the power of LinkedIn recommendation tool which allows for endorsements to attract the attention of future hiring managers.
You can always seek the consent of the people endorsing you to act as an actual reference during your job search or write a letter of recommendation if needed on your behalf.
Perhaps, you are not really sure who to ask for help, you can link up with your former manager who mentored you closely as they can be very approachable and willing to help.
Finally, in the organizations you belong to, professors and other leaders of those organizations can help in crafting effective recommendations.

7. Grow Your Online Presence
Another most important aspect of personal branding is growing your online presence.
This online presence will help you link up with hiring managers, and co-workers especially when it happens you are not seeking for any job opening.
As we have different social media tools available today at our fingertips, your online presence will vary as well depending on the medium you choose.
While you ensure your story should be the same across all platforms, you can improve on your effort in sharing your most inspiring stories where your targeted audience are most likely to turn.
If you wish to dedicate one of your profiles for friends and family, go to your privacy settings and adjust it so your potential employers won't be able to access any information that could potentially hinder your chances of landing a job.
Below are some online platforms to help you in crafting your personal brand;

Personal Branding Examples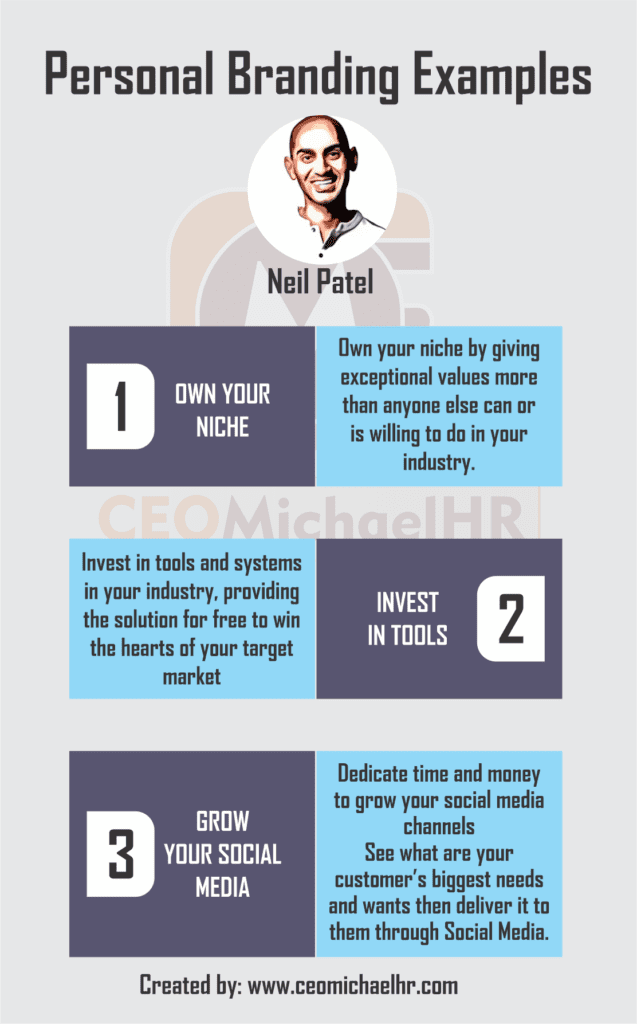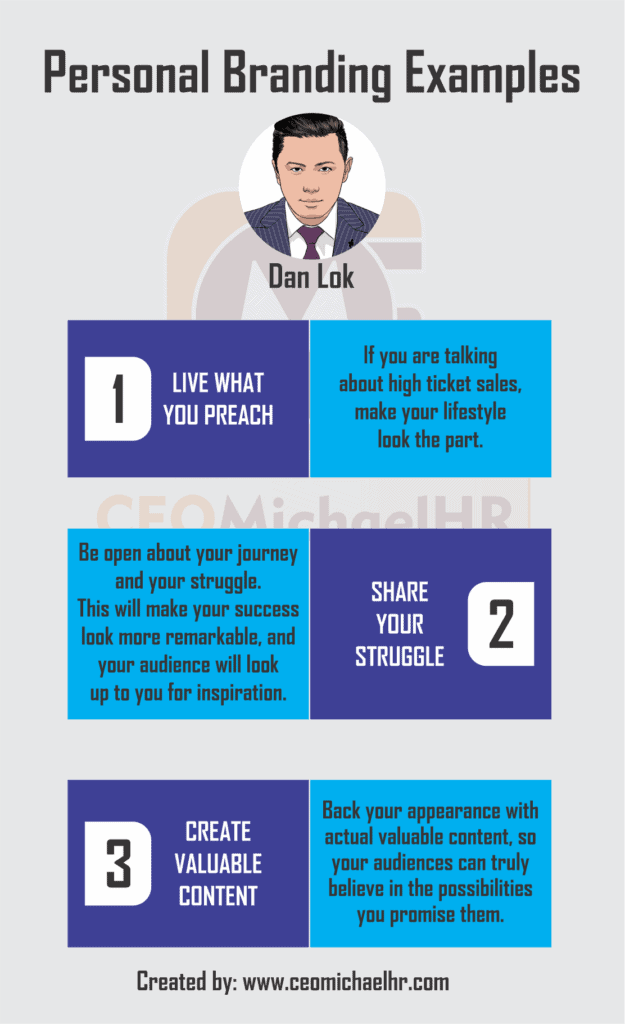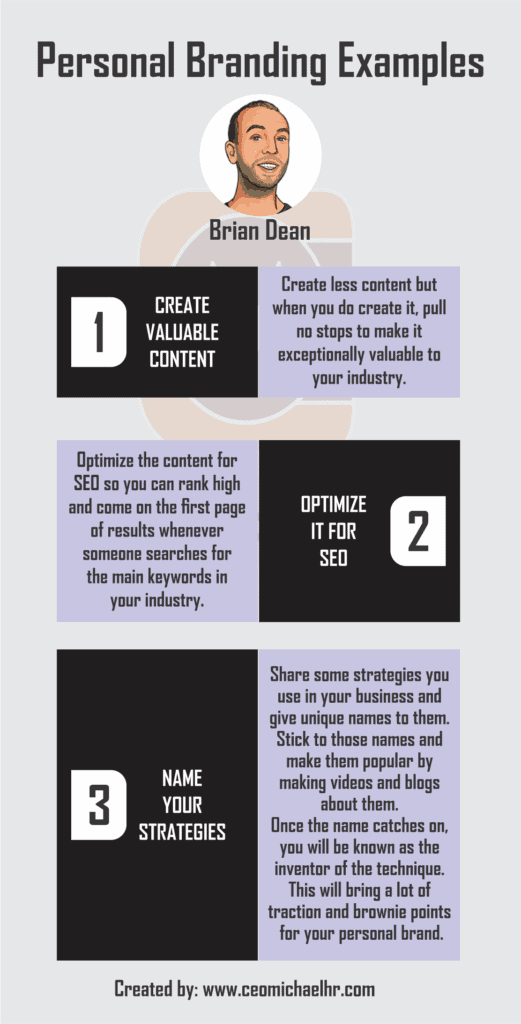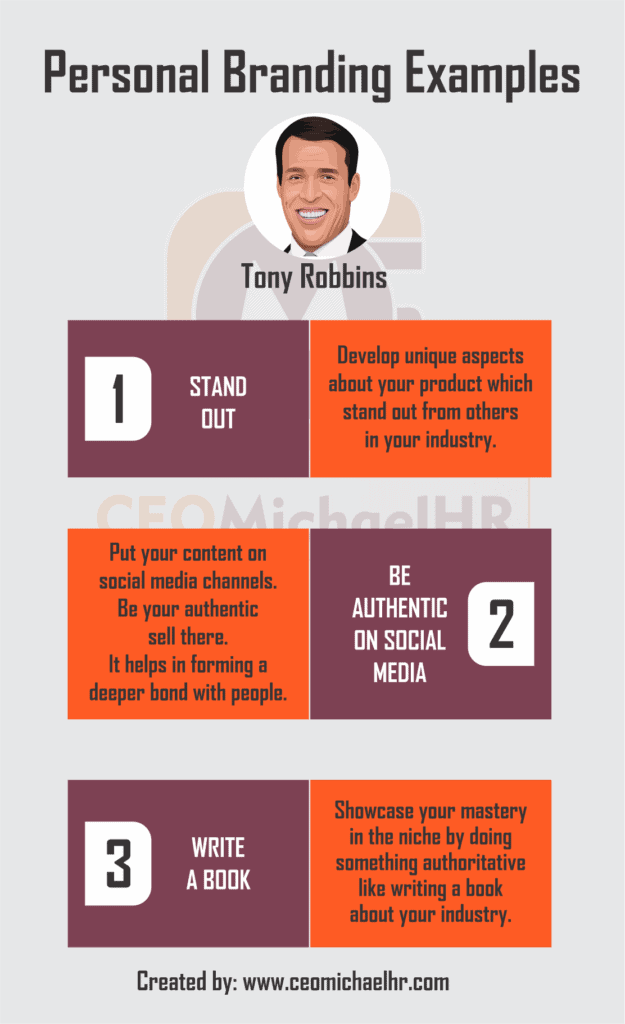 Conclusion
A whole lot have been learnt on Personal Branding along with various steps to take when crafting your personal brand.
Also, the personal branding examples (infographic) by various industry leaders and experts should shed more light on how you can effectively brand yourself or business to the world.
LinkedIn along with other social media platforms have been extensively discussed as mediums through which we get to connect and seek for recommendations for our personal or business brand.
Finally, effective personal branding is impossible unless you participate in a group and familiarize with people whose interests align with yours so your story can be shared and heard.