When you get asked an interview question like this one "where do you see yourself in five years? It makes one wonder if the interviewer really knows you don't wield a crystal ball.
So, how the hell do they expect you to know where you'd be in the next five years? Lol, very funny, isn't it?
But let us explore their motive on a deeper scale and reasons why you should have a good answer.
You might like: How to say you were fired on an application

Why Do Employers Ask, "Where Do You See Yourself In Five Years?"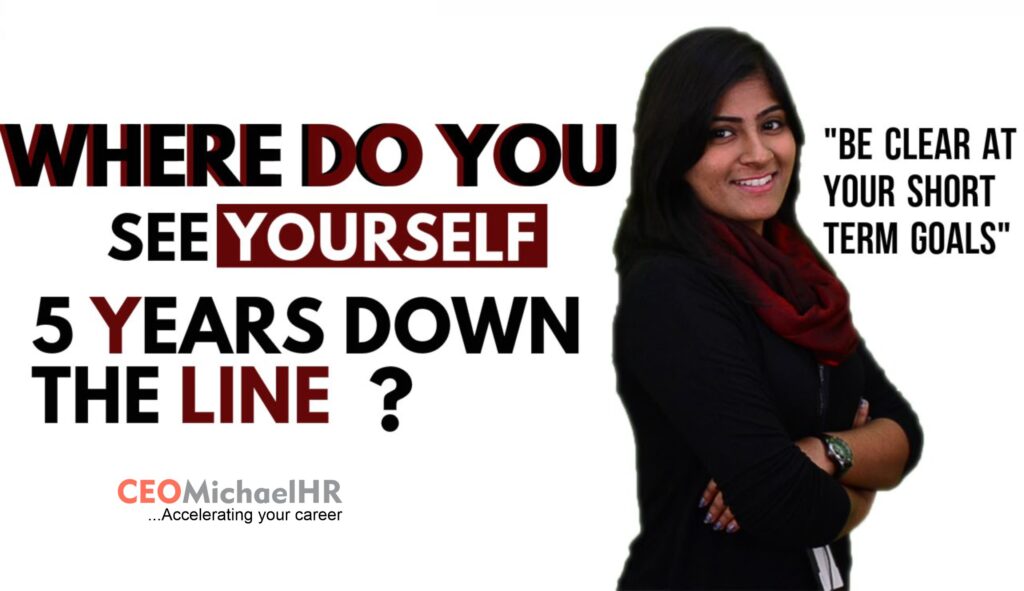 Never ever fret again, just smile and relax.
Even though you don't have the idea of where you will be in five years' time, there is a proper way one can answer this question during an interview.
Despite their tendencies of asking this mind blanking, trickiest and daunting question during interviews, employers care less about your actual plans says Muse career coach Tara Goodfellow, owner of Athena Consultants.

What they really want to know is whether you've got some ambition, driven focus, and goal orientation.
They want to know you've at least put your future under consideration and what accomplishment you'd love to have achieved.
Did you get it? No! I think you and others need some more clarification for proper grasping.

When hiring managers asks you the above question, from the employer's perspective, what they are trying to get at is to know the kind of people who are motivated, self-aware, engaged in their job and who share similar goals and values to recruit says muse career coach Eloise Eonnet, founder of Eloquence Coaching.
The question asked by recruiters; "where do you see yourself in 5 years?" attempts to measure a candidate's passion and future goals, while taking a look at how they fit in with the role they are interviewing for.
They are inquisitive about the type of person you are and will eventually become.
Questions like these will be racing through their minds: What's so precious to you; are you happy and proud of your work? Are you excited to become a great team member? Learning how to take up managerial roles? Etc.
Easy man! Go no-where. Your lesson still continues… (Laugh), you never thought your lessons were over, did you?
Let's now explore some dos and don'ts for answering the question "where do you see yourself in five years?"
Go with these guidelines to construct an answer that will leave your interviewer in awe.

Do's For Answering "Where Do You See Yourself In Five Years?"

1. Make A Connection of The Job to Your Career Goals.
Consider your short-, medium- and long-term career goals- maybe the type of work you want to do, the kind of organization or company you would love to work for, the nature of the environment you'd love to be in, the kind of connections you'd love to gain out of job experience.
Or maybe your goal is how you want your self-image to be seen by colleagues. For example, as an expert in resume writing or a prolific engineer.
Then, see how this position you're in will help you achieve your goals. Is this job a stepping stone on your way to the dream one?
For example, maybe you want to be a project manager eventually and you're interviewing for a quantity survey position.
Or maybe you're hoping to gather experience on certain fields or develop a skill-set that will help you in your career.
For example, you might want to work as the personal assistant to the manager or learn bartending.

2. Know That It Is Fine Even If You Don't Have It All Planned
It's true, you probably don't have your future plans into five years all figured out yet especially if you're a fresh graduate.
And so, who is saying that's bad? It is totally fine! According to some job experts, a lot of people don't know the rudiment of potential opportunities until they experience it.
In this scenario, do your homework by researching the career path and the professional opportunities that might follow from the position you're applying for and get acquainted a bit with other related positions.
See what catches your attention, and be apt to explain why it did.
For example, maybe you're interviewing for a professional cook so you'd have the satisfaction of a lot of people from different walks of life enjoying your meal every day.
Just indicating in your answer that you have a grasp of the roles helps, so that even though you don't know where your career is headed, be clear on what job opportunities it will provide you and show that you're excited to explore them all.
You might like: 7 Tips for The Morning of Your Interview

3. Honesty Is a Virtue
Ultimately, while you want to relate your answer to the role, your answer must be what feels right to you- but tactful.
Even if this job is going to be a short-term one for you, you don't have to say that.
Instead, discuss on your capabilities, and values you will be creating in the next coming years.
There is absolutely no need of mentioning any company name or exact position.
For instance, you may say; in five years, I will have organized a lot of marketing events that will give our product a measure of awareness in areas that are new to our markets.

4. Be Realistic
Don't be vague when it is about your goals, make sure you are talking about goals that you can achieve in the next five years.
If you are a fresh graduate, telling a departmental manager you will have his job in the next five years doesn't make you ambitious. It makes you seem naïve, arrogant and stupid.
Talk about moving up one- or two-level max in your career or learning new skills and gaining experiences that you will be exposed to in your current position.

Follow This Format In Answering "Where Do You See Yourself In 5 Years"
So how do you put this together and give a favorable answer? We suggest following this formula:

Begin your answer with one or two key goals
Start your answer with a few key goals and consider connecting them with some of the qualities you want to convey to the interviewer.
For example, I love to learn a lot about graphic design and video editing. So, in the next five years, I see myself being an expert in digital advertisement.
Or, I am someone who loves learning about new technologies and trends, so in the next five years, I see myself gaining established knowledge on what is new and emerging in digital marketing.

Deep dive into how and why you will have done these things
Interviewers want to ensure that you have carefully thought out your plans.
So continuing with the example, you might say: by working as an analyst, I would have gained experience in analyzing the results of a wide scope of marketing tactics, and I will have stayed on top of new and innovative developments by becoming active in one or more marketing groups.
I will have also used my analysis skill and knowledge to contribute to the starting of marketing campaigns, while gaining experience organizing campaigns myself.
This will give me a solid foundation in the processes of marketing and help me leverage new trends effectively and efficiently to create marketing campaigns that will never feel dry.

Furnish your ambitions beyond the next five years (optional)
From there I am hoping to make a decision as to whether I'd like to become a marketing expert or just a generalist, but whatever it may be, hoping to certainly move into the role of a marketing manager or strategist position where I will be making very important decisions regarding campaigns and branding etc.
You might like: 10 tips on how to be successful at work

Don'ts For Answering "Where Do You See Yourself In Five Years?"
Here are what not to do and do not do what is here no matter how tempting it might be.
Make sure to never do it during an interview when you are been asked the question; where do you see yourself in five years?

1. Never imply you haven't given a thought about your goals (or tell a joke)
For example, this is no joke:
No matter how true it feels, you should steer clear of joke answers like "retired on a beach" or
"as a rich widow."
Even if you don't know what is in store for you down the line, use your answer to show that you have a plan to figure it out.
If the answer doesn't ring at first, take a few seconds and think about how you have grown in the last five years. Meditate on the natural flow of progression and bring out an answer.
Again, I am sure you have taken a note on the fact that the main reason why this question is asked is to ascertain whether you have goals and are excited about your future with the company.
They want to be sure that you have a good work ethic, ambitious and how you might handle your work perhaps, you are hired.
You might like: What to Wear to a Summer Interview

2. That you plan on a short-term tenure with the company or organization.
Whether it's a small company or a big organization, if they must invest time and resources in you, they want to believe you are going to be with them for a long time or at least five years.
Now a days, employees may be spending less time in roles before switching another, but not you.
You don't want to let the cat out of the bag just yet unless you are interviewing for a temporary position.
Not every company is expecting you to still be working for them in five years, but unless they do, Eonnet says. Goodfellow (Who was formerly a recruiter) adds, "It's very expensive to train, and expensive to recruit, so I do want to hear you intend to stick around."
You don't need to state out rightly, "I'll still be working for you," if it is not true, but avoid anything that would be impossible if you still worked for the company.
So if you're interviewing for a software development job at a startup, don't say that you're hoping to have landed your dream job at Microsoft by then.

3. That you want their position
It is true that the interviewer wants to know you are ambitious, but you don't want to come off as though you are eager to climb up the ladder and see yourself in their positions, especially if it is a small organization where such opportunities are few and far fetch.

4. Ramble
According to research, Goodfellow, owner of Athena Consultants says "be honest, direct, and succinct."
Possible example answers: "I am someone who loves solving problems, so in five years, I'd love to be seen as the go-to financial analyst when departments or projects need to save money and achieve their business goals.
I will have worked with senior financial analyst to learn from their approaches before taking on a few smaller budgets myself and slowly building up from there.
But I will have also completed a few courses on business operations using XYZ Co's professional development allowance since I want to make sure that any suggestion I make go toward not just saving money, but increasing efficiency and achieving company goals and objectives"
Or let's say you're an entry-level candidate who doesn't quite know where you want to be in five years.
You might answer with, Goodfellow still speaking:
"In five years, I'd like to be in a position where I know more about my longer-term career aspirations as a designer. I will have gotten experience working for a design agency and know more about the industry overall.
I'll have grown my technical skills and learned how to take feedback from clients and incorporate it.
And the way your agency is set up, I'll also have gotten the opportunity to design different kinds of deliverables-including websites, branding, and ad-campaigns-for different kinds of clients to see where I really feel home before settling on a focus."
You might like: Can You Count Internships as Work Experience?

A couple of years into your career, Goodfellow advised you might say something like:
"I've found that the most rewarding part of working in HR has been when I get to be part of putting together a training or development session-it's so satisfying to help my coworkers learn something new and useful.
So, in five years I'd like to be more of an expert in learning and development. I'll have learned more about what goes into putting together development opportunities for employees and have hopefully coordinated or run some training sessions myself.
In a training and development coordinator role like this, I'll also learn more about how to work with individual employees or teams to identify prime opportunities to up skill and find the best form of training available to deliver programs that're useful to individuals and the organization overall.
Hopefully, in five years I'll be helping make decisions about what kinds of program a business will offer and how to make sure employees are benefitting and growing."

Conclusion
As you may notice, this simple question exposes a lot about you to an interviewer as a potential employee.
So, don't undermine its power; now you have got the skills to answer the question with a smack down.
Finally, before you can answer this question, ensure your resume is getting you the interviews. Check your resume with a free review now by one of our career coaches.