Who Are Office Managers?
An office manager is a professional who executes administrative functions of a company or an organization.
This individual may be referred to as an administrative service manager or business office manager.
In simple term; a person who is in charge of running an office.
Part of the office manager job description include ensuring that the company's or organization's support staff are running properly and seamlessly.

What Does An Office Manager Do?
Office managers are responsible for ensuring the smooth running of the office.
Office managers job description ranges from running an office including allocating physical resources such as supplies and office space, as well as scheduling internal events.
Office managers oversee operational staff such as administrative personnel, technicians, and accountants.
They are expected to organize and coordinate administrative roles and office procedures.
An Office Manager role is to create and maintain a conducive work environment aiming at high levels of organizational effectiveness, safety and effective communication.
Below is an infographic to explain further the job description of an office manager sourced from MBN market business news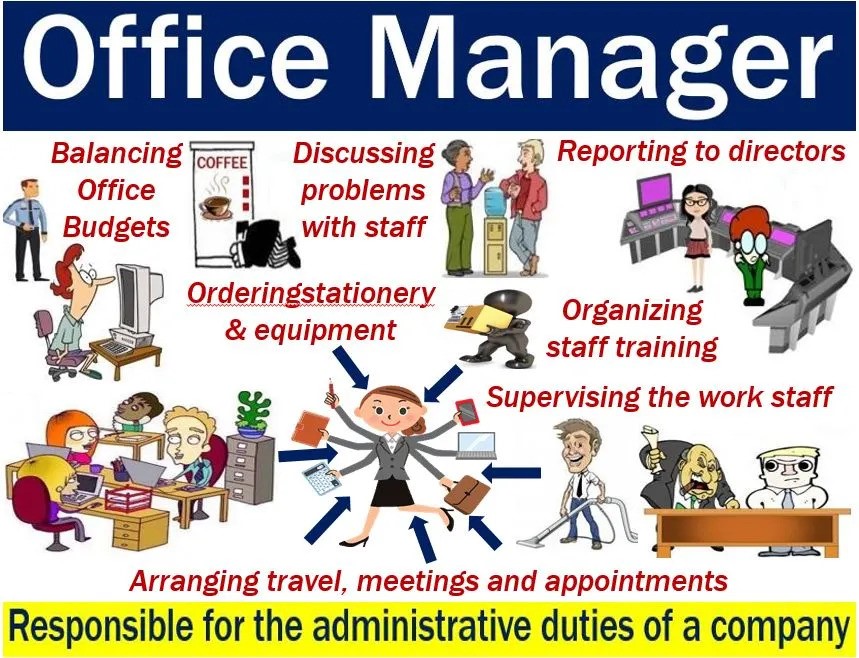 What Makes A Good Office Manager?
An office manager is said to be good when he is more than just an efficient assistant.
It is important for an office manager to possess sound judgement, strong communication and problem-solving skills.
In most cases, because of the nature of their job, office managers are seen as leaders with enough patience to handle all aspects of their job.
You might like: How to Include A Minor on Your Resume

Who Does An Office Manager Work With?
As a result of their good team spirit, Office Managers find it easy to relate with colleagues handling other job roles such as Administrative Assistants, Office Assistants, HR Assistants and Receptionists.
Business owners, directors and departmental heads generally receive reports from these dynamic office managers.

Office Manager Job Description
An office manager is highly experienced in the area of organizing, coordinating office administration and the procedures involved in order to guarantee company's effectiveness, efficiency as well as safety.
Though the office manager is responsible for nurturing intra-office communication protocols, task delegation, office staff supervision, streamlining of administrative procedures and inventory control, a successful office manager is an enthusiastic professional who wouldn't mind managing multiple offices under him or her.
Office managers are able to coordinate a wider range of administrative duties and executive support related tasks working single handedly with little or no supervision.
In fact, they are known to be well organized, flexible and stay motivated in facing administrative challenges of supporting an office with various people.
You might like: Should I Reapply for A Job That Was Reposted?

Office Manager Responsibilities (General)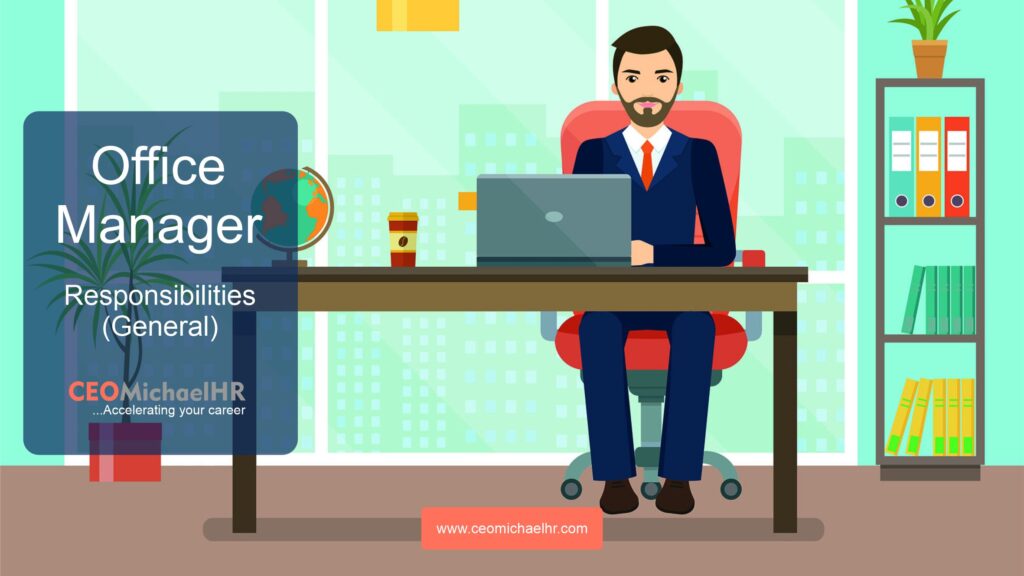 Go-to professional for maintenance, mailing, shipping, supplies, equipment, bills, and errands
Organize and schedule meetings and appointments
Partner with HR to maintain office policies as necessary
Organize office operations and procedures
Coordinate with IT department on all office equipment
Manage relationships with vendors, service providers, and landlord, ensuring that all items are invoiced and paid on time
Manage contract and price negotiations with office vendors, service providers, and office lease
Provide general support to visitors
Responsible for creating PowerPoint slides and making presentations
Manage executives' schedules, calendars, and appointments
Responsible for managing office services by ensuring office operations and procedures are organized, correspondences are controlled, filing systems are designed, supply requisitions are reviewed and approved, and that clerical functions are properly assigned and monitored
Establish a historical reference for the office by outlining procedures for protection, retention, record disposal, retrieval, and staff transfers
Ensure office efficiency is maintained by carrying out planning and execution of equipment procurement, layouts, and office systems
Responsible for developing and implementing office policies by setting up procedures and standards to guide the operation of the office
Ensure that results are measured against standards, while making necessary changes along the way
Allocate tasks and assignments to subordinates and monitor their performance
Assign and monitor clerical, administrative, and secretarial responsibilities and tasks among office staff
Perform review and analysis of special projects and keep the management properly informed
Determine current trends and provide a review to management to act on
Responsible for recruiting staff for the office and providing orientation and training to new employees
Ensure top performance of office staff by providing them adequate coaching and guidance
Remain updated on technical and professional knowledge by attending educational workshops, joining professional associations, building networks with fellow professionals, and reviewing of industry publications
Responsible for ensuring office financial objectives are met by preparing annual budget for the office, planning the expenditures, analyzing variances, and carrying out necessary corrections that may arise
Participate actively in the planning and execution of company events
Responsible for developing standards and promoting activities that enhance operational procedures
Allocate available resources to enable successful task performance
Coordinate office staff activities to ensure maximum efficiency
Evaluate and manage staff performance
Recruit and select office staff
Organize orientation and training of new staff members
Coach, mentor, and discipline office staff
Design and implement filing systems
Ensure filing systems are maintained and current
Establish and monitor procedures for record-keeping
Ensure security, integrity, and confidentiality of data
Design and implement office policies and procedures
Oversee adherence to office policies and procedures
Analyze and monitor internal processes
Implement procedural and policy changes to improve operational efficiency
Prepare operational reports and schedules to ensure efficiency
Coordinate schedules, appointments, and bookings
Monitor and maintain office supplies inventory
Review and approve office supply acquisitions
Handle customer inquiries and complaints
Manage internal staff relations
Maintain a safe, secure, and pleasant work environment



Office Manager Requirements

Proven office management, administrative, or assistant experience
Knowledge of office management responsibilities, systems, and procedures
Excellent time management skills and ability to multitask and prioritize work
Attention to detail and problem-solving skills
Excellent written and verbal communication skills
Strong organizational and planning skills
Proficient in Microsoft Office
Knowledge of accounting, data, and administrative management practices and procedures
Knowledge of clerical practices and procedures
Knowledge of human resources management practices and procedures
Knowledge of business and management principles
Computer skills and knowledge of office software packages



A well-tailored resume with skills section highlights all your relevant skills for an office manager position.
This will help your resume to match the applicant tracking system (ATS), which is the first move to get your application recognized.
Make use of these office manager job description top skills below to help you effectively create your stellar resume in a brace.
You might also like: The Predictive Index Test (All You Need to Know)

Office Manager Key Skills & Proficiencies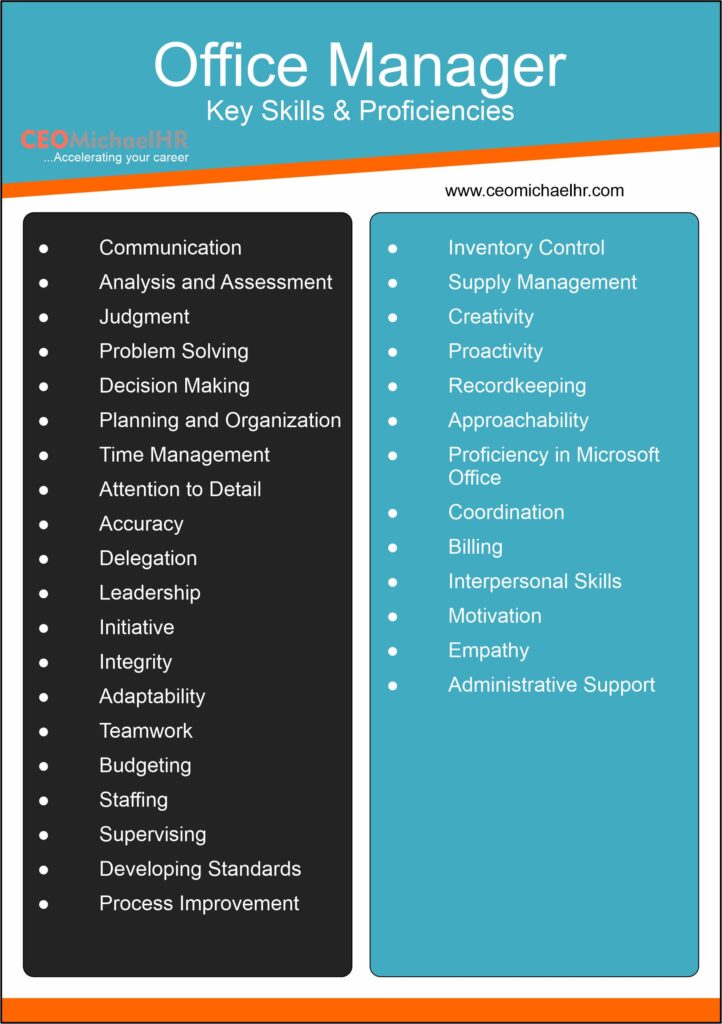 Conclusion
Do you wish to work as an office manager? If yes then we are here to help you get there.
Reach out to us at CEOMichaelHR where your tailored resume advances from hello to hired!