LinkedIn is a social media platform that has provided professionals and businesses with great opportunities for optimizing profiles and connecting with others.
It is a powerful social networking hub that has grown so many industries and helped many job seekers land their dream jobs, while gaining acquaintance connections.
LinkedIn offers a great opportunity to utilize all of its amazing features including LinkedIn endorsements and how to ask and get them.

What Are LinkedIn Endorsements?
LinkedIn endorsement is a good social proof that gives your skills some level of trust.
Being endorsed on LinkedIn is an easy way for your LinkedIn connections to attest to your expertise with just a click.
For example, a study by the Avid Careerist found that you will rank more highly on LinkedIn search results if you have a greater number of endorsements for the skill a recruiter is seeking.
Many professionals know how important it is to have a LinkedIn endorsement but the problem is how to ask and get these endorsements on LinkedIn since there isn't a laid down rule for doing so.
If you are confused on how to ask and get endorsements on LinkedIn, it's not as difficult as you think.
This article is specifically tailored for you to learn key facts on how to get endorsements on LinkedIn along with illustrated samples that'll make your job search easier.
You might like: How to Use LinkedIn to Get a Job 2022

Why Do Skills And Endorsements Matter?
Endorsement is seen as a form of social proof.
When people check your profile and see multiple endorsements for your relevant skills, it reinforces that you are the person they should hire if they're looking for those skills.
This is especially useful for any potential employer.
According to LinkedIn research, those who list at least five skills on their profile receive up to 17x more profile views.
This indicates that the team at LinkedIn is using this information in their search algorithm.
You can see that endorsements don't only make you look more professional, they also help you rank better on LinkedIn searches.

What Is The Difference Between LinkedIn Endorsements And Recommendations?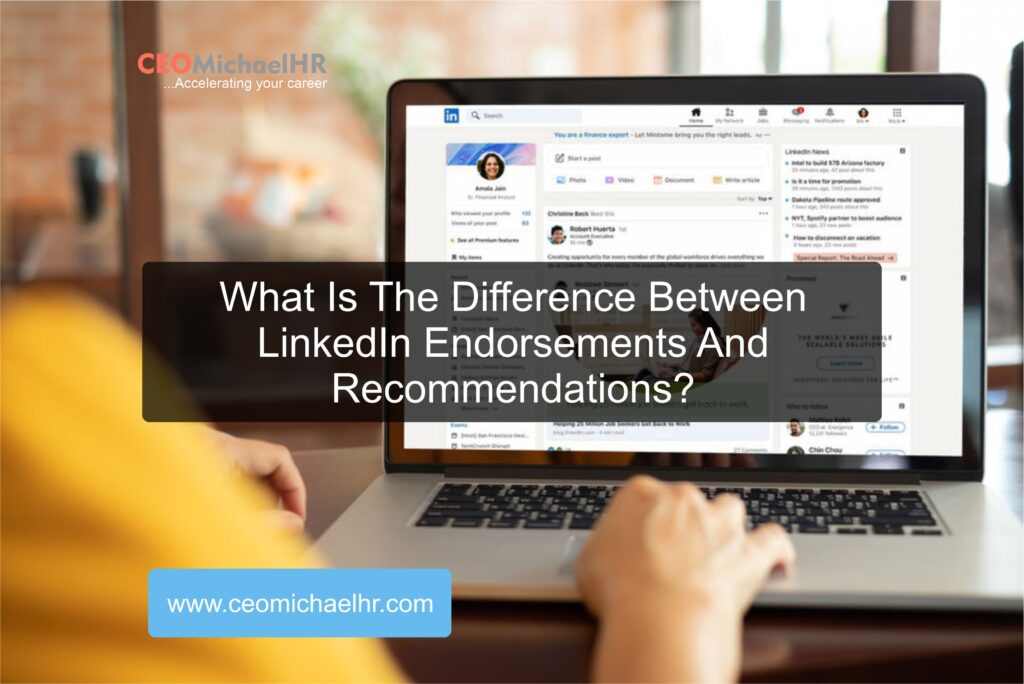 On creation of your LinkedIn profile, you will have realized that you were requested to include the skills you want to be displayed on your profile.
Over 50+ skill choices placed under a section called "Skills and Endorsements".
From here, your connections are to verify your skills whenever they see that list.
On the other hand, LinkedIn recommendation is similar to a lore reference.
They are written assertions by your connections vouching for your skills and capabilities.
These are displayed on your profile or are available in the form of a virtual recommendation letter.
Recommendations add more value to your LinkedIn profile than endorsements — but both are still necessary for a successful profile.
Since LinkedIn's collaborative features were released, several people received endorsements from colleagues they never thought to ask.
You might like: How to Make Your LinkedIn Profile Standout

Important Things To Pay Attention To That Will Guarantee An Easy "Yes" To Your LinkedIn Endorsement Request
LinkedIn is a social platform with great principles.
All information on LinkedIn are verified, and that's why professionals use this website to find suitable candidates and business partners.
They will only pay attention to profiles that seem legitimate, with endorsements and recommendations from other people.
Before you learn how to ask for endorsements on LinkedIn, you must pay attention to these key things:

Does he/she actually know you?
Although, you may have worked on the same floor and still not known by your colleagues since you didn't establish any working relationship in the company.
As a result, a person may be hesitant about endorsing skills he/she does not know of.
A good work buddy on the other hand will not hesitate to give you an endorsement.

Did you leave on good terms?
Before you ask your former boss or co-worker for an endorsement, make sure you consider how things ended between you guys.
When the job ends on a bad note, it can be an unpleasant interaction and best ignored.
However, if things ended beautifully, then this person wouldn't have a problem with saying yes.

The skills listed
You can't expect people to endorse you on skills they aren't aware you have.
You may have been good friends with someone back then in college but they might not be aware of your new skills since it's been long you connected.
Ensure that whoever you ask has seen these skills in action.

Leaving Endorsements On LinkedIn
Like the saying "do to others what you want them to do to you".
A great way to get endorsements is by giving endorsements.
Some people do not have to ask because after endorsing others, the favor is returned.
A person is more disposed to leaving endorsements on your profile if you have already endorsed them.
Asking them is your way of giving them a friendly reminder!
You might like: How to Put LinkedIn on Resume (Correctly)

How Do You Endorse Someone Else On LinkedIn?
Endorsing someone on LinkedIn is easy, just scroll to the endorsement section of their profile and click the "+" sign beside the skill you want to endorse.
A form will pop up asking you how good the person is with the skill you've endorsed and about your relationship with them.

How To Accept A LinkedIn Skill Endorsement For Yourself
If someone does endorse you on LinkedIn, it won't appear on your profile automatically.
You'll need to review it and accept it before it will show up.
You'll get a notification via LinkedIn and email if you've opted for notifications.
All you need to do is accept it for it to appear on your profile.

How To Ask And Get Endorsements On LinkedIn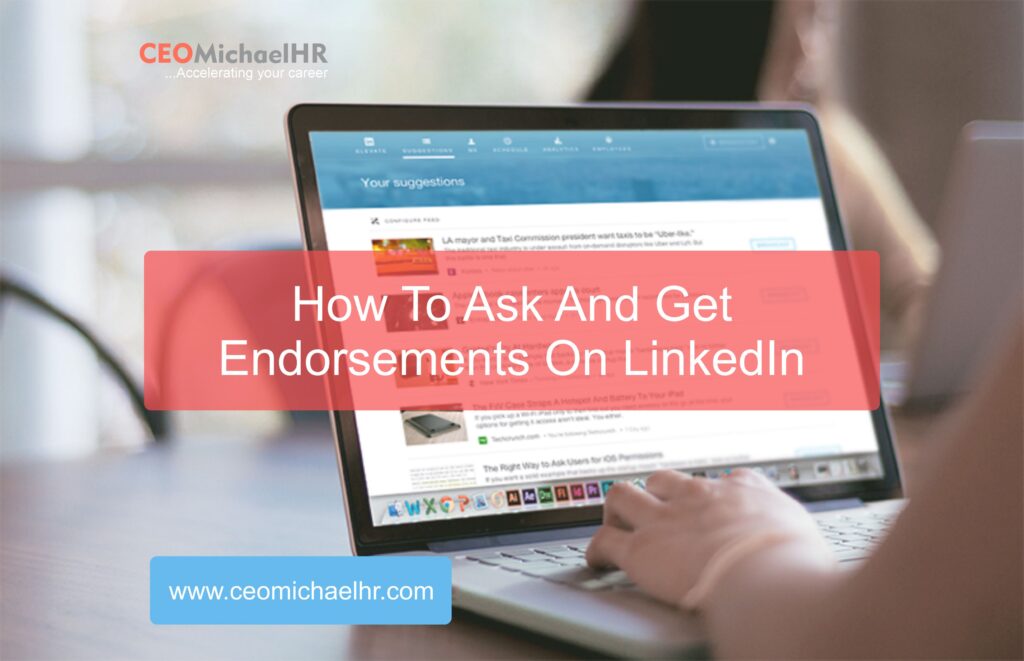 Start by reaching out to people within your immediate network and personalize each message.
Mention a project you worked on together or a service you provided.
Remind them of what you delivered, and ask if they'd endorse you for a specific skill.
Once you've sent the message, head over to their profile and endorse them for a skill you know they deliver well.
By sending a personalized message with quality content and endorsing them first, you're more likely to get one in response.
Take these simple steps into account when looking to ask and get endorsements on LinkedIn:
You might like: How to Customize LinkedIn Profile Url In 4 Easy Steps

1. List Your Relevant Skills
Firstly, list those technical and top skills that are most important to your niche and of relevance to your present job goals from most important to least important.
This will serve as a road map for people to endorse the correct talents.

2. Endorse Fellow Professionals
Start with your closest colleagues, since you know them best and are most likely to reciprocate the favor.
Endorse only the skills you've seen them demonstrate in the workplace.
After endorsing your closest colleagues, endorse the skills of those you met at important functions or during your time spent at work, such as clients, vendors, or freelancers.

3. Ask For Endorsements on LinkedIn
This can be tricky: how to ask for endorsements on your LinkedIn profile.
You want people to attest your skills and strengths, but you don't want to sound desperate as one looking for disingenuous endorsements.
Try and personalize your requests by making note of a specific project you worked on if any with the person you ask instead of sending tons of generic "please endorse me" message.
Gently remind them of your contributions, and ask them to offer comments on the project in the form of skill endorsements.

4. Make Updates and Link to Your Social Media Profiles
Are you a blogger? This is a great way to showcase your skills and gain endorsements from connections you don't really know.
Share your latest blog posts using LinkedIn's update feature, make changes to your profile often, and engage other users who connect with you.
Very few out of the many people on LinkedIn update their status on a regular basis.
So, are you looking to get on your connections' radar?
Update your LinkedIn regularly!
If you're sharing insightful quotes and quality content related to the LinkedIn skills you have listed, you'll also give them a reason to endorse you for those skills.

5. Be Polite, and Never Don't Sound Desperate
Be polite and professional when asking for a favor.
If the person says no, then don't insist so you won't sound desperate.
Endorsements are important but don't sound too desperate.
Uphold your dignity and appreciate the person for his/her time.

6. No Pressure
Having endorsements on your LinkedIn profile can be a thing of excitement but be careful not to use a hurried tone in your message.
Instead, try to seem laid back and cool about it.
Remember that this is a favor, so you are using the other person's time.
You might like: Is Canva Good for Resumes?

How To Ask For Endorsements On LinkedIn Templates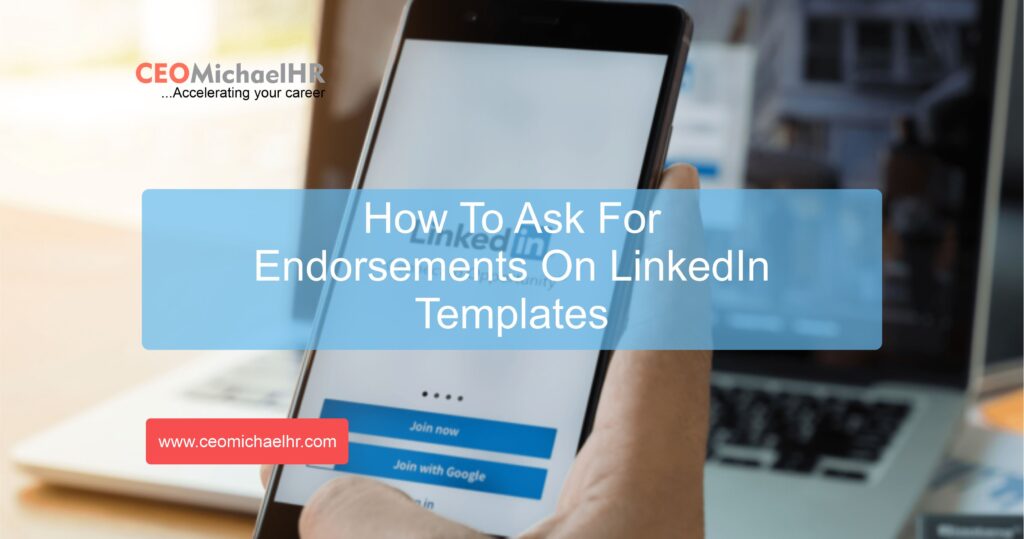 Before we run through 5 unique samples on how to ask for endorsements on LinkedIn, quickly note the following about asking endorsements from an Ex-colleague below:

Ex-colleague
Remember when asking for endorsements on LinkedIn from an ex-colleague, it is necessary to mention the company you worked as colleagues perhaps the person does not remember you right away.
Ensure the endorsements you're seeking for are peculiar to the function you played at that company, otherwise he/she may be hesitant.
For example, if you worked as a marketer and currently working as an engineer in the construction industry, your ex-colleague cannot endorse your engineering skills.
However, he/she can endorse your marketing skills.

Sample templates of how to ask for endorsements on LinkedIn from:

An ex-colleague:
Hi Trisha, it's been a while since we connected. I hope things are great back at [insert former company] and that the whole team is doing well!

As you may have noticed, I'm new to LinkedIn and I'm trying to build up my profile. Would you mind endorsing the skills I displayed at [insert name of company]? It would be a great help!

Hoping to hear from you soon,

Jenny Spences

Current colleague:
It is usually much easier to get a LinkedIn endorsement from a current colleague since he/she will probably want one in return.
In this situation, you can be a bit more informal in your approach.
Here is how to ask for endorsements on LinkedIn from your current colleague:
Hello Jethro,

Happy weekend! Don't eat up all the blueberry muffins in the breakroom before I have a chance to get a nibble at them!

I love our work relationship and how we are able to make this job fun. On a more serious note, I value your insight and integrity.

I've noticed lately my LinkedIn profile is a bit out-of-date and I would like to give it a little touch-up. Will love to get from you a few endorsements? It would help to boost my profile.

Many thanks bro.

I know I can count on you,

Anas

Your Boss
It can be a bit scary to ask for endorsements on LinkedIn from your boss, but you would be so amazed to discover how willing they are to help in hiking your career.
You never can tell their response until you ask.
Just ensure you are respectful when making your request.
Here's how to get endorsements on LinkedIn from your boss:
Good morning Mr. Tom,

I hope this message finds you well. I just wanted to ask for a small favor that can be done at your leisure.

My LinkedIn profile is fairly new, and I was encouraged to continuously update it as I advance in my career. I am currently seeking endorsements from people I know, so an endorsement from you would be of great assistance.

Would it be possible for you to grant this request? I know you are very busy so if you are unable to it's not a problem.

Thank you

Anthony Rise

A friend
It's very easy requesting a LinkedIn endorsement from a friend.
Just be mindful of how close you and that friend are because you wouldn't want to approach anyone in the wrong way.
Here's how to ask any friend for an endorsement:
Hey Star,

Thanks for connecting with me on LinkedIn. I went ahead and gave you a few endorsements to help build your profile.

If there are any others you need, don't hesitate to let me know. It would be a great help if you could please add some endorsements on my profile as well!

Have a great day,

Maxwell

A Client
When asking a client for an endorsement, your main consideration should be how satisfied he/she was at the end of the project.
A satisfied client will likely be more than happy to recommend, or in this case, endorse a good partner or service provider.
Here's a template:
Hey there!

I had a great time collaborating with you on our last project. The feedback was amazing!

I am looking for new clients, so it would be a great help if you could please endorse a few of the skills I have listed on my profile. I'll do the same for you!

Thank you in advance,

Peter Gray

Resume writer

Conclusion
You see, it's not that difficult to ask for endorsements on LinkedIn, is it?
You don't need to craft a long message, just one that contains all the important things in mind and direct to the point.
Once you do that, your chances of getting an endorsement will definitely increase.
Is your LinkedIn in need of a makeover … or don't know where to start with your profile? CEOMichaelHR offers LinkedIn optimization services that'll help you build your brand, attract recruiters, and grow your network.