Have you ever wondered how to put LinkedIn on resume correctly?
Well, just before that, LinkedIn is a social networking site with an emphasis on business.
It is utilized by job seekers and businesses seeking to promote themselves, as well as to hire others.
As of January 2018, the site reportedly has more than 100 million unique hits a month from members and non-members alike, from approximately 200 countries.
That's a lot of traffic on the internet superhighway.
One of the numerous benefits of LinkedIn is that it gives prospective employers and professional contacts a summary of your credentials.
Viewing a LinkedIn profile is the quickest and easiest way to get insight into an individual's career history.
Including your LinkedIn URL on your resume is a simple and effective way to showcase your background.
You can create a custom LinkedIn URL to add to your resume, email signature, and anywhere else you'd like to market your credentials.
Prospective employers can, at a glance, visit LinkedIn to learn more about you, your skills, and qualifications.
They can also see endorsements and recommendations from your colleagues, clients, and managers.
This article will address the following:
Putting LinkedIn on Resume Correctly.
Should I Put My Resume To Linkedin?
What to Include in Your LinkedIn Profile.
How to Create LinkedIn URL In 4 Easy Steps.
Where to List Your Linkedin URL on your Resume.

Further Reading: How to Create and Customize LinkedIn Profile URL in 4 Easy Steps

Before You Put LinkedIn on Resume
The first step amongst others is to touch up your LinkedIn account before you add the link to your resume.
This is because you'll need your LinkedIn profile to look as robust—and as good—as possible.
If your profile simply restates the same information that's included on your resume, you won't improve your chances of getting an interview.
You'll have wasted a click.
It could even potentially hurt your candidacy if you are perceived as unable to provide additional documentation regarding your credentials through your profile.

Should I Put My Resume To LinkedIn?
Before uploading your resume to LinkedIn, you must understand your job search and your privacy.
While it's an associate choice, uploading your resume to your profile might not be the simplest call so, you must consider carefully before you proceed.
Your LinkedIn profile may be a public space– everybody who you're connected with at the least can have access to its info.
However, the knowledge denotes on LinkedIn versus your usual resume has one vast difference: contact information.
On your resume, you will have your address, number, and different personal info. Do you wish to provide such info so that its accessible to all of your LinkedIn connection?
For many profiles, if someone has your profile link, they can scan everything highlighted on your profile.
It is best you do not create it simple for your identity to induce purloin.
If you simply transfer your resume to your LinkedIn profile, you would possibly come off as urgently trying to find employment, which fuels the question, "if they're such a decent candidate, why are they this desperate?"
Your resume ought to be specific for every job, so recruiters understand you're qualified for that exact position.
If you simply copy-paste your resume on your LinkedIn profile, then you limit crafting your resume to specific job applications.
In different words, its a lazy act to transfer your resume to LinkedIn, and this may not help you build a great LinkedIn profile.
You may have already been employed and need your job search to be non-public. If you add your resume to your profile, your company might see that.
Adding your resume to your LinkedIn profile makes your job search public.
If you've got your resume uploaded to the profile, there are fewer reasons for a recruiter to contact you if you do not take certain parameters into consideration.
While you may still choose to leave your resume on your LinkedIn profile so that potential recruiters see your job search as being public, always ensure to keep non-public contact details off your resume, which could lead to a decent call for you.
However, if you've got a tremendous profile without putting your resume on your LinkedIn, recruiters are going to be intrigued and can contact you to provide additional details, which ultimately provoke a resume.
If you're undecided about what to settle on, it's best to err on the aspect of safety and keep it off your profile, however that doesn't mean recruiters won't be ready to simply see it.
When you apply for jobs directly through LinkedIn, you'll be able to tweak your resume for the specific position and send it with your application.
So, seem like you understand the pros and cons of uploading your resume to LinkedIn.
Now, you can best decide based on your unique situation right?
You might also like: The Predictive Index Test (All You Need to Know)

What to Include in Your LinkedIn Profile
Here's what to include in your LinkedIn profile and how to give it a makeover- if it needs one.
Along with listing your work experience, be sure to add a professional summary section to your profile.
Use a summary
This is similar to a resume summary statement; it allows you to highlight your greatest strengths and experiences.
You can write your summary in the first person; this is an opportunity to be authentic and show a bit of personality.
Use a headline
Also, be sure to write a headline at the top of your profile—this is like a resume headline, which is a short phrase that summarizes who you are as a professional.
One element of a LinkedIn profile that makes it different from a resume is that people can give you recommendations.
Request for references
LinkedIn recommendations are written references supporting your work.
Job seekers should include a variety of recommendations on their profile to show that others respect the quality of their work.
You can request these recommendations from clients, colleagues, professors, coaches, fellow volunteers, and subordinates as well as people who have supervised your work.
Include your skills
You should also list your skills and experiences, and include LinkedIn endorsements for those skills.
Endorsements are skills and expertise that someone else thinks you have.
To encourage people to give you endorsements, give your LinkedIn contacts endorsements first. This way, they'll be more likely to provide you with one in return.
Add samples of your work
LinkedIn allow members to showcase samples of their work as part of their profile.
Incorporate writing samples, design samples, slide presentations, spreadsheets, websites, and other examples of your work.
Include any information that demonstrates your skills.
Of course, avoid sharing any proprietary information that would be damaging to your employer.
Further Reading: Q&A: How Far Back Should A Resume Go (For Work History) 2022?

How to Create LinkedIn URL In 4 Easy Steps


The animated image above shows you how to create a custom URL for your LinkedIn profile.
In brief:
On your dashboard, click on the contact info
On the next page, click on the

pencil icon

to edit your profile
Under Edit your

custom url

in the right rail, click the Edit icon next to your public profile url
Type the last part of your

new custom url

in the text box
Click

Save

Further Reading: How to Create and Customize LinkedIn Profile URL in 4 Easy Steps
Creating a distinctive LinkedIn profile URL can help you to convey a strong brand as you go about your networking and job searching.
Unless you create a custom URL, LinkedIn will assign a URL that typically contains your name as well as some numbers and letters.
It's much better to create your short version for employers and connections to click on.
Here are tips for creating an easy-to-remember URL:
Use Your Name
A custom URL can be as simple as just your name, which will be more memorable to prospective employers and networking contacts.
If your name is taken, consider adding your middle initial or middle name to the URL.
Use a Label
Another approach to customization is to include a phrase or label that might get picked up by search engines more readily.
For example, someone who wants to establish an identity as a quantitative analyst might include "quantguyhalbrooks" in their URL.
Once you have created a customized URL, it's a good idea to add it to your resume and your online profiles on other networking sites.


Where to List Your LinkedIn URL on Your Resume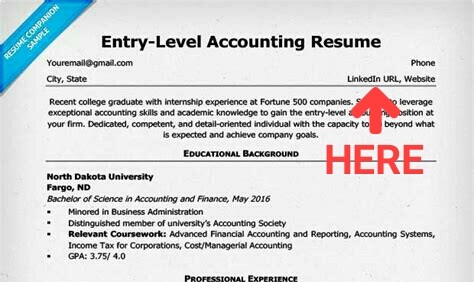 In addition to showcasing your LinkedIn profile on your resume, you can add also your resume to LinkedIn, either by linking to it or uploading it.
This is an excellent way to provide in-depth information about your employment history and expertise to prospective employers and business contacts.
In any case, you can list your LinkedIn url in the contact section of your resume.
How to put LinkedIn on a resume is quite easy and shouldn't cause you headaches

Conclusion
In conclusion, be sure to upload a new version of your resume when you get promoted, change jobs, add to your education or certifications, or upgrade your skills.
That's all the information you need to make sure your LinkedIn profile is present on your resume.
Taking the time to perfect your LinkedIn can make the difference between landing a job and landing the job for you.