Having a custom public profile URL will help LinkedIn members and potential recruiters identify your profile easily and connect with you.
You may keep the following points at your fingertips before deciding to change your LinkedIn URL:
It's vital to know why you should customize your LinkedIn public profile URL before sharing with others, including potential employers.

Your original URL is automatically assigned by LinkedIn, but you can also change your LinkedIn URL in your account settings.

In this article, we'll be exploring a comprehensive guide on how you can create or change your public profile URL on LinkedIn.
Without much ado, let's get in!
You might like: How to Make Your LinkedIn Profile Standout
LinkedIn is a great resource for professionals to connect with colleagues, business associates, and potential recruiters.
The site helps you facilitate your job search and career by basically allowing you to create a publicly accessible resume that highlights your best work.
You might wonder; how do you share your profile with other LinkedIn users you're not connected to but would like to be?
Fortunately, to share your public profile with other users, LinkedIn makes it easy to find out your unique profile URL.
This URL can be included in job applications, or for any other reason you might want or need it.
Taking only few seconds of your time, finding your LinkedIn URL can be this easy and can be done with just a couple clicks through your profile page.
Below is how;
You might like: How to Use LinkedIn to Get a Job

How To Find Your LinkedIn URL
Go to https://www.linkedin.com and log in with your username and password.

In the toolbar running across the top of your home screen, click the "Me" button which appears with your profile photo to open a dropdown menu of options.

Click "View Profile" to go to your profile page.

Once your profile loads, look at your URL bar. The URL there is your LinkedIn URL.

LinkedIn URLs usually begin with https://www.linkedin.com/in/ – after which your unique username comes along.
Good news is, you can customize your LinkedIn URL to be just however you want it.

Why Should You Customize Your Public Profile Url On LinkedIn Url?
Customizing your public profile makes your profile easier to find and share.
You change the game by standing out from the crowd.
A customized LinkedIn URL is going to outstand you from all the other LinkedIn profiles out there. This is great for people with common name.
Below are more reasons you need to customize your public profile on LinkedIn.

It justifies your credibility
Ever wonder what a custom LinkedIn URL say about you?
It projects you as a serious candidate, who makes an effort to put their best foot forward.
It also highlights that you're technologically savvy. These are amazing stuffs.

Your professional materials can reflect it
It goes a long way to include your LinkedIn profile URL on your professional materials.
This means it should be on your resume, your email signature, and your business cards.
A disorganized URL with random symbols or special characters isn't going to cut it.
A personalized URL? Perfect.
Follow the LinkedIn profile tips below to promote your professional brand by customizing your public LinkedIn profile URL.
You might like: LinkedIn Background Banner: for 35 Different Industries


Choose Your LinkedIn URL With Care
When it comes to selecting your new LinkedIn URL, ensure to keep it simple as the goal is to make sure that potential recruiters can find you quickly and easily.
You can use a combination of 5 to 20 numbers and letters without spaces or special characters.
So, thinking… what should you choose?
The key answer is your name as it appears on your current resume.
Your name is the main piece of information recruiters will have about you, and likely what they'll use to look you up on platforms.
You could also use a mix of your name and your job role.
This is helpful if you have a common name as doing so may make it easier for recruiters to find you when searching for candidates.
Key warning: LinkedIn states that you can only change your URL five times every six months.
If you're an indecisive person, you might want to think about what you want yours to be before you take an action.
If you exhausted your fifth attempt at changing the URL, you will be locked out and won't be able to do anything for half a year.
Could you spare some time?
Unfortunately, there's no time like the present when it comes to changing or customizing your default LinkedIn URL.
This quick edit will furnish your personal brand online and keep you ahead of your competition making you as a stronger candidate during your job search.
You'll make a positive impression and one step closer to the interview when you make it easier for recruiters to find you.

How To Change Your Linkedin Url In 4 Easy Steps

1. Launch a new tab by clicking on "Edit public profile & URL." on the right-hand side of your profile page



2. Again looking to the right-hand side of your screen, under "Edit your custom URL," take note of the URL provided there. This is the current URL address of your LinkedIn profile page

3. Under Edit your custom URL, click the small icon that looks like a pen to the right of your LinkedIn profile URL

4. Type the URL you'd like LinkedIn to use in the box, and click "Save" to save your changes.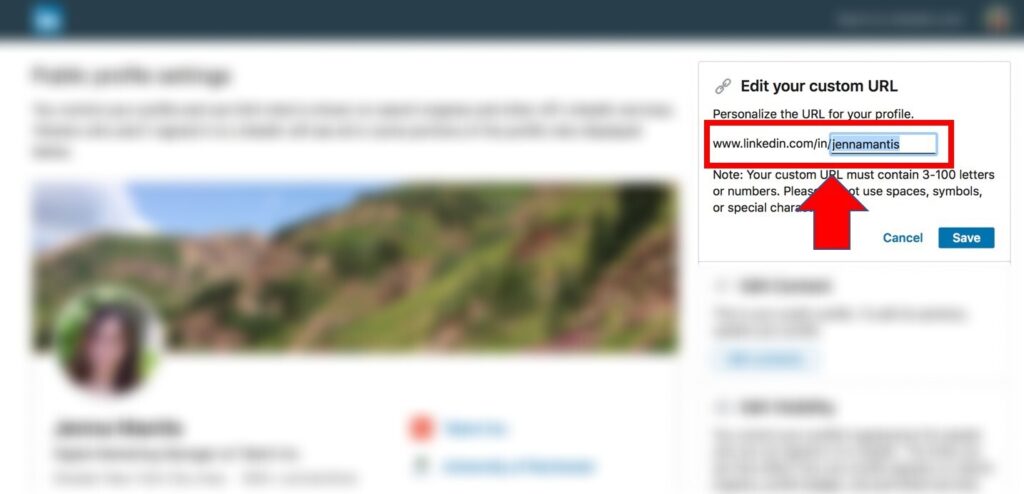 LinkedIn will notify you if your selected handle is not available, or if you need to choose a new one.
When your new URL is confirmed, LinkedIn will display a message confirming it.
Always ensure that your LinkedIn URL enhances your professional brand, rather than detracts from it.
In current job market, it's not enough to just have a great resume.
Recruiters are looking to see you have a polished online professional brand that aligns with your resume and current job goals.
According to a recent Jobvite study majority of hiring managers are utilizing social media to vet ⁠potential candidates for their open positions.
Due to this research, it's important to not only develop a fleshed out online profile that you can include on your resume but to also customize its public web address to make it easy for people to find and connect with you.
This absolutely goes to say you need a custom URL on LinkedIn.
Perhaps, you have more questions about this action item? You may check out LinkedIn's Help Center.
Is your LinkedIn in need of a makeover … or don't know where to start with your profile? CEOMichaelHR offers LinkedIn optimization services that'll help you build your brand, attract recruiters, and grow your network.