LinkedIn is one of the largest business-oriented networking websites that stands out more relevant than ever, with over 500 million members.
One common area treated reluctantly is the LinkedIn background banner.
Although your LinkedIn profile's content remains paramount, the LinkedIn background banner, as the name implies, offers you the benefit of visually endorsing your overall profile and creatively communicating who you are as a professional.
In this article, you will be enlightened on LinkedIn background banners that are perfect for 35 different industries, the various steps for changing your LinkedIn background and the right LinkedIn background banner size, including where to get the best LinkedIn images.
Let's get in!
Below are lists of LinkedIn background banners for 35 different industries:

1. Administrative
2. Business Management
3. Finance
4. HR & Recruitment
5. Technology
6. Marketing, Art & Design
7. Healthcare & Wellness
8. Real Estate
9. Sports & Entertainment
10. Legal
11. Retail
12. Media & Journalism
13. Tourism & Hospitality
14. Construction
15. Childcare
16. Education
17. Transportation
18. Food & Beverage
19. Non-Profit
20. Government
21. Beauty
22. Amazon
23. Apple
24. IBM
25. Robinhood
26. The Walt Disney Company
27. Warner Bros Entertainment
28. Asana
29. Canva
30. Oracle
31. Mangool
32. Search Engine Journal
33. Unilever
34. Mercedes Benz USA
35. BMW Group

You might like: How to Put LinkedIn on Resume (Correctly)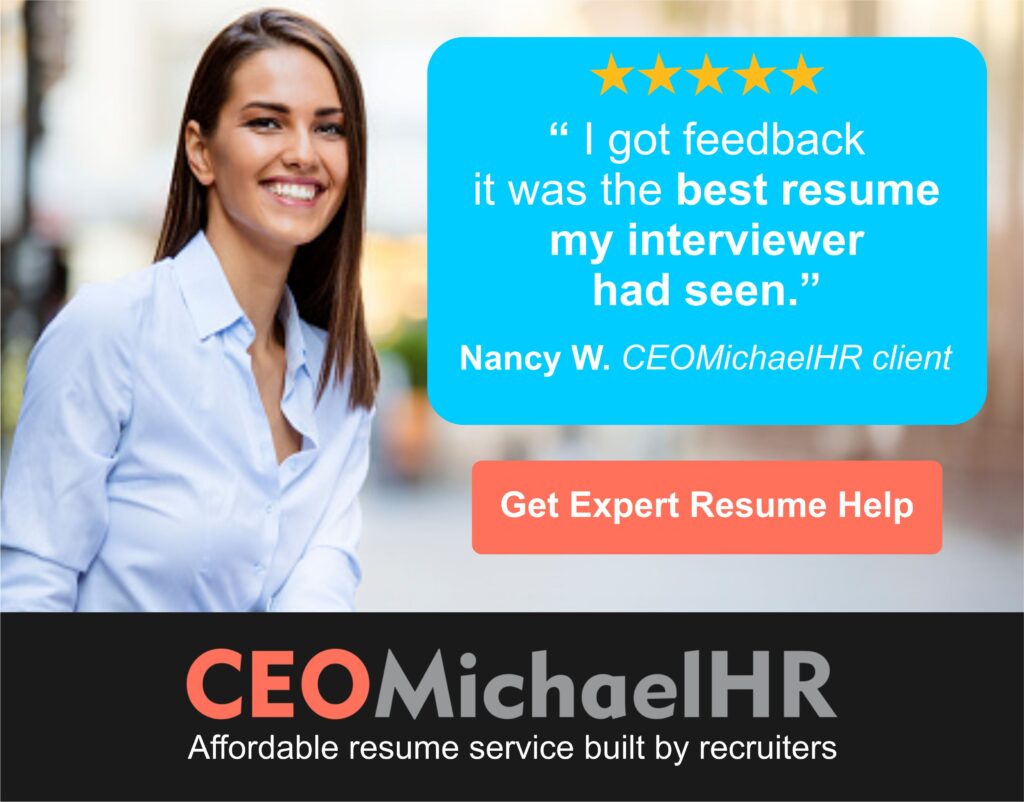 Administrative
Your LinkedIn background banner reflects your organizational skills and attention to detail irrespective of your job positions, whether you are a program administrator, medical secretary or executive assistant etc.
A neat, orderly workspace with greenery in the background stands out nicely.
You have the privilege to select an image that highlights tools of your trade, such as a calendar.





Business Management
Business management as a profession has so many job roles.
You can choose a professional LinkedIn background banner that reflects your strong managerial competencies.
The potential options could be an office space, conference hall or team workspace. It majorly depends on your management role (e.g., Executive Assistant).
Still, a good rule of thumb is choosing a professional background banner that reflects your managerial abilities. You can settle moderately with a geometric image that suggests connectivity.





Finance
In finance, you can consider using images that include financial or accounting tools such as a computer or calculator when creating a LinkedIn background banner.
You can select an image with excellent graphics for a modern look.





HR & Recruitment
LinkedIn background banner is well considered in this industry as it helps HR and recruitment roles demonstrate a focus on finding a perfect job candidate with images that can professionally furnish an individual.
This shows that such an individual is committed to strong company culture and smooth onboarding experiences.
Let the background image be uploaded to suggest inclusivity.



You might like: How to Get Headhunted

Technology
In the technology industry, incorporating technological elements such as HTML code or circuit board into your technology LinkedIn background banner is necessary whether you spend your day coding or analyzing data.





Marketing, Art, & Design
A career in marketing, art and design provides ample opportunity for a creative LinkedIn background banner.
It is important to note that these features, such as bold colours, unique graphics and artistic elements, are all executable options within your banner and, in addition, demonstrate your creativity and problem-solving abilities.





Healthcare & Wellness
It is so amazing how careers related to the medical field, fitness, coaching, nutrition etc., are now making a hot wave in recent times.
Due to this fact, it's an excellent idea to choose a LinkedIn background banner that will uniquely reflect your position in the company using images that display healthy food or a picture of the tool you use (e.g., a stethoscope).
Think about including a variation of light blue, as this colour would be associated with health and healing.





Real Estate
If you are in the real estate industry handling personal or commercial properties, you need to include images of architectural elements in your LinkedIn background banner.
You can also include warm and attractive colors that suggest a hospitable personality.





Sports & Entertainment
People involved in this industry, such as sports agents, athletes, and actors, should get a LinkedIn background banner that remains crucial, especially to those seeking a career path that's more in the public eye.
Your background banner should have the image of a camera or a microphone which goes a long way to reflect how comfortable you are in the spotlight.





Legal
In the legal industry, a career as an attorney, paralegal, court reporter etc., gives you a few routes to take with your LinkedIn background profile.
Images that display courthouses and gavels are unique options, but less apparent images show strong communication and listening skills.
Also, include the color blue within images as this color stands as a symbol of trust.





Retail
Retailing industries offer careers that typically engage you directly with customers as the job role brings you face-to-face with them.
Here you can consider a LinkedIn background banner that reflects happy customers. You can also search for images that represent a storefront.




You might like: Retail Sales Associate Job Description

Media & Journalism
All careers in media and journalism must have their professionals possess excellent writing and communication skills.
These skills can be reflected on your LinkedIn background banner with the help of an image of a typewriter, computer, camera or even a microphone if you are a new anchor.





Tourism & Hospitality
You can consider images that reflect new destinations or relaxation centres with pleasant atmospheres for roles within tourism and hospitality.
Make do with warm and inviting images with specific colors.
Tones of yellow, for example, reveal attractiveness, optimism and happiness, enhancing your LinkedIn background banner and making it stand out.





Construction
If you work in the construction or maintenance industry, using images with tools of the trades is a great option, as well as photos of worksites and architectural plans for your LinkedIn background banner.




Childcare
In the childcare industry, a great feeling comes whenever children surround you.
You can use images that reflect responsibility, caring nature and a fun atmosphere.
Bright-colored toys and organized play space are two excellent image options when creating a LinkedIn background banner for the childcare industry.





Education
Education is eye-catchy, depending on your image to keep your LinkedIn background banner outstanding.
Background images can include your classroom, books on a shelf and even your desk.
If you work in an online educational setting, try incorporating images of remote learning, such as a video screen.





Transportation
Transportation and logistics can mean many different career paths though movement is a crucial element.
Images of vehicles, the highway or even motion objects are potential options.
Green stands for safety; therefore, consider incorporating a shade of green in your LinkedIn background banner to prove that you are a safe driver.





Food & Beverage
The food service industry has a wide range of images to choose from.
Cups of coffee, delicious meals and clean eating areas make an excellent LinkedIn background banner of your work in the food and beverages industry.





Nonprofit
In a nonprofit industry, the suitable LinkedIn background banner depends on your specific nonprofit though here are a few ideas:
If your passion is about sustainable energy, consider incorporating images of recycled materials, plants and greenery.
If your passion is to work with animals, you can use images of cute pets or even related items.
Include abstract images showing the progress being made, such as via the image of a staircase.





Government
Careers in government allow another opportunity to pick from minimalistic images such as government buildings, green walkways and spiral staircases when creating a LinkedIn background banner.





Beauty
You can ideally use images that represent the beauty and cosmetology industry.
The image can be bright, a warm image of flowers, makeup and greenery.
Backdrops of marble and white wood can suggest luxurious treatment.





Amazon
Amazon is listed among the industries with a catchy LinkedIn background banner.
Anyone could cheer this banner from the company's page.
The image displays an adorable illustration which represents the main activities that the company is associated with, making it very visual and memorable.
Thinking of it comes with the slogan "Come build the future with us", which makes visitors feel a part of the organization right from the very first moment.
It energizes visitors and keeps them feeling encouraged and promising, wishing for the invitation to learn more from the company.
It also reminds you of the famous scene "Come play with us" from the movie The Shining.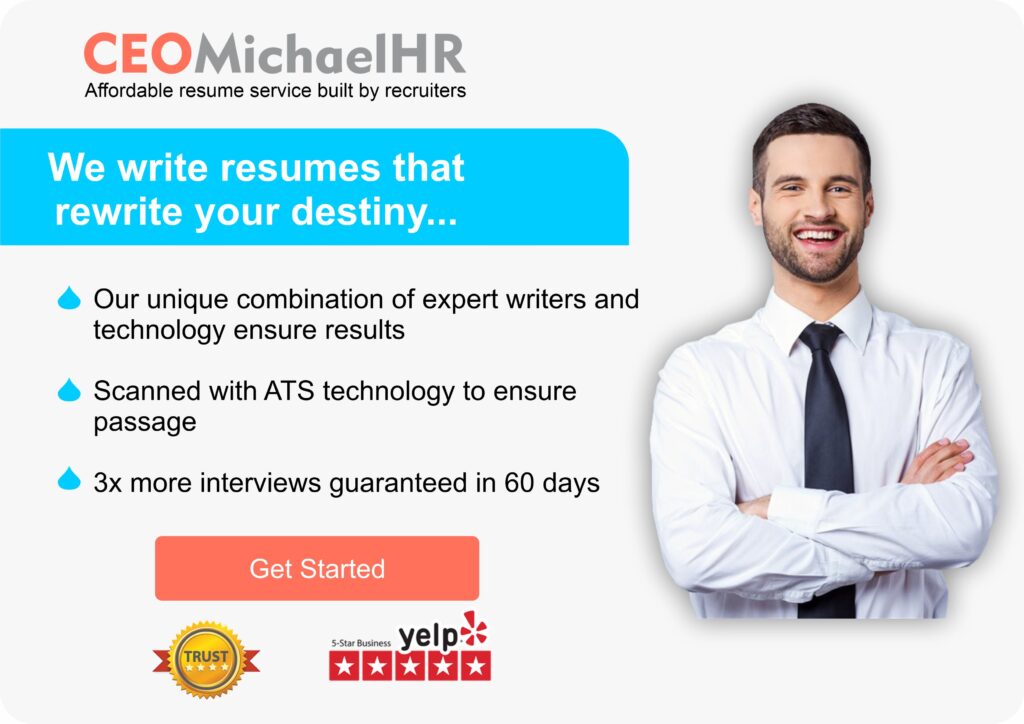 Apple
Unlike other LinkedIn background banners, Apple does not have much editing. It probably has none.
The image has its history from the famous Apple Park, which commenced for the company employees in California in April 2017.
This building is the sole representative of the company that speaks a thousand words by itself.
It is also a way to remind visitors that Apple seems like an awesome place to work at.





IBM
This bright blue banner from IBM immediately attracts the attention of people visiting their Company page.
While it doesn't say much more than the word "think", the illustration is quite inspirational.
It looks modern and neat in its subtle manner of promoting innovation. Just awesome!





Robinhood
Robinhood is listed amongst industries with a great LinkedIn background banner which is said to be beautiful and inspiring.
The smiling employees with painted walls behind them portray a particular startup vibe and atmosphere.
This is one that people value and do much as opposed to working in regular, not-so-modern organizations.
This LinkedIn banner sends a message to the audience that Robinhood is indeed a great place to work as it seems to encourage creativity, diversity and innovation.





The Walt Disney Company
I admit my love for the LinkedIn background banner from Walt Disney Company.
It represents a neat collage of some of their most iconic and memorable movies, which will certainly excite their page visitors.
In addition, the slogan "reimagine tomorrow, rising together" includes an element of storytelling on the banner, making you develop an emotional attachment towards the company and the content it produces.





Warner Bros Entertainment
Next on our list of examples of industries with the best LinkedIn background banner is this header from Warner Bros Entertainment.
The reason why it works so well is that the image gives visitors a wishful sentiment.
I don't know about you, but it makes me reflect on the great content I watched in my childhood. It makes me want to watch it again!
In addition, the image implies the company's new brand: "We believe in the power of story".




Asana
Asana is a web and mobile application that aims to help teams organize their work better. It has a great LinkedIn background banner listed as one of its examples.
Personally, the cover image brings out the creativity behind their company page, giving it great value.
The reason why I think it works so well is:
The colorful text boxes contrast brilliantly with the black and white image
It portrays a diverse and unified team of motivated employees
It subtly shows how its platform works by mentioning its different features
In other words, Asana presents its tool in a way that doesn't look annoying and promotional.
On the contrary, it shows its full potential in quite a motivating way!





Canva
Canva LinkedIn background banner is quite powerful because of its unique tools.
The text in the banner "what will you design", along with their "meet the team", puts the company in a very positive light, making you feel like you want to be a part of their team.




Oracle
Oracle, as a company, offers integrated cloud applications and platform services.
The cover image from Oracle does not represent to an extent, but the image makes a subtle reference to their tools and how they connect easily with each other or other third-party tools.
However, no matter the assumption, it's visible enough to find the illustration on their LinkedIn background banner quite creative, and it managed to attract people's attention.




Mangools
Mangools is a dynamic company and most consistent with its visuals across social and advertising channels.
It is straightforward to distinguish them from the rest through the uniqueness of their brand colors and illustrations.
They always prove this over and over in the cover image of their company page. This makes the company stand out from the crowd and makes it easy for people to remember them easily.
In this case, Mangools makes excellent promotional use of its LinkedIn background banner by highlighting all of its tools.





Search Engine Journal
The Search Engine Journal is next on our LinkedIn background banner examples list.
The image creates a nice contrast emphasizing the company's bright green brand color, boosting its brand visibility.
It has become a slogan tagged "For SEOs by SEOs". It is also known for attracting a specific niche of visitors and, in this case, seen as leaders in the Search Engine Optimization Industry.




Unilever
A consumer goods company with its headquarter in London describes Unilever organization as a place that creates a beautiful experience for both customers and its employees.
This can only be possible through their LinkedIn background banner as it takes on the approach of storytelling the carefully sorted images that flash some of the products they offer, combined with a close-up of the team and their achievements.
The LinkedIn background banner is an incredible collage that positions the company positively and is friendly to its visitors.




Mercedes Benz USA
From the LinkedIn background banner examples list, we are transforming the industry with our next piece.
Now we have an attractive image of what I assume is the company's latest model.
Looking at the white color of the car in the context of being among nature, Mercedes is determined to position its car model as one designed for romantic escapes out of town.
Somehow, they use their LinkedIn background banner to gain a particular brand reputation and positioning in the automobile industry.




BMW Group
BMW gives a typical example of how your company page can work for you, courtesy of your brand positioning.
Although a company at loggerhead with Mercedes, they still aim for a different goal with their LinkedIn background banner.
They prove to be one of the most innovative companies within the automobile industry, showing different high-tech, ultra-modern car models on their page.
People's attention will be drawn to this beautiful and overwhelming image.


Further topics to explore includes:
Where to find best LinkedIn banner
The ideal LinkedIn background banner size
How to change LinkedIn background


Where To Find The Best LinkedIn Banners
Various sites give free stock banners that are license-free.
You can visit the sites and input keywords in the search bar such as "calculator," "desk," and "construction."
Here are a few of our favorite stock image sites that offer high-quality images:
Canva

(look for LinkedIn Banner templates)
Another alternative is to take quality, well-lit shots with your iPhone and then capture your image for your background banner.
Your background banner will then be completely original.

The Ideal LinkedIn Background Banner Size
LinkedIn recommends that your background banner size should be 1584 x 396 pixels.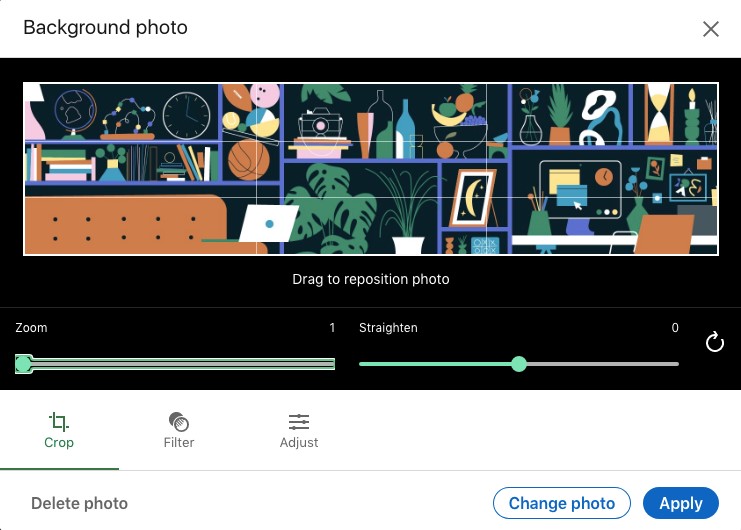 LinkedIn often accepts different file types including PNG, JPEG, and GIF.

How To Change LinkedIn Background Banner

Step 1: Go to your LinkedIn profile
Click the camera icon.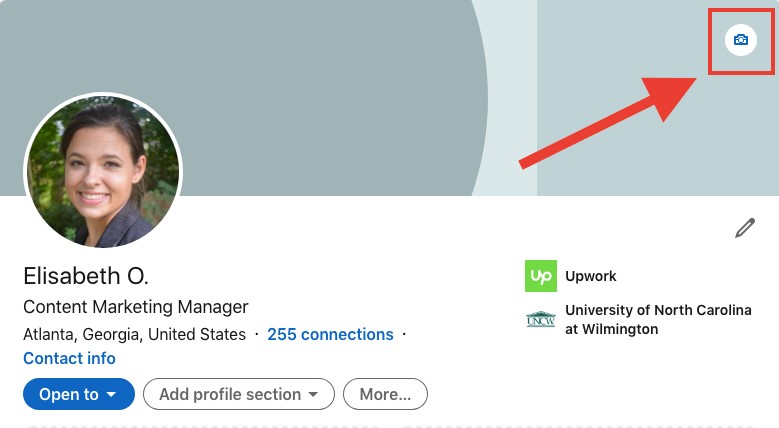 Step 2: Upload a photo
Upload a photo from your computer.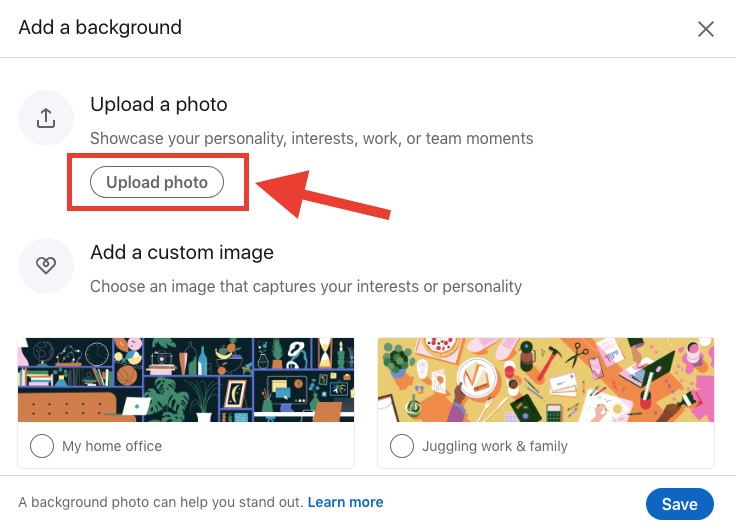 You can also now choose among LinkedIn's pre-set custom images.

Step 3: Adjust your photo and save
LinkedIn gives the option to edit your background banner directly within the platform. Easily crop, zoom, and straighten your photo.

LinkedIn also offers filters for extra editing. Once you're satisfied with how your banner appears, click "Apply."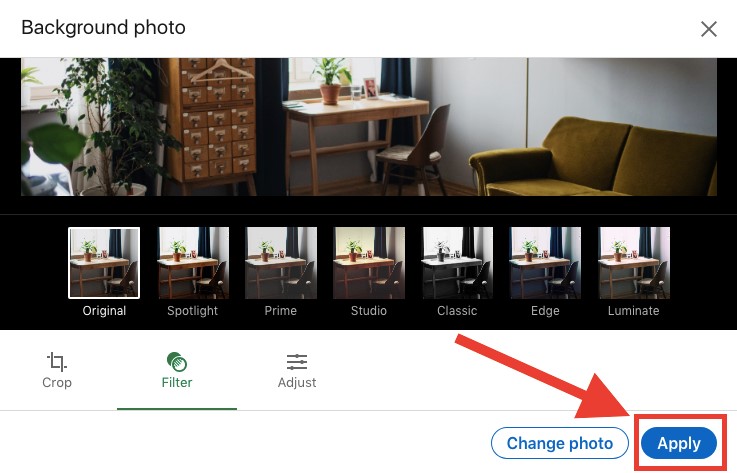 Your LinkedIn background banner is now ready for others to see.



Stand Out With Your LinkedIn Background Banner
Studies have shown that individuals can recall 65% of visual content they see while 10% of written content.
In addition, LinkedIn statistics show that if you upload an image on your LinkedIn profile, you will receive 21x more profile views.
What about the takeaways?
Of course, it's worth taking the time to add a LinkedIn background banner to your profile. This helps you to make the best possible impression on hiring managers.

LinkedIn Background Banner And How To Do It Right
Ever since the COVID-19 pandemic struck the entire world, a lot has changed significantly in the global business village.
Many networking businesses and circular jobs have taken to working and communicating from home instead as a result of the adverse effect of the pandemic.
This has also caused a sudden transformation that triggered the growth of LinkedIn as a unique social service.
As a result of this positive move, professionals worldwide have found it easier to create a rapid connection and maintain constant interaction in these modern times than ever before.
Moreover, it is a bit challenging with this recent trend. It isn't easy to win customers' attention without going the extra mile to furnish your LinkedIn profile or some other element on your LinkedIn background banner.
On a general note, you aim to first and foremost stand out by making or giving a good impression on anyone.
The most important way to achieve this is to customize your LinkedIn background banner and ensure it is rated the best.
The LinkedIn background banner is a feature often treated with reluctance regarding LinkedIn profile customization.
The first reason to put up a LinkedIn background banner is to ensure an open or provable recognition.
The default LinkedIn background banner appeals to an absurdly high number of subscribers, so having a customized one is sure to ensure a great initial impression while standing you out from the crowd.
Regarding creativity, LinkedIn background banners possess more freedom, while profile pictures are to be kept professional.
Modifying your LinkedIn background banner to a custom image relates to your ability to pay attention to little details and never miss out on tools to complete the job, especially for your collaborators and employers.
Going through a creative process of figuring out a LinkedIn background banner for everyone can be tricky since everyone's case is pretty much one of a kind.
Below are proven lists of ideas you can incorporate to help you have a well-customized LinkedIn background banner:

1. Show off the tools that can be easily associated with your day-to-day work
A great way to quickly visualize proof of your dedication to a particular trade is through a picture reflecting something that can be associated with your field.
Examples are cameras for photographers, microphones for podcast producers, a blueprint for architects, a laptop or typewriter for a writer etc.

2. Provide your awards and accomplishments
Maybe your company has been recently applauded and awarded some credit or listed amongst the top leading companies and other lists highlighting your success; you can furnish this credible information on your LinkedIn background banner to increase your status in the company.

3. Upload a personal photo to showcase your interests
The proof behind the real person handling your LinkedIn account can make many people find it comforting to reach out to you.
Your hobbies or just one can be used on your LinkedIn background banner, which can be architecture, reading, hiking or anything else.

4. Add an inspirational quote
You can also use any inspirational quote or industry insight you have encountered as the centrepiece of your LinkedIn background banner.

5. Use a photo of your workspace in a banner
Another way to show dedication is to use a picture of your office or workplace as part of your banner.
You can also list out your advantages, such as using a picture of a conference room if you depend on a lot of collaboration in your line of duty.

6. Community banner can also work
For a community-driven industry, it's encouraging to show how much you care about your clients and employees.
Sometimes management can use this banner to reflect the value of their employees, and doctors can build trust with other professions.

7. A city's skyline is an unusual take on a banner with your address
A LinkedIn background banner with information about your location can be broadened by adding an actual banner of the city where you are located, especially if it's a city's visible horizon.
It's a great idea when you also intend to use the banner of a different city you plan to relocate to.

8. Abstract geometry can also be unusual enough to attract attention for some people
Unfortunately, if your interest is not spiked by the examples given above, then going abstract is often taken as the most viable option.
You can pay more attention to color grading, with colorful banners setting up a creative vibe and stricter black-and-white ones keeping everything serious.
It would be best if you understood that each of these examples could be improved by adding text boxes.
With any LinkedIn background banner, the amount of text is expected to be minimal and readable in just a few seconds but let the number of different variations of what you can add in a text box also be impressive too, such as:
Personal hashtag
Your key job title
Your email
Your clients
Your social media handles
Your capabilities and more

A LinkedIn background banner's actual dimension is –1584×396px with a 4:1 aspect ratio and less than 8MB in file size. PNG, GIF and JPG are the only acceptable image formats.
It is important to recall that your profile image often overlaps a part of your LinkedIn background banner.
The positioning of this replacement is not concrete, as LinkedIn can adjust to your device size and move some of the objects on a page around.
Keeping the vital aspect of your banner away from its lower left part is good practice.
As previously mentioned, the set of preferences for a LinkedIn background banner might seem complicated, but the nature of things is different.
One of the most crucial reasons for this is that numerous online ad builders can offer assistance in creating a LinkedIn background banner for you.
Take Viewst, for example; they can help you start by preparing a LinkedIn background banner template so that you don't have to input it manually.
In addition, Viewst offers a lot of template images for your future banner, so you don't have to search for stock images.


Conclusion
Although it may be a bit crafty to understand the banner image and composition that suits you the most.
We trust that this article has explained how you can fashion the perfect LinkedIn background banner that leaves a great impression on hiring managers.
Ready to step up your LinkedIn profile?
All you need do is to reach out to CEOMichaelHR, where we can help you create a strong, Personalized LinkedIn profile.
We also offer unique resume writing services, cover letter writing, professional bio services, and much more.
Contact us today to learn more about our services. We would love to speak with you.