One popular and essential interview question jobseekers get asked is, "Why should we hire you?"
Hiring managers ask various questions during an interview to determine if you are a good match for the company's culture.
Understanding how to give a definitive answer to the question, "Why should we hire you?" can go a long way toward determining your eligibility for the role.
While it might seem like a tricky interview question, you can take a few steps to prepare a thoughtful, impressive response.
This article discusses why interviewers ask the question and how you can creatively answer it.
So, without much ado, let's get to it!
You might like: How To Answer "Where Do You See Yourself In 5 Years?"

Why Employers Ask Why should we hire you?
Because most of the candidates scheduled for an interview are qualified for the job, being qualified alone won't be enough to land you the job.
So, I guess you understand; the whole point of the interview is to determine if you're the one, thus why interviewers ask this question.
Furthermore, hiring managers may ask this question to know how you handle difficult situations, more about your personality, and what stands you out from the crowd.
It is important that you know the various forms in which this question can be asked during an interview. They are;
Why are you the best person for this job?
Why would you be a good fit for this position?
What makes you unique?
Why would your background and experience be a good fit for this job?

Consider this your sales pitch to show the hiring manager you're the absolute "one" for the job.
Think carefully and prepare confidently; you will be decorating your new office desk in no time.
You might like: 450+ Words To Describe Yourself: Interview Tips

How to Answer Why should we hire you?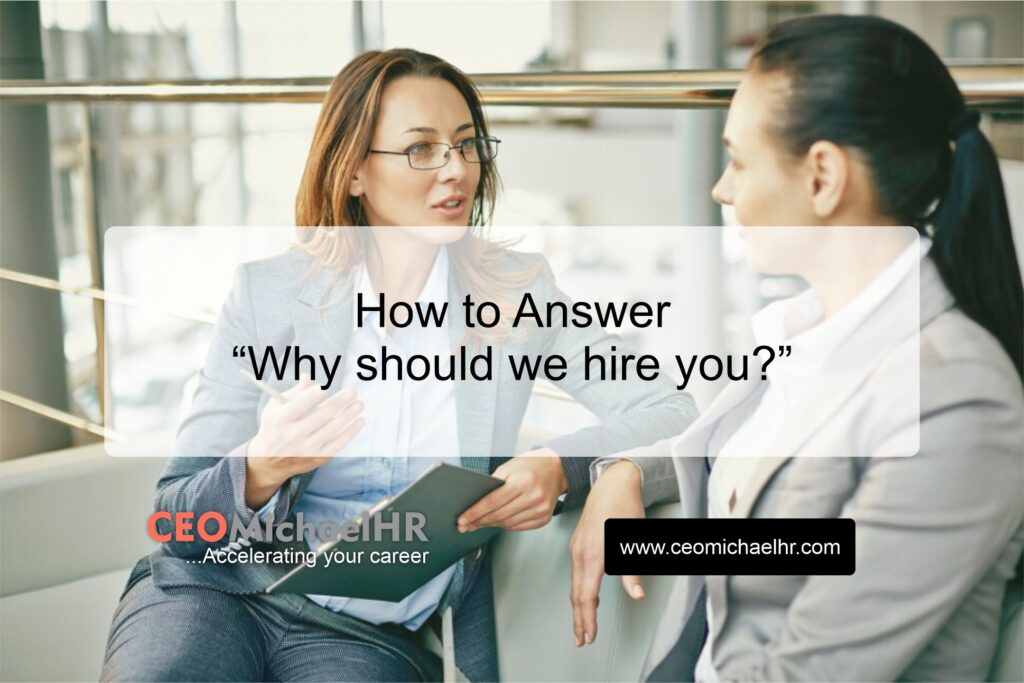 For a more comprehensive understanding of how to answer the "why should I hire you" question, we've furnished a few actionable strategies and tips to prepare you craft the best response.

1. Carefully study the job description
Review the job description to understand the specific attributes such as skills, qualities, education, and experience employers actively seek in a candidate.
Identify common job description requirements that match your skills, experience, and attributes you're ready to offer the company
Let's take an example of a job description below for a Sales Associate position.
We'll examine what the most important qualifications for this position are from the company's perspective.

Full Job Description
Overview
You are natural at putting Customers at ease, and enjoy starting up natural, friendly conversations. It's just as easy for you to connect with kids as it is with their parents. You enjoy sharing your enthusiasm for kids' athletic sneakers and apparel. It's easy for you to adapt to different types of Customers, and you resolve issues with a smile. You like to work as part of a team as you improve your individual skills on the sales floor. Your success in this role will be measured through personal and productivity goals plus your ability to provide a great in-store experience to every Customer.
Rate of Pay: $16.10 / hour

Responsibilities
Ensuring high levels of customer satisfaction by being knowledgeable on all products offered, and teaming up with co-workers to provide excellent sales service
Delivering sales, outstanding customer experience, and operational expectations
Maintaining personal and productivity goals
Connects with every customer by asking open-ended questions to assess needs
Ability to learn and share expertise of products and trends to fit customer's needs
Maintains an awareness of all product knowledge, and current or upcoming product / trends
Contributes to a positive and inclusive work environment

Qualifications
0-3 year of retail experience
Confident and comfortable engaging customers to deliver an elevated experience
Motivated to achieve great results because of one's enthusiasm from interacting with customers and athletic products
Initiates completion of tasks or activities without necessary supervision
Flexible availability – including nights, weekends, and holidays

From the above example, you'll notice I've highlighted in bold a few keywords, in my opinion.
Obviously, you'll need relevant experience in engaging customers by starting up natural, friendly conversations.
The ideal candidate must also enjoy sharing enthusiasm for kids' athletic sneakers and apparel. They must also possess high levels of customer satisfaction, while maintaining both personal and productivity goals.
Because teamwork skills are more than just highlighted in the job description, the ideal candidate must be able to work as part of a team.
You can demonstrate your teamwork ability by identifying when you practically worked with a team to achieve a particular goal.
A strategic combination of the above would encompass 80% of the answer to the 'why should they hire me' question.
You might like: 7 Tips for The Morning of Your Interview

2. Conduct in-depth company research
Researching the company's mission, goals, and recent accomplishments can help answer this question, "why should we hire you?"
With hands-on information on the company, you should be able to explain how you synchronize to their values and how you might help them accomplish key business objectives.
Remember that your desire to go the extra mile ultimately sets you apart from a typical candidate.
So, ensure to outwork your competitors by conducting in-depth company research.
Conduct investigative research into:
Company's social media
Podcast related to the company's future growth?
Company's community
Company's user-generated content and what it's all about
Any press releases or big announcements

Connecting one or two of these bullet points and matching what you're going to say with what they're looking for in their next Sales Associate will be the final 20% of your answer.
You might like: What to Wear to a Job Interview: How to Dress to Impress

3. Anchor your background to the job description
Elaborate on how your experience, skills, and qualifications make you a perfect match for the job in compliance with the company and position you're tailoring your application.
Don't forget to address the requirements listed in the job posting and any other qualities that make you a great fit.
Put these key points into consideration:
Emphasize skills that they are looking for
Be specific with your experience and back it up with results.
Don't repeat what they already know

4. Demonstrate metric-driven accomplishments
Always ensure to back up your accomplishments with metric or quantifiable results.
For example, suppose you're applying for a job as an Account Manager at a company looking for someone to streamline processes.
In that case, you might explain that you implemented a new strategy for customer accounts at your previous company that slashed time-to-reimbursement by 15%.
You might like: What to Wear to a Summer Interview

5. Highlight how you'll fit in
During the interview process, the interviewer asks why we should hire you to determine whether you will be a perfect match with the company's team.
At this point, you can carefully share your personal and professional traits and how they can make you become an asset to the company.
A concrete study of the company's media handles and website can boost your understanding of their work culture and tell if you will fit in.

6. Show enthusiasm
The willingness to work with the company can reflect in your resume when perused, but with an enthusiastic attitude, you can only prove why you want that job.
Displaying enthusiasm can make them believe you will possess the right ability towards the schedules associated with the job.

7. Practice your pitch
Are you already confident about your pitch? If yes, then it's time to begin practice.
Ultimately, preparation is the only difference between candidates who get the job and those who don't.
With proper rehearsal, you'll be able to ensure:
The strengths you outline align with the requirements of the role.
Project confidence both in speech and body language
A strong drive: most companies would instead hire someone who has little experience but is driven and motivated to learn and succeed.

All these can be practiced and mastered. Kobe Bryant said, "I was ice-cold during clutch times because I've done it thousands of times before!"
So, the amount of time you spend practicing your pitch to "why are you the best person for this job?" will help you deliver the best response when it's time.
You might like: (Q&A) How Long Does A Background Check Take? – Full Guide

Best Example Answers to "Why Should We Hire You?" Question.

1. Can you explain why your background and experience would be a good fit for this job? – Civil Engineer
"There are a lot of reasons, actually! Not only does my educational background fit what you're looking for in a civil engineer, but I also grew up working in residential construction. My father owns a construction company, and I helped him in all areas of the business, from putting together proposals to using the software to helping with the actual physical constructions. Even though I'm just finishing my bachelor's degree, I have over a decade of experience in the industry in similar roles."



2. Why should we hire you- IT Project Manager
"This hiring process has been extremely thorough, so I'm sure the candidates you're bringing in are all excellent and highly qualified. However, I saw on your website that you're planning to launch a new website soon. As you saw on my resume, I have extensive project management experience, and I began my career as an IT professional. That puts me in a unique position to manage future projects you're planning and offer guidance and assistance on any other IT initiatives you have planned."



3. Why should we hire you- Recent Graduate
"I know I'm a recent graduate. However, throughout college, I volunteered for various charitable organizations where I directly assisted with the marketing and promotion for events. I also served as the philanthropic chair for my sorority in college, which helped me hone my organization and time management skills. I heard about your company approximately a year ago and have been closely monitoring your website for openings since, so I'm extremely excited for the opportunity to interview for this great position!"



4. Why should we hire you- Entry Level
"I have an unparalleled work ethic that stems from my time growing up on a farm, where the day doesn't end at 5 p.m., but instead when the job is done. I worked all throughout college and still managed to graduate with a 3.8 GPA. I have always worked well as part of a team and even was able to obtain leadership experience in my last job, as I was given the team lead position at the restaurant in which I worked."



You might like: (Q&A) Predictive Index Test: What it is and How to Prepare (Full Guide)

5. Why are you the best person for this job? – Teacher
"I've spent the last two years working as a tutor, which helped me develop my ability to be patient while still focusing on goals and progress. So, both my degree and the hands-on experience I earned working with young students qualify me for this position."



6. Why should we hire you for this position? – Production Assistant
"I have the experience and the attitude to excel in this production assistant position. I have been in television production for almost two years now — including two summers interning at The Ellen Show, where I had good exposure to various aspects of TV production.

I worked so hard and performed excellently in the first summer that they had to invite me back the second summer, and assigned me more responsibilities.

I have been working part-time for a production company during my senior year at UC San Diego, where I have served as an assistant.

I'm used to getting things done — and with all happiness. That's because I'm fond of working in the television industry, and I am always eager to learn and acquire experience along the line."



7. Can you please describe why you are an ideal candidate for this position? – VP of Marketing
"Based on what I was able to gather from my research and our discussions, it seems that you're looking for a VP of Marketing whose main priority would be user acquisition and demand gen, helping [COMPANY 1] enter the next phase of growth.

I feel I'm the right person for the job as I have strong experience in executing marketing strategies that drive growth. For instance, in my previous role at [COMPANY 2] I was one of the key people behind building the inbound channel that was bringing 70% of leads month over month. My team was also accountable for converting free trial signups to paid users, resulting in a conversion rate increase from 30% to 32% in the last quarter.

Plus, from what I was able to see, it seems like you're looking to penetrate different market segments right now. Meaning, you'll need somebody who has done it before and who knows how to organize limited resources into each segment. At [COMPANY 2], we were targeting small, medium, and large customers, but we've always known that the key marketing focus should be on Medium as the growth rates were the highest there. So, we've organized our priorities accordingly resulting in $10M ARR in 3.5 years' time. `



8. What makes you a great fit for this role- Project Management
"When I read the job posting I noticed that you specifically mentioned you were in need of someone with proven experience in project management.

As you can see in my resume, I have over 10 years of experience as a project manager; and what I believe really sets me apart from others and will make me a valuable addition to your team is my ability to combine that with skills I learnt from people.

I really value lasting relationships and actively seek to build them with developers, vendors, and senior managers alike."



You might like: How to Write the Best Follow Up Email After Interview: 10+ Sample Templates

9. What makes you a good candidate for this position? – Executive Manager
"I believe that I am a great match for this role. I'm bringing more than 12 years of experience managing over 100 employees, and providing high-quality training, in addition to a degree in management. These helped me to improve staff productivity by 30% and reduce employee turnover for my last employer.

I have no doubt whatsoever that I will achieve even higher targets for your organization, and would be a great addition to your team."



10. Why should we hire you- Project Manager
"Well, the skills and experience that this job requires is something that I completely possess.

I am confident that I will bring much more value to your team than you have ever had, and I will shine as a project manager in your company.

It is not just about the successful projects and top companies that I have been a part of, but also the skills I have developed over the years, which have helped me build an effective network with senior managers and clients.

I have passion for the job and I'm highly motivated to perform my best."



11. Why should we hire you- Operations Manager
"The reason you should employ me is because I have the right skill set, the experience, as well as the knowledge to produce good, adequate, clear, and concise work.

I have been proven to have a good track record of outstanding performance, including multiple awards and achievements.

I'm sure working with the team, we will be able to expand the operations of this company and take it to a greater level; and this is the reason why you should hire me."



12. Why should we hire you- Nurse
"I believe my expertise and experience will be a great contribution to the institution's reform process on the provision of nursing care.

As a result of my dedication to the nursing profession, I will make sure that I provide high-quality nursing care with all diligence.

With the plans in my mind, I really would love to be part of the effort in making your facility the center of quality nursing care."



13. Why should we hire you- Generic
"You should definitely hire me. I have been proven to be successful throughout my education, and this position requires someone who is capable of solving problems quickly and adding value to the job, which best describes me.

I believe my skills and abilities are a perfect match with the requirements for this job; and my passion towards my work and industry will certainly be of great value to achieving success in it.

So, I'm confident I'll be the best candidate for this position."



14. Why should we hire you- Generic
"I believe I bring success with me to any company I work for. And as highlighted in my resume, all the companies where I worked previously have prospered with my contributions.

I think it is good to have such a worker in your team who can bring the progress the company is looking for."



15. Why should we hire you- Generic
"Throughout my career, I have consistently strived to become the very best in whatever I'm involved with. The accomplishments I have achieved in my prior positions are the result of possessing the qualities you are looking for in an employee."



16. Why should I hire you over other candidates? – Web Developer
"Honestly, I almost feel like the job description was written with me in mind. I have the 6 years of programming experience you're looking for, a track record of successful projects, and proven expertise in agile development processes. At the same time, I have developed my communication skills from working directly with senior managers, which means I am well prepared to work on high-profile, cross-department projects. I have the experience to start contributing from day one and I am truly excited about the prospect of getting started."



17. Why should we hire you- Project Manager
"Well, I have all of the skills and experience that you're looking for and I'm confident that I would be a superstar in this project management role. It's not just my background leading successful projects for top companies — or my people skills, which have helped me develop great relationships with developers, vendors, and senior managers alike. But I'm also passionate about this industry and I'm driven to deliver high-quality work."



18. Why should we hire you- IT Manager
"You should hire me because I have broad knowledge and experience in software design, and with my exceptional teaching skills, I will provide quality training to new staff, which will reduce external training programs and cost to the company."



19. Why are you a good fit for this position? – Production Assistant
"I have the experience and the attitude to excel in this production assistant position. I have almost two years of television production experience — including two summers interning at The Ellen Show, where I was exposed to all aspects of TV production and worked so hard the first summer that they invited me back for a second summer and gave me more responsibilities. During my senior year at UC San Diego, I have been working part-time for a production company, where I have served in an assistant role but also recently had the chance to help edit several episodes. I have a reputation for getting things done — and with a smile on my face.

That's because I love working in the television industry and am excited to learn and get experience in every way possible."



20. Why are you the best candidate for this position? – Independent Sales Professional
"It is my understanding that you're looking for an independent sales professional with an extensive track record. Someone who's able to close deals with enterprise accounts, navigate longer sales cycles, build relationships with multiple decision-makers, but also add a bit of structure to the mix. That's exactly what I bring to the table.

In my last role at [COMPANY 1] where I spent 3 years, I was able to close multiple 5-digit deals, nurture those relationships throughout the years, and exceed my sales quota in 30 out of the 36 months I've worked there. Prior to that, I also worked for [COMPANY 2], where my focus was on bringing 20+ seat deals in the Finance industry. During that time, our revenue increased from $5M to $10M, where 75% of that revenue increase was coming from outbound activities.

Also, I know your CEO is a big advocate of using Notion to add structure and help manage the team. I share her beliefs as I am a power user of Notion, having built a sales database for the team consisting of the best outreach templates, multichannel sequences, LinkedIn post frameworks, you name it. I'd be thrilled to bring that same mentality into this role."



21. Why should we hire you- Generic
"My success in the field is confirmed by my improving of revenue by 150 percent in just a few months with my last employer, Godson LTD. As a team leader I have worked and succeeded on several projects backed by my ability to learn and adapt to new situations. These are the reasons why I'm fit for this work."



22. Why should we hire you- Generic
"I'm always ready to learn new things, and I also have the capacity to abide by the rules guiding the operations of the company while moving ahead with necessary plans. Just give me a chance to prove my competence and you will see what I can do."



23. Why do you think this position is a good fit for you? – Social Media Manager
"Based on what you said today and the research I have done, you are looking to boost your online and social media presence to help you stand out from the competition. At my previous company, I was able to increase buyer activity by 32% by creating targeted social media advertising. I plan on bringing the same entrepreneurial spirit to your company and will be looking to share my best ideas with the team."



24. Why should my company hire you- Generic
"Your job listing states that you are looking for someone with excellent communication skills and a great deal of patience. In my time as a volunteer caregiver, I have learned the value of patience when working with the elderly. I have also recently attended a management course that focused on improving communication skills in the workplace."



25. Why should we hire you- Web Developer
"This is a good question. My experience with mobile application development and, in particular, intuitive design, makes me a good match for this position. In my most recent role, I was responsible for the development of an app that could identify user trends and alter its functions accordingly. I would love to bring my development skills and passion for intuitive design to this position."



26. Why should we hire you for this role- Manager
" You explained earlier that you are preferably looking for candidates with leadership skills. In my eight years as a departmental manager, I have managed teams of more than 40 people. In this time, I developed key managerial and motivational skills that contributed to my department meeting and exceeding sales targets for five years in a row. I would love to bring my skills and leadership abilities to your company."



27. Why are you the best fit- Web Developer
"I believe that my experience with technology, specifically in the web design space, make me the best match for this position. In my previous job, I was responsible for maintaining and updating our company website. This required keeping employee profiles updated and continuously posting information regarding upcoming events. I truly enjoyed what I was doing, which is what drew me to this position with your company. I would love to bring the coding and content skills I learned there to this position."



You might like: Best Interview Tips: "Describe Yourself In Three Words"

Frequently Asked Questions

Why do hiring managers ask "Why should we hire you?"
When you are invited for an interview, rest assured that the hiring manager is already aware of your qualifications to secure the job.
They want to see your healthy enthusiasm and confidence to confirm that you are the right fit for the job role.

What are some tips for answering "Why should I hire you over other candidates?"
Use the job posting as a guide.
Demonstrate how you will fit in with the team.
Quantify your achievements.
Describe ways in which you will positively impact the company's goals.

What should you avoid saying when asked "Why are you a good fit for this position?"
Don't make your answer too general or too personal.
Don't go over points that you have already discussed.
Don't compliment the interviewer.
Don't talk about money or compensation.

You might like: 25 Unique Interview Questions To Ask Employer

Conclusion
For you to effectively answer this tricky and challenging interview question, why should we hire you? You'll ensure to have a perfect pitch that sells you and convinces your interviewer that:
You're a good fit and will be valuable to the team.
You possess the required qualifications to solve problems and overcome challenges.
Hiring you will help achieve their team and company goals.

These can only be achieved by demonstrating honesty, researching the company, being enthusiastic, and, most importantly, being prepared!
Before you can share your time with a company during an interview, your resume must be optimized for the job. CEOMichaelHR has expert writers in every industry that can help you win interviews.
Best Wishes with Your Interview!