What To Wear: How To Dress To A Job Interview
Like the saying goes "dress the way you want to be addressed".
Selecting the right outfit to wear for an interview can be stressful as the interview itself.
Therefore, it's very important to get it right because the first judgement an interviewer makes is going to be based on how you look and what you are wearing.
Two published studies out of the UK and Turkey reported that people make a judgement on us in just three seconds; and better yet, if we're dressed right they'll assume we're "confident, successful, flexible and a higher earner."
Showing up to an interview with clothes that look good on you and fits the role you are interviewing for can make a huge difference when it comes to landing your dream job.
A good attire can spark up your confidence going into the interview.
If you feel confident on the outside, you will feel confident on the inside too.
For example, you wear a T-shirt to an interview at the bank or a suit to an interview for a gym instructor. It will send the message that you don't really understand what's involved in the role you are applying for.
In this article, how to dress for the best first impression in an interview, whether you are interviewing in a company with a formal dress code, for an informal summer job, for a tech start up or internship for both male or female would be fully discussed.
The following will be covered:
What to wear to a job interview to make a great first impression
What to wear to a business, casual or friendly interview
What colors are appropriate for an interview
The dress code for business professionals that works like magic in job interviews
Business-casual and business-professional for both men and women

You might like: What to Wear to a Summer Interview

What To Wear To A Job Interview: The General Rule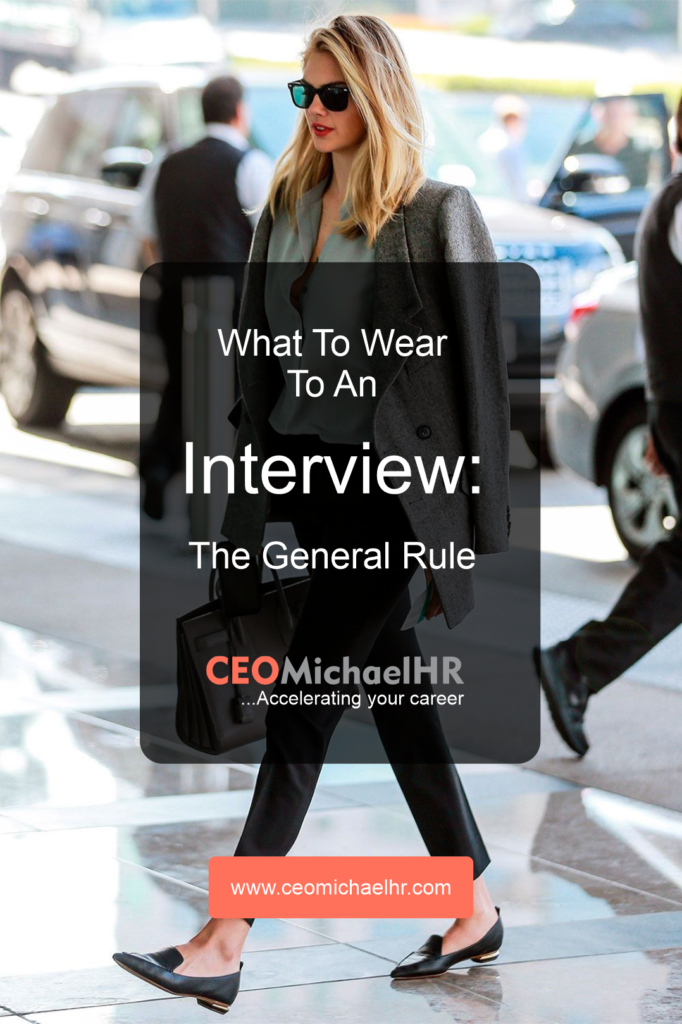 The best outfit for an interview is about dressing up in a manner that matches the company culture.
Most offices operate in business professional attire while some startups and other companies prefer casual outfits in the office.
Probably you are confused on what to wear to your job interview, you could forward a quick email to your recruiter to inquire about the dress code or you could check the company's social media profile to see a few of their employees' profiles to get an insight on what they're wearing during work hours.
If you realize the company feels corporate, then a suit and tie for men or a suit and dress for women is the way to go but if it's more of a plain t-shirt and casual pants, you know business casual is how to go.
Here are guidelines that would help you in selecting what to wear to an interview according to the field or industry you're in:
Business professional: Corporations, Financial Institutions, Accounting Firms, Law Firms, High-level Governmental Institutions
Business casual: Sales, Government Agencies, Education, Retail, Small Business, Tech, Engineering, Real Estate
Casual: Repair, Landscaping, Plumbing, Construction
Creative/fashionable: Fashion, Entertainment, Travel, Graphics
Few tips to dress in order to impress: These few tips will help you dress smarter to an interview
Avoid deciding what to wear on the day of the interview. You will be so stressed up deciding what to wear the day of your interview, trust me!

You don't want to end up looking disappointed because your professional outfit didn't fit you thereby making you look like a kid playing in daddy's suit. The right fit is as important as the outfit.

Do your laundry a day before. Recruiting managers can spot a great candidate. They can also spot a rumpled dirty and stained outfit which is a big turn off for them.

Try to check out your outfit a day before the interview to ensure it is properly washed, ironed and no dangling thread that will embarrass you.

No matter what type of job you are applying for, it's important to look neat and tidy.

Stay away from too much jewelry. Too many chains, necklaces or bangles can clang together and end up being just pure noise and distraction during your interview.

Skype or Zoom interviews don't exclude these rules. They also require the same level of thought and attention to your outfit.

Also, please wear pants.

You never know if you'll need to suddenly stand up to get something needed. Awkward…

You might like: 7 Tips for The Morning of Your Interview

How To Dress For A Business Professional (Corporate) Interview

If you are going for a job interview at a conservative industry or for a corporate company such as bank, court, insurance house etc. you should opt for a more professional attire.
In general, this means a suit and tie for men and a pantsuit or skirt and blouse for women.

Interview Outfits For Men – Men's Interview Attire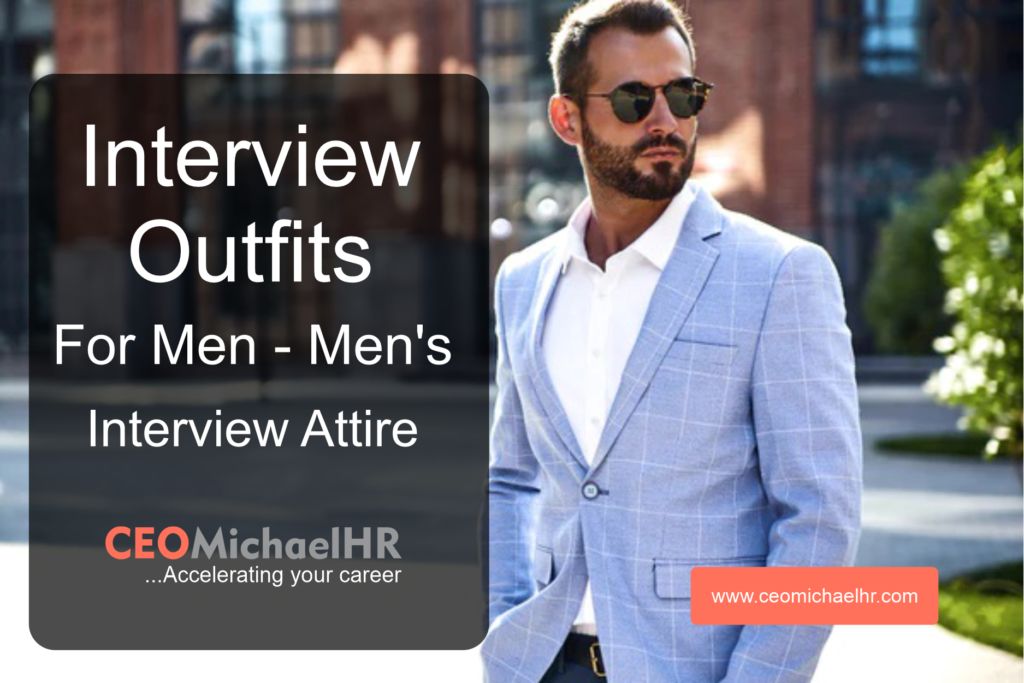 In a world where men's fashion is mostly to wear sneakers and can barely remember how to knot a tie, a business professional outfit is your chance to look smarter than the rest.

Should I really wear a suit to an interview?
Men are only left with one choice: to suit up, when deciding what to wear to an interview.
Men who work at corporate level of the organization, in law or in finance only have one dress code rule: Conservative.
If in doubt, always choose a suit. The best interview outfits for the male folks in the corporate world tends to be conservative.
Men should always default to wearing a suit when dressing for a corporate interview.
All clothes should be well fitted and stain free.

How do you wear a suit for an interview, and what's the best suit color?
It should be a two-piece suit, in a solid color such as navy blue, plain black, dark gray or gray suit with subtle pinstripes.
Lighter greys and blues can be worn in spring or summer.
But very light suit colors are for garden parties and weddings, not the office.

What color of shirt should you wear to an interview?
Wear a long-sleeved shirt that is solid white. Light-to-medium blues would be your best choices of color coordinated with suit.
Pink dress shirts sure looks nice, but they tend to be more accepted in England than they are in the United States.

What cuffs should I use?
You can either go with barrel or French cuffs, but you could leave the French cuffs to co-workers who have more seniority over you.
A junior colleague wearing French cuffs may be seen as a bit arrogant.
Sounds unfair, doesn't it?

Ties and belt for interviews
Choose simple styles as they are preferable, but you could also do stripes or dots.
Avoid bow ties, tie with character and obvious colors like yellow, or a flaming red.
Use a brown or black leather belt.

What shoes and socks to wear to an interview?
Dark socks and conservative shoes are perfect for a corporate business interview.
The color of your neatly polished shoes should be either black, brown or burgundy.
Other things to consider include:
Avoid wearing very strong cologne
Trim your nails neatly
Get a clean, professional hair cut/style
Use a briefcase or portfolio bag to package your resume and documents
Use little or no jewelry
Make sure tattoos are fully covered and all body piercing removed

You might like: How to say you were fired on an application

Casual Business Environment
Business casual is a hybrid of business professional and casual wear.
You don't need to wear a full-on suit, and shorts or flip-flops wouldn't be appropriate either.
For instance, you are interviewing for a position in IT or an environment where the dress code is a little more relaxed than formal business wear, then business casual will be appropriate for the interview.
Business casual dressing isn't meant to be for casual look, but for business purpose.
Here are some appropriate clothing options for business casual.
​Wear chinos, khakis or trousers, free of lint, holes and stains. Conservative colors like gray, navy blue or camel should always be your best fit

Wear a button up shirt with a collar in conservative colors and please, ensure you tuck it in!

Leave your top two buttons undone, unless it's showing too much chest hair, then leave just the top one undone.

Wear a neatly polished conservative leather shoes with matching socks. Avoid open toe shoes

Use a briefcase or portfolio to carry your resume and document

Shave and get a clean haircut or tie it back if your hair is long

Ensure all tattoos are covered and remove any body piercing you may have
For IT and creative industries, add a bit of personality to your outfit.
Contemporary styles will give you a more dynamic and energetic appearance and your employer is likely to view you as a more confident and forward-thinking person that fits in with the team.

Casual Environment
What to wear to a job interview when applying for job in casual environment like cafe, restaurant, a start-up, boutique, schools etc. can be tricky.
Most often, these companies either have a set uniform or they have no uniform rules at all.
In a situation where there is no dress code, you may be tempted to go very casual but remember, you still want to make a good impression and show that you have put effort into your interview preparation.
Follow these suggestions, if you have a business casual interview coming up.
No matter the outfit you choose to wear, make sure it looks clean and free from holes or ragged seams
Clean navy-blue jeans, dark trousers or chinos
Wear a polo with collar or buttoned shirt
Go for a well-polished casual loafers' shoe in good condition
Get a clean shave and hair cut/style
All tattoos should be covered and body piercing removed if any
Avoid excess perfume
Ensure your nails are well trimmed and clean

Worker Environment
If you are going for a job as a laborer, in a manufacturing plant or in an environment where you work outdoors all day, a suit and tie is not appropriate.
You should still resist the urge to wear your favorite band t-shirt and worn-out thongs.
The key is to look at what other people are wearing in the company and then dress just a little better.
If you are stuck for what to wear to your interview, follow these guidelines.
You can wear your best jeans (with no holes, worn out patches or stains)
Wear a leather belt with your jeans
Wear a casual polo shirt or a block color t-shirt
Avoid shorts of any kind
Don't wear tight shirt or shorts that have characters on the front
Closed toe shoes in good condition are best
Make sure all tattoos and body piercings are fully covered

Interview Outfits For Women- Women's Interview Attire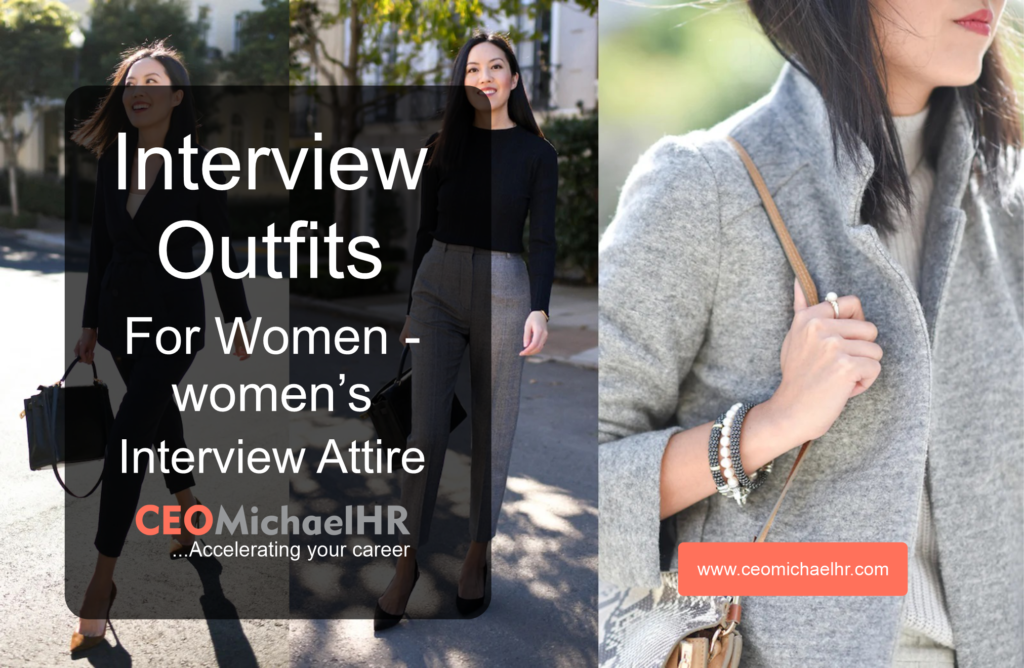 Generally, interview fashion for women in corporate jobs is more complicated and varied than it is for men.
The many options make the selection of an interview outfit a bit more challenging for women than for men.
For instance, if you're wearing a dress or skirt, you need to decide if you should wear pantyhose or if bare legs are acceptable.
Women need to also select appropriate accessories, professional bags that can contain their resume but aren't flashy for the interview.
Here are some guidelines that will help in choosing correctly what a women can wear to a professional interview:
When wearing skirts, ensure to wear a suit skirt that is just below or above your knee. It should be navy blue, black or dark gray in color
If you prefer pants, go for a pant suit with dark colors
Use neutral colored pantyhose under your shirts if necessary
A tailored jackets looks smarter than a loose-fitting jacket
Wear a solid color, coordinated blouse or shirt
Go for conservative shoes. Closed toe shoes are appropriate, if you're wearing heels stick to 2-6cm
Your make up should be light and natural
Your accessories and jewelry should be minimal with no very large dangling earrings or bright colors
Avoid a very strong perfume
Wear a simple and neat hairstyle
Avoid carrying large handbags and go for small to medium purse, briefcase or laptop bag
Clean, neatly manicure nails
Ensure to cover all tattoos and body piercing

Casual Business Environment
If you are interviewing for a position in IT or an environment where the company dress code is more relaxed, business casual style may be acceptable.
The aim is to look professional without going over the top.
These guidelines can help you make appropriate choices for a business casual interview.
Consider wearing a knee length skirt or a pair of slacks in a black color
When wearing tights, make sure there are no ladders or holes
Dress in a conservative manner. A button up shirt is perfect, be sure that the shirt you choose is not a half cut
A shift dress is another good choice and when paired with a smart jacket it's more beautiful. Make sure your skirts and dresses are knee length or longer
Stick to 2-6cm if you decide to wear heels. A covered toe shoes are better choice
When dressing business casual, you can add some personal styling with accessories
Go with a handbag that matches your outfit
Ensure your hair is neatly styled or tied back
Cover all tattoos and body piercings properly

You might like: 5 Ways to Recharge Yourself on Your Off Days

Casual Environment
Applying for a position at a cafe, small start-up or a boutique clothing store can be harder when it comes to knowing what to wear.
Many casual companies may have uniforms that you can follow as a basic guideline.
If a company does not have a uniform try and find out what their employees wear to work.
Remember, you don't want to go too casual; you still want to make a good impression.
The following guidelines will help you choose the right outfit for a casual interview.
Basic cardigan is a must in any business casual outfits for women, a cropped cardigan can look smart without being too formal. A simple waist length cardigan or longer one works just fine.
Consider wearing smart slacks, dark tailored color jeans are often best for casual interviews
You can wear a length or midi skirt
Wear flat shoes or small heels with closed toes
You can consider a fitted blouse or shirt and always avoid crop tops
Choose a little bolder accessory that shows your personality
Avoid strong perfume
Wear a neatly styled hair
Stick to nudes and warm colors and tone down the glamorous eyeshadow, you'll have plenty of other occasions to use that Huda beauty palette at the annual gala if you get the job.

Worker Environment
Here are some guidelines that would help you dress properly when applying for work in an environment that is outdoors, such as manufacturing work.
A pant suit is not the best option.
Wear the best jeans you own, free of worn-out patches, holes and stains
Pair your jeans with a nice shirt or blouse
Don't wear shirts that are too tight, short or have characters on the front
Ensure to wear belt with your jeans to keep the look neat and tidy
Wear your hair pulled back or neatly styled
Do not wear a hat of any kind to the interview
Wear a flat covered toe shoe; they are best for trade environments
Cover up any tattoos or body piercings with long sleeved shirts or long pants

Conclusion
What you wear to a job interview is dependent on the type of job you are applying for.
However, ensure to always look neat, tidy and well-dressed no matter the position and even if there is no dress code.
Also, try to conduct extensive research about the company's dress code.
Best interview wishes!