Dating back in history, the best way to rapidly but correctly use words to describe yourself courtesy of your best qualities is seen to be an elevator pitch.
These pitches are a few, brief and concise words you will say to your interviewer about yourself when you are allowed limited time to describe your qualities.
The elevator pitch was traditionally designed to be used in a job-related circumstance.
Now, in modern times, be it a site where you get to connect with dates, friends or as an entrepreneur who promotes a product or renders services, there are several situations where you need to make people get a clearer picture of who you are.
Considering circumstances of the social media platform, it's not always necessary to use full sentences as expected but a few words or less.
It is great when you make use of powerful and compelling words to describe yourself. It could be a compelling adjective or noun to talk more about who you are.
With how important and relevant effective self-description has become, nowadays, most people have taken it upon themselves to create a brand of their own describing themselves as well as the product or services they are trying to promote and market.
It is acceptable to admit that the brand describes the person behind the product or services, while your target audience or the site you describe yourself on, determines which adjectives work best.
Words used to describe yourself on a social media platform like LinkedIn will vary when it comes to describing yourself on another social platform like an online dating site since they serve different purposes.
Although, you may find it convenient introducing yourself before someone new as the wild and crazy life of the party even though it is inappropriate to mention same in your job search documents such as your resume or cover letter.
Read on, as we cite different scenarios and the appropriate words for each. Ensure to use your best judgement as each section could further be broken down.
Take for example, a job interview for a sales associate position may allow for use of gregarious and persuasive words while a job interview for a librarian may allow for describing yourself with more conservative words.
Furthermore, do you know that describing yourself in three words might not be as easy as it sounds and might even get trickier than you think when narrowing them down?
This carefully tailored guide will furnish insight on how you can effectively describe yourself in just three words and what perfect words to use.
Our list of 450+ words to describe yourself is not just any given list; we've categorized them into specific sections to enable you get the most appropriate words to describe yourself in any situation.
These lists can help you access the right words to describe yourself especially in situations where you need to answer the popular interview question "Tell me about yourself?"
We've got you covered in every way. Whether you need to choose from words that describes you as an honest person, words that makes you stand out on your college application or words to describe you, enough to make you look fun and attractive for your online dating profile too.
Abiding by our proven strategies irrespective of the situation will help you give a unique impression and help you with the ability to list out the best qualities about yourself.
In your entire career, you may accept requests to describe yourself and your contributions to a workplace.

Understanding how to effectively communicate your best qualities could help you earn opportunities, succeed interviews and advertise yourself to new professional contacts.
Most times, selecting words to describe yourself can serve as an enablement to expand your vocabulary and study your options so you can emphasize your value to potential hiring managers.
As we advance in this article, we hope to outline simple ways you can use words to describe yourself, while discussing key strategies for your success.
So, the next time you have to describe yourself to someone who doesn't know you, you will be ready with a whole lot of motivating new words and synonyms to describe yourself with.
Let's dive in!

How To Use Words To Describe Yourself
Below are key steps to consider when choosing words to describe yourself in your job search:

1. Reflect on your strengths
Whenever you are describing yourself to a new potential employer, first and foremost is for you to list out your important traits.
Think about the time you invested in making a positive impact on your colleagues, clients or company and consider what helped you to do so.
For example, if you developed an idea for a guerilla marketing campaign that boosts sales by 10% at your previous job, you might use terms like clever or innovative as words to describe yourself.

2. Review the job description
When you find accurate words to describe yourself by mirroring the qualities mentioned in the job description, it will be advantageous to you as hiring managers won't think twice in granting you the job role.
Study the job description carefully and mark the descriptive words. For example, numerous hiring managers seek candidates who are fast learners, possess a good sense of humor or have teamwork spirit.
To a very large extent this amiable insight of reviewing job description can inform your choices when choosing words to describe yourself.

3. Be specific
When applying for jobs, you might intend to outstand and segregate yourself from other candidates.

Instead of using generic terms like "excellent" or "successful" when describing yourself, you can think of words that are related to your skill set.
You may decide to use a resource like a dictionary to find specific, descriptive words that may help distinguish you from other candidates.

4. Ask your peers for help
Maybe you are uncertain on how to convey your personality and work ethics, then you can call on your colleagues to seek assistance.
You can inquire from your supervisor, peers or friends about how best they can describe you, while you write down their responses.
Their responses might be of benefit to you in developing an all-encompassing description of yourself especially when it comes from people who know you both personally and at work.
If you find it difficult to approach people directly, then you can reflect on positive feedback you have gathered from your past managers and colleagues.

5. Focus on positive traits
In some cases, hiring managers or people within your network may ask that you describe yourself. Note that the words you use may define their notion about you.
It's really important to focus on your positive traits when describing yourself as this can boost your chances of securing an interview or getting recommended ahead for a new opportunity.

Let words that have a positive connotation be your target.
During an interview, when asked by an interviewer to describe your weaknesses, do consider how you can reframe a negative trait into positive.
You could discuss the positive side of your weaknesses or possibly explain how you have learned to overcome it.

For example, instead of describing yourself as "controlling" you could share how you enjoy working independently.
Also, express appreciation for the ease and perspective that can come up especially when you schedule tasks to others.
You might like: Personal Branding: Tips Critical to Your Career's Future

Words To Describe Yourself On A Resume
Before you start customizing your resume for a specific job, you are expected to choose the right descriptive words that could help you attract the attention of a hiring manager.
It's better to use words of your own than copying the language used in the job description so as to help develop a vocabulary of meaningful words which might be profitable to you.
When you are describing yourself on your resume, focus on indicating the most important qualities mentioned in the job posting while being sincere about your abilities.
Your resume ensures getting you ready for an interview, so using the right language can be helpful to capture your ability to successfully carry out the core functions of the job.
Words that imply a positive outcome like "resourceful" "meticulous" and "data-driven" may be profitable depending on the position you are gunning for.

The following are examples of powerful adjectival words to describe yourself on a resume:
Creative
Diligent
Dependable
Tech-savvy
Forward-thinking
Energetic
Results-oriented
Personable
Award-winning
Strategic
Expert
Ambitious
Collaborative
Honest
Organized
Accomplished
Accountable
Achiever
Active
Powerful
Practical
Precise
Proactive
Productive
Professional
Proficient
Quick
Patient
People person
Adaptable
Balanced
Candid
Cheerful
Collaborative
Compassionate
Competent
Confident
Conscientious
Consistent
Cooperative
Data-driven
Detail-oriented
Diplomatic
Eager
Efficient
Emotional
Emotionally intelligent
Skilled
Skillful
Sociable
Strategic
Team player
Thoughtful
Tireless
Unconventional
Personable
Positive
Entrepreneurial
Ethical
Exciting
Experienced
Expert
Bold
Flexible
Forgiving
Gregarious
Incredible
Independent
Industrious
Initiator
Inventive
Knowledgeable
Leader
Logical
Mediator
Meticulous
Motivated
Organized
Original
Outgoing
Particular
Resourceful
Responsive
Self-assured
Self-starter
Persistent








Verbs to use in describing your accomplishments on your resume:
Won
Led
Delivered
Achieved
Supported

Designed
Executed
Managed
Assisted
Collaborated

Optimized
Oversaw
Educated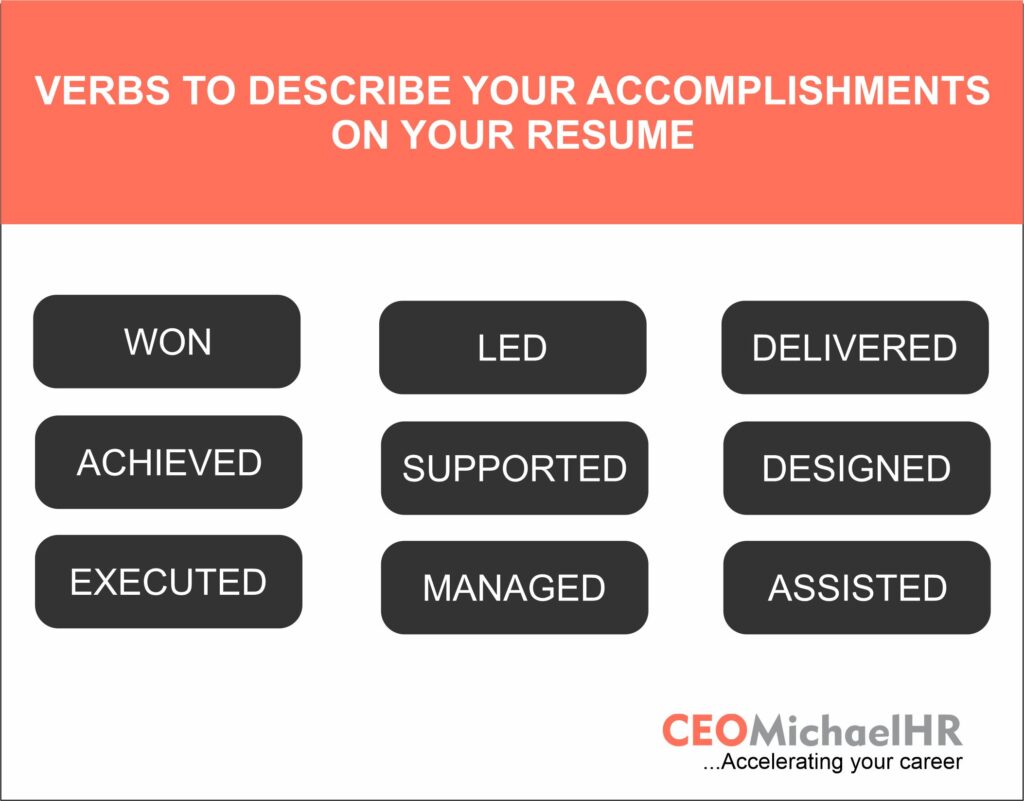 Words To Describe Yourself In An Online Profile/Bio
Dreamer
Go-getter
Trend-setter
Do-gooder
Thrill-seeker
Instagram-addict
Husband
Girlboss
Speaker
Influencer
Activist
Sporty
Animal-lover
Strategist
Visionary
Blogger
Bookworm
Active
Foodie
Sweet
Spiritual
Fun-loving
Wife
Family-oriented
Adviser
Social butterfly
Fashionista
Coach
Protective
Advocate
Positive
Disney-lover
Self-funded
Connoisseur
Aficionado
Self-made
Fearless
Artsy
Outdoorsy
Health nut
Entrepreneur
Funny
Outspoken
Musical
Motivated
Explorer
Vibrant
One-of-a-kind
Wise
Chatty








Words To Describe Yourself In A Cover Letter
As your resume reflects the most important parts of your background, a cover letter also allows you to describe yourself and qualifications on a deeper level.
Remember to balance yourself with the company's value and culture when describing yourself and contributions in a cover letter.
Have an in-depth study of the organization and understand more about the type of people they like to work with and then share on what makes you think you can work in such job environment.
For example, if the company's website indicates a playful copy, bold colors and discusses the benefits of collaboration within the office work environment, this makes it appropriate to describe yourself as a "charismatic team player."
Your cover letter also offers you the opportunity to prove your claims with more proofs. Be reminded to add data that enhances your chosen words.
When describing yourself as "impactful," for example, it might help to express positive outcome of your work such as facilitating an increase in sales leads.
You might like: Cover Letter vs. Resume

Below are some descriptive words to describe yourself in a cover letter:
Persistent
Authentic
Fun-loving
Innovative
Inquisitive
Upbeat
Deadline-driven
Confident
Methodical
Communicative
Optimistic
Passionate
Self-reliant
Analytical
Independent
Devoted
Driven
Creative
Thorough
Passionate
Team player
Motivated
Focused
Dedicated
Proactive
Ambitious
Resourceful
Conscientious
Focused
Self-starter
Structured
Patient
Problem-solver
Go-getter
Detail-oriented
Methodical
Organized
Eager
People-person
Positive
Inventive
Observant
Self-aware
Reliable
Flexible
Helpful
Persistent
Leader
Self-motivated
Charismatic
Bilingual
Original
Unique
Confident
Tenacious
Straightforward
Perfectionist
Hard-working
Innovative
Detailed
Analytical
Efficient
Steadfast
Punctual









Words To Describe Yourself On A Dating Profile
Funny
Romantic
Trustworthy
Bubbly
Affectionate
Adventurous
Thoughtful
Loyal
Fun-loving
Fit
Kind
Homebody
Sweet
Happy
Silly
Confident
Honest
Spontaneous
Optimistic
Outgoing
Ambitious
Wino
Lighthearted
Honest
Smart
Social
Charming
Outdoorsy
Sexy
Animal-lover
Career-driven
Warm
Easy-going
Passionate
Respectful











Words To Describe Yourself In An Interview
In most interviews, prospective employers tend to ask candidates to describe themselves in three words.
If an interviewer requests you choosing three words to describe yourself, they might want to know what your thoughts are about yourself in brief.
Numerous employers may decide to employ candidates who are confident, self-aware and honest, therefore choosing the appropriate words could help you succeed in your interview.
As you decide to select the three words to describe yourself, try anecdotes, data or examples. Be keen on professional words that reflects the value you can add to a team.
You can make your response as wide as possible by prioritizing variety.
For example, a single word could speak to your ethics and professional values, another could describe your personality while the third could characterize the quality of your work.
Try making a list of words you feel describes you and consider different pairings until you discover a set that compliments each other effectively.
The stakes might be higher but the same rules from above apply, which requires that you stay positive and honest. The only difference now is for you to be more specific.
If the hiring manager asks this question, what they are trying to assess about you is whether you have the personality and the skills required to excel in three jobs.
The only way to nail this job interview question is to stay relevant and provide proof. Though if the words you used to describe yourself are not relevant to the job, you stand a risk of missing out as the human resources manager won't be impressed.
Normally, any job seeker can claim to be creative and hardworking but there's need to follow up the words with examples of how you demonstrate that quality.
For example, let's say a nurse is seeking a job at a hospital and the interviewer asks "what are three words to describe yourself?" Below is the example that misses the mark.

It is wrong to reply an interviewer this way:
"I'm reliable, cheerful, and …
shy."

By this time, the human resources manager might be waiting for a follow-up that never comes as the pause in the reply becomes awkward.
On the contrary, there's nothing wrong with being shy, but shyness is irrelevant to the position at hand.
You might like: 7 Tips for The Morning of Your Interview
Okay, how can we improve the above response to the question; what are 3 words to describe yourself?

What are 3 words to describe yourself?
Example:
"Let's see. I'm reliable—I was so consistent in updating patient's charts that I was promoted to a position responsible for training new hires. I'm very cheerful—Studies show that positivity can have a huge effect on patient recovery times, so I smile often and crack jokes whenever the time is right. And I'm energetic—In my last position at a long-term care facility, I was single-handedly caring for up to 15 patients per shift. That required me to move fast while still paying attention to small details."

Wow—Now that's an answer. Highly relevant, honest, solid work experience and with evidence to back it all up.
Let's see how this works through another example. Say you're applying to be a teacher and you're asked "what are three words to describe yourself?"

Here's how NOT to go about it:
Wrong Answer:
"I am creative, competitive,
and tenacious."

Now, there's nothing technically wrong with these adjectives; however, the answer isn't the best for two main reasons:
Competitiveness and tenacity are not the most sought-after skills for teachers.
The claims are not backed up with concrete examples. You could really be creative, or you could be exaggerating.

Without backing it up, the recruiter can't be assertive. Here's a more interview-friendly way to answer this question:

Correct Answer:
"To begin with, I am creative – in my last school, I came up with a SAT exam preparation technique that raised the graduating class's success rate by more than 30%. I am helpful, both to my students and colleagues – I often stay after class to clarify any questions students may have and I fill in for other teachers whenever I can. Finally, I am very passionate about my work and my students. I've been in the field for over 10 years, and I plan on sticking with it for as long as I can."


Interview words to describe yourself
Flexible
Level-headed
Quick-thinking
Artistic
Open-minded
Decisive
Progressive
Conscientious
Bold
Transparent
Responsive
Loyal
Consistent
Enthusiastic
People-person
Empathetic
Attentive
Ambitious
Analytical
Caring
Committed
Cooperative
Devoted
Diplomatic
Experienced
Extroverted
Focused
Good listener
Hardworking
Helpful
Insightful
Innovative
Methodical
Meticulous
Motivated
Objective
Observant
Organized
Persevering
Persuasive
Proactive
Problem solver
Productive
Professional
Proficient
Resourceful
Results-oriented
Disciplined
Team player
Thorough
Tireless
Trustworthy
Sociable
Skilled
Strategic
Systematic
Assertive
Attentive
Broad-minded
Committed
Confident
Conscientious
Creative
Customer-oriented
Direct
Dynamic
Friendly
Hard-working
Honest
Imaginative
Innovative
Mature
Methodical
Motivated
Objective
Observant
Persistent
Realistic
Reliable
Resourceful
Respectful
Responsible
Sociable
Tenacious
Thorough
Traditional
Trustworthy
Unconventional
Unique

















Words To Describe Yourself On A College Application
The majority of college applications require that you submit a personal statement. One key way to promote yourself and prove the reason why you are the worthy candidate for a certain program is via a personal statement.
This is unlike motivational letters where you are expected to give a concrete explanation about your academic objectives. Personal statement is vital such that it allows a gap for creativity.
Here, you can get more expressive and personal with the words to describe yourself as opposed to your resume or job interview.
As a college undergraduate candidate, you are expected to list out your key strengths and show what makes you indispensable.
You might like: How to Write a Resume with No Work Experience (Best Guide)

College application words to describe yourself
Adaptable
Detail-oriented
Independent
Accomplished
Athletic
Courageous
Daring
Artistic
Goal-oriented
Extroverted
Dedicated
Loyal
Imaginative
Motivated
Resilient
Productive
Sincere
Social butterfly
Studious
Self-disciplined
Authentic
Advocate
Adaptable
Collaborative
Compassionate
Open-minded
Unique
Curious
Enthusiastic
Honest
Generous
Fearless
Musical
Self-reliant
Responsible
Positive
Outdoorsy
Scholarly
Irreplaceable
Confident
Genuine
Inspired
Diligent
Supportive
Detailed
Respectful
Focused
Committed
Brave
Down-to-earth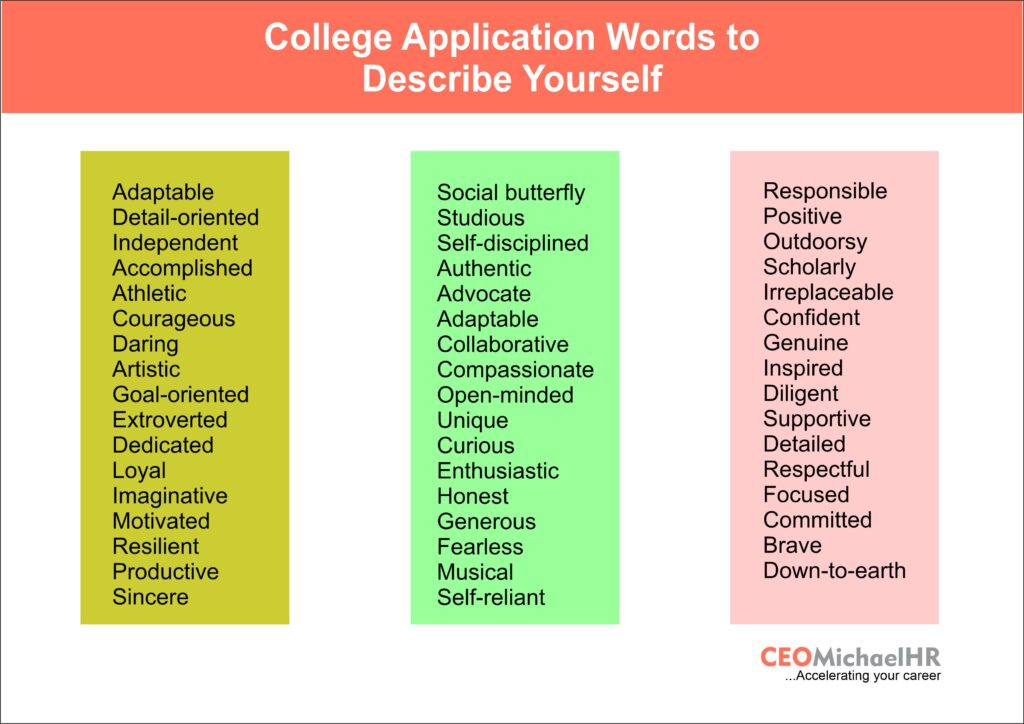 Words To Describe Your Personality
Friendly
Courageous
Youthful
Cheerful
Sarcastic
Adventurous
Caring
Sensitive
Spunky
Silly
Whimsical
Brave
Bright
Chill
Feisty
Kind-hearted
Impulsive
Positive
Quiet
Upbeat
Sassy
Witty
Clumsy
Cool
Talkative
Charismatic
Dream-chaser
Busy-bee
Rebel
Sweet
Kindhearted
Quirky
Extra
Glamorous



Positive Adjectives To Describe Your Personality
Adaptable
Affectionate
Aggressive
Agreeable
Amiable
Amusing
Attractive
Broad-Minded
Calm
Careful
Charming
Communicative
Compassionate
Competitive
Confident
Conscientious
Courteous
Creative
Curious
Decisive
Dedicated
Detailed
Determined
Diplomatic
Discreet
Dynamic
Easygoing
Easy-Going
Energetic
Enthusiastic
Exuberant
Facilitator
Faithful
Fast
Fearless
Flexible

Focused
Formal
Frank
Generous
Gentle
Genuine
Good
Gregarious
Hard-Working
Honest
Humorous
Imaginative
Impartial
Independent
Insightful
Intellectual
Intuitive
Inventive
Kind
Knowledgeable
Logical
Loving
Loyal
Neat
Nice
Open-Minded
Optimistic
Passionate
Patient
Perceptive
Personable
Persuasive
Philosophical
Pioneering
Placid
Polite

Political
Powerful
Practical
Pro-Active
Rational
Reliable
Reserved
Resourceful
Responsible
Self-Confident
Self-Disciplined
Self-Reliant
Sensible
Sincere
Skilled
Sociable
Solid
Straightforward
Thoughtful
Tidy
Tough
Trustworthy
Unassuming
Versatile
Visionary
Warmhearted
Willing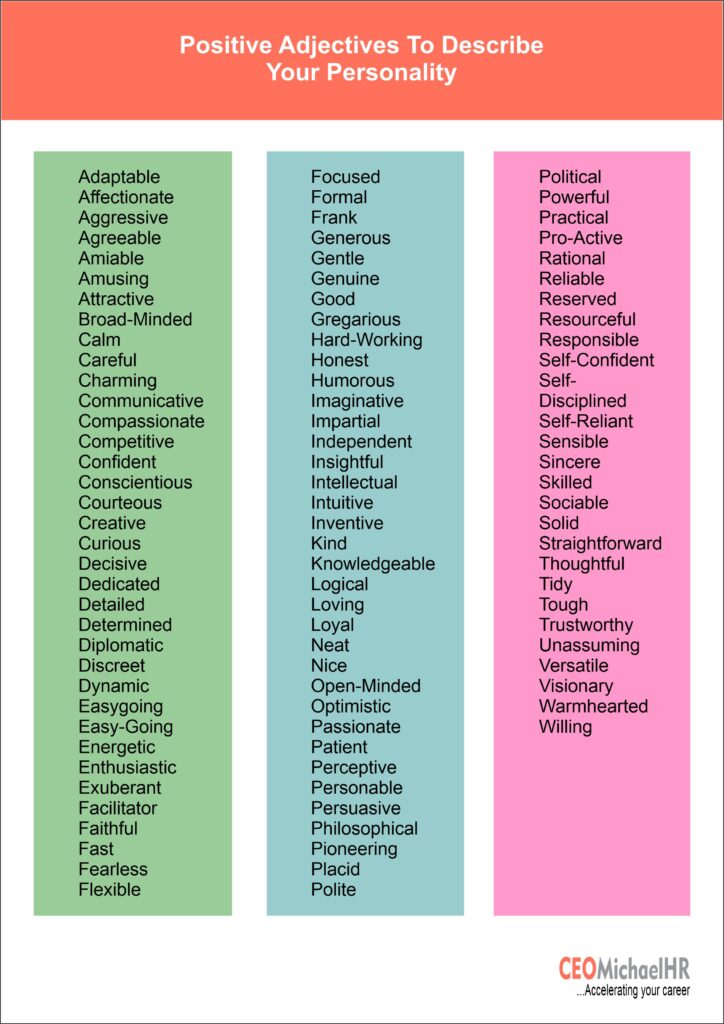 Funny Words To Describe Yourself
Animated
Hilarious
Amusing
Comical
Gleeful
Humorous
Waggish
Laugh-worthy
Chucklesome
Silly
Merry
Farcical
Goofbal



Jokester
Facetious
Witty
Playful
Clownish
Ludicrous
Cheesy
Jokey
Rich
Prankster
Mirthful
Trickster
Wacky



Good-humored
Risible
Off-the-wall
Rib-tickling
Goofy
Droll
Uproarious
Entertaining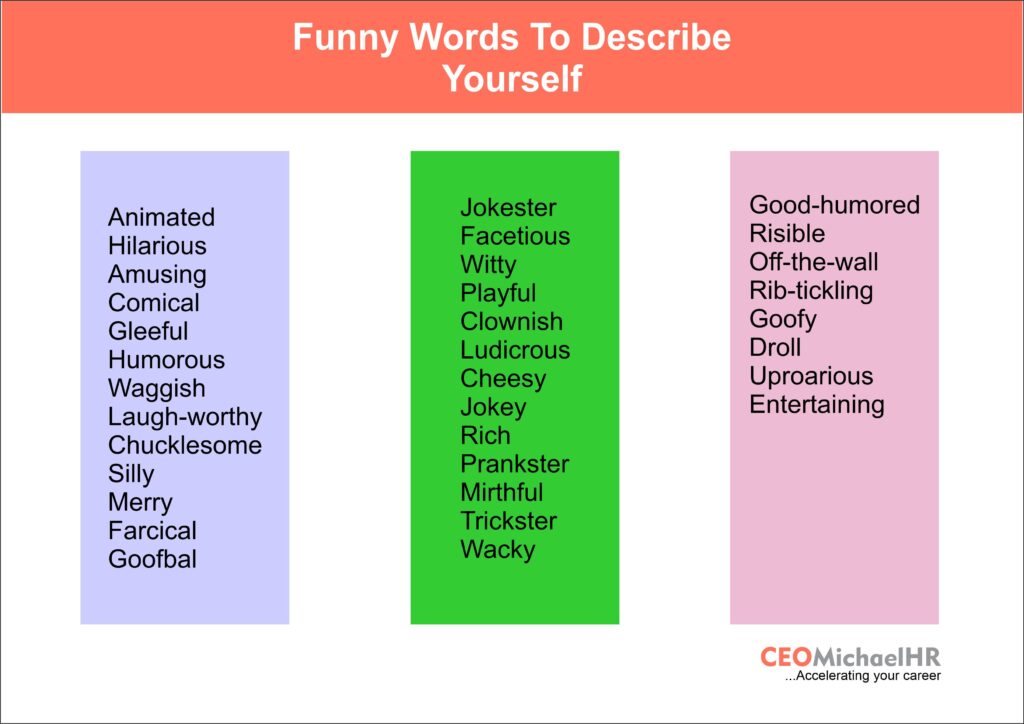 Positive Words To Describe Yourself
"I am a hardworking, creative and efficient person. I have a positive perspective and can work well with others. I am always ready to learn new things, and I am never afraid to try something new."

This is one great way to describe yourself. What are some other ways you could describe yourself?
This section will cover the words that you should use to represent yourself. These words are often used in resumes and cover letters, so these words should be chosen carefully.
Smart
Beautiful
Kind
Cheerful
Loving
Likable
Considerate
Trustworthy
Thoughtful
Motivated
Whimsical
Brave
Bright
Chill
Fearless
Joyous
Kind-hearted
Crafty
Positive
Clever
Upbeat
Spirited
Witty
Sincere
Cool
Classy
Charismatic
Dreamer
Go-getter
Admirable
Sweet
Entertaining
Laid-back
Adventurous
Glamorous


Words to Describe Yourself– Resume
While it's sometimes tough trying to describe yourself in a few words to get a hiring manager's attention, it's worth spending some time strategizing how you can make a great first impression because once formed, first bad impressions are hard to create a conviction.
Irrespective of the situation, the aim is to stay upbeat and positive when describing yourself.
Now is not the time for humility as the best words to describe yourself will be those that honestly capture your positive qualities.
As far as your job search documents are concerned, you won't be asked directly to find three words to describe yourself. This doesn't mean that you shouldn't care about the adjectives you choose to give a brief description of yourself.
Your resume speaks for you before you are even selected for an interview. So, your choice of words to describe yourself therein is visibly more important.
Note that it's not enough to just fill your resume with adjectives here and there and then call it a day. It is expected of you to find the accurate way to market yourself.
In this section, you will be guarded on how to describe yourself the right way using the right words.
Very importantly, your resume profile is the first place to add the right words to describe yourself. Be it via a resume summary or a resume objective, you will need to fix at least one strong adjective to describe yourself and make a good and lasting impression.
If you must know, it is pretty essential, considering that most recruiters or hiring managers spend an average of 15 seconds glancing through a resume. You can now see how first impression matters?
Be rest assured that plugging in some words to describe yourself on resume won't cut it same as with the interview. Make sure you choose words or adjectives that are most relevant to your job.
Secondly, be reminded to always back up your claims with cited examples or achievements in this case.
Let's assume that you are a fresh college graduate applying as a Communications Assistant, your resume objective/summary would look something like this:

Resume Objective Example

"Hard-working and passionate college graduate looking to apply up-to-date skills and strategies as a Communications Assistant at the Regional Youth Cooperation Office. Possesses 1+ years of practical experience as an intern at the Mayor's Communications Office."

Even if you're a seasoned professional with many achievements to show, you'll need an adjective to describe yourself. In such a case, your resume summary would look something like this:

Resume Summary Example

"Task-driven professional with experience in data entry, customer service, and reception. Able to perform accurate and efficient entry of data into administrative software. Driven to attain both the long and short-term goals of a people-driven organization"


Here are some more adjectives to choose from in order to describe yourself:
Accomplished
Accountable
Achiever
Active
Adaptable
Adventurous
Affectionate
Aggressive
Agreeable
Ambitious
Amiable
Amicable
Amusing
Analytical
Artistic
Assertive
Attentive
Balanced
Bold
Brave
Broad-minded
Calm
Candid
Careful
Caring
Charming
Cheerful
Collaborative
Committed
Communicative
Compassionate
Competent
Competitive
Confident
Conscientious
Consistent
Cooperative
Courageous
Courteous
Creative
Curious
Customer-oriented
Data-driven
Decisive
Dedicated
Detailed
Detail-oriented
Determined
Devoted
Diplomatic
Direct
Disciplined
Discreet
Dynamic
Eager
Easy-Going
Efficient
Emotional
Emotionally intelligent
Energetic
Enthusiastic
Entrepreneurial
Ethical
Exciting
Experienced
Expert
Extroverted
Exuberant
Facilitator
Faithful
Fast
Productive
Fearless
Flexible
Focused
Forgiving
Formal
Frank
Friendly
Generous
Gentle
Genuine
Good
Good listener
Gregarious
Hardworking
Hard-working
Helpful
Honest
Humorous
Imaginative
Impartial
Incredible
Independent
Industrious
Initiator
Innovative
Insightful
Intellectual
Intuitive
Inventive
Kind
Knowledgeable
Leader
Logical
Loving
Loyal
Mature
Mediator
Methodical
Meticulous
Motivated
Neat
Nice
Objective
Observant
Open-Minded
Optimistic
Organized
Original
Outgoing
Particular
Passionate
Patient
People person
Perceptive
Persevering
Persistent
Personable
Persuasive
Philosophical
Pioneering
Placid
Polite
Political
Positive
Powerful
Practical
Precise
Proactive
Pro-Active
Problem solver
Professional
Proficient
Quick
Quiet
Rational
Realistic
Reliable
Reserved
Resourceful
Respectful
Responsible
Responsive
Results-oriented
Self-assured
Self-Confident
Self-Disciplined
Self-Reliant
Self-starter
Sensible
Sensitive
Sincere
Skilled
Skillful
Sociable
Solid
Straightforward
Strategic
Systematic
Team player
Tenacious
Thorough
Thoughtful
Tidy
Tireless
Tough
Traditional
Trustworthy
Unassuming
Unconventional
Unique
Versatile
Visionary
Warmhearted
Willing
Witty



Interesting Words To Describe Yourself
Jovial
Astute
Noble
Fantasist
Fervent
Unruffled
Serene
Valiant
Supercalifragilisticexpialidocious
Colorful



Words Not To Describe Yourself (Professionally)
In the professional context as you can imagine, there are words you should restrain from using to describe yourself.
It's not like these adjectives that describe you are quite absurd; however, they might not cause a reaction as expected when you use them out of context. What are we insinuating?
Consider the following example; imagine using these words to describe yourself in a job interview:
What will you have me say? Let's take this for instance;
"I'm amazing, funny and
unique"

If you observe very well, it will be more edifying if a colleague or anyone for that matter described you this way.
Addressing yourself as amazing in the presence of recruiters might be a bit too outrageous without really saying anything at all.

Here's a list of our top 7 words NOT to describe yourself (outside of your friends' circle):
Amazing
Awesome
Funny
Honest
Humble
Intelligent
Unique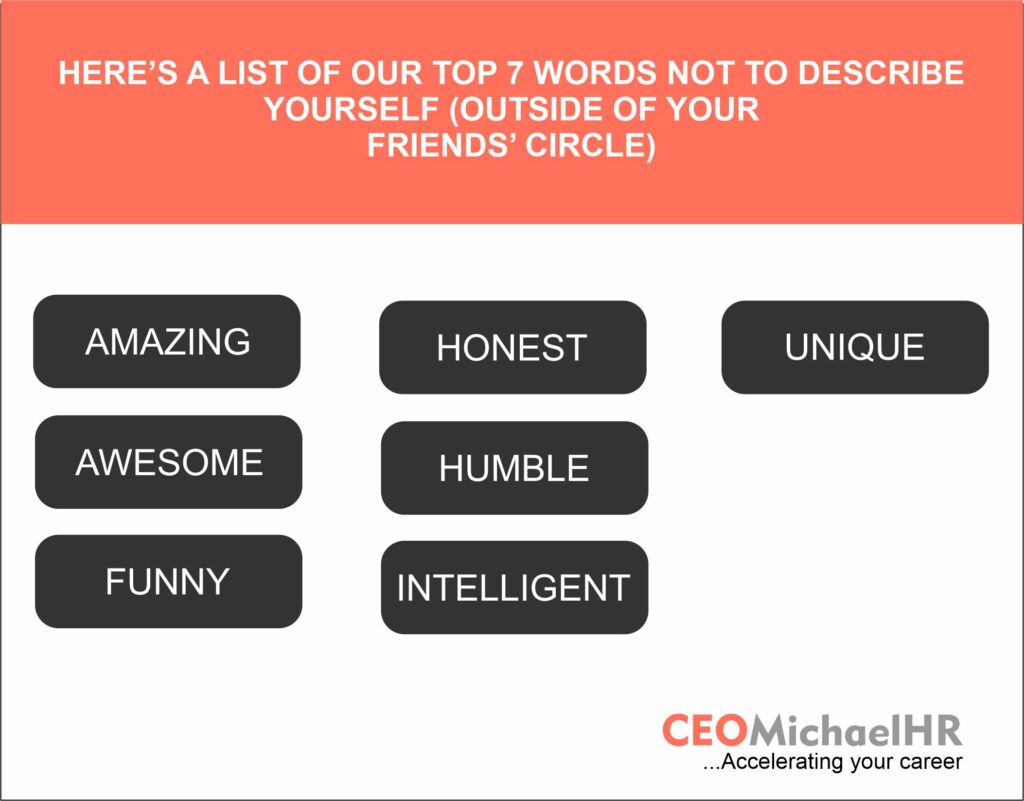 Conclusion
And that's a wrap! We hope that by now you're equipped with many more words to describe yourself.
Let's go over some of the main points we covered in the article:
Many situations will require that you find the right words to describe yourself. A resume, job interview, or college application are among the most common.
During a job interview, make sure to describe yourself using words that are relevant to the job, while backing up your claims with examples.
Your resume profile is your chance to make a memorable first impression – scan the job description to choose adjectives that are relevant to the position and back them up with your achievements.
There are some words you should not use to describe yourself – if it can't be backed with concrete proof, sounds generic, or an adjective that makes more sense being said for you (and not by you), then stay away.

At this junction, we believe you are more than enlightened and ready to now take a mind-blowing step towards advancing your career using the right words to describe yourself in various styles and fashion.
Best interview wishes! You are ambitious, confident, resourceful and without any doubt, you will do great.