Creating a college resume from scratch as a college student might be hectic considering the fact that this could be your first or second time of writing a resume yourself.
Don't be alarmed though because I've got you absolutely covered on how to write a college resume from start to finish.
As a bonus, below is a free template of a college resume designed by one of our professional resume writers for you to follow along as this will help you understand better what you are doing or about to do.
College Resume Template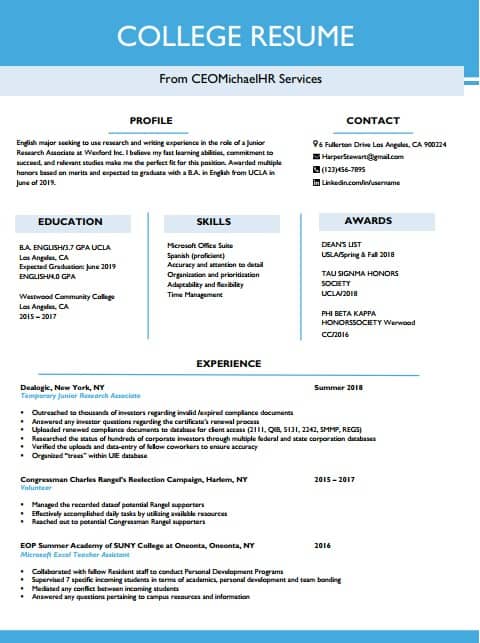 Get a FREE Expert Resume Review
College Student Resume Example (Text Version)
Profile
English major seeking to use research and writing experience in the role of a Junior Research Associate at Wexford Inc. Believe my fast learning abilities, commitment to succeed, and relevant studies make me the perfect fit for this position. Awarded multiple honors based on merits and expected to graduate with a B.A. in English from UCLA in June of 2019.
Contact
6 Fullerton Drive Los Angeles, CA 900224
HarperStewart@gmail.com
(123)456-7895
Education
B.A. English/3.7 GPA UCLA Los Angeles, CA
Expected Graduation: June 2019
English/4.0 GPA
Westwood Community College Los Angeles, CA 2015 – 2017
Key Skills
Microsoft Office Suite
Spanish (proficient)
Accuracy and attention to detail
Organization and prioritization
Adaptability and flexibility
Time management
Awards
DEAN'S LIST USLA/Spring & Fall | 2018
TAU SIGMA HONORS SOCIETY UCLA | 2018
PHI BETA KAPPA HONORS SOCIETY Westwood CC | 2016
Work Experience
Dealogic, New York, NY | Summer 2018
Temporary Junior Research Associate
Outreached to thousands of investors regarding invalid /expired compliance documents
Answered any investor questions regarding the certificate's renewal process
Uploaded renewed compliance documents to the database for client access (2111, QIB, 5131, 2242, SMMP, REGS)
Researched the status of hundreds of corporate investors through multiple federal and state corporation databases
Verified the uploads and data-entry of fellow coworkers to ensure accuracy  Organized "trees" within UIE database
Congressman Charles Re-election Campaign, Harlem, NY | 2015 – 2017
Volunteer
Managed the recorded data of potential Rangel supporters
Effectively accomplished daily tasks by utilizing available resources
Reached out to potential Congressman Rangel supporters
EOP Summer Academy of SUNY College at Oneonta, Oneonta, NY | 2016
Microsoft Excel Teacher Assistant
Collaborated with fellow Resident staff to conduct Personal Development Programs
Supervised 7 specific incoming students in terms of academics, personal development, and team bonding
Mediated any conflict between incoming students
Answered any questions pertaining to campus resources and information

How To Write a College Resume
When writing your resume, there are a few stuff you need to put in place to get you on the right path to success.
This may include:
#1 Understand the type of resume format you want
Choosing a resume format isn't rocket science but extremely important as this will guide you on what to write and how your resume will be presented to the hiring manager.
In general, there are four(4) types of resume formats in existence. They are:
Chronological Resume
Functional Resume
Combination Resume
Targeted Resume
For more details on what type of resume format to choose from, I'll suggest you take a look at our gallery.
#2 Next is to write an eye-grabbing profile
When asked in an interview to describe yourself, what will you say?
Will you stutter or will you go about saying "bla bla bla…emmm?" LOL
A profile is a short description of yourself, your qualities, the awards you've won, what you've majored in while in college, and your skills.
This would be brief and eye-grabbing that even a blind person would want to read. 😆 Having a boring profile is the same as saying "I am bla, bla, bla" in an interview 🙂
#3 How can we contact you?
Your contact information is also vital. A resume without contact information can be found in one specific location- the dumpster.
When writing your contact information, start with your home address, then your mail, phone number and if you truly desire to be hired, please add your LinkedIn profile URL.
Recommended Read: How to put LinkedIn on a resume
#4 Education, Skills, Awards, and… What Else?
For the education aspect, all you need to do here is to write what you majored in while in college, your GPA, the college you graduated from, and the date of graduation.
The skills you've acquired should be listed under skills in your college resume.
Tip: When writing your skills, please be honest. Do not write skills you don't have as this will always backfire sooner or later after being hired for the job.
As a guide, here are a few skills you can write down (only if you have them):
Microsoft office suite
Critical thinking
Accuracy and attention to detail
Organization and prioritization
Adaptability and flexibility
Time management
The awards section can be manipulated though but at CEOMichaelHR, we will never advise you to manipulate anything on your resume. We do believe that honesty is the best policy in everything we do.
We advise that when writing your college resume, write down awards that were actually won by you and no one else.
If you don't have any awards yet, why not go out and compete to win some?
For the what else section, well what else?
What else do you have to offer that will make you stand out from the rest? Be it a hidden talent or a skill, just anything that will make you stand out from other job seekers and is relevant to the job description should also be included on the college resume.
#5 Experience Matters or Don't They?
Quick question:
You are faced with two college resumes. One has a section where he/she listed out all experiences from work history they have acquired while the other left the experience section blank or doesn't even have any. Which will you hire?
Please leave a comment below and let me know your thoughts.
Well, for those college graduates without a work history, we do have an article specifically on how to write a resume with no work history. Do check it out.
For those with one or more work experiences, when writing your college resume, please list every single one out.
Add the date you started and the date you left. Also, add the role you played at the job be it a volunteering job or a teacher assistant or whatever.
Remember: No matter how insignificant your work history may be, it still counts for something. Having a work history that fits the job description and leaving it out is a bad idea.

Tips For Writing a College Resume
Here are some great tips you'll need when crafting your college resume:
#1 Don't include irrelevant skills
Are you aiming for your resume to be thrown in the trash? Then I have a perfect answer for you: Don't include irrelevant skills on your resume or skills not related to the job description.
Skills like: MS-DOS, LOTUS 1-2-3 or Vista
In general, avoid adding skills that were common in your grandpas' era or skills that are irrelevant to the job description.
#2 Avoid spelling errors
If your resume has grammatical/spelling errors, it is as good as saying you ain't the right person for the job.
When done writing your resume, it is advisable you give it to someone that is good at proofreading documents or someone that can easily spot errors to help you go through the resume for you.
Most people won't be willing to do this for free or some might not be chanced to help.
At CEOMichaelHR, we review your resume for free. Yes, you read that right, Absolutlely Free! You can review your college resume for free Here.
#3 Include action verbs on your resume
When writing your work experience, this will normally include bullet points. Start every bullet point in your work experience section with action verbs.
An action verb is a single word or words that describe what a person or thing in a sentence does (e.g organized, executed, produced, controlled, oversaw, etc).
For more tips on how to write a perfect college resume, check out our guide on bad resume examples. I promise you'll have a great time reading it.
How long should a resume be?
The straight but short answer is 1(ONE) pager for a college resume. Anything above 1 pager may be counted as irrelevant and not impress the HR manager.
As a college student about to graduate, your work experience won't be much, so list out all the work experience you've acquired, including the dates alongside each work experience.
Further Reading: How far back should a resume go
Can You Put High School Information on College Resume?
I am guessing you may have achieved some impressive milestones while in high school and you feel it's too important to put on the college resume as this might give you an edge over other job seekers to getting hired.
Well, if what you are putting on your resume from the achievements you got while in high school can easily land you the job, why not? List it on the resume.
You may also want to read this brief Q&A to get a clearer picture of how to put high school achievements on your resume.
Ready to land that dream job? To make it happen, you'll need a resume – not just any type of resume, but a professional Resume designed by our professional resume writer.
We guarantee you'll get 3X more job interviews within 64days or we'll rewrite your resume for FREE!
Give your resume the boost it needs. Use our resume writing services today!