In recent times, deciding whether it's ok to quit your job can put you in a position that makes you feel it's a complex and challenging step to take.
In this article, we'll be taking a deep insight into reasons why it's ok to quit your job.
Based on this topic, a recent study according to Indeed revealed that 49% of active job seekers admitted that they were quitting their jobs in search for another to earn more money while other reasons included:
Better work/life balance (26%)
A better work environment (21%)
A role that better fits their passions or interests (20%)
Promotion or growth opportunities (19%)
Better benefits like health care or retirement (18%)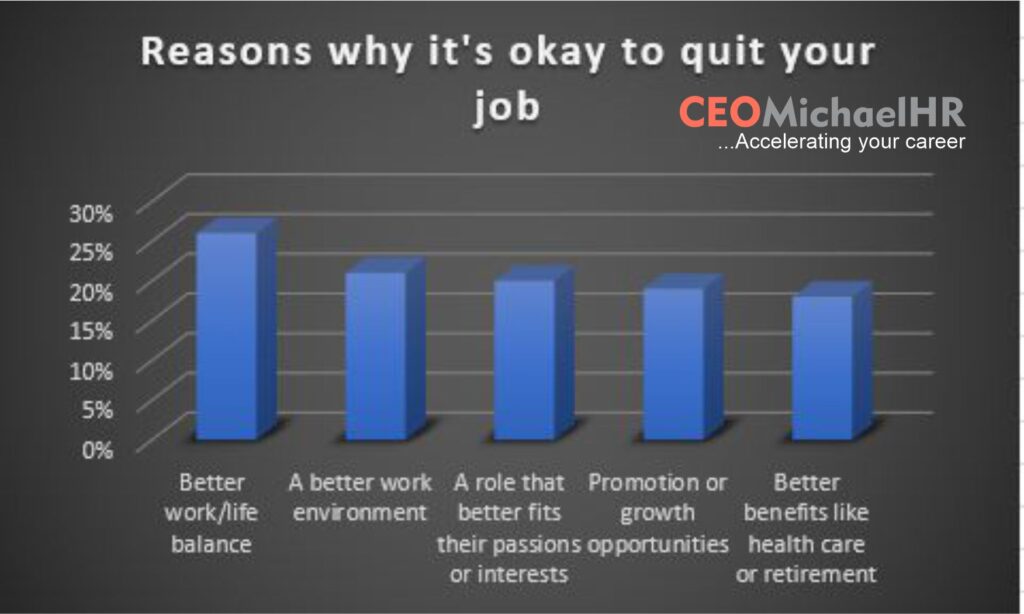 No matter what your reasons may be, these findings can help you better understand your decision on why it's ok to quit your job in order to find another.
You may have observed all the rules, applied for the right job with the right kind of pay, and after all these, securing a great job but later finding out:
-Your boss is a domineering type and your coworkers on the other hand are becoming more aggressive and antagonizing around you, making you feel unethical about your job.
-You're becoming less passionate about the products sold by your company.
-You're being given the role meant for an extrovert whereas you are an introvert dissipating more energy every day at work.
-Your relationship is also experiencing a wreck, making ends meet seems difficult, battling heath challenges and at the end still not thriving.
-Your employer might deem it fit to pay you well or not as you expected.
-Trapped with family and societal demands and finally you feel like your job is too demanding as you keep working your life away just to support someone else's goals.
You may not accept my views, but the truth is you don't have to do anything that doesn't seem to flow along with your mind.
These all are enough reasons why it's okay to quit that job.
You may have possibly done the right thing based on what family and friends considers the best for you and yet feeling miserable on your inside.
It's however, best you give it up and consider it ok to quit your job to start enjoying the life you deserve.
As we advance in this article, we'll look at some common and acceptable reasons you may quit your job and key steps you should follow when tendering your resignation.
You might like: How Long Should You Stay at a Job Before Quitting?

10 Good Reasons To Quit Your Job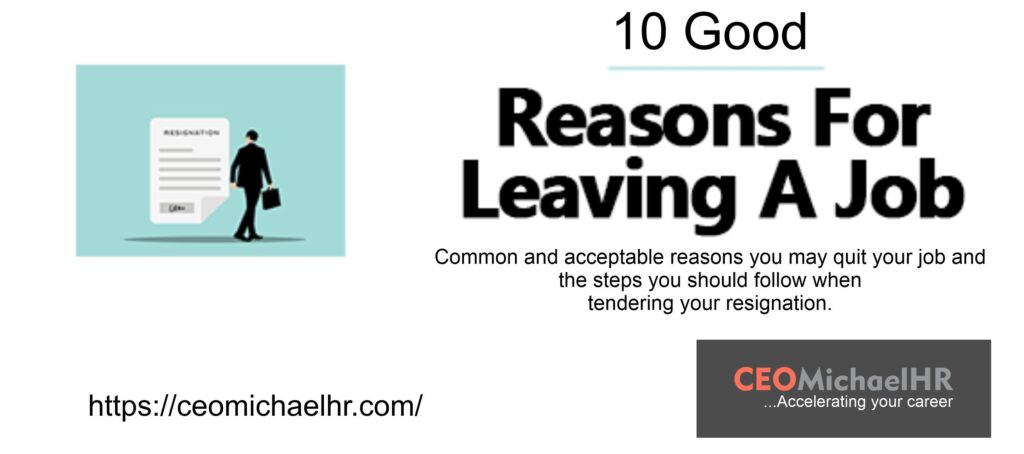 The decision to quit your job can be difficult and threatening most times, but if quitting the position makes you feel fulfilled in the area of your health and happiness, and if it settles with your goals and values then it was never a bad decision after all.
Below are 10 reasons why it's okay to quit your job;
Dissatisfied with responsibilities
Dissatisfied with work environment

1. You Got a New Job
Many people seem to leave their previous jobs when they are offered a new position somewhere else.
Carefully considering the merit and demerits of leaving your current job for a new one can help you to detect whether the benefits outweigh the possible risks.
The factors to be considered when making this decision are given below:
Pay and benefits (Does the new job offer better pay or benefits? If not, is it beneficial in some other way?)
Opportunity (Does the new job offer opportunities for growth, promotion or career change?)
Work/life balance (Does the new job allow you to focus more on family, hobbies or relaxation?)
Satisfaction and fulfillment (Can the new job offer your personal fulfillment in a way your current cannot?)
Long-term career goals (Can the new job help you get to where you want to be?)
Personal core values and mission (Does the new job align better with your personal values?)

2. You Have Personal Conflicts or Commitments
Most times it becomes necessary to quit your job if commitments to your personal life may be the reason you spend too much time on your job.
Commitments such as;
Assuming long-term care for family members
Recovering from illness or surgery
Taking on full-time parenting
Relocation with or for a partner

These reasons mentioned above are satisfactory and acceptable. They can be reasons why its ok enough to quit your job.
These reasons can however, create instances where you experience employment gaps on your resume.
Worry not as there are many ways you can explain these gaps during interviews.
Some hiring managers can be so understanding of this shortcoming and still willing to work with you regardless, especially when there is an improvement in your skills and qualities.
Only try as much as possible to explain the outcome leading to your absence from work.
You might like: How to Put Temporary Work on Your Resume

3. You're Dissatisfied with Your Responsibilities
Working in an organization that keeps you feeling challenged is not only helpful but also engaging and sustaining your happiness while at work.
When it seems like you no longer feel comfortable with your position and daily activities as time goes on or if you begin to feel frustrated or bored at some point, then it will really be important to discuss with your team lead.
You can be assigned a new position that comes with different responsibilities and if they are unable to help you in that regards, it will be considerable to quit your job and look out for other job openings.

4. You're Dissatisfied with Your Work Environment
Your work environment can in several ways make you feel unsuccessful considering factors such as:
The company's mission and values
The company's leadership style
Your supervisor's management style
The culture cultivated by your team or company
The expectations of your team or company

If by any means your current job fails to match up with your own work expectations such as your styles and values then it can become toxic and negatively impact your overall wellbeing at work.
When you discuss your awkward feelings about this sad experience with your supervisor and no change is affected, you should now acknowledge why it's ok to quit your job.

5. You Feel Stuck or Limited
Every employee including you works with expectations or hope of some form of advancement as you succeed in your chosen field.
These might come in the form of promotion, benefits or even increase in your salary.
You can desire to improve on your skills, engage with more responsibilities and enjoy practical experience.
If you discuss your expectations on these areas with your manager and no positive response from him, then search for organizations that support your initiatives for life changing opportunities.

6. You Have a Challenging Schedule
Schedules at work could be discomforting at times. Many employees understand this as they look forward to balancing a healthy work life in their work environment.
When your working hours affects your physical and mental health as well as the health of your relationship or when your organization pays you less than you deserve, you can decide to open up to your manager and if nothing is done about it then it's best you quit your job and find another job with a better pay rate.

7. You Want to Go Back to School
Some employees may have different reasons why they decide to quit their job.
Some feel like going back to further their education will give them opportunities to earn more money, switch to a different career, achieve certification or teach others.
Discussing your goals with your manager before leaving can be far helpful as he can decide to preserve your job while you embark on your academic journey.
If you are fortunate enough, your manager can allow you to work on a part time schedule and even offer financial support.
You might like: 15 Signs It's Time for a New Job

8. You're Relocating
You may desire to relocate in order to be close to your partner who lives and works in another city, close to your family, encounter a new culture or rent an apartment with a lesser rent.
You may even decide to change location because of a juicy job offer and whatever your reason might be, relocating is a well acceptable reason to quit your job while seeking for new opportunities within your new environment.
You can still discuss your situation with your manager to see if he can help you keep your job or device means for you to stay on with the company especially as COVID-19 has made many employers stick to the work from home order.
Your employer can allow you to work remotely from your new home.

9. You Want to Change Careers
According to a recent survey conducted by Indeed for over 8,000 job seekers, it was gathered that about 13% of the captured respondents were identified as those desiring to switch careers (for example searching for jobs in a different field).
Barely half of the respondents were switching careers for the first time and to some others, it was their third time.
Some employees do this because of the need for career advancement, salary increase and better opportunities.
It is a good idea to make a career change birthed by exciting opportunities that steer up challenges and boost work satisfaction.

10. You Want to Travel
Opportunities can result in gearing the desire in you to take a good advantage of travelling, studying and relocating abroad on a long-term basis.
This may be the right time to quit your job as traveling helps you attain varieties of skills and qualities that will expose you to new job opportunities on your return.
Jobs depends on types such as permanent or temporary travel jobs that allows you a good and satisfactory source of income.

These situations also suggest when it's okay to quit your job for good:
1. You're Ill
Most jobs can be so demanding that it makes you suffer or develop stress and anxiety in the long run.
When your job denies you your happiness thereby affecting your health as a result, then it's absolutely okay to quit your job.
No job is worth it especially when it makes you fall ill over and over again.
You rather quit the job because the longer you are determined to stay and try to battle circumstances, the more deteriorating your health gets.
Research from Harvard University suggests that "stress in the workplace can slash up to three years from your life!"
Family illnesses is also a genuine reason why people quit their jobs.

2. Miserable Working Environment
When you find yourself in a work environment where you have to wrestle with your boss and coworkers, this can make your working relationship with them so difficult.
Your productivity during work hours as well as your mental health can be slowly retarded especially in an environment surrounded with negative energies.
When your job roles put you in a very tight situation, making you feel uncomfortable then it's time to quit your job.
If asked the reason for your sudden termination on the given position during an interview just be honest with your potential hiring manager.
It's really important as they may tend to understand knowing how difficult it is for one to thrive in a toxic work environment and may end up accepting your reason for making that decision.
You might like: After College How Long Should You Stay at Your First Job?

3. You're on The Wrong Path
Working in the wrong environment makes you feel as one whose effort and commitment can be sabotaged.
When this happens, you can start looking elsewhere for organizations that will value your effort and invaluable contributions.
Quitting your job especially when you are new to your job is not too ideal.
It is great to seek a moment with your boss confessing to him how a little lost you are but if after a while and you still appear lost, then you can quit your job as quickly as you can in order to choose a new career path that suits you more.

4 The Company Is Failing
Whenever it seems like the company where you work no longer perform better than when you joined, or if you are regular to work but always scared of being made redundant, it's enough signal to let you know that it's time to quit your job.
Furthermore, you can quit your job when you feel like looking for opportunities elsewhere.
And if it gets to that point where you no longer see the future in the job, it's best advised to leave and find something with better advantages instead of being left without any choice.

Conclusion
In conclusion, one thing is certain. Everyone has his or her own personal reasons for quitting a particular job or position.
What are yours?
An abusive boss or manager?
Some jobs that offers no opportunities for growth and career development?
Commuting to the new office that consumes two hours in one direction?
A job that affects your personal health or the health of your work relationship?
The answer is not far-fetched.
Start looking elsewhere for opportunities in organizations where your skills and qualities can be valued if you are no longer comfortable with challenges confronting you in your current job.
Not sure if your resume is ready to re-enter the job search? Our professional resume writers can speed up your process.