Due to their sociable and highly enthusiastic nature, the best jobs for extroverts offers them opportunities to interact and connect with others.
When resolving on a career path, there are several factors to put into consideration.
Apart from paying attention to job descriptions in regards to required skills and qualifications, you also need to take your personality type into consideration when deciding on a career.
It is important to find a job that suits your personality If you want to thrive in your career.
As an extrovert, the work environment or roles that might interest and fit your personality are typically different from those of an introvert.
But how do you know what type of jobs will play to your natural strengths and abilities—and leave you feeling excited and energized at the end of the workday?
In this article, we will be discussing 15 jobs for extroverts and expert communicators.
These range of jobs perfectly suits an extroverted personality – some may have even crossed your mind.
But first, let's quickly define who an extrovert is, what their personality traits are, and what they should look for in a job.

Who's An Extrovert?
Extroverts are friendly and sociable people who enjoys talking and being in the company of other people.
They are often described as the life of the party.
Their outgoing, talkative, action-oriented and vibrant nature draws people to them, and they have a hard time turning away attention.
Extroverts "direct their energy and attention outward and receive energy from interacting with people," says Mike Warrick, founder of Jamesson Solutions.
Essentially, extroverts are perk up by social interaction—unlike introverts, who often feel debilitated by too much of it and need plenty of alone time to charge back.
The personality of an extrovert can sometimes come with misconceptions, starting with the idea that all an extrovert knows how to do best is talking whereas they also value other people suggestions and can be excellent listeners.
"A basic misconception about extroversion is that we just can't help ourselves in terms of being vocal… in meetings or in conversation," says Nadia Ibrahim-Taney, self-proclaimed extrovert and founder of Beyond Discovery Coaching.
Another misconception is that some people think being an extrovert alone is enough to give one a long leg in the job market, it's a big fat "No".
Being an extrovert can only help to a certain level unless when combined with skills and abilities that gives them an advantage in the job market.

Personality Traits Of Extroverts And Expert Communicators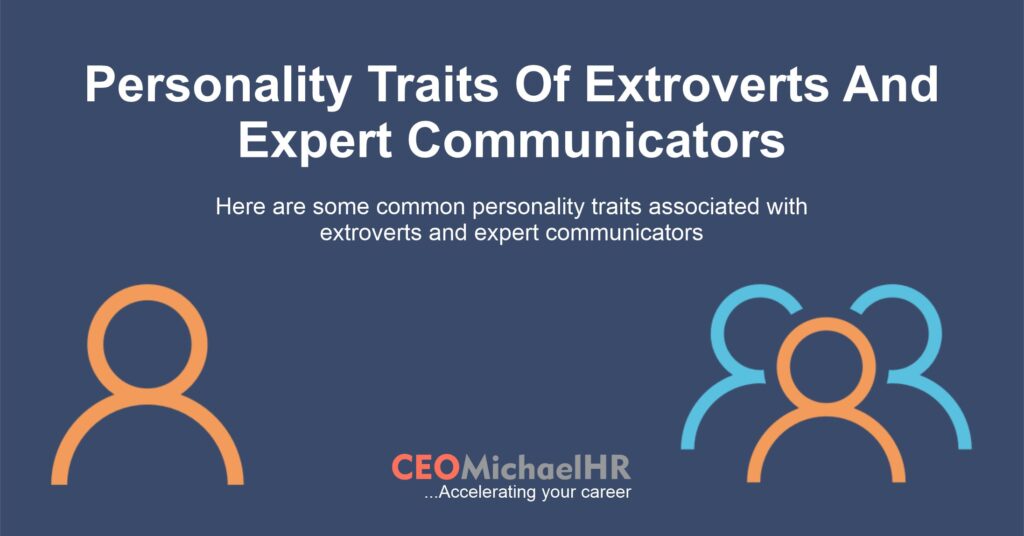 Here are some common personality traits associated with extroverts and expert communicators:

You Enjoy a Social Environment
Extroverted people are more likely to be the center of attention — and they are comfortable with it that way.
They bloom in social situations, and they seek out social stimulation.
Extroverts find it interesting meeting new people, and they rarely avoid unfamiliar situations for fear of messing up or not knowing someone.

You Don't Like or Need a Lot of Alone Time
Extroverts' natural energy can be easily drained by too much alone time.
Their batteries recharge by being around other people.

You Thrive Around People
Extroverts feel their best in large groups. They may be more likely to team lead group sports or group outings.
They may be the ring leader for weekend activities, after-work cocktail hours, or other social events.
They hardly turn down invitations to weddings, parties, and other social gatherings.

You're Friends with Many People
Extroverts can easily make new friends. They also tend to have a large social network and many acquaintances.
With pursuing new interests and activities, extroverts are often keen to expand their social circles.

You Prefer to Talk Out Problems or Questions
Extroverts don't mind relating their problems to others for advice unlike introverts.
They're often more willing to openly express themselves and make clear their preferences or choices.

You're Outgoing and Optimistic
Extroverts are often described as simple, happy, positive, cheerful, and sociable. They try not to dwell on problems or difficulties for long.
While they experience difficulties and troubles like anyone else, they focus on way out.

You Aren't Afraid of Risk
Extroverts are mostly risk takers.
Extroverts may be more willing to take risks because the benefit is a surge of chemicals that stimulate the brain.
Some theories assert that their brain is wired to reward them for it if it goes well.
One Trusted Source found that extroverts who take risks and succeed are rewarded with dopamine, a chemical that triggers the reward center of the brain.
In the case of the study, participants gambled, but the response could be true for any number of activities.

You're Flexible
Extroverts are flexible in nature; they have the ability to adapt to any situation and are innovative when problems surface.
While they may be organized, not all extroverts need a plan of action before they can begin a project, plan a vacation, or undertake any task.
They can be spontaneous in decisions making.
You might like: Career Goals You Should Keep

What Should Extroverts Or Expert Communicators Look For In A Job?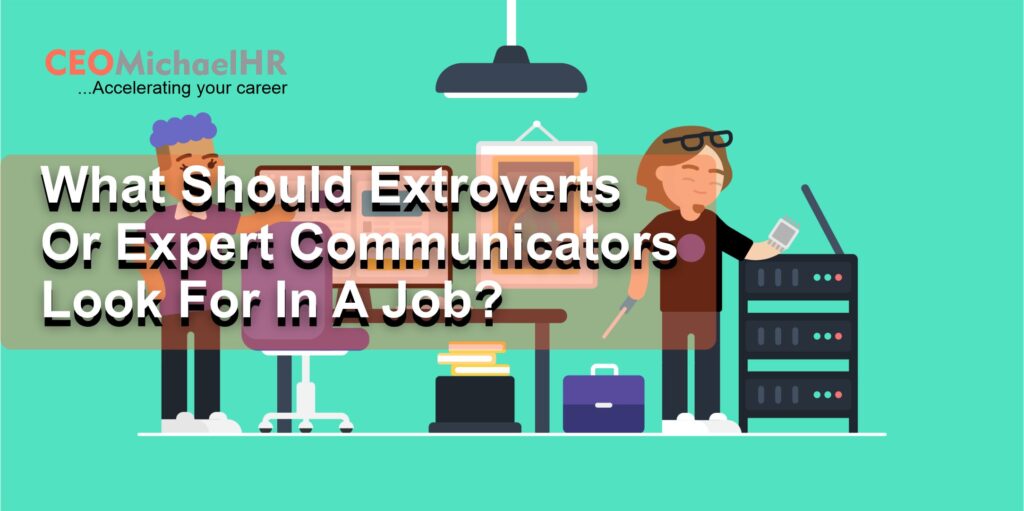 Extroverts perform exceptionally in careers where they spend a lot of time in the company of others as sociable environments tend to stimulate and energize them.
Since extroverts generally find it easy to talk to people, jobs that require team work, networking and building client relationships are a great fit for them.
As an extrovert you'll want to find a role (and company) that suits who you are so that you can feel your happiest and most productive self.
"The more a person chooses roles that align with their behavioral strengths, the higher the likelihood they will perform at a higher level—and choose to stay in the role longer," Warrick says.
As they are naturally confident and outgoing, finding a job that is suitable to their personality traits could be the key to finding happiness in their career. 
Some common characteristics of good extrovert jobs are:
Regular social interactions
Team-oriented setting
Dynamic environment and job duties
Risk taking ability
Opportunities to brainstorm with others
Many growths opportunities

What Job Is Best For Extroverts/Expert Communicators?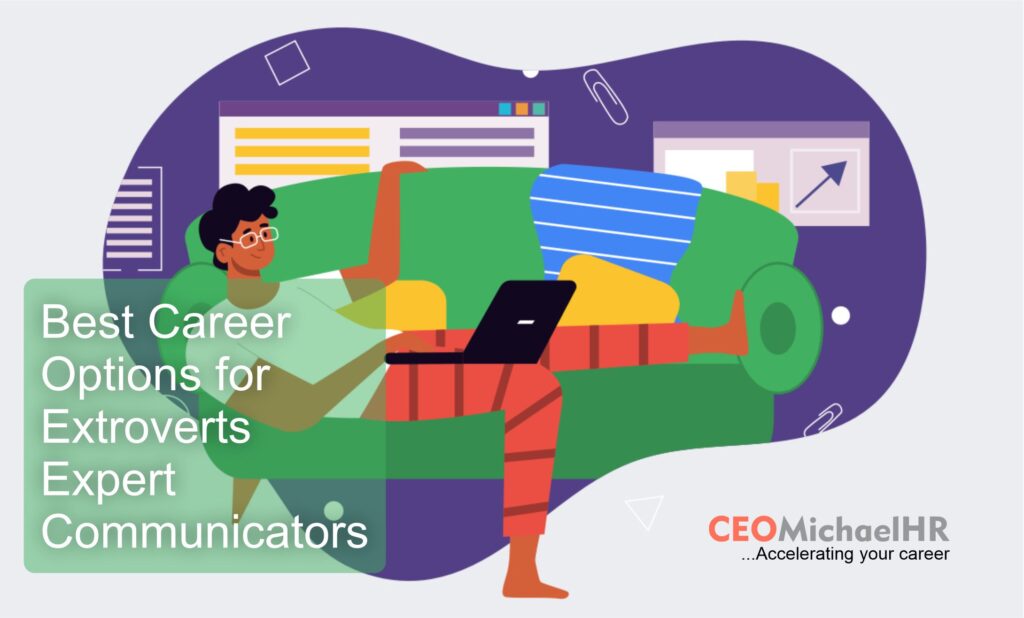 There are several jobs that will suit the character trait of extroverts or communicators but in this article, we will streamline our research to just 15 of these jobs and their average salary scale.
Although their salary is based on the roles performed, company and geographical location.
These jobs are based on our preference and they are arranged in no particular order.

1. Teacher
Annual average salary ranges from $52,730 to $69,657.
Teachers are vital tools in the development and growth of students worldwide and teaching can be a fulfilling career for extroverts who want to make an impact.
A teaching career is versatile, as one can take various route to become one.
Teaching is one of the top jobs that suits the personality of an extrovert because it involves daily interaction, public speaking, and motivation of others.
Primary duties: Teaching has to be enjoyable as it involves interacting with students for many hours daily.
Ideally, professional teachers should be outgoing and energetic people so they can inspire their students and keep them interested in the daily learning activities.
Teachers extenuate issues between parents and the school, settle conflicts among pupils, render complex lesson plans to group of people and provide guidance and counseling to their student.
A Teaching job is best for:
Extroverts who want to make an impact
People who are patient in nature and enjoy helping others
People with strong communication and interpersonal skills

Avoid if: you do not enjoy working with children and adolescents.
Qualifications: a bachelor's degree or a completed teaching diploma but some allow candidates with specialized degrees and past teaching experience.

2. Registered Nurse
Average annual salary ranges from $58,130 to $74,081.
Nursing is a highly lucrative job and is a great career for extroverts who delight in selflessly helping others.
The most important aspect of this job is being able to show compassion towards your patients and treat them with utmost care.
Primary duties: Registered nurses are assigned wide range of tasks, which includes: Evaluating patient health issues, observing patients during recovery, administering medication to injured, sick or convalescent patient, and educating patients about the importance of post-hospital treatment and lifestyle choices in relation to their health.
As this job entails constant interaction with patients and co-workers, these professionals need an excellent communication and interpersonal skills.
Dealing with patients who are vulnerable and likely in pain or distress also requires people who are compassionate and sensitive.
Also, nurses possesses a patient and calm attitude despite working long hours in high-pressure environments.
For this reason, the job is suitable for extroverts or expert communicators who derive energy and motivation from assisting others.
Registered nurse job is best for:
Extroverts who are springy, caring and ready to always assist people
Individuals with a medical background, experience, and knowledge
Compassionate people

Avoid if: you don't have such passion.
Qualifications: a nursing degree, a registered nurse license or a family nurse practitioner (FNP) diploma (depending on the route you wish to take)

3. Event Planner
Average annual salary ranges from $39,223 – $54,923
Are you a sociable and friendly person with a creative flair and great organizational skills?
If yes, event planning may be your true calling.
An event planner is usually contracted by a company, private organization or individuals to organize and accomplish a special event such as banquet, a wedding ceremony, award ceremony, conferences, birthday party, reunion party, baby shower, corporate event, etc.
This job is great for extroverts because event planners are always in the midst of a social situation and are typically in charge of their schedules.
Primary duties: An event planner's job involves organizing, planning and coordinating a variety of social events, such as weddings, birthday parties, corporate or business conferences and functions.
Apart from interacting with their clients, event planners are constantly in contact with other professionals, such as, suppliers, hospitality and service industry professionals, performers and interior decorators.
Event planners also interact with guests, as their clients may want them to send invitations and reply to guest queries.
Event planners need to be available on the day of the event to make sure everything runs smoothly and the guests are satisfied.
They are good negotiators and critical thinkers.
As this is a fast-raising industry and one that often presents challenging situations, people who opt for this career must cope well under pressure and have excellent interpersonal skills.
Event planner job is best for:
Extroverts with excellent organizational, interpersonal and creative skills
Expert communicators who enjoy social events
Self-starters with great time management and negotiation skills
People who arranging parties interest them

Avoid if: you have bad time-management skills.
Qualifications: an accredited event planning certification could be beneficial

4. Human Resources Specialist
Average annual salary $51,440 – $66,083.
Human resource specialist plays an important role in the culture of a company and joy of its employees.
They are responsible for figuring the best applicants for the job.
Whether it involves recruiting team members, interviewing potential candidates or setting up meetings with managers, these professionals use their communication and people skills to fill employment gaps.
To secure this position, you must be comfortable with meeting new people.
Primary duties: includes screening and hiring of new staff, handling training, recruitment paperwork, processing payroll and benefits.
They oversee administrative duties, handle conflicts, concerns and so much more.
HR specialists requires time to time training so as to be updated with knowledge of current and local hiring trends.
They also maintain constant contact with staffing agencies.
Human resources specialist job is best for:
Extroverts with strong intuition and selfless judgement
Individuals with excellent communication skills
Objective problem solvers
People with direct personalities

Avoid if: you are an impatient and assertive person.
Qualifications: Bachelor degree in human resource management or business administration is necessary
You might like: Human Resources Resume: The Ultimate Writing Guide

5. Hairstylist
Average annual salary: $23,204 – $34,204
Hairstylists are people who creatively work on people's hair to give them a neat and fresh look.
Primary duties: Hairstylists spend most of their working day in the company of other people.
These professionals must possess good communication and interpersonal skills, they have to be able to interpret the hair desires and needs of multiple clients on a daily basis, and also need to advise them on different options.
During an appointment, which could take hours, hairstylists typically chat with their clients, and over time some customer client relationships get stronger.
Working on people's hair can be challenging at times, so hairstylists should have the ability to remain quiet and poised in potentially explosive situations, despite spending long hours on their feet every day.
Aside interacting with customers, these professionals might also share a salon space with other hairstylists, so they are in the company of people throughout the workday.
Hairstylist job is perfect for:
Expert communicators who enjoy styling others
Individual with a sociable and creative personality
Extroverts that enjoy constant social interaction

Avoid if: you don't like or can't stand on your feet for a long time.
Qualifications: you don't really need a degree to become a hairstylist all you need is your creative skill

6. Life Coach
Average annual salary: $48,380 – $65,159
A life coach is a type of wellness professional who help people make progress in their lives in order to attain greater fulfillment.
Life coaches aid their clients in improving their relationships, careers, and day-to-day lives.
Primary duties: A life coach meets new people daily, give them a sigh of relieve and help them handle their life transitions and challenges.
Life coaches can help clients figure out their goals, identify the obstacles holding them back, and then come up with strategies for overcoming each obstacle.
In creating these strategies, life coaches target your distinctive skills, strength and gifts and then provide the support you need to achieve long-lasting change.
Life coach job is perfect for:
Extroverts that derive satisfaction in assisting others achieve their goals
People who are devoted to personal development and growth
Expert communicators with great interpersonal skills

Avoid if: you are not a good listener.
Qualifications: A degree in psychology could be beneficial, but a life coaching certificate will be necessary

7. Lawyer
Average annual salary ranges from $92,727 – $116,104.
Lawyers are solicitors, they spend their days investigating their cases, counseling and representing clients, interpreting laws, confronting disputes in front of judges and juries, and more.
To become a successful attorney takes time, practice, total commitment and can be a satisfying and well-paying career for extroverts.
Primary duties: involve communicating with clients, colleagues and judges, researching legal matters, assembling evidence, public speaking and drafting legal documents.
Lawyer job is perfect for:
Extroverts with excellent and unbiased judgement ability as it is the key to being a successful lawyer
Gregarious individuals
Expert communicators with adept knowledge and experience in law
Hard-working, committed, strong willed, and thoughtful extroverts

Avoid if: you give up on things easily.
Qualifications: Bachelor degree in law is a must – after university, you will need to go to law school before you can qualify for a training contract within a firm.

8. Tour Guide
Average annual salary ranges from $27,359 – $38,252
Tour guides, or tourist guides, are members of the hospitality and travel industry who show visitors around places of interest.
Primary duties: Tour guide ensure their clients satisfaction.
A tour guide must not only be an excellent communicator but also an outgoing and energetic individual in order to entertain and inspire clients so they can return.
It's the tour guide's duty to put everyone at ease and to facilitate conversation amongst clients.
Also, a guide must have a loud and clear voice to be able to convey information to everyone in the group.
A guide has to be observant and a good listener to know a group's reactions and feedback whether they are enjoying the tour or not, and should adjust the activities accordingly.
If, for instance, a group wishes to change the schedule slightly, a tour guide should be flexible enough to accommodate the request.
Tour guide job is perfect for:
Extroverts who enjoy traveling and discovering new things and places
Expert communicators with charisma, adaptive in nature and strong leadership skills
People who are passionate about their city and have historical knowledge, and the stamina to be on their feet all day
People who enjoy meeting new people and sharing their insights
People who are flexible in nature

Avoid if: you have a short temper or lack stamina.
Qualifications: Bachelor's degree in tourism or related field. Depending on your location, you may be able to complete an accredited tourist guide training program.

9. Customer Service Representative
Average annual salary ranges from $50,730 – $71,225.
Customer service representatives are very important part of every company/industry.
A career in customer service is an excellent choice for extroverted or expert communicators, as they interact with the general public frequently.
They are the face and voice of the company.
Primary duties: Includes providing support and assistance to customers, managing inquiries, solving problems, and establishing and maintaining strong client relationships.
Clients rely on customer representatives to help them voyage the company since most of them never see the corporate officers.
These vital team members are expert communicators with the ability to multitask and be versatile.
Customer representative job is best for:
Gregarious extrovert who enjoys meeting new people
Problem-solvers
Extroverts that have patience as a virtue

Avoid if: you are rude and impatient.
Qualifications: Most companies only require a high school diploma, along with specialized training and orientation.
But, if you want to move up the ranks, taking conflict resolution and leadership classes will be of great advantage.

10. Sales Manager
Average annual salary ranges from $101,604 – $141,034
Are you an extrovert that has a competitive nature and always strive to be the best?
Can you really convince people that the sky becomes purple when it's raining?
If so, this position is perfect for you.
A sales job will require you to communicate with several people a day and show enthusiasm about the product you're advertising.
Primary duties: Sales managers are accountable for hiring sales teams, motivating and guiding them to achieve goals and reach success.
Sales managers are usually in charge of overseeing objectives, generating reports and leads, analyzing market trends, and setting goals. 
Sales manager job is best for:
Extroverts with excellent communication and persuasive skills
Confident leaders
Hard-working and self-starters
Authoritative people who are resilient
Expert communicators with competitive drives

Avoid if: you can be easily persuaded.
Qualifications: A degree in marketing or any relevant field. Previous sales experience could also be a plus
You might like: Sales Associate Resume Examples & Templates

11. Politician
Average annual salary: Varies
An extrovert with interest in politics must possess a confident personality to match.
You will need to be persuasive in order to convince others of your ethics and morals so that they can vote for you and your party.
You'll also need to have thick skin to handle negative public opinions and the press.
Politician job is best for:
Extroverts who are passionate about fighting for a cause they believe in
Expert communicators with strong convincing skills
Strong willed and determined individual

Avoid if: you are sensitive to external judgement.
Qualifications: Bachelor's degree in political science or any related field

12. Actor
Average annual salary: $48,691 – $72,142
Are you an extrovert who enjoy being in the spotlight and aspire to be on the big screen one day?
If you can represent a character and describe a story to an audience then you will succeed in this rugged industry.
You must be expressive, outgoing and confident in talking or performing in front of large crowds to become a professional and thriving performing artist.
Actor job is best for:
Extroverts that are artistic
Dramatic extrovert
People that are creative and confident

Avoid if: you are rigid and earning a steady income is important to you. 
Qualifications: a degree from a performing arts school could be beneficial

13. Marketing Manager
Average annual salary: $98,161 – $ 128,433
If you are an extrovert that love being in charge of situations and managing people, you could consider becoming a marketing manager.
Primary duties: Typically includes establishing and overseeing marketing campaigns to create brand awareness and increase sales.
You'll need to be a creative individual who is ready to stretch his/her brain to achieve a goal.
Marketing manager job is best for:
Extroverts who are good at multitasking
Expert communicators with leadership skills
Persuasive individuals
Analytical thinkers
Problems solvers

Avoid if: you are afraid to think outside the box and aren't good with numbers.
Qualifications: Bachelor's degree in marketing, media and communication or master's in relevant field

14. Real Estate Agent
Annual average salary: $42,392 – $55,197.
Real estate agents assist clients with guidance in searching for properties and homes or selling their property.
Top real estate agents can easily make friends and new acquaintances, while growing their network frequently by giving out business cards to people they meet.
Extroverts who enjoy networking and forming relationship with clients may find a career in real estate as a good suit.
Primary duties: Interact with people and frequently set up meeting in order to sell homes, show properties to prospective buyers and negotiate with property owners.
Successful professionals in this field often have cheerful and charismatic personalities.
Real estate job is best for:
Extroverts with real estate market knowledge
Gregarious individuals who enjoy connecting with others
Self-motivated, competitive people
Extroverts with strong social skills and a good eye in buildings, land etc.

Avoid if: you can't be trustworthy.
Qualifications: Bachelor's degree in estate management or any relevant field

15. Consultant
Annual average salary ranges from $28,292 – $198,775
A consultant is needed in various industries: finance, IT, HR, and marketing are a few where consultants play a vital role.
Primary duties: Consultants are expertly knowledgeable in their field, providing valuable guidance and insights for their clients as they work to achieve organizational goals and growth.
Their insights may include analysis, recommendations, strategies, and problem-solving.
Consultant jobs are best for:
Extroverts with excellent industry knowledge
Extroverts with problem-solving and excellent analyzing skills
Self-starters with good communication skills

What Factors Should You Consider When Searching For Jobs As An Extrovert And Expert Communicator?
Careers for extrovert should include opportunities for frequent collaboration and brainstorming sessions.
Ideal jobs for extroverts allow for flexibility of schedule and plenty of face-to-face interactions.

What Are The Worst Jobs For Extroverts?
Extroverts may find roles where they are confined to a desk and working in autonomy for most of the day very challenging.
Distinctively, jobs for introverts will certainly be a poor match for extroverted people.
You might like: How Can I Grow My Professional Network?

Conclusion
Extroverts are great assets in a company, as their instinctive nature can foster a more collaborative, forward-thinking, and connected work environment.
The perfect jobs for extroverts and expert communicators allow them to use their communication skills to create relationships, lead, motivate others, and take innovative risks.
When searching for a job as an extrovert, energizing factors must be prioritized such as social interactions, to ensure that they land in a surrounding where they can excel.
Are you an extrovert or expert communicator gunning for any of the positions mentioned above? See how your resume stack up by using our free resume critique service today!