Have you been stressing on how you can organize your sales associate resume to secure that Sales Associate interview?
Stress no more, because in this article we will be offering valuable tips that will help you in your job search and also educate you on how to tailor an effective Sales Associate resume.
For any successful sales associate, the importance of persuasion and possessing a strong people skill cannot be overemphasized as with your positive attitude and effective communication skills, you can get any customer to buy any product even if its not important to them.
While possessing these great persuasion and people skills, you must understand that it's one ball game to persuade customers into buying items and another one to persuade the recruiter into seeing you as best fit for the position of a sales associate.
To win the mind of your potential recruiter, you'll need an effective sales associate resume!
But seeing to the fact that sales skills are better furnished in person, it might be a deal of struggle to translate them into a winning sales associate resume.
Well, relax! This is where we come in.
This sales associate resume article is furnished to encompass all you need to know about tailoring a winning sales associate resume, including:
Sales Associate Resume Example (Proven to land our client multiple sales associate interviews)
Simple steps to take in crafting your Sales Associate resume
50 Sales Associate skills you can incorporate on your resume
… and much more.
Well, before detailing this topic, I will like you to have a brief knowledge of Sales Associates.
Usually, a Sales Associate is a part-time retail employee that aids clients in locating objects, answering questions, and paying for his or her purchases.
Sales Associates have to be outgoing, positive, informed of all items the shop is selling, and sincere with money.
It's not the maximum glamorous job, however, it can be a stable choice, mainly if you're enthusiastic about what the shop carries.
Want to save time and have your interview-ready sales associate resume in just 2-5 days?
Let our CEOMichaelHR certified resume writers take the guesswork out of resume writing by summing up and showing off your sales associate skills and experience.

Sales Associate Resume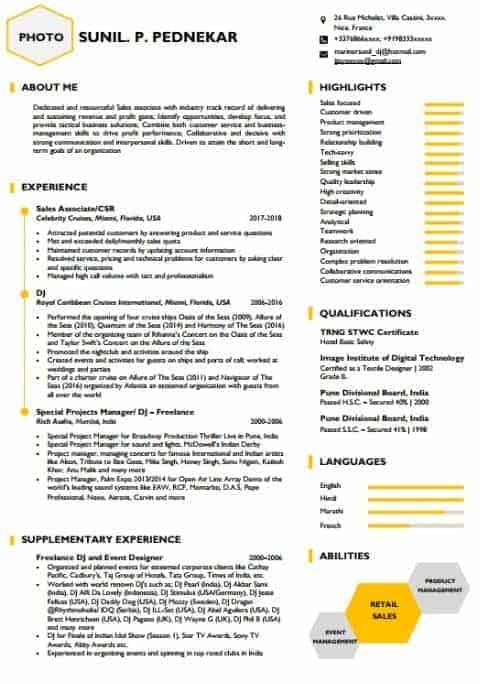 Our resume samples are written by certified resume writers and this is an excellent representation of what recruiters are looking for in a Sales Associate resume.
What users say about CEOMichaelHR:
It was an easy process working with CEOMichaelHR. My resume specialist, Rolyns listened carefully to my career story and followed through in an amazing way delivering superb results! I am grateful.
Ated Taotao

I believe my resume writer did a great job with the format, as well as the content. He wonderfully conveyed my skills in a concise and direct manner. I started getting phone calls from potential employers almost immediately after the resume rewrite.
Ashphu Lari

Key elements that makes the sales associate resume above outstanding:
Chronological style: The world most popular resume format which is the reverse-chronological format was adopted in tailoring the sales associate resume above.
Relevant contact information: All the essential contact details was included in the sales associate resume example above such as the full name of the candidate, home address, email address, phone number, as well as his professional LinkedIn URL.
Eye-catchy profile summary: The sales associate resume summary above furnished the candidates strongest skills and achievements in about three sentences.
Professional experience: In tailoring the candidate professional experience, strong focus was on his achievements over his duties, which gives him a competitive edge over other applicants.
Bullet points: The information on the sales associate resume was structured in bullet points, which makes perusing much easier than a block of text.
Relevant skills: Only sales-related hard and soft skills was mentioned in the sales associate resume example above.
Additional section: This sales associate resume example includes extra infographic section such as abilities to emphasis to potential recruiters what key values the candidate possesses that will help him stand out as a sales associate at their company.
Eye-catchy resume template: The sales associate resume was tailored in an attractive, succinct, and organized template that will immediately catch the attention of any recruiter.
Now that you have a better idea of what you're applying for, let's now move on to how you can create your Sales Associate resume!
Tired of not landing interviews?
Get our free 3-step guide to writing better resume bullet points, featuring
70+metric ideas you can use!


How Do I Write A Sales Associate Resume?
Below are a few tips that will enable you create, or more appropriately, write a standard, effective and detailed Sales Associate Resume.

1. You Need a Winning Career Summary
There is no gainsaying that hiring managers read through resumes quickly, without dwelling too much on unnecessary details.
So, if your resume does not impress them right off the bat, then there is a likelihood that your application is really in jeopardy, particularly, if you're applying for the position of a Sales Associate.
Truth is, there is so much competition in the labor market, that you can't afford to put in a low rank effort when writing that resume- as a matter of fact, your resume is the first impression you will leave on a prospective employer.
And so, one way to leave a lasting impression on your prospective employer and equally land an interview is to write an awesome, captivating sales associate resume summary.
The resume summary consists of three to four sentences that highlight a substantial amount of information about you as a prospective sales associate.
Indeed, a career summary is arguably the greatest tool you can wield to land a job interview.
You might like: Words and Phrases to Remove from Your Resume Right Away

So, below are tips on how to effectively write a successful sales associate resume summary;
The first sentence in your career summary naturally serves as your introduction, there you should state your title, education and give details of your relevant working experience in regards to the position you're applying for.
The second sentence allows you the opportunity to highlight your areas of strengths and abilities.
You can take it a step further, by mentioning the position you wish to apply for.

Such catchy statements like:
"I can connect with customers and it has helped me succeed in these environments". I was also "able to boost sales and strengthen brand loyalty through the quality of services I provided".

This additional information goes a long way to add a bonus mark to your sales associate resume.
The third sentence should conclude things, and here you should explain why your experience and skill-sets makes you the perfect candidate for the job.

You could write it thus:
"I believe my commitment to customer service coupled with my passion for the retail business will help me fit properly into your team, and quickly become an asset to your company."


There, you go!
Landing a job interview is largely dependent on your ability to write a concise, detailed, and informative career summary, and trust me, only then will you be sure to get the attention of the hiring manager.
You might also like: The Predictive Index Test (All You Need to Know)

2. Highlight Relevant Work Experience
Remember those days you worked in customer service. Under your work experience section, start each job description with your greatest career achievements.
This is because recruitment managers will always skim through resumes quickly, so this is the best way to make sure your outstanding work experiences and accomplishments are noticed.
To achieve conciseness, some common verbal phrases are usually used on a sales associate resume, and they include:
> Responded to customer complaints

> Provided information to visitors

> Sold services to customers

> Attended to customers' suggestions


The whole concept is to give the recruitment manager an idea of how huge your responsibilities were, how strong your former company is, and an idea into how many guests you were able to attend to on a daily basis.
Also, try to incorporate numbers or percentages where necessary and as often as possible.
Hiring managers will like to see additional information such as "How many customers you managed daily?" "How much sales you made on average every month?"
This sort of concrete information is valuable proof of your industry abilities that you have to substantiate.
You must keep this section of your resume focused.
It should not contain irrelevant details or unsolicited information like the plants your watered or how you emptied the trash and other suchlike mundane details.
You need to keep your resume powerful by creating a concise summary of your major responsibilities and accomplishments.
So better not to mess it up with irrelevant content.
And if you haven't worked professionally a single day in your life, that's not a problem.
For entry-level candidates, you can include some extracurricular activities like volunteer work you did, club membership, and anything else of that nature.
Remember, your lack of work experience can even be de-emphasized simply because you're social and active, which shows confidence and competence.
You might like: How to Write a Resume with No Work Experience (Best Guide)

3. Highlight Customer Service-Based Skills
Have you got any people skills? Then you should write them down. Including these excellent skills on your resume, will increase your chances of getting hired.
Also, it is going to help you make your resume ATS (Applicant Tracking System) friendly. Below are examples of relevant skills to include on a sales associate resume:
> Bilingual ability

> Point of sale software

> Microsoft office suite

> Loss prevention

> Interpersonal communication

> Leadership

> Management etc.


There are numerous others. However, you should tailor them to suit the position you're applying for.
The position of a sales associate is a very important one since they are the face of the company.
They are the image-makers of the company and they are better disposed to interact with customers, handle complaints, provide support and assistance, and a lot of other services on behalf of the company.
Do you desire a career in customer service? Keep in mind that there are core skills you need to acquire to succeed.
We shall discuss these skills in details, below:

1. Interpersonal skills
In dealing with people, you must feel relaxed and confident while communicating with them.
You should also know how to quickly develop and maintain relationships with people from different backgrounds.

2. Communication skills
Communication is an essential customer service skill. It is very important to communicate clearly and efficiently while dealing with customers.
These includes phone and one-on-one conversations.
You will equally need excellent writing skills since a lot of customer complaints come in written form and this will require responding to them through written correspondence.

3. Patience and empathy
A greater part of the customer service job requires resolving the customer's complaints.
More often than not you will encounter angry customers, who will vent their anger, and need you to be attentive and empathize with them.
In such situations, you need to exercise patience when resolving customer issues.
Keep in mind that you will be dealing with people from all walks of life, so patience is the watchword!

4. Problem-solving skills
One key responsibility of a sales associate is to ensure that customers are satisfied. These includes resolving all their complaints, no matter how unexpected it might be.
You'll need to be tactful.

Sales Associate Resume Experience Examples
In this section, we'll be exploring Sales Associate Resume experience examples.
The position of a sales associate is an important one in a retail company as they increase customer satisfaction and generate huge revenues for the company by helping clients purchase products.
Sales associate resume experience includes duties such as handling cash transactions, shelving items, attending to customer inquiries, and reporting sales progress to managers.
Other essential skills required on the job include customer service, sales orientation, teamwork, organization, and communication.

Sales Associate Resume Experience Examples for Customer Service Jobs
> Excelled in a service-oriented company while demonstrating the ability to communicate effectively with customers from different backgrounds

> Responded to telephone inquiries and provided quality service to customers and business associates

> Strive to quickly resolve complaints and was highly commended by my supervisor for being able to resolve customers' problems on the first call, without escalating the problems

> Pioneered new accounts and maintained a strong, growing customer base

> Thoroughly learned the company's product offerings and contributed to an increase in its monthly sales growth


Sales Associate Resume Experience Example for The Tech Industry
>Resolved technical issues in Android, iPhone, Windows, and Blackberry devices

>Exceeded monthly sales quotas for handsets, cellular activation, and accessories

>Trained customers on how to set-up, operate, and maintain their mobile phones and tablets

>Increased store profitability by acquiring and managing small business accounts

>Conducted offsite presentations to promote company products and services

>Coached co-workers and customers on Samsung devices as a lead product advocate


Retail Sales Associate Resume Experience Example
> Implemented marketing strategies to substantially increase store productivity and repeat-client

> Cataloged and evaluated customer research, market conditions, and competitor data

> Motivated the team by promoting teamwork, rewarding positive behavior, and encouraging optimism

> Demonstrated a proven track record of success in an energetic quota driven environment

> Led team by providing crucial business training in self-reliance, spirit to succeed, and vital ability to successfully communicate with people from all backgrounds

> Described merchandise and explained its use, operations, and care

> Recommended, selected, located, and obtained merchandise based on customer needs

> Computed sales prices, total purchases; received and processed cash and credit payments

> Maintained knowledge of current sales, sales promotions, payment, and exchange policies


Are you ready to land an interview with your sales associate job application? If yes, then you must begin your Sales Associate resume with a summary statement.
Many employers do not read beyond the first section on a resume. So, if yours happens to be picked up by the recruitment manager, who has little or no time, your only saving grace will be your Resume Summary.
That's because it is the first section that will be read.
Let's face it, writing a resume summary is hardly fun. You have to carry out a lot of research and thinking before you create a good one.
It needs the right kind of words and format, to come out perfect.
Note that your chances of landing an interview if your resume summary falls below expectations are very slim.
Without proper guidance, the chances are that you may end up supplying too many details or even inadequate information, and either way, you're not safe!
Keep in mind that the idea behind a resume summary is to hold the reader's attention to keep reading.
And if the resume summary isn't impressive enough, the recruitment manager will most likely dump it and pick up the next resume, hoping to find a better read.
Do you want to know how a resume summary should look like? Refer to the examples below:
You might like: How to Include a Minor on Your Resume

Sales Associate Resume Summary Examples
"Customer service-oriented and competent Retail Sales Associate with 9+ years' track record of success in delivering outstanding and personalized retail experience; A pleasant individual who meets and exceeds customers' expectations through the delivery of exceptional services; Possesses a strong drive for results"

"Experienced retail sales professional with a demonstrated commitment to providing quality customer service in fast-paced retail environments; Proficient in greeting customers, assisting them, and recommending merchandise based on their wants and needs"

"Self-motivated and courteous individual with strong background in merchandise display, and cash handling. Known for providing quick and efficient responses to Customers at all times, while handling their concerns in a helpful way"


Retail Sales Associate Job Description
Any business that sells goods directly to consumers can benefit greatly from the service of a retail or sales associate.
These versatile team members do whatever is necessary to promote a positive customer experience, from maintaining an attractive environment to helping customers find particular items.
Retail associates may work either full- or part-time.
The variety of hours available to work often attracts college students, parents, and others looking to balance a job with other responsibilities.
Many retail associates are hired temporarily during the busy holiday season, and some use it as a path to regular employment.

Retail Sales Associate Duties And Responsibilities
The duties of a retail sales associate vary from organization to organization, although some core tasks are common.
Based on our research, people hired as retail or sales associates usually perform the following responsibilities:

1. Greeting Customers
Whether positioned at the entrance of the store or in an individual department, retail associates show customers they are valued by exchanging pleasantries and offering help in finding items.

2. Monitoring Activities
Retail sales associates keep an eye on what is going on both inside and outside of the facility.
And this may include noticing a spill and cleaning it up, making sure enough carts are available at the front of the store, or restocking items when a display is low.
The presence of retail associates throughout the store also deters thieves and vandals.

3. Developing Expertise
Good retail associates know where items are located within the store and they also should possess knowledge of merchandise within their assigned department so that they can intelligently answer questions from customers.

4. Working the Checkout
When customers are ready to pay for their purchases, retail associates perform actions such as scanning items, bagging them, totaling the bill, collecting payment, and issuing a receipt.
If someone needs assistance getting a purchase to a vehicle, the retail associate will notify the appropriate staff member.

5. Performing Upkeep
Employers may assign their retail associates common tasks necessary to keep operations flowing and safe.
This might involve picking up trash, putting discarded items back in the correct place, restocking shelves, or mopping an entranceway.

6. Training New Employees
Experienced retail associates may be tasked with getting new employees up to speed and looking over their work.

Retail Sales Associate Skills And Qualifications
Abilities often found among successful retail associates include:

Interpersonal skills
Getting along well with colleagues and customers is essential, so those who know how to listen, communicate, and interact pleasantly have an edge over other applicants.

Commitment to policy
Wearing appropriate attire, acting professionally at all times, and following company guidelines are expected of a sales associate.

Attentiveness
Perceiving what needs to be done and doing it, such as opening a new lane with checkout lines go a long way to boost the job.

Physical requirements
Standing behind a register, bending to pick up items, lifting merchandise onto shelves, and maneuvering carts are among the actions requiring strength, flexibility, and stamina.

Multitasking
Duties can change quickly based on need, so retail associates must prioritize and juggle demands.

Calmness
The environment can get stressful during busy times, so remaining patient with customers and level-headed with demanding managers is admirable.

Retail Sales Associate Education And Training
Retail sales associates typically have a high school diploma or are in the process of obtaining one.
New employees should expect a period of on-the-job-training where colleagues and managers teach them about store policies, customer service, the location of items, and check-out procedures.

30 Sales Associate Skills To Put On Your Resume

20 Soft Sales Associate Skills
Customer Service
Communication Skills
Active Listening
Helpfulness
Organizational Skills
Time Management
Stress Management
Conflict Resolution
Teamwork
Patience
Problem-solving
Empathy
Adaptability
Interpersonal Skills
Multi-tasking
Emotional Intelligence
Persuasiveness
Attention to Detail
Initiative
Negotiation Skills

10 Hard Sales Associate Skills
Cash Register Operation
Microsoft Office
Math Aptitude
Languages
Point of Sale Systems
Product Knowledge
Stock Management
Brand Awareness
Visual Merchandising
Store Maintenance
You might like: How to Get More Results with a C.A.R. Resume

Bonus Tips On Writing An Effective Sales Associate Resume

1. Include Relevant Additional Sections
Perhaps you still have some empty spaces on your sales associate resume, here is your chance to make good use by introducing additional sections which can give you a competitive edge.
Note that these sections may not be as valuable as your summary, skills, education and work experience, but they can definitely give you an edge over other applicants with resumes similar to yours.
These additional sections are very useful especially to recent grads or those still schooling.
Consider adding one or two of these additional sections below:
Languages: Are you an individual who speaks other languages aside your native? Yes? Quickly include these languages and your proficiency level on your sales associate resume!
Due to the usefulness of languages, they're highly valued in most jobs, especially in customer service roles because customers are more satisfied and loyal to brands that offer customer service in their native language.
Hobbies and interests: Do you know your unique personality and abilities can be expressed via your hobbies and interest?
As relevant as it calls, try to list industry-related hobbies and interests.
Here is an example; listing dog agility training as a hobby won't help much if you're applying to work in an electronics store, but it can definitely give you an advantage if you want to be a sales associate in a pet store.
Awards and certifications: Have you been awarded for selling the most vintage clothes in a charity event?

Perhaps you're looking to work in a clothing store, ensure to list this award on your sales associate resume.
Just as same, don't forget to list certifications you have taken that are relevant to retail, sales, accounting and other related industries.

Checkout the example below on how you can incorporate these additional sections, and how it should look on your sales associate resume:
Languages

English – Native

Spanish – Fluent

German – Basic


Hobbies

> Traveling

> Reading

> Video Games


2. What if You Don't Have Work Experience?
A lot of candidates usually find their first job in sales, therefore no need to panic if you do not have professional work experience.
One great way to cover up for your lack of professional work experience is to focus on other areas of sales-related experience you may have.
There are various options you can choose from such as including your volunteering, internships, academic projects, extracurricular activities, etc.
Besides, landing a sales associate position is all about assisting customers, communicating effectively, and closing sales, so if you have any industry related experience, just pen it down!
You might like: How Do I List Self-Employment & Freelance Work on Resume?

3. Format Your Sales Associate Resume the Right Way
As already stated through our discussion earlier, the best format to adopt in tailoring your sales associate resume is the reverse-chronological.
This is one of the most popular resume formats especially for applicants with previous professional work experience.
The two other popular resume formats are the combination and functional resumes.
The functional resume format refers to the skill-based which is recommended for applicants with no industry-related work experience but industry-related skills.
However, on the other hand, the combination format as the name implies is a merging of the chronological and functional formats usually used for specific cases such as a career change or in case of employment gaps.
You may find this resume format completely irrelevant for the position of a sales associate.
So, now you're set with choosing a format for your sales associate resume, you'd want to focus on the resume layout, which includes:
Using a professional font: You should use a simple, yet professional font style throughout your sales associate resume with strict exception of Comic Sans and the likes.
Selecting the right font size: Choose 14-16 pts for headings and 10-12 pts for the body of your sales associate resume.
Anything smaller will be hard to read and anything bigger might make your resume spill over to 2 pages.
Using bullet points: Organizing the information in your sales associate resume in bullet points makes your resume look clean and helps the recruiter to peruse your sales associate resume seamlessly.
Keeping your resume short: It's best practice to ensure your sales associate resume stays one page – that way, you can be 100% sure the hiring manager, busy as they are, will read it completely.
After all, they peruse a large number of applications daily and they don't usually spend more than 15 seconds on each resume to make a hiring decision.
Saving your resume as a PDF file: Unless asked otherwise, save your sales associate resume in a PDF format to ensure it looks the same on every device and operating system.

4. Compliment Your Sales Associate Resume with a Cover Letter
Right about this point, your confident should've been full on writing an interview-landing sales associate resume.
Now, the big one!
Just before you can put together everything we've discussed into practice, there's one last vital step which is attaching a sales associate cover letter to your resume.
Basically, a cover letter is a professionally written piece consisting of about 4-5 paragraph letter to a potential recruiter aiming to explain why you'll make the best fit or candidate for the opened position at his company.
Now, to be able to write and furnish this cover letter effectively, you'll be explaining in detail whatever important information you did not have the chance or space to explain in your sales associate resume.
Ensure not to repeat so much of what you've already written in your resume.
While this process may seem complicated, furnishing a compelling cover letter isn't all that difficult.
Follow the steps below to tailor a compelling and convincing cover letter:
Begin your cover letter by including your contact information in the header.

Salute the hiring manager by their name or title, stay clear from using the overly popular and outdated "To Whom It May Concern."

Mention your 1-2 top achievements in the first paragraph to quickly catch the recruiter's attention

In the body of your cover letter, describe your work experience and skills in detail, explain your motivation and passion to work for the company as well as highlight what makes you a good asset to their team

Close your cover letter with a call to action.

Conclusion
You're all set!
Now you're ready to write the perfect sales associate resume and cover letter to land your dream job.
But, before you go, let's refresh our minds on key takeaways in tailoring your outstanding sales associate resume:
Choose the reverse-chronological format for your sales associate resume except on certain special conditions as discussed in the main body of this article.

Ensure to use a great resume summary to quickly catch the attention of your potential recruiter whether or not you have professional work experience.

Perhaps, you have work experience, make it shine by focusing on your achievements or pen down any other relevant sales experience you have, including internships, projects, or volunteer experience.

Incorporate additional information and make your sales associate resume standout with sections such as languages, awards, and hobbies

Attach a

convincing and compelling cover letter

to your sales associate resume to improve your chances of landing the sales associate job.
Simply understand the basics, and learn the process. Was this helpful? Let me know in the comments section below.
Tired of not landing interviews?
Get our free 3-step guide to writing better resume bullet points, featuring
70+metric ideas you can use!