This article focuses on how to write a resume with no work experience.
You've probably been told by your parents, teachers, or former classmates that for you to get a job, you'll need X amount of years to gain work experience before applying for the desired job.
This begs the question; "how can I get work experience in a particular job if I am just starting out?"
Well, there are two things you'll need to get a job with no work experience. They are:
A resume
The ability not to panic (lol… I know you currently are)
Want to save time and have your entry-level interview-ready resume in just 2-5 days?
Let our CEOMichaelHR certified resume writers take the guesswork out of resume writing by summing up and showing off your skills and experience.
Resume with no work experience sample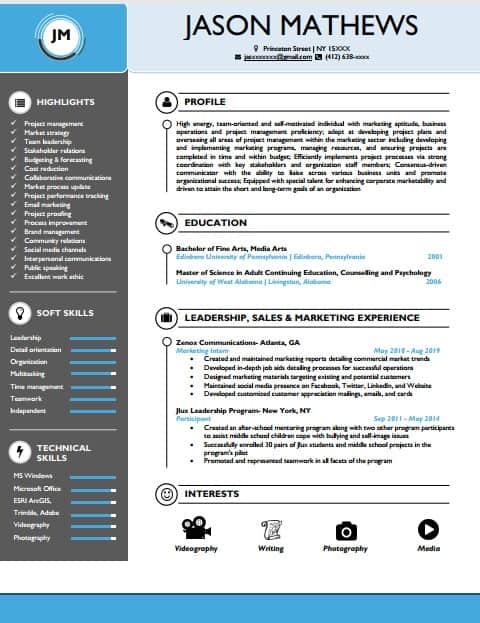 Our resume samples are written by certified resume writers and this is an excellent representation of what recruiters are looking for in a resume with no work experience.
Reference this example as you create your own resume with no professional work experience.
What users say about CEOMichaelHR:
It was an easy process working with CEOMichaelHR. My resume specialist, Rolyns listened carefully to my career story and followed through in an amazing way delivering superb results! I am grateful.
Ated Taotao

I believe my resume writer did a great job with the format, as well as the content. He wonderfully conveyed my skills in a concise and direct manner. I started getting phone calls from potential employers almost immediately after the resume rewrite.
Ashphu Lari

#1. Select a resume format of your choice
The resume format you choose is extremely important as this will guide you on how your resume will look like.
Generally, there are four (4) types of resume formats. They are:
Chronological Resume
Functional Resume
Combination Resume
Targeted Resume

Chronological Resume
This is the most commonly used type of resume format by our clients and recommended by most employers because of the quick view it provides in terms of work history.
The chronological resume lists a candidate work history in reverse chronological order (starting with your earliest up to your most recent job.)


Functional Resume
A functional resume focuses more on your skills and achievements first rather than your work history.
This is an attractive type of resume format.


Combination Resume
This type of resume format is used for detailed work experience.
It is the combination of both skills and experience all in the same resume and also furnishes a listing of work history in a chronological format.
You might also like: The Predictive Index Test (All You Need to Know)


Targeted Resume
The targeted resume is specially tailored for a specific job.
It is a customized resume that includes everything a targeted job opening requires.
This type of resume format normally generates the best results for landing your dream job but time-consuming to create.
Further Reading: Bad Resume Examples


#2. Start with your name and contact information
Though this looks like a no-brainer, it is worth mentioning as this is the beginning of every resume/cover letter ever written.
Your contact information should begin with your house address, email, and phone number.
With this setup, it's time to move on to the next stage.


#3. Add an eye-catchy summary statement
When the hiring manager takes a look at your resume, the first thing he/she wants to see is your job experience.
But what do you do when you don't have any work experience?
Well, one way to do this is to add an eye catchy summary statement.
A summary statement is a brief statement of who you are professionally and what you can offer the hiring company.
Basically, this is like a bait you place at the top of the resume that lures the hiring manager to keep reading.


#4. Include your educational background details
What did you learn in school?
Can it be of any benefit to the hiring company?
If your answer is yes, then include your educational background details on the resume.
If your answer is no, then you'll need to apply for jobs that fit what you studied in school.
Also, when writing a resume with no work experience and you are including your educational background details, write the degree you graduated with along with the year.


#5. Highlight your skills
What skills are required for the job you are applying for?
Do you have them?
If yes, please include them all in your resume.
If no, do you have similar skills that fit the job description?
For example, if you are not good at public speaking, can you replace that skill with another skill such as teamwork or multitasking?


#6. Technical skills are important, pay attention to them
The technical skills listed in a resume with no work experience above are MS Windows, Microsoft Office, ESRI ArcGis, Trimble, Adobe, Videography, and Photography.

What technical skills have you acquired over the past years you've been in college?
It mustn't be something advanced like an SEO or a Web Design skills.
It really could be anything simple you are good at that deserves mention on the resume.


#7. Avoid grammatical errors
A resume with no work experience isn't a setback.
The real set back is when your resume has a lot of grammatical errors, no punctuation, spelling, etc.
This won't just look unprofessional but somewhat laughable to the hiring manager that's reading your resume.
When writing your resume, please go through it several times.
In fact, I'll suggest you give it to a friend or a family member that's good at proofreading documents and also good at spotting grammatical errors.
Don't have any friend or family member that can help you with that?
No worries.
You can send us your resume here and we'll assign one of our professional resume writers to help proofread and spot out where you've gone wrong for FREE!


#8. Don't be deceived, you do have work experience – Internship
Yes, you actually do have work experience- the experience you got working as an intern for a company also counts as work experience.
Whether the internship was paid or unpaid, you need to include them all on your resume.
This gives you an edge over those applying with a resume that has no work experience and no place they interned.
If you haven't had an internship, please consider applying now.


#9. What do we call a resume without keywords?
A piece of paper. Lol.
Have you heard of ATS?
Do you know what it is used for?
If your answer is no, ATS stands for applicant tracking system.
It is a system used by most employers for scanning and sorting of resumes- welcome to the new world!
The ATS is a modern system employers use to hire candidates for an opened job.
To be seen easily, you'll need to include a list of keywords on your resume.
The best place to locate and add keywords are from the job description.
When writing your resume with no work experience, there are some technical and vital terms you'll come across.
These terms may come to you as new and somewhat difficult to understand or explain.
Have no fear. We are here to help you write a professional resume with no work experience that'll land you interviews 3x faster.
Access our professional resume writing service today.
With the help of our certified writers, we guarantee you'll get 3x more job offers within 60 days or we'll rewrite your resume for FREE.
Recommended Articles:
How far back should a resume go?
Sales associate resume examples