Knowing how far back a resume should go is what we'd call a milestone.
While there is a usual temptation to furnish all of your previous experiences on your resume, you must know that including your entire career dated 15+ years can have a negative impact on your overall job search.
Experts and professional recruiters recommend a more sensible strategy works way better.
Do you know that the more focused and brief your resume is, the more it possesses ability to convince potential recruiters who typically spend less than 15 seconds making a hiring decision?
You must treat your resume as a marketing document and a sales pitch in text.
For this reason, it doesn't need to be an all-encompassing detailing of your career history.
In this article, we'll be discussing:
How far back should a resume go?
How much job experience should be on a resume?
When is the right time to filter out old jobs from your resume?
Tips to help you tailor an outstanding resume without going back 35 years into your career, and lots more.
Without much ado, let's get started.
You might like: How to Get More Results with a C.A.R. Resume
Want to start landing interviews? Download our free eBook to learn an easy-to-follow 3-step bullet formula called VCR (bet you never thought a VCR would be useful again, huh?)
Plus, a whooping 70+ metric ideas to quantify your accomplishments (so you'll never say "I don't have numbers to use" again!).
Did we mention it's all 100% free?!



How Far Back Should A Resume Go?
When our team of certified resume specialists write your resume for you, there are a couple questions we tend to ask to give us more clarity. The factors we consider include:
What criteria your industry is requesting for:
Listing more that 10-15 years of work experience on your resume for certain industries such as the Academia and Civil service is actually not a big deal as this is a standard that meets their requirement(s).
While listing more than 10 years of work experience is not a good fit for some industries such as technology, it is believed that there are rapid changes that occur in the technological world on a daily basis.
The number of years to adopt in your resume is dependent on the job description:
Most employers highlight the number of years of work experience they want to see in their job description listing.
It is your duty to check and read through every detail of their listings in order to know the number of years to put in your resume.
CEOMichaelHR career consultant Anas K. recommends this approach to most of his clients regardless of industry:
"Usually, the last 10 years are the most critical and relevant experience to highlight. This will keep your resume to a manageable length unless the job description requires you to have more than 10 years of experience."
How far to go back on a resume is dependent on the relevance of the job to the skills you have:
When an employer skims through your resume, the first thing that catches his/her attention is how relevant your skills and experience are, in relation to the job advertised.
So before tailoring your resume, ensure you take into consideration the details of the job description so as to furnish only relevant skills and experiences.
Having in mind your resume is a curated document designed to furnish your skills and experience, you can do away with past roles if you do not find them relevant as this will allow more space for describing relevant roles that will shine you better to potential recruiters.
You might also like: The Predictive Index Test (All You Need to Know)

How Far Back Should A Resume Go For Recent Grads (Up To 2 Years Experience)
Are you a recent graduate with up to two years of work experience?
While tailoring your resume and determining how far back it should go, ensure to include your professional, academic, and personal experiences and achievements from both high school and college.
The goal is to furnish your transferrable skills such as; leadership, communication, problem-solving, collaboration, and time management skills, demonstrating how you utilized them in related class projects, internships, volunteer work, personal projects, or part-time jobs.
While incorporating these experiences, ensure to be selective, choosing only experiences that appeal to positions you're applying for.
For example; ask yourself if participating in a car wash fundraiser would impress potential recruiters screening for a copywriter position?
You might win the ticket if perhaps you wrote the social media messaging. Trust you get the point now.
You might like: How to Write a Resume with No Work Experience

How Far Back Should A Resume Go For Young Professionals (2-5 Years Experience)
For young professionals with 2-5 years in the workforce, you must have garnered relevant work experience within your niche besides your college courses, projects, awards, and GPAs.
At this point employers are far less interested in your college activities and want to see how your post-graduate experience is fairing.
You can improve the strength of your resume by furnishing your volunteer experiences, leadership positions, freelance gigs, and even your professional organizations and affiliations to add personality instead of just your years of work experience.

How Far Back Should A Resume Go For Mid – Level And Experienced Professionals (5+ Years Of Experience)
For mid-level and experienced professionals who have successfully attained the five-year mark, your primary focus will be to furnish in detail, more relevant work experiences and pay less emphasis on early professional and part-time positions.
The "10 to 15 years" rule on how far back a resume should go will begin to set in as you advance your career.
This situation will help you have a better sense of judgement on what position you should remove or keep on your resume.
While you tailor your resume, don't forget to consider if your experiences are fit for a two-pager resume and ensure to keep in mind how relevant each position you're including actually is.
Consider separating your work experiences into two sections if you find that you have too many job titles:
Related Experience: In this section, the goal is to focus on the relevancy and transferrable skills of your resume by including the positions, duties and accomplishments associated with your target position furnished with detailed bullet points.
Perhaps you have relevant experience outside of the past 10 to 15 years that you really need to include, you can list them here.

Supplementary Experience: You can avoid visible gaps on your resume by listing unrelated positions within the last 10 to 15 years without descriptions or bullet points.
Using this strategy will ensure your most relevant experiences are in front and center so hiring managers doesn't have to go searching for it in a more extensive work experience.
You might like: How Long Should You Stay at a Job Before Quitting?


Why You Shouldn't Add All Your Years Of Experience On Your Resume?
We have curated several reasons for including only 10 to 15 years of your work experience on a resume:

1. Avoids Age Discrimination
You may never have thought how age discrimination could be limiting you from landing that interview.
Unfortunately, age discrimination does happen and can be a very strong limiting factor.
Imagine how easy it will be for potential recruiters to guess your age if your resume goes far back 20-30 years.
This could lead to an immediate disqualification especially when they're looking for a younger candidate to fill the role.
While they may be able to guess your age when you're eventually called for an interview, you still have the chance to prove your worth.

2. Emphasizes Relevancy
Since potential recruiters pay less attention or in most cases do not care about your experiences over 10 – 15 years, you might simply want to avoid incorporating them.
As a matter of fact, your resume only has around 15 seconds to make an initial first impression on hiring managers.
So, in your best interest, you will ensure to keep your resume as clear and concise as you possibly can.
Your chances of rejection are very high when you choose to highlight irrelevant experiences or information.

3. Avoids Clutter
Usually, when you incorporate extensive years of experience on your resume, it could easily get cluttered.
Hiring managers gets very irritated upon perusing a cluttered resume.
Ensure your resume stays within the one-two pager limit, relevant and concise to immediately show recruiters you're an absolute match for the open position.
You might like: How to Write an ATS Resume

Factors To Consider When Your Resume Should Go Back More Than 10 Years
While there are exceptions to any rule, we've furnished below 3 conditions upon which your resume can bypass this rule and incorporate experiences from over 15 years.

1. High Relevancy
As a rule of thumb, it is best practice to only include the last 10–15 years of your work experience if you have for example 35+ years of relevant work experience.
However, if your work experience over the course of 35+ years is highly relevant such that other positions demonstrate various areas of your work and accomplishments, then you should leave it on your resume.
Also, note that applying to higher level positions where age does not really count can warrant you highlighting over 10-15 years of your relevant experience.

2. High Prestige Title or Company
Did you hold a prestigious title or worked in a highly repute company? If yes, then you can definitely allow it on your resume.
Due to your previous company's prestige and high position you held, your resume will immediately attract the attention of hiring managers and pass the "whatever" test.

3. Explains a Gap
In a situation where you list the year of your graduation, certification, license or other projects and leave off a good amount of experience, it might make potential recruiters think you have a gap on your resume.
In such a scenario, you will need to either include your work experience or remove other dates.
Note that it is very safe practice to remove dates on your education, certifications or licenses as the 10–15-year rule only affects your work experiences.
The condition for removing the dates solely depends on what you have listed; however, remember you don't need to list your graduation year.

What If You've Only Worked At One Company For Many Years?
If you find yourself in a situation where you've only worked at one company for several years, it can be difficult to take the years off your resume.
However, based on the situation, we can find a way around this.
If you've handled various positions at the company, you can simply separate your work experience depending on the years you've held the title.
This strategy gives you room to list more relevant positions at the top of your resume and even take off some irrelevant ones.
Here is a typical example, say Mariah was looking for an accounting position and she worked at XYZ Corp. for the last 32 years.
Throughout those years she handled the following positions:
Accountant: 6 Years (2016 to 2022)
Financial Analyst: 6 Years (2010 to 2016)
Customer Service Representative: 10 Years (2000 to 2010)
It will be great if Joel lists the relevant Financial Analyst and Accounting positions separately with the years worked and take off the customer service representative position from 23 years ago.

Putting Career Gigs On A Resume
It might surprise you to know that over one third of workers in the united states are in the gig economy.
Perhaps you find yourself among those 57 million people, you may worry that your work history only consists of those career gigs?
Worry not! We'll show you just how you can make the best of it.
We recommend you utilize a combination resume format that focuses on showcasing your skills instead of writing a boring list of titles, company names, and dates in the usual chronological order.
Emphasize 2 to 3 jobs most relevant to the position you're targeting and furnish them in detail.
The recommended combination resume format (also referred to as a hybrid resume) will help you achieve that by combining the features of the reverse-chronological resume and the functional resume.
It's a highly recommended resume style for:
Career transition professionals: as it gives room to elaborate on the skills relevant to the target position.
Seasoned professionals with extensive work experience: as it makes it easy for them to showcase only their best and most important career achievements.
And, generally professionals with gaps in employment: as it gives them enough room to prove their skills regardless of the work history or experience.

How To Make Your Resume Experience Section Relevant
Our experts at CEOMichaelHR believes "relevant means valuable." Majority of hiring managers comply that the relevance of an experience is way more important than its length.
According to Brianna Rooney, the founder and CEO of techees.com:
"A resume is the vessel used to get an interview, not the job. You need to have something that sums up your experience as best it can without it being too lengthy or too vague. A lot of people want to hang on the past, when companies really want to know, "what have you done lately and what can you do for me now."
Below are highlighted ways you can guide the recruiter towards your relevant career moments:
Ensure your resume is keyword oriented and in full compliance with the job description
Ensure to consider the employer's needs and address them directly
Quantify your accomplishments to prove you are a perfect match for the position
Utilize bullet points to effectively demonstrate your job experiences in a comprehensive way

How many jobs you should highlight on your resume doesn't really count as how to find the appropriate ones.
Puzzled on the above statement?
Okay, we mean on a simple term, if you want to be a Sales Associate—focus on the sales-related jobs on your resume.
And well, you may be thinking you worked as a bartender over the years or ran a fitness class at the local studio, you don't need to highlight these.
Instead, list all your retail, sales representative, and customer service experiences.
And ensure each position is described in a fashion that highlight keywords and resonates with the job description.
Here's how you can effectively achieve this:
Peruse the job description carefully
Furnish skills they're looking for and identify the company's key needs
List all of your accomplishments in your previous positions
Finally, only incorporate the experiences that fit the vacancy you're targeting

Key take away: Looking to furnish your resume to the job description but never had experience in the job? Think of the positions that are most related to the position you're applying for and highlight your transferable skills.

How Long Should A Resume Be?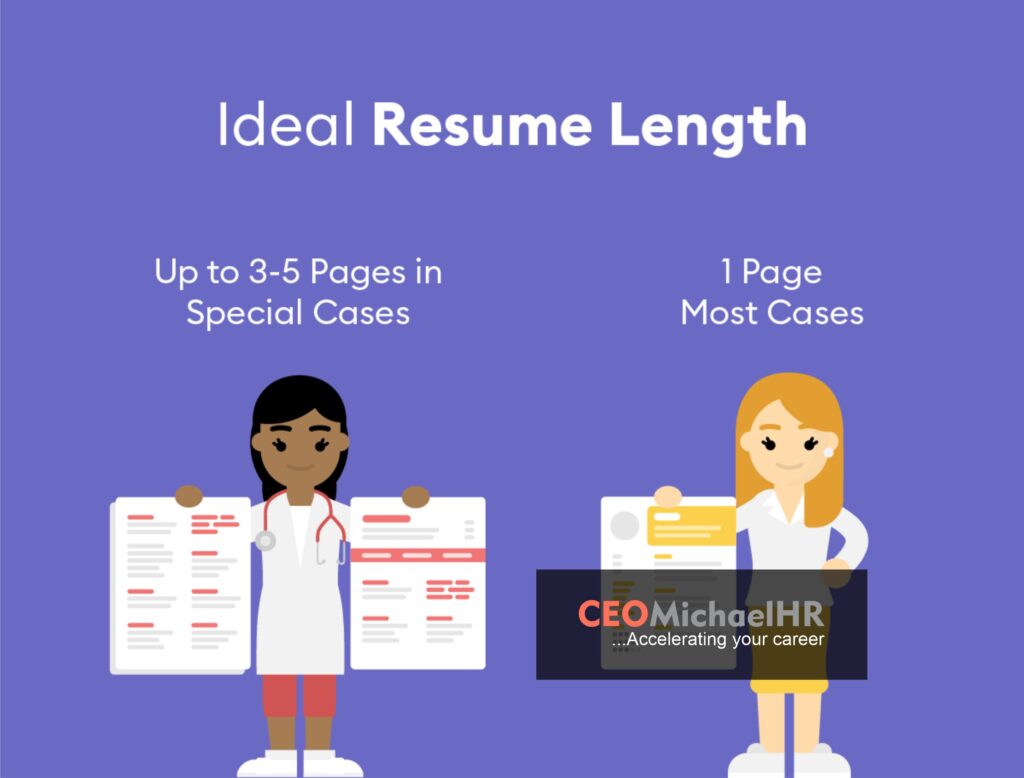 How long your resume should be is dependent on your situation.
But there are two key factors to consider: how long you've been in the employment game and how that experience aligns with your current job targets.
Note that resumes are entirely different from CVs – a CV is a step-by-step detailed document describing one's accomplishments, positions, appearances, publications, etc.
In short, a CV is a comprehensive description of the major task you accomplished in your previous or past work experiences.
Resumes are shorter than CVs., since they showcase the most important and relevant details about your working history.
On the question of how long your resume should be? It should not go beyond two pages, except on certain special conditions or requirements.
You might also like: Curriculum Vitae vs Resume
Employers won't read all that is written in your resume, they skim through for important details and that includes your work experience and skills.
So, ensure you keep it short, precise, and relevant. Try not to exceed the two-page limit.

How Many Jobs Should I List On My Resume?
There is no limit to the listing of jobs on your resume.
You can list as much as you want as long as the jobs provided are all relevant and you are not going above the 10-15 years limit except on special conditions as already discussed earlier.
If the skills you implemented 10 years ago are still very relevant and effective, you can list them on your resume work experience section.
To list old jobs on your resume, check out the template below.

1. Work experience above 10 years
IT Help Desk Analyst | 2010 – 2022
XYZ Company – Hometown, TX

Note: Use bullet points to highlight and summarize your accomplishments and duties

2. Work experience with a different employer and similar experience
Let's say you worked same position and carried out the same responsibilities under different employers, here is how you can list your experience:
IT Support Officer | 2012 – 2022
XYZ Company | 2017 – 2022
ABC Company | 2012 – 2017

Note: Use bullet points to highlight and summarize your accomplishments and duties

3. Same employer different job positions
ABC Company | 2014 – 2022
Help Desk Analyst | 2017 – 2022
Help Desk Technician | 2014 – 2017

Note: Use bullet points to highlight and summarize your accomplishments and duties


Want to start landing interviews? Download our free eBook to learn an easy-to-follow 3-step bullet formula called VCR (bet you never thought a VCR would be useful again, huh?)
Plus, a whooping 70+ ideas for metrics to quantify your accomplishments (so you'll never say "I don't have numbers to use" again!).
Did we mention it's all 100% free?!



How Far Back Should A Resume Go For Work History? (Wrap Up)
Are you someone with or without loads of work experience and you are wondering how far back a resume should go for work history?
The question of how job or work history should be on a resume is dependent on your work experience.
As a college graduate with no work experience, would you rather tell your employer that you have got no work experience? Of course, NO!
Instead, you can simply brainstorm on some of the projects you completed while in college; some of the leadership positions you held; your internship, and use that to craft your work history.
What if you have had decades of work experience, how far back would you want to go on your resume?
Well, here are a few wrap up tips below on how far back to go on your resume for work history:
You might like: How to Include a Minor on Your Resume

1. Filter Out Irrelevant Work Experience
If you have been in the working environment for over a decade, it is quite difficult to put all the details of your 30 years of work experience in a 2-page resume.
The best thing to do is filter out irrelevant work experience, leaving out skills and work experience that are relevant and up to date.
If you are into the field of technology, you would agree with me that the work experience you had thirty years ago if compared to recent years is a little bit irrelevant these days.
This is because time has changed and there are new advancements in the technological world on a daily basis and the best you can do if you are in this field is to evolve with time.
Try and apply for online training programs, improve your skills, and ensure they're relevant for an IT position.

2. Give Brief Descriptions of Your Relevant Work Experience
After you must have filtered out irrelevant work experiences, the next thing to do is to give a brief, detailed, and precise description of your relevant work experience.
All work experience(s) above 15 years should be filtered out except on certain criteria we already discussed earlier on this article.

3. Write in Chronological Order
Resumes are written in a chronological pattern and when I say chronological, I mean giving details about events as they relate to time.
Note that the chronological pattern is recommended for professionals with a substantial amount of work experience say for example 3-5+ years in the workforce.
It is best practice to focus on work history done in the past 10 years leaving out older work experiences, but if you feel your older work experiences will give you more credibility then go with the next tip.

4. Create a Section for Early Work Experiences
It is very possible that you have had several career accomplishments that gives you more credibility and boost your chances of getting the job.
I would recommend you create a section below your work history where you highlight your key achievements and accomplishments.

5. Stick to The One Page or Two Pages Limit of a Resume
Your resume can exceed a page, but make sure it does not exceed the two-page limit.
Having a bulky content on your resume can be somewhat tiring to your employer, ensure the details provided are relevant, precise, and short, meeting up with the requirement(s) of your employer.

Conclusion
In summary, ensure you provide skills and job experience relevant to your employers' requirements.
The most important thing is to add value and remain relevant. For the question on "how far back to go on resume for work history?" the answer is 10 to 15 years. Good luck with your job search!
Is your resume getting ignored? Earn 3x as many interviews with a professional resume rewrite by our certified resume experts. Get started here!