Unsure you have the right skills for a job role? You're about to get surprised!
Whether you've stayed in the same career field for decades or worked in several other positions, you've likely developed and added to your professional skill set.
Many of these skills are job-specific or technical, like understanding how to use certain platforms or tools—still, many others are transferable skills, such as problem-solving or time management.
Transferable skills show how perfect you are for an open position, whether or not you've got previous experience.
And the interesting part? Everyone has them.
The job market has experienced a great evolution in how work is delivered due to the pandemic, some of which are temporary and some likely to be permanent.
Whether you're looking for a new position because you have to or because you've decided it's time for career advancement, transferable skills can help you land new jobs, no matter how "unmatched" your experience seems.
Due to how versatile transferrable skills are, they're of importance and interest to any recruiter, regardless of the industry.
In this article, you'll learn:
Definition and great examples of transferable skills
What transferable skills you should include in your resume
How to demonstrate transferrable skills on your resume?
Why transferable skills are important
Why every job applicant should identify their transferable skills

Want to save time and have your interview-ready resume in just 2-5 days?
Let our CEOMichaelHR-certified resume writers take the guesswork out of resume writing by summing up and showing off your transferrable skills and experience.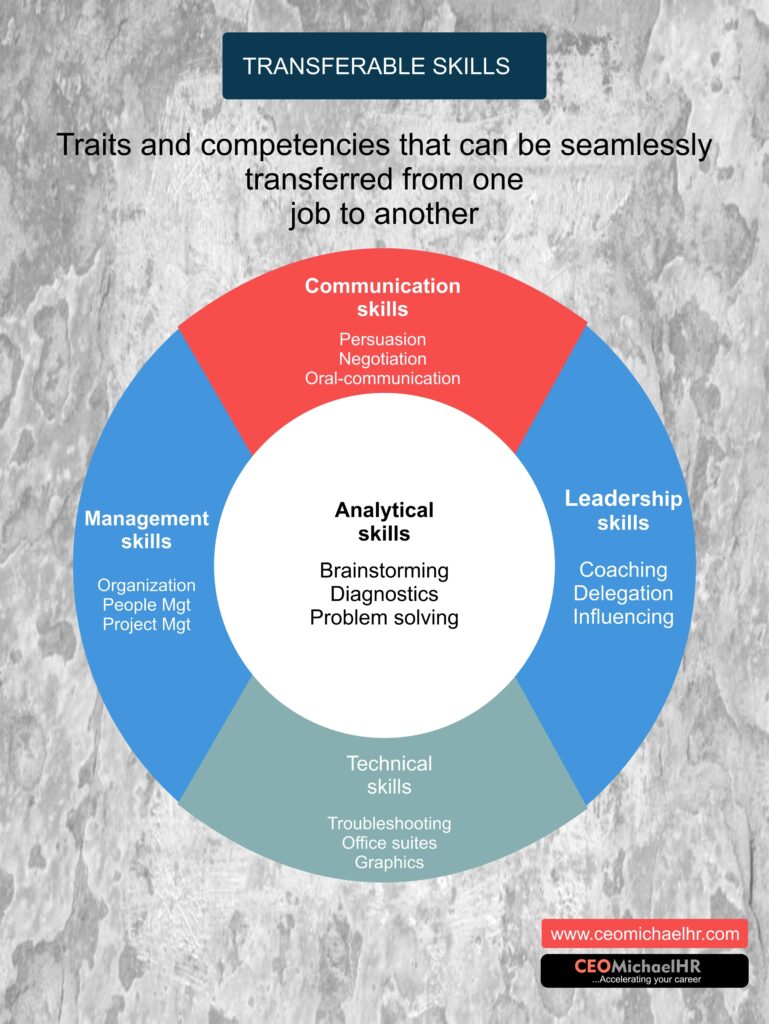 One of our users, Ashphu, had this to say:

My resume writer, Rolyns did a great job with the format, as well as the content. He wonderfully conveyed my skills in a concise and direct manner. I started getting phone calls from potential employers almost immediately after the resume rewrite.
See more success stories



Transferable skills are a core set of skills and abilities that can be applied to various jobs and industries.
These skills are abilities you can transfer from one job to another. Skills such as; communication, adaptability, and collaboration, to name a few.
They're usually picked up over time, and can be gained from previous positions, charity or volunteer work, taking a course, your hobbies, or even just at home.
You might like: 15 Key Skills To Put On a Resume Right Away

Transferrable Skills- Top Examples
One vital thing about transferrable skills is that even without knowing, you're likely to possess many of them.
For this reason, it is important to have a list of transferrable skills to make it easy for you to identify what transferrable skills you possess and how best to leverage these superpowers on your resume.
Use our selection of transferrable skills top examples below as your transferable skills checklist:

Best Job Seeker Transferrable Skills
Below is our list of transferrable skills grouped into five key categories. Read through to boost your employability today!

1. Communication
This is about the most versatile skill needed in any job setting.
Communication is important in almost every job, whether you want to communicate an idea of yours to the world or have a conversation with a colleague.
You should be able to communicate effectively and efficiently so whomever you are communicating with clearly understands your message.
Examples of transferable communication skills:
Oral communication
Non-verbal communication
Negotiating
Persuading
Discussion
Listening
Presentation
Public-speaking
Relationship-building
Written communication
Interpersonal communication
Rapport-building

2. Leadership
Leadership skills are very important transferrable skills to possess, and they aren't only your ability to supervise and manage a team.
Leadership skills encompass your ability to manage team projects while following through and accomplishing common goals.
With leadership skills, you'll possess additional transferable skills such as; communication, problem-solving, and relationship building.
Examples of transferable leadership skills:
Coaching
Delegation
Communication
Influencing
Decision making
Motivation
Collaboration
Creativity
Giving feedback
Commitment
Strategic thinking
Critical thinking

3. Technical/computer skills
While you may not be the best tech guy, knowing your way around the many software programs that businesses use today is important.
You might like: How to Write the Perfect Goodbye Email to Coworkers & Clients
For example, if you know how to work in one type of spreadsheet, the odds are that you can figure out any spreadsheet, which means the company won't have to teach you the basics.
Remember that technology changes rapidly, and so do how we all work.
That's why it's key to keep abreast of the technologies that give you the upper hand in your professional field.
Examples of transferable technical/computer skills:
Troubleshooting
Office suites (MS Office, G-Suite, iWork)
Equipment installation and configuration
Graphics
Database management
Social media
Equipment maintenance
Analytics
Typing
Web (HTML, CSS, CMSs, SEO, etc.)

4. Management
Management skills help you manage both people and tasks from start to finish.
You ensure everything stays on time and adjust the timeline when things aren't going as planned.
Recruiters are actively seeking people who can not only see a task through but can visualize what needs to happen on a project from start to finish.
This transferable skill helps ensure deadlines are met, and projects are completed efficiently and effectively.
Examples of transferable management skills:
Organizational skills
People management
Project management
Recruitment
Time management
Conflict resolution
Finance
Budgeting
Logistics
Presentation skills
Risk management

You might like: Best Tips on How to Write Your Remote Job Resume

5. Analytical reasoning
Analytical reasoning involves part of your problem-solving skills: taking the larger problem and breaking it down into smaller problems to identify a solution.
Put another way; employers want staff who can find logical solutions to the company's problems.
In recent times, problem-solving skills have become a larger set of analytical skills.
Of all transferable skills, employers are much more interested in analytical skills. In fact, it's hard to find a job offer that doesn't mention them.
Examples of transferable analytical reasoning skills:
Troubleshooting
Brainstorming
Data mining
Diagnostics
Forecasting
Conceptual
Creativity
Data and metrics interpreting
Organization
Problem-solving
Reporting
Research

Tired of not landing interviews?

Get our free 3-step guide to writing better resume bullet points, featuring 70+ metric ideas you can use!



You might like: 15 Key Strengths to Put on a Resume

Best Transferable Job Skills
With everyone having some transferable skills, the challenge you now encounter is how do you show them to employers on your resume?
Always ensure to choose examples that you can practically demonstrate on your resume.
Saying you're excellent at analytics is good, but you won't stand out from the crowd unless you can prove it.
So for each one, think of an example of how you've shown this skill. It could be in the workplace or outside, as long as it compliments your claim.
Let's examine an example below:
Instead of saying: 'Great leadership skills
You should say: 'Demonstrated great leadership skills through successful management of a small team of individuals on a three-day hike for a charity event.'
The key is ensuring you can prove it.
Hiring managers will realize you're not being truthful at the interview stage, so always steer clear of lying if you want to avoid unpleasant situations.
Let's take a look at a specific job, such as a teacher, to see what this means in practice.
You might like: College to Career Transitioning: 8 Critical Factors to Consider for Success

Teacher—Transferable Skills on Resume
Teachers need to know how to relate their skill set and experience to careers outside the classroom.
This example defines what transferable skills for teachers are and how to highlight them during the job-seeking process.
So, an English teacher intending to transition careers in content marketing has much more to offer than their language or writing skills.
Also, assuming you're a teacher who wants to start a career in business:
The first step is to identify what transferable skills you have and which ones you might want to transfer from teaching to business.
A quick scan of the transferable skills list above can help.
For convenience, let's confine ourselves to five from each category.

Transferable Skills- Teaching to Business

Analytical Skills
Communication
Creativity
Problem-solving
Reporting
Research

Communication
Written communication
Interpersonal communication
Negotiating
Persuading
Discussion

Management
People management
Time management
Conflict resolution
Action planning
Organizational skills

Leadership
Motivation
Coaching
Delegation
Collaboration
Commitment

Technical skills
Microsoft Office
Social media
Web
Installation and configuration
Typing

Great sorting, right?
Let's now proceed to how you can list these transferrable skills on a resume.
First, identify which transferable teaching skills you want to use by scanning the job description.
Below is an example of how a job description looks:

Responsibilities
Coordinate with our authors and fulfill editing, proofreading, and formatting required for print and digital publishing.
Line-edit manuscripts in English, checking for flow, comprehension, meaning, and relevance.
Research on various topics online to add the Editor's perspective to manuscripts.
Use online and offline tools to check for grammar, etc.
Research and write various topics for multiple platforms (websites, blogs, articles, social updates, banners, case studies, guides, white papers, etc.)

Requirements
Self-motivated and self-directed with a positive attitude
Bachelor's degree in creative writing, journalism, English, or related field preferred
6+ months of experience as a writer/editor
Mastery level skills in verbal and written English communication
Proficient in computer skills, including Microsoft Office Suite and Google Docs, etc.
Be able to work under pressure and meet deadlines.
With this valuable information at hand, you can easily translate these into your resume work experience section to show you have what it takes to excel in this role:

Teachers Transferable Skills—Resume Job Description Example
Proofread

,

edited

, and

corrected

a wide variety of texts in English for flow, coherence, cohesion, and relevance, including essays, websites, blog posts, banners, and other articles.

Researched

and

wrote

numerous presentations on multiple topics to spark and sustain interest from groups of 20+ teenagers suffering from attention-deficit syndrome.

Great user of online and offline spell-checking and grammar-correction tools

, including Grammarly and Hemingway.

Don't forget to make use of keywords as stated in the original job ad so your resume can pass the ATS scan.
And that's it!
Lastly, it is important you also put your transferable skills in a cover letter.

Tired of not landing interviews?

Get our free 3-step guide to writing better resume bullet points, featuring 70+ metric ideas you can use!



What is The Importance of Transferable Skills to You?
Just as important as transferable skills are to your potential recruiters, they are also important to you and play a vital role in helping you advance your career.
You can quickly show hiring managers your versatile and adaptable skills when you apply your existing transferable skills to new challenges or job roles.
The ability to transition from one role to another using these skills shows that you are flexible in an ever-changing world.
While you may not have all the skills listed in the job description, your transferable skills may be similar to the desired skills, giving you a better shot at getting the job, even if you don't seem to be a perfect fit.
You might like: 14 Top Security Guard Skills
This is especially true when you're changing careers; transferable skills play an essential role in helping you make that switch.
When you're transitioning from one career field to a completely new one, such as advertising account manager to preschool teacher, utilizing your transferable skills helps demonstrate how, for example, the project management skills you used to create a winning ad campaign will help you design exciting and engaging lesson plans.

4 important reasons transferrable skills are important to you
You already have them
You won't lose them
They prove your flexibility.
They increase your employability

Conclusion
The essential aspect of transferable skills is that they are yours to keep!
As a flexible and adaptable candidate, you may gain a competitive advantage over the more experienced ones.
If you lack experience but you learn quickly, demonstrate a can-do attitude, and have a wide array of transferable skills to offer, the employer may consider you before the others. It's part of the so-called hiring for attitude approach.
No matter how you swing around with your career, the transferable skills you develop will always be there for you, helping you adapt, change, and advance professionally.
Need help with your resume?
Consider hiring our CEOMichaelHR-certified specialists.
They can help you identify your transferable skills and showcase them throughout your resume, enhancing your employability and landing you interviews 3x faster!