Are you looking to tailor your resume for a security guard position? You'll require having a clear understanding of the job's skills and proficiencies.
In this comprehensive article, we'll be exploring 14 security guard top skills that can help you effectively write your security officer resume.
First and foremost, we must understand that security guards are responsible for protecting individuals and properties, while enforcing regulations and ensuring order is optimally maintained.
According to Wikipedia "A security guard (also known as a security inspector, security officer, or protective agent) is a person employed by a government or private party to protect the employing party's assets (property, people, equipment, money, etc.) from a variety of hazards (such as waste, damaged property, unsafe worker behavior, criminal activity such as theft, etc.) by enforcing preventative measures".
Be you a stationary or patrol security guard, your proactive se skills are needed to secure both individuals and properties.
By keeping abreast of the top security guard skills and how to build them, you can improve your performance and shoot for the position of a security guard officer.
Keep reading to learn the required skills for a security guard, how to describe and improve them, and ways to furnish security guard skills.
You might like: How to Write a Resume With No Work Experience (Best Guide)

What Skills Are Needed For A Security Guard?
The skills required for a Security Guard position simply refers to the qualities utilized in protecting an individual, or properties.
These qualities may range from soft to hard skills. While soft skills are seen to be your interpersonal relationship with people, hard skills are consciously learned and developed via education, effective practice, or training.
Improving your security guard skills can go a long way in positioning you strategically for more job opportunities.
Take for instance, when your skills are adequately improved and furnished on your resume, not only can you make a more competitive candidate for the position of a security guard, you can also qualify for raises or promotions.
Measure your security guard skills performance level to determine what area to develop and create an improvement plan.
The position of a security guard varies based on the individual appointed place of work. Discharging duties as a security guard officer requires high level of skills and responsiveness.
To produce top performance and be successful as a security guard, you will need to develop certain skills and qualities.
Some "must have" skills that every security guard possess are:
A polite, calm and personable attitude
Excellent communication skills
Complex problem resolution
Ability to follow instructions
Technical knowledge of security systems
Physical dexterity and fitness

While a security guard plays various roles, always note that his primary task or assignment is to prevent crime.
Let's have a deeper understanding of the various skills of a security guard.
You might like: Curriculum Vitae vs Resume: The Differences and When to Use Which

1. Active Communication & Listening
As a security guard, you need to demonstrate active communication skill to thrive in the workplace.
This skill refers to a technique that enables you to verbally and nonverbally communicate in a way that makes you agreeable and easy to understand.
It can be useful when making announcements to visitors, exchanging information with colleagues, and describing events or individuals to police officers.
Active listening is a technique that uses verbal and nonverbal cues (e.g., eye contact and nodding along) to indicate that you're making a real effort to understand your counterpart, making it easier for you to be trusted.
This involves listening actively to visitors, facility owners, colleagues and responding thoughtfully.

2. Physical Fitness
The job of a security guard or officer involves many physical challenges. Security guards might have to patrol a large area or buildings, stay up all night, or outrun a criminal.
Physical fitness is the ability to perform daily activities with optimal performance, endurance, and strength.
A security guard's shift may often be calm and quiet; however, they require quick reflexes and a fast response to emergency when suddenly aroused. This is why being in a physically fit condition is essential.
Security personnel should improve their physical fitness and endurance through physical training, while also watching what they eat.
This regimen will give them the fitness needed to ensure the safety of others during emergencies.
You might like: How Do I List Self-Employment & Freelance Work on Resume?

3. Honesty and Integrity
The employers of security officers do not actively control their work, and in most cases, they're often responsible for protecting valuable assets.
They must demonstrate strong reliability and honesty. With these qualities, they'll be certain to build and maintain trust.
Though, such qualities are difficult to scrutinize when recruiting a security officer and are often only visible once the officer has been at the post for some time.
Fortunately, there are certain steps you can take, such as conducting thorough background checks, to reduce risk.

4. Customer Service
A security guard must demonstrate excellent customer service skill to help customers reach their goals. These skills define how they interact with customers.
Working as a security guard involves following instructions on how to connect with customers. Take for instance, a company may provide training on how to perform security checks on passengers.
Customer service may also be useful in directing visitors to a building or explaining security procedures to event guests.

5. Vigilance
Your ability to proactively think on your feet and recognize when to take action refers to being vigilant.
This skill is usually demonstrated only when security personnel suspect the presence of a potential threat.
They need to be alert and stay focused at all times. Having excellent observation skills enables them to be alert to irregularities in the workplace.
You might like: How to Get More Results with a C.A.R. Resume

6. Critical Thinking
The ability to examine a situation objectively and develop conclusions refers to critical-thinking.
Security guards require these skills to effectively analyze security threats and use reasoning instead of acting by emotions.
Critical thinking skill can help you become more decisive. Take for instance, you typically make better decisions if you can quickly analyze behaviors and determine the presence of a security threat.
Other areas your critical thinking skill can be beneficial is in choosing patrol routes, areas, and locations and implementing the most appropriate emergency response measures.
You might like: How to Write an ATS Resume (Full Guide)

7. Leadership/Team Work
While it is not uncommon for security personnel to work in a group, being able to work in a team and understanding when to lead and when to follow is key.
A good security guard will know when to impose the necessary measures to eradicate a potential threat.
When managing crowds, their ability to take charge and provide guidance through emergencies and dangerous situations will also be crucial.

8. Passion & Drive
A great security officer is one who is strongly passionate about the job. They should value human life and demonstrate strong drive for helping and protecting people.
Above all else, security guards must often be hard-working, dedicated, and loyal.
You might like: Is Canva Good for Resumes?

9. Problem-solving
The ability to determine the source of a problem and find an effective solution is termed problem-solving. Incorporating this skill, security guards can handle security issues effectively.
Take for instance, you can use your problem-solving skills to conduct investigations to locate missing individuals.

10. Technology
Utilizing technology skills, you can be able to complete tasks using various technologies.
As a security guard, you may need to use electronic surveillance equipment to monitor alarm systems and activities.
You may also use MS Word to prepare reports, submit electronic incident accounts, and retrieve client information from databases.
Working this position may require that you use x-ray scanners to identify prohibited items. So, it is great developing your technical skills so you can effectively help safeguard individuals and items.

11. Organization
Ability of a security guard to use resources well is termed organizational skills. Demonstrating organizational skills can be useful for documentation.
For example, being organized helps you locate previous reports for reference.
It is of vital importance to stay organized so you can use your time, workspace, and energy effectively.
You might like: Should I Reapply for A Job That Was Reposted?

12. Low Profile
Considering some of the individuals security guards deal with could try provoking them, they have to know how to keep a cool head and low profile.
Having a conservative attitude will allow them to work better under pressure.

13. Alertness
A great security guard is always alert and aware of his/her surroundings. You must constantly stay focused and away from distractions as much as possible.
If you lack the ability to stay focused, you might ignore something that could put the lives of the people you are safeguarding at great risk.

14. Common Sense
Security guards need to possess common sense and good judgment because they have to deal with sensitive situations.
They need to always comply with right protocols, reacting and judging accordingly to maintain professional standard.

Responsibilities Of Security Guards
Below is a list of most important Security Guard's duties and responsibilities. Let's get in!

Maintain Order and Create a Safe Environment
Security guards patrol large areas, buildings, and the premises where they work. They check windows, doors, and gates and ensure they're closed properly.
They keep a close look at individuals to ensure overall safety is maintained and the environment is safe for everyone.
They also prevent any unauthorized activity within the environment.

Identify Suspicious Behavior or Safety Risks
With their strong observation skill, security guards often have the ability to watch and observe areas without getting distracted.
With their professional training, they can identify the suspicious behavior of staff or visitors. Furthermore, they are also trained to identify the signs of a potential criminal activity, fire breakout, etc.
You might like: How to say you were fired on an application

Respond to Emergency Situations and Crisis
Security guards are first ones to respond to any kind of emergency situation like natural calamities, fire breakouts, robberies, break-ins, etc.
These professionals remain calm and tackle these kinds of situations.
Special security guards like first aid and CPR guards, fire watch guards, crisis management guards, etc. are even more trained and specialized in dealing with particular situations.

Communicate with People
Communication is key to maintaining safety and security within the premise. Security guards discharge duties of actively communicating with people.
This kind of communication may include assisting visitors and directing them towards the facility, communicating suspicious behavior or activity to the higher authorities, communicating the situation of emergency to the populace.

Monitor People's Activities and Behavior
Security guards diplomatically monitor the activities happening in and around the premises they have been appointed to work.
They closely observe the behavior of the staff employed inside the premises and keep a check that everything is normal and under control.
The presence of a security guard on the premises of an organization or an event often serves as a deterrent to criminals.

Security Guard Skills For Resume
Perhaps, you are writing a resume for a security guard job, you can develop the skills or core competence section of your resume by incorporating the above security guard skills and qualities.
Incorporating these skills will make your resume stronger as these are the skills and qualities most recruiters look for in the security guards they like to hire.

Security Guard Salary
According to Glassdoor, The estimated total pay for a Security Guard is $50,506 per year in the United States area, with an average salary of $31,186 per year.
These numbers represent the median, which is the midpoint of the ranges from our proprietary Total Pay Estimate model and based on salaries collected from our users.
The estimated additional pay is $19,319 per year. Additional pay could include cash bonus, commission, tips, and profit sharing.
The "Most Likely Range" represents values that exist within the 25th and 75th percentile of all pay data available for this role.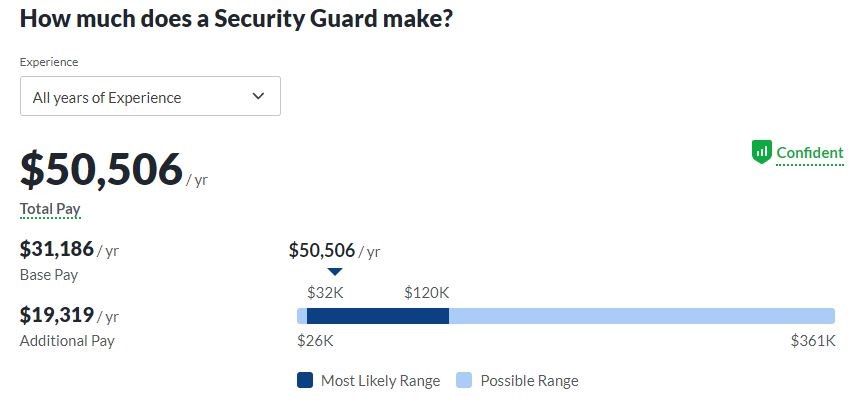 Not sure how to add these skills to your resume… or having trouble writing your resume overall? You could benefit from a professionally written resume.
Learn more about CEOMichaelHR services today and get started on landing your dream job.