Are you unsure of what kind of job really suits your personality?
Do you feel confused on what you would like to do with your career?
Or are you just starting your career and unsure about which career industry to pursue?
If yes, then you need a career aptitude test to help you streamline your job choices and choose a career path that resonates with your values, personality, and skills.
The great news is there are a variety of free career aptitude tests that can provide valuable information to those seeking career clarity.
CEOMicahelHR editors have carefully researched and pick the best products and services for your consumption.
Try out our carefully selected free career aptitude tests you can use to learn about jobs that may be just the perfect fit.

You might also like: Best Resume Writing Service in Austin, TX

What is a Career Aptitude Test?
Taking a career aptitude test is like asking yourself "What do you aspire to be when you grow up?" but with a twist.
The twist is that a career aptitude test not only allows you dream of what you want to be; they provide valuable ideas on what would best suit you.
Taking a career test can help you to understand the type of environment and work that'll facilitate your success as an individual.
Furthermore, a great career assessment test provides an objective view at the types of work that could be a strong match for your unique skills, values, and interests.
Peruse below our carefully curated top 11 list of free career aptitude tests to help you efficiently identify the right career path that matches your values and personality.

You might like: What to Wear to a Summer Interview

Free Career Aptitude Tests
Career Explorer utilizes machine learning, psychometrics, and career satisfaction data to furnish career assessment tests. While the premium service costs $35, the basic test is absolutely free of charge.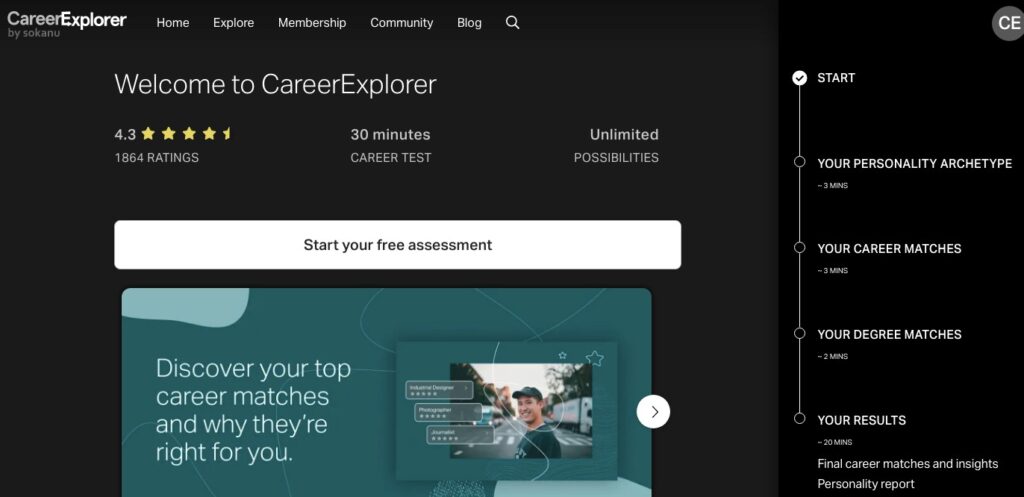 The Career Explorer platform allows users assess their interests, personality types, abilities, career values, and preferred work and social environments to enable a perfect match that will lead to satisfying careers.
The assessment would suggest careers after you've responded to a range of questions. This may take up to 30 minutes to complete.
You'll be given detailed information on each of the suggested career options. You can also browse occupations by industries such as health and nutrition, law, arts and entertainment, animals, food and drink, politics, sports, travel, music, engineering, and science.

2.

Red Bull Wingfinder
The Red Bull Wingfinder offers a free 35-minute online personality assessment test to identify and leverage your strengths in four unique areas of your personality, including connections, creativity, thinking, and motive.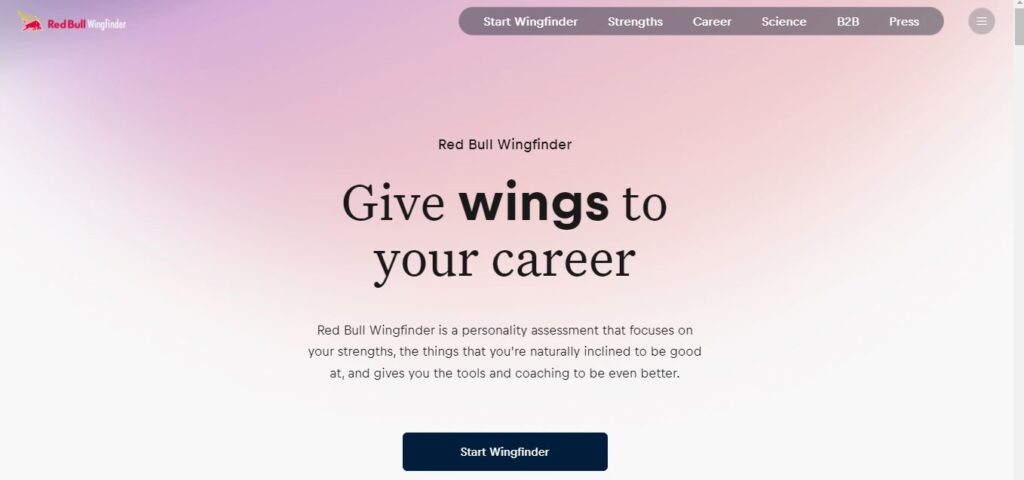 Wingfinder free career aptitude test-takers immediately receive a free feedback report containing an analysis of their strengths, career advice, and coaching from Red Bull athletes with the same strengths.
You might like: 7 Tips for The Morning of Your Interview

3.

Truity: Career Personality Profiler
Truity's Career Personality Profiler is sure to help you identify the career that resonates with your passion using its scientifically validated career test that measures both your interests and your personality traits so you can find your right career path.

Utilize Truity free career aptitude test to identify which careers will maximize your potential and take advantage of your natural talents.

4.

Careerfitter Free Online Career Test
CareerFitter is a popular free career aptitude test that have been providing career assessments since 1998.
Receive a free career report when you complete the Careerfitter Online Career Test. You'll answer 60 questions which takes about 10 minutes to complete.
It analyzes four dimensions that contribute to the foundation of your personality including Energy, Perception, Decision Style, and Planning Style.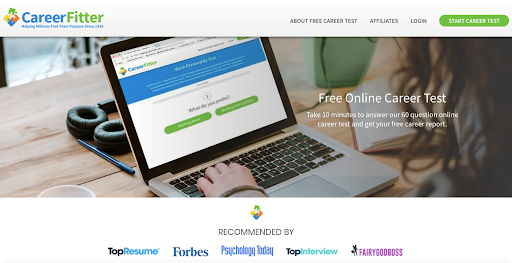 The free career report will provide valuable information such as how much money you can earn in careers that match your personality, career fields you should consider, and the number of specialized careers that matches you.
You might like: 15 Signs It's Time For A New Job

5.

Keirsey Temperament Sorter
The Keirsey Temperament Sorter assessment helps you understand your personality type and discover what type of temperament you have. The test results would suggest a predominant personality type, including Artisan, Guardian, Rational, or Idealist.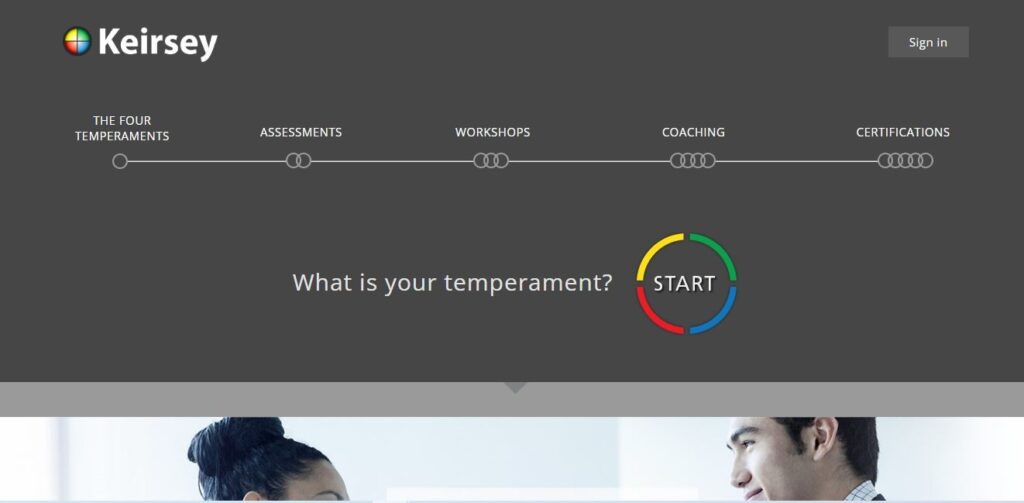 This free career aptitude test would take about 15-20 minutes to complete. Additionally, you'd be provided with a free description of your profile and an option to purchase the full report.

6.

CareerOneStop Values Matcher
One of the most important believe individuals have about their work are work values. This could be from finding a high-paying position to working as part of a team, working independently, or working in a job helping others.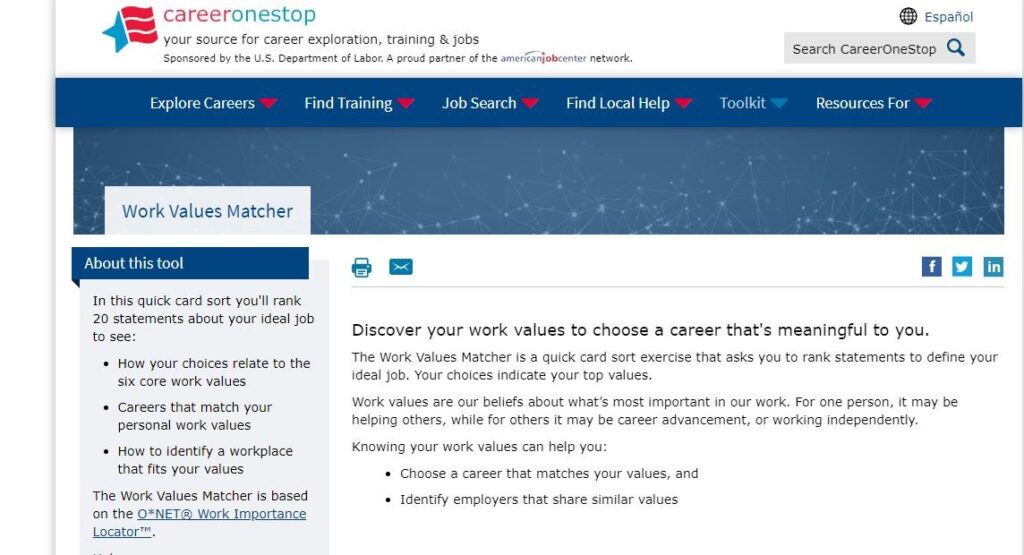 With CareerOneStop's Work Values Matcher tool, you can find careers and employers that match your personal values.
The test asks questions about various aspects of a job or workplace to help you find your ideal work environment.
The process only takes a few minutes to complete by sorting cards in order of what's most important to you.

7.

CareerHunter
CareerHunter free career aptitude test is designed to match you up with your ideal job through a series of six, science-backed tests that determine your psychological makeup.
These tests encompass: Career Interests, Work Personality, Career Motivators, Abstract Reasoning, Numerical Reasoning and Verbal Reasoning.


The first test, Career Interests, is free with 27 questions and 135 statements about work activities.
It takes about 15 minutes to complete. On each page, you will rank five work activities according to your personal preference.
The results of this test alone help you identify your areas of interest so you can choose a job that you will find interesting and enjoyable.
You might like: How Long Does A Background Check Take? – Full Guide

8.

O*NET Interests Profiler
My Next Move's O*NET Interest Profiler is administered by the U.S. Department of Labor.
Users take a 60-question interest inventory that yields a profile of interest tendencies, including six areas: Realistic, Investigative, Social, Enterprising, Conventional, and Artistic.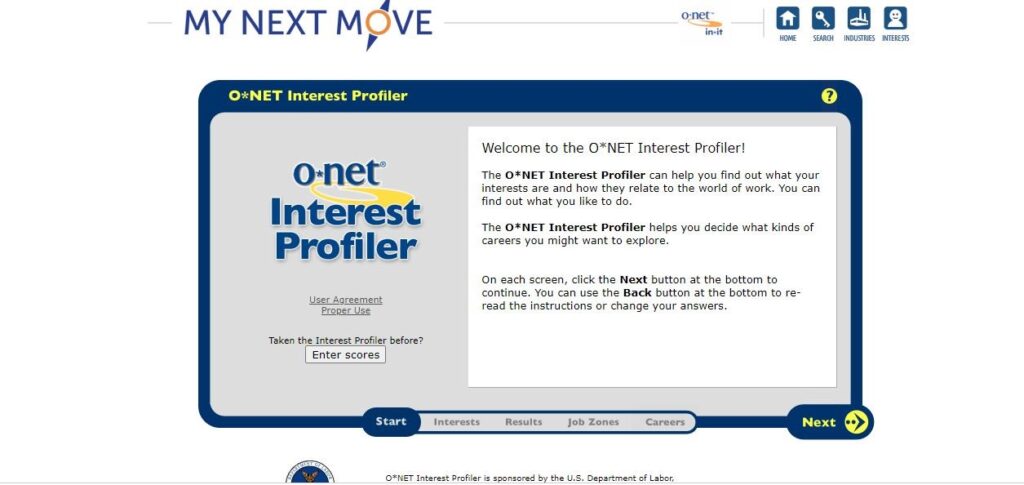 You will see a list of careers related to each industry and will then be able to sort those careers into five job zones representing different levels of preparation, ranging from little job preparation to extensive preparation.
The site also has extensive career information related to a variety of careers.

9.

CareerOneStop Interest Assessment
CareerOneStop's Interest Assessment is a quick and easy way to get a list of careers that might be a good fit for your interests.
It will take about five minutes to answer 30 questions about what you like to do—and what you don't like.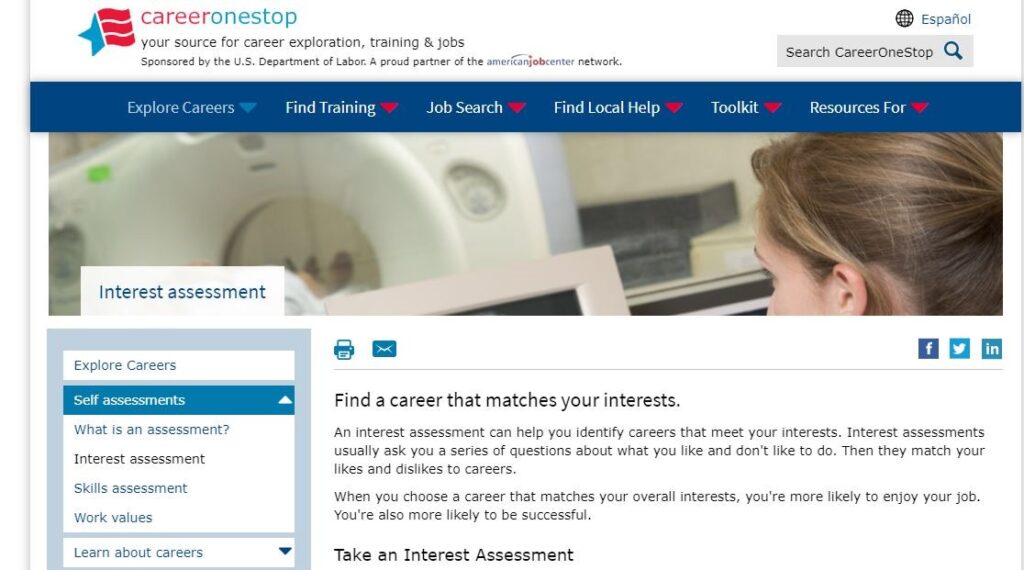 After you complete the assessment, you'll get a list of careers that are a match, with information on salary, educational requirements, and job outlook.
For the careers that interest you the most, you'll be able to review more information about the job and how to get a career started.

10.

TestColor
With the TestColor personality free test, a team of clinical psychologists, psychoanalysts, and mathematicians leads you through a two-part color selection process to identify your personality and aptitude.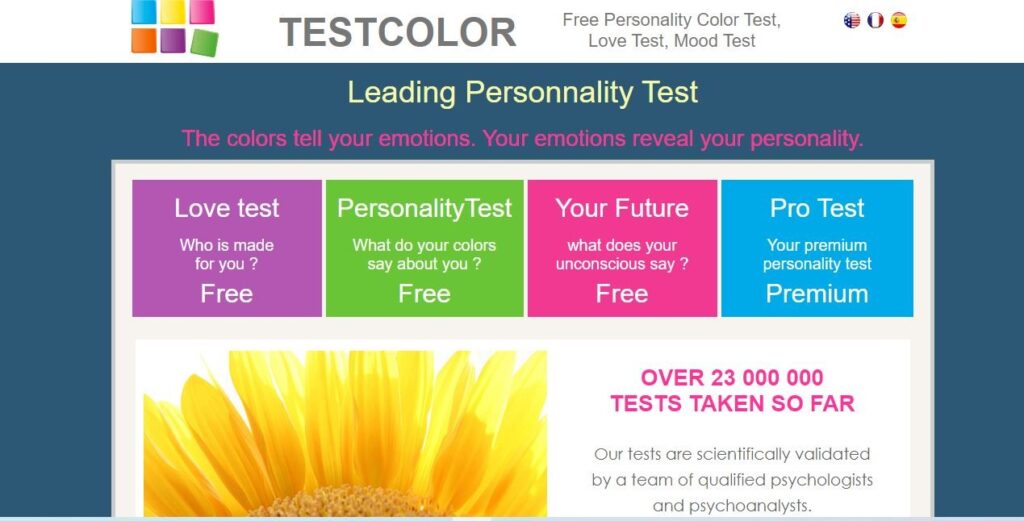 It only takes a few minutes to complete by first clicking the colors you like the best, then those you like the least.
While the initial results are free and comprehensive, you can pay for a more in-depth analysis.
You might also like: The Predictive Index Test (All You Need to Know)

11.

Truity Photo Career Quiz
This free Truity Photo Career quiz only takes a few minutes to complete, and it's fun and easy to take.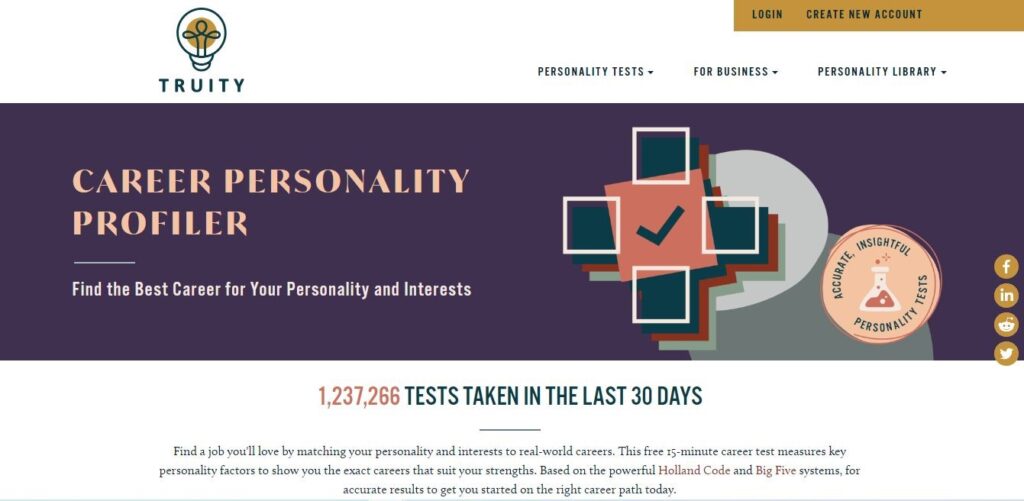 Simply click on which picture you like best in a series of photographs to take the free Photo Career Quiz.
You'll receive a profile of your career interests, and then you can search for careers and review more information based on your interest profile.

12.

Myers-Briggs Type Indicator
The Myers-Briggs Type Indicator is proven to be one of the most accurate career aptitude tests.
While Myers-Briggs offers a paid $50 version of the test, there is a free version known as the Jung Typology Test.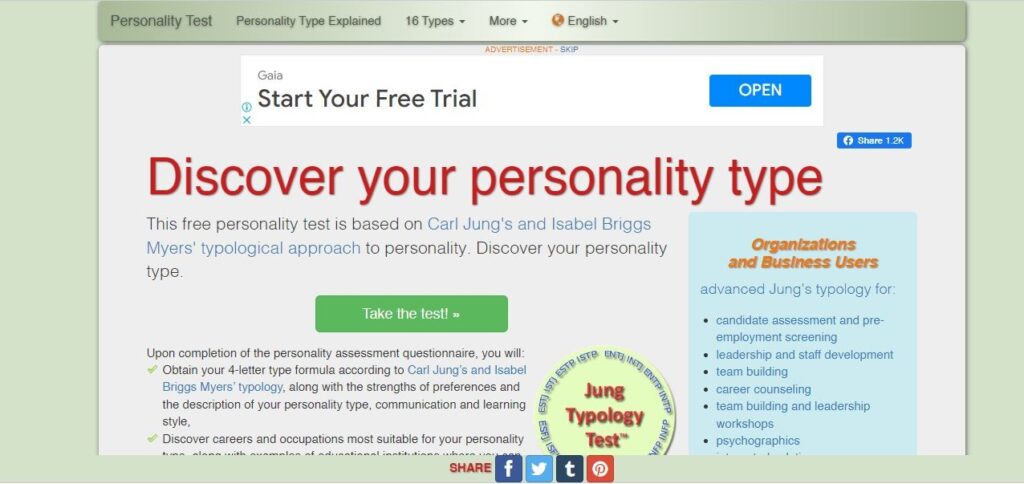 The personality assessment presents a series of 64 statements such as "You like to be engaged in an active and fast-paced job" and "It is difficult to get you excited."
Choose whether or not you agree with each statement.
After your answers are analyzed, the test provides careers and occupations that are most suitable for your personality type.
You might like: How to Prepare for A Career or Job Fair

13.

123 Career Test
This free career aptitude test takes about 5-10 minutes to complete.
It's a visual style assessment that provides fifteen sets of four pictures that show specific work activities.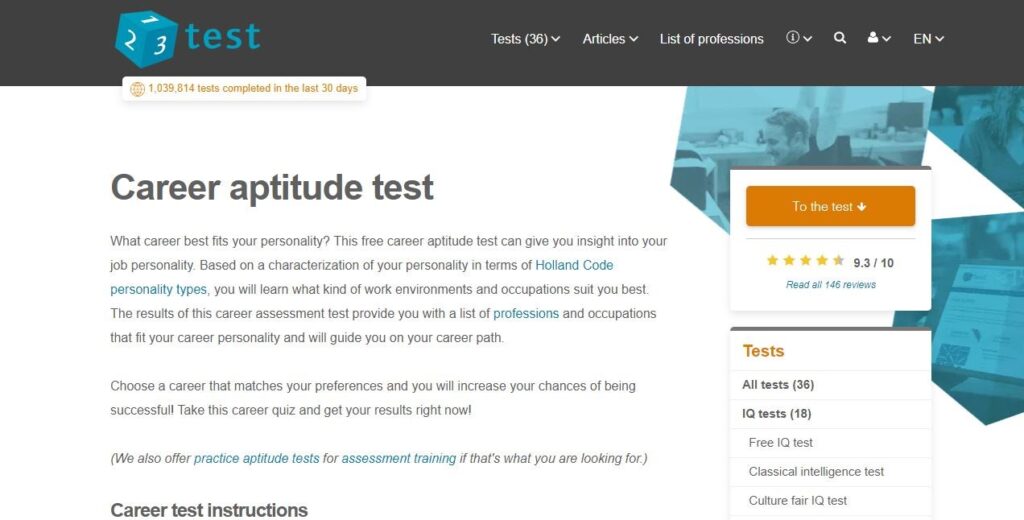 If you like a specific activity, click the green arrow. If you don't, click the red "x."
You can choose one activity that you like the most and one activity that you like the least.
This free test can help you discover what kind of work environments and occupations are a perfect fit for you.

14.

Princeton Review Career Quiz
The Princeton review career quiz comprises of 24 questions with each containing two different scenarios. You'll choose the scenario that is perfect for you.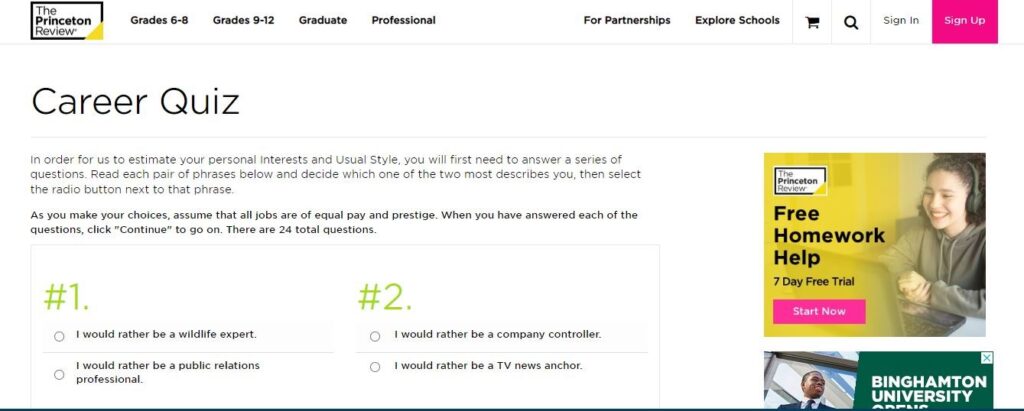 For example, two scenarios might include "I would rather be an auditor" and "I would rather be a musician."
Once you've made your selection for all 24 questions, you'll receive "interest results" and "recommended careers."
The Rasmussen University Free Career Aptitude Test analyzes your skills and interests to offer career recommendations.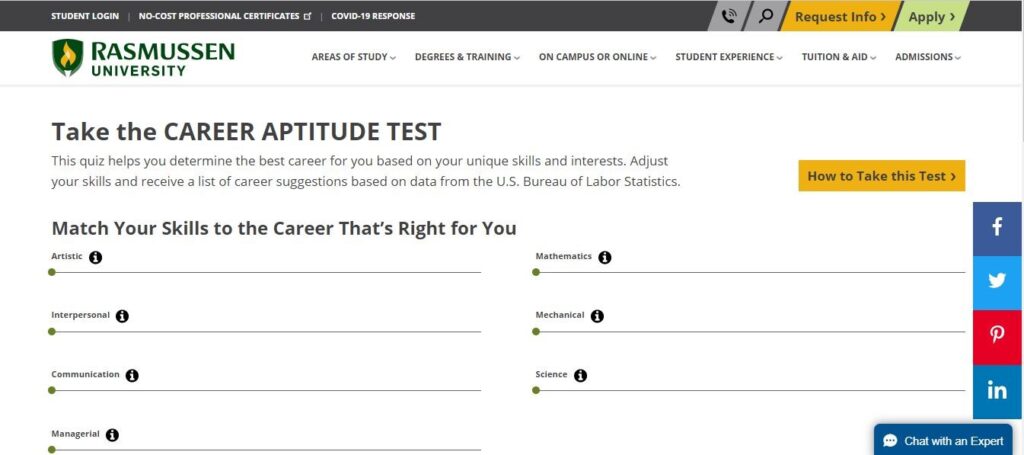 Instead of working off a question basis, this test allows you to adjust sliders for seven categories (e.g., Artistic) so they represent your personal skills (from high to low).
A list of career suggestions based on data from the U.S. Bureau of Labor Statistics is then provided.

How Can a Career Assessment Test Help?
You'll quickly find how easy it is looking for your first job or considering a switch in careers when you already have clear ideas about what you'd like to do.
Tap into a variety of free career tests and quizzes available to help you address your interests, values, and skills.
While some tests aren't scientifically validated, they are quick and easy to take and can provide insight into what types of jobs you might want to research.
Spend some time taking a few tests and quizzes and see what results you get.
Afterwards, compare the job options you're given to decide which of them are worth pursuing.

Conclusion
Conclusively, it is important to note that career assessments can facilitate your job search and help you narrow down your choices and explore career options.
Majority of career aptitude tests ask questions about interests, values, and preferred tasks, then curate information on potential career paths.
Taking career tests can be a good beginning for learning about various types of jobs that are great fit for the next step of your career.
Finally, a career aptitude test shouldn't be your only solution when deciding which career to pursue.
Your own intuition and dreams for your life plays a key role. However, a career aptitude test can offer ideas for career directions that you might not have put in mind.
Are you at a decision point of making a career change?
Let our CEOMichaelHR certified experts help you reach your goal with an outstanding personal branding, resume, curriculum vitae, cover letter, LinkedIn and professional bio services.
Contact us today at mail@ceomichaelhr.com to learn about our services!