Navigating a career transition can be a daunting task. But, have no fear! Whether you're a seasoned professional with a multitude of skills or a newcomer exploring new opportunities, the combination resume or otherwise referred to as the hybrid resume may be your perfect match.
This innovative hybrid resume format enables you to showcase both your work history and expertise in a cohesive and impactful manner, highlighting your unique professional background and making you stand out from the crowd.
Intrigued to discover more about this versatile resume option?
In this article, you'll learn:
What a combination resume is & when to use it
How to create a hybrid resume that really stands out
How to write must-have sections for any combination resume

Want to save time and impress recruiters and HR managers?
Let our CEOMichaelHR affordable resume service craft you a branded and powerful resume that land interviews 3x faster.

One of our clients, Ashphu, had this to say:
My resume writer Rolyns, did a great job with the format, as well as the content. He wonderfully conveyed my skills in a concise and direct manner. I started getting phone calls from potential employers almost immediately after the resume rewrite.

See more success stories



Without further ado, let's delve in!

What is a Combination Resume?
Curious about what a combination resume entails and what it combines? Well, allow us to shed some light on the subject.
A combination resume, also known as a hybrid resume, is a unique blend of two conventional resume formats – the reverse-chronological and the functional format.
This innovative approach to resume writing brings together the best of both worlds, placing equal emphasis on your professional experience and your skill set.
With a combination resume, you can provide a comprehensive overview of your employment history while simultaneously showcasing your top qualifications and relevant skills.
The combination resume format provides two key benefits:
1. You have the opportunity to present a clear and concise summary of your work history and the transferable skills you bring to the table.
2. You can demonstrate your expertise and qualifications to the hiring manager in a way that effectively highlights your strengths.
It is however, important to note that not all job seekers will benefit from using a combination resume format. It's always a good idea to evaluate your specific situation and determine if this style of resume will be most effective for you.
So, what do we mean?
Continue reading to find out!

When to Use a Combination Resume
While the combination resume format may not be a common choice among job seekers, it can offer unique benefits to those undergoing a career change, dealing with employment gaps, or boasting a diverse skill set as a senior-level candidate.
In contrast to the widely preferred reverse-chronological format, the combination resume allows for a tailored approach to showcasing one's qualifications.
It may not be the standard preferred by HR managers, but for those who fit the criteria mentioned above, this format provides the opportunity to highlight their strengths and experiences in a more impactful manner.
So, for those who fit the bill for one of these 3 cases, the combination resume may just be the winning formula for a successful job search.
Here's how to create one that stands out from the crowd

What to Put on a Combination Resume
When creating a combination resume, it is vital to ensure that your presentation is nothing less than impeccable.
A polished layout not only elevates your profile, but also acts as a facilitator in communicating your skills and experience effectively.
To create a winning combination resume, the following key sections should be included:
Contact Information
Resume Summary
Work Experience or Areas of Expertise
Skills Summary
Additional Skills
Education
Let us guide you in crafting each of these sections with finesse, imparting insider tips and tricks to showcase your unique selling points like a pro.
Find out: Expert Resume Writing Tips for New Graduates- Best Guide

1. Add Contact Information the Right Way
Begin at the foundation.
If the HR manager is eager to connect with you, they'll need to know how to reach you.
In the contact information section, make sure to include your first and last name, a professional email address (e.g. [FirstName][LastName]@gmail.com), a phone number with country code if applicable, your location, and your current or desired professional title.
Ensure accuracy by double-checking for typos and consider reading everything aloud.
With the basics established, it's time to move on to the resume summary.

2. Capture the Recruiter's Attention With a Resume Summary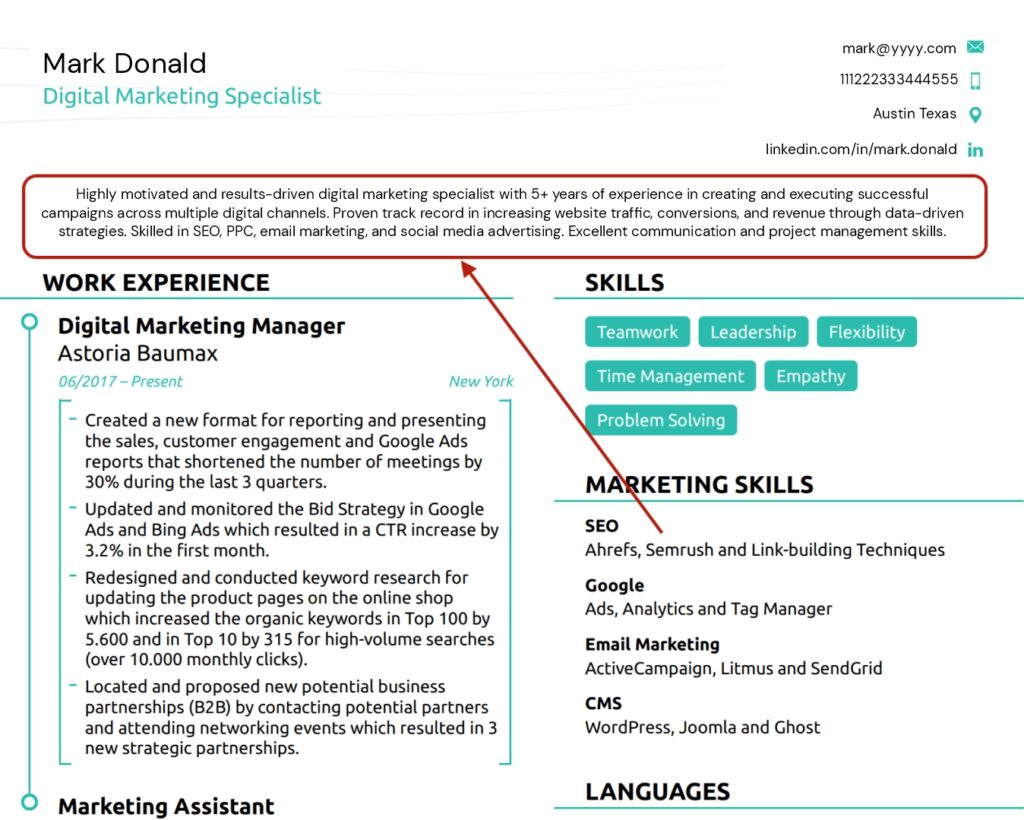 Unleash the power of your professional background by crafting a captivating resume summary.
Your resume summary should consist of 2 to 5 sentences that encapsulate your key career highlights, qualifications, top achievements, and relevant skills.
As the first impression that a recruiter will have of your resume, your summary must be written with precision, clarity, and impact.
By showcasing your greatest assets and demonstrating why you're the perfect candidate, you'll pique the interest of recruiters and inspire them to dive deeper into your impressive background.
So, be intentional in your approach and elevate your career prospects with a standout resume summary.
Here's an example to better understand what that might look like.


3. Use Your Work Experience to Show Off Relevant Skills
As you embark on crafting your combination resume, it's time to put the spotlight on your work experience.
This section is where you get to showcase your expertise and flaunt your professional accomplishments with pride.
When listing your work history, it's crucial to adopt a reverse-chronological order, starting with your most recent position and working your way backwards.
Make sure to include the following information for each entry:
Your job title and position held
The name and location of the company you worked for. If the company isn't widely recognized, take a moment to briefly describe what they do. Don't forget to include the location too.
The period of employment, formatted as mm/yyyy – mm/yyyy
Your achievements or responsibilities – this is your chance to shine! Highlight any significant changes you brought about, leveraging data and numbers wherever possible. If the nature of your job doesn't allow for this (e.g. cashier), simply focus on your responsibilities.
To make your work experience entries truly stand out, keep the following tips in mind:
Emphasize your achievements over your responsibilities whenever possible.
Use data and numbers to support your experiences.
Tailor your experience to the specific job you're applying for.

Now, let's see what a well-crafted work experience entry would look like in practice.


Here's what's done right:
Information is relevant, and straight to the point.
It's backed up by quantifiable results.
It lists achievements over daily responsibilities.

Now, compare that to –


The vagueness of that experience statement is quite perplexing, wouldn't you agree?
It leaves us with little to no insight into the actual competencies and abilities of the individual in question.
Now, put yourself in the shoes of an HR manager, tasked with selecting between two job applicants.
Which candidate would you choose based on such an ambiguous description?
Precisely, the importance of specificity in job descriptions cannot be emphasized enough.
Find out: Is Your Resume Inspirational? If Not, Here's How to Fix It

4. Convince Recruiters You're the Right Person With the Skills Summary Section
As a seasoned professional, you know that a standout resume is essential to landing your dream job. That's why it's important to understand the unique qualities of a combination resume, especially in comparison to the traditional reverse-chronological format.
The skills summary section is what sets the combination resume apart and provides an opportunity to showcase your expertise in the field.
This section is particularly advantageous for individuals seeking a career change, as it allows you to highlight your relevant skills, rather than just your work history.
By demonstrating your capabilities, you demonstrate to potential employers that you have what it takes to excel in the role.
So, how do you make the most of this section?
Start by compiling a comprehensive list of the skills required for the job you're applying for.
For example:
SEO
Graphic Design
Analytics
Next, under each skill, provide examples of how you've utilized those skills in previous professional experiences. This gives hiring managers a clear picture of your knowledge and abilities, making you a standout candidate in a sea of applicants.

Let's take a look at an example below:




Indeed, it's not just 'not bad' – it's actually quite impressive!
But, what if you're not switching careers, you may wonder- should you still include a skills summary section?
Absolutely!
Even if you're not changing your career path, highlighting your diverse skill set in the skills summary section is a powerful way to showcase your expertise and knowledge that may not be fully covered in the experience section.
For seasoned professionals, your primary skills are just the tip of the iceberg. By including a skills summary section, you can demonstrate the full extent of your abilities and knowledge to potential employers.
And, with that, we move on to the next crucial aspect of your combination resume.

5. Additional Skills for a Combination Resume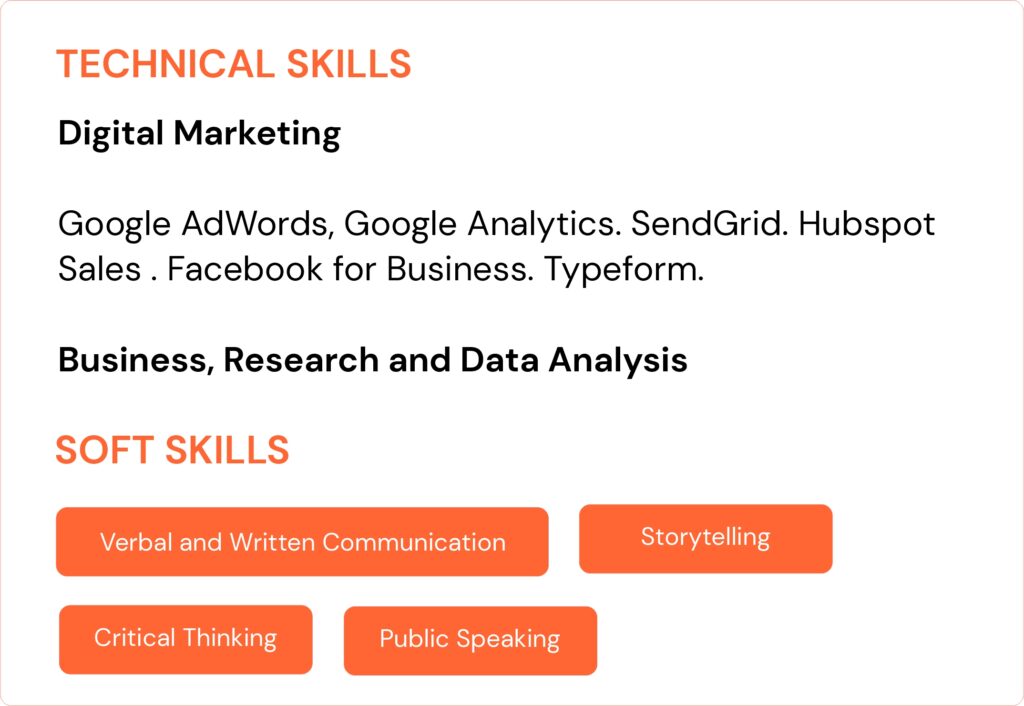 In our previous discussion on the Skills Summary, we emphasized the importance of highlighting your must-have abilities.
However, we understand that there may be additional skills that you possess that were not mentioned. This is where the Other Skills section comes into play.
Simply scan a job ad that piques your interest and identify any essential skills that were not covered in your Skills Summary. This is your opportunity to showcase your versatility by highlighting these additional skills.
For instance, let's consider the following scenario…
Combination Resume Skills Example
Let's assume that the job is looking for a designer who has:
Proficiency in UX software (Sketch, InVision, Photoshop XD, etc.).
Basic understanding of HTML, CSS.
Strong problem-solving, project management and organizational skills.
Good communication skills and is a team player.

Now, all you'd have to do is mention those requirements in your skills section, just like this:



Now that you've mastered the art of crafting an impactful skills section, it's time to turn our attention to the next crucial component – Education.
Find out: How to Create a Job-Winning Resume with No Education

6. Write an Education Section That Stands Out
As the final chapter in a combination resume, the education section is a crucial component that should not be overlooked.
Despite its straightforward nature, it remains an indispensable element that requires attention and detail.
Worry not, for the education section is relatively easy to put together, provided you have all the necessary information. Allow us to guide you through the essentials of what should be included in this important section of your resume.
Type of degree – e.g. MSc in Economics and Business Administration
Educational institution name – The University of Chicago
Years attended – 09/2017 – 06/2019
Program location (optional) – Chicago, Illinois
GPA (optional, only if noteworthy) – 3.87
Relevant courses (optional) – Project Management Principles and Practices
Exchange program (or any other noteworthy achievements) – Exchange program in Washington, D.C.
Here's what the full listing might look like for a combination resume:


Imagine this scenario, where your academic background doesn't seem to align with the position you're seeking. Does this mean that you shouldn't include it in your resume?
Absolutely not!
Having a degree, regardless of its relevance to the job, speaks volumes about your dedication to education and personal growth.
Moreover, you might be surprised by the transferable skills that your degree could bring to the table.
For instance, let's assume you're applying for a graphic design role, armed with a Bachelor of Arts in Communication. With this information in your resume, you can demonstrate your ability to effectively communicate ideas and messages, which is a crucial aspect of graphic design.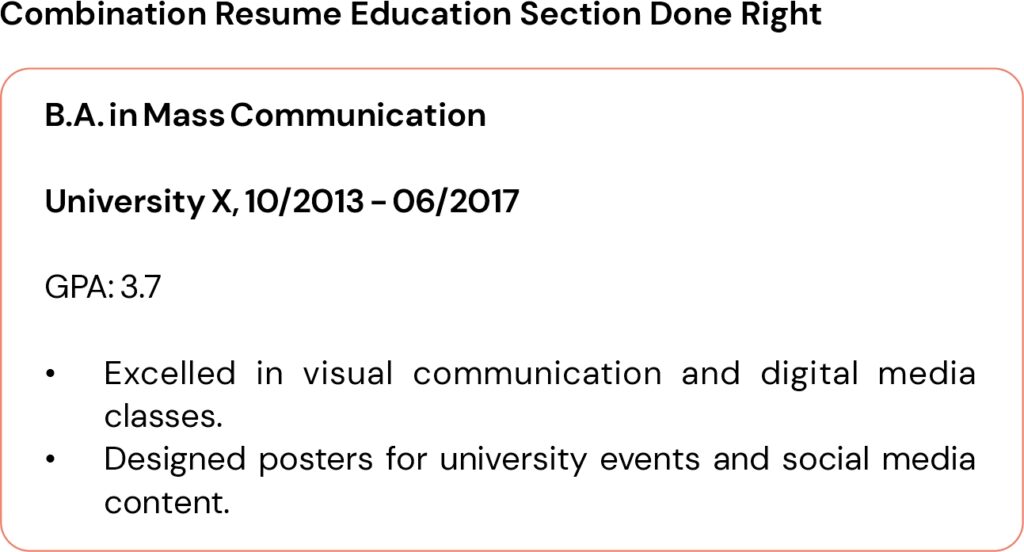 Find out: How to Include Relevant Coursework on a Resume (with Examples)

Final Thoughts- Combination Resume Writing Guide
As a professional, it's imperative to showcase your unique talents and expertise in a captivating and concise manner.
The combination resume format does just that by highlighting both your professional skills and work history.
To make your hybrid resume stand out from the rest, follow these crucial tips:
Include all the essential components of a combo resume such as your contact details, a powerful resume summary, a well-defined skills summary, additional skills that complement your profile, and a comprehensive education section.
When highlighting your qualifications, be selective and focus only on the most relevant and impactful aspects.
End with a robust education section that showcases your dedication to learning, even if your degree may not directly relate to the role you're applying for.

Once you've completed your resume, if you're looking for additional career advice, be sure to visit our career blog. We offer valuable insights and actionable tips to help you take your professional journey to the next level.