So, you finally found a great job you know you're qualified for based on your skills and expertise. Problem is you don't have the right education or specific degree.
Essentially, you have a resume with no education relevant to the position. Should you give up on the job?
Absolutely not!
A good number of us grew up with a general belief sold by the public that "landing your dream job is almost impossible when you craft a resume with no education."
Well, contrary to this belief, this article teaches that as long as you have the right skills, the right experience, and a passion for personal and professional development, you can land jobs in any industry without a degree.
And creating a job winning resume with no education is your only first step.
Read on to learn our step-by-step guide on creating a job winning resume with no education.
Want to save time and have your interview-ready resume in just 2-5 days?
Let our CEOMichaelHR affordable resume writers take the guesswork out of resume writing by summing up and professionally showing off your industry skills and experience.

One of our clients, Ashphu, had this to say:
My resume writer Rolyns, did a great job with the format, as well as the content. He wonderfully conveyed my skills in a concise and direct manner. I started getting phone calls from potential employers almost immediately after the resume rewrite.

See more success stories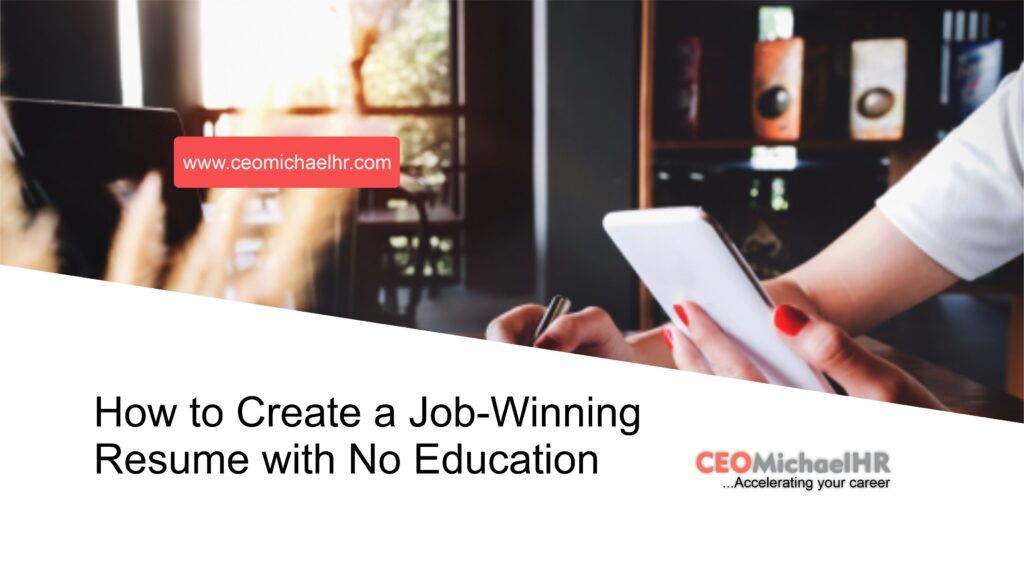 1. Use the Hybrid Resume Format
There are three main resume formats in use today: chronological, functional, and hybrid, which is a combination of the two.
A chronological resume format lists a candidate's work experience in reverse-chronological order while a functional resume format focuses on highlighting the candidate's hard and soft skills and achievements, rather than work experience.
However, if you are writing your resume with no education or relevant degree, the hybrid format is the way to go.
The hybrid format combines the best parts of the chronological format- showing your experience in reverse order and functional format- highlighting your relevant skills and accomplishments.
You might like: How to Write a Resume with No Work Experience

2. Craft a Powerful Profile Summary
A profile summary or professional summary is a short introduction positioned at the top of a resume.
This section focuses on your key skills, achievements, and experiences and convinces the employer why you are the best person for the job.
It is essential that you include relevant keywords while crafting this part to get it past the ATS.
Ensure to match the job description as closely as possible, using the same keywords and phrases when possible.
You might like: How to Write a Resume for Internal Position (+ Perfect Example)

3. Lay Emphasis on Your Strongest Relevant Experiences
For a candidate crafting a resume with no education, this section must be done with extreme caution.
Every word counts while crafting your experience section.
Ensure to provide specific details of your work experience performing the same or similar roles, including your key accomplishments.
Scan the job description to identify skills needed for the role. Then sprinkle these skills in strategic areas while tailoring your experience.
Basically, help your potential employer see that you would be such an asset to their team that your lack of formal education or preferred education specific to that job doesn't really matter.
You might like: 15 Key Skills to Put On a Resume Right Away

4. Boost Your Credentials
A great way to boost your credentials is by supporting them with relevant achievements or credentials within your professional experience, education, or skills section that are worth listing.
Examples include:
Publications: Do you possess any relevant published materials such as books, blog posts, or white papers that proves your expertise? List them.
Presentations: Engaged in public speaking within your field you think would interest hiring managers and prove your expertise as an effective communicator? Go ahead and describe it on your resume with no education.
Awards: List all awards you've received for outstanding performances or dedication in a similar job role or industry at large.
Affiliations/memberships: It is also essential to list relevant affiliations or professional memberships you belong to.
Volunteerism: Finally, this is very important. If you've volunteered while employed or unemployed, highlight this information on your resume and ensure to give your years of involvement as well as accomplishments or leadership roles you held.

5. Be Honest
Many candidates have a false notion that they won't land a role if they're sincere and truthful about their lack of formal education.
But the reality is you must not have a formal education to land interviews. Once you can craft a powerful resume showcasing your expertise, skills, initiatives, summary, and work experience, you're absolutely set for the race.
It's a bad idea when you consider lying about your education as these records can be easily traced by employers.
Also, note that you will never get an offer if you get caught in a lie. Honesty is your best bet.
You might also like: 100+ Powerful Action Words for Resume to Wow Recruiters

6. Maintain a Positive and Proactive Education Section
As you create your resume with no education, it's essential you focus on ways you've taken the initiative to learn and grow in your field rather than emphasizing on an incomplete or interrupted education.
This strategy can be achieved by highlighting completed trainings relevant to the target role.
Trainings may include apprenticeships, conferences, seminars, online classes, and certification courses.
In many cases, recruiters prefer to see recent trainings on an applicant's resume than a dated degree with no trainings.
Perhaps you're undertaking an educational program, show where you are in the process.
Example given:
Name of School
Location (City, State)
Bachelor of Science program, major in […] | Degree in progress



While you can list formal education you've done despite not currently enrolled in a program, ensure they are listed after all your other trainings.

Name of School
Location (City, State)
Earned X credits toward a […] degree, [dates attended]



Conclusion
The best approach to crafting a powerful resume with no education is to focus on what you have; your skills, achievements, and valuable features that can make you a great asset to the organization.
Perhaps, you may still be in high school, have just graduated from high school, or have completed a GED.
Whatever the case, you need to craft a resume, as all jobs that you will apply to require a working resume. Use our tips to prove your candidacy.
Finally, don't feel discouraged because some employers reject your application due to lack of formal educational experience.
Know for sure that many other employers will consider you an asset because of your proven skills, initiative, experience and past successes.
It's a win-win for you. Afterall, those are the organizations you can count on to value what you bring to them in the first place.
Unsure if your education section is properly crafted to help you land that interview? Check today with a free expert resume review.