Chances are your company is recruiting for an internal position and you seem fit to submit your application for the role.
However, you are unsure how a resume for internal position looks like or how it should be tailored to land you this coveted role, thus, landing on this article.
Don't worry because in this carefully curated guide, you'll learn all you need to know about writing a resume for internal position, along with a perfect example to guide you.
In many cases, finding a new position within the company where you are already employed may be your best career move.
And while the opened position is from the company where you're currently working, it's still important you prepare and submit an outstanding resume.
This article details:
Advantages of an internal resume, and what makes it different from the typical or traditional resume
How to furnish an internal resume that is sure to land you a job within your current company
Critical guidelines to follow to help you create an internal resume that immediately capture the recruiter's attention
Perfect example of a job winning internal resume

Want to save time and have your interview-ready resume in just 2-5 days?
Let our CEOMichaelHR affordable resume writing services take the guesswork out of resume writing by summing up and professionally showing off your industry skills and experience.

One of our clients, Ashphu, had this to say:
My resume writer Rolyns, did a great job with the format, as well as the content. He wonderfully conveyed my skills in a concise and direct manner. I started getting phone calls from potential employers almost immediately after the resume rewrite.

See more success stories




What Is an Internal Resume?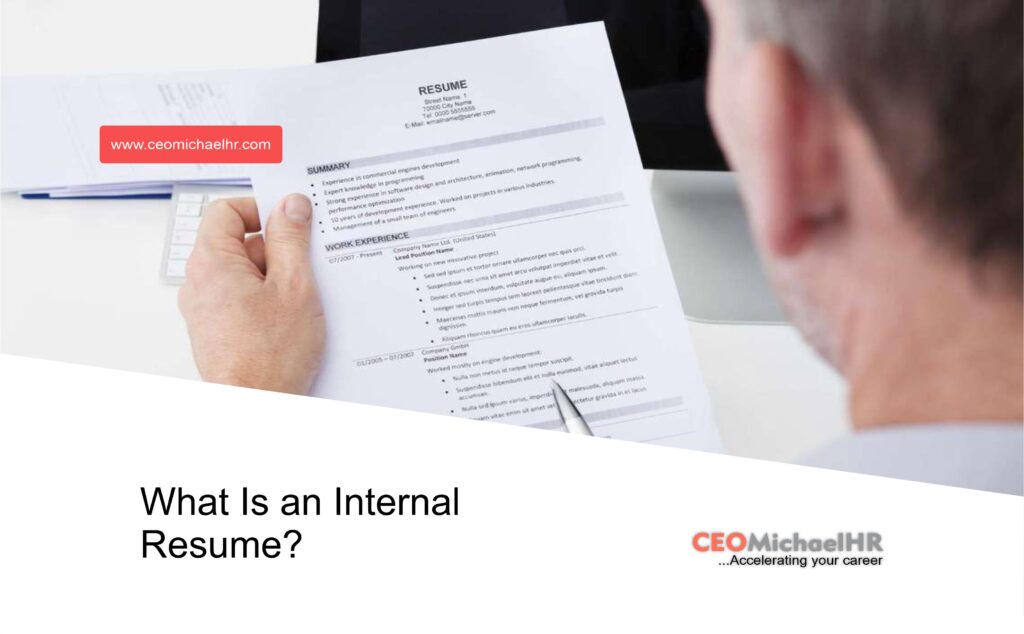 An internal resume is a resume focused on highlighting your relevant work experience, skills and qualifications crucial for the opened position within the company you currently work.
As opposed to the typical or traditional resume, internal resumes focus on your journey within the company.
Your internal resume content revolves around accomplishments and qualifications relevant to your current company.
No need to list your external work experiences except they include qualifications related to the new position.
You might like: Top Transferable Skills- 45+ Examples for a Resume

Advantages of an Internal Resume
Submitting a professional internal resume gives you a significant advantage over outside applicants by well over 60%.
Below are a few of the advantages you enjoy submitting an internal resume to your employer:

1. You've got the opportunity to showcase client examples
With an internal resume, you can mention specific names of clients you collaborated with that impacted the company's bottom line.
By mentioning client names and how you interacted with them, you can help the hiring manager gain robust knowledge and understanding of how you contributed to the company.
The impact would be more felt if you are referring to company's active clients.

2. Languages from reviews can be used
It hits differently when you use your manager's own words to demonstrate your recognition and accomplishments on your resume.
Doing this validates your hard work and also shows that your company senior executives recommend your skills, qualifications, and work experience.
You might like: 15 Key Strengths to Put on a Resume (+ Bonus Infographic)

3. Familiarity with the company's culture
One of the most disturbing parts of recruitment for hiring managers is the possibility of a prospective jobseeker fitting into the team and overall company culture.
When they hire an internal candidate, that worry is over as it is believed that the candidate is already familiar with the company ethics, goals and environment.
The smart thing to do is to use examples and keywords that cue an understanding of the company vision on your internal resume.

4. You have better understanding of the position
Opposed to an external candidate, as an internal candidate, you're likely to have knowledge of the current needs of the company even if your application is tailored to a different department or team within the company.
You can also more easily find out what the company is looking for in this position—by talking to the team lead or hiring manager for the role.
You might like: 15 Key Skills to Put on a Resume Right Away

5. Laser fast hiring process for both you and the company
When you submit an internal resume, the employer can have a quick view of it as soon as you make the submission.
You can also submit your resume faster than an outside candidate because jobs are usually posted through company communications before any external hiring platform.

How to Write a Resume that Drive Results for Internal Positions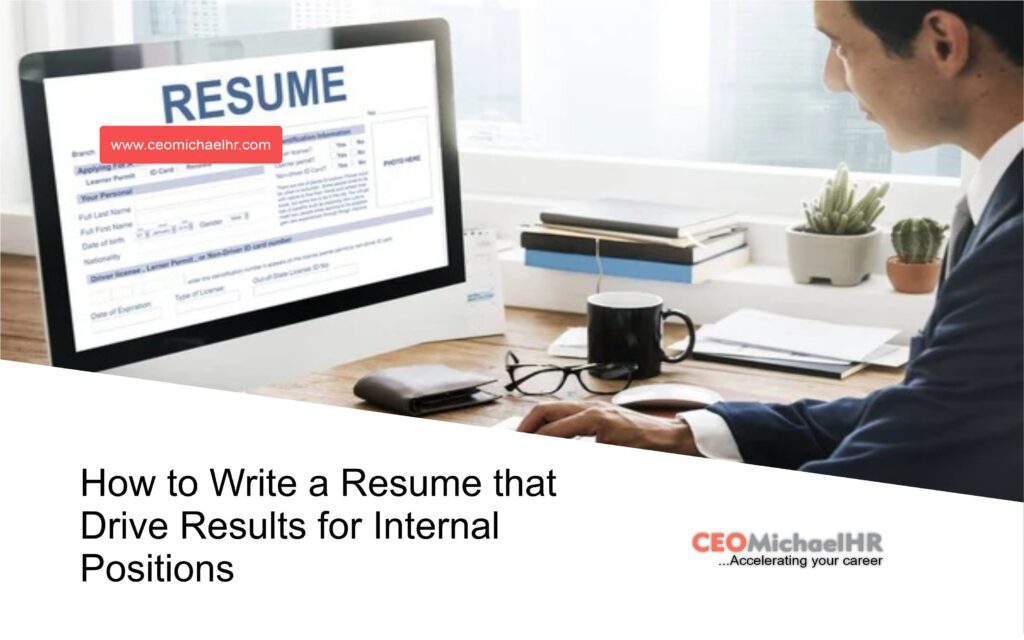 You sure want to create an effective internal resume that'll put you more at an advantage over the outside jobseekers.
The steps below would help you tailor an outstanding internal resume that'll seamlessly land you the role.

1. Begin from scratch
When tailoring an internal resume, never try to tweak your old typical resume.
And because your focus is to emphasis your accomplishments through your work experience at your current company, it's easier to begin with a blank template.
Your contact information and education will however remain the same.
You might like: How to Write an ATS Resume – Full Guide (+6 Samples Included)

2. Use a professional profile
As opposed to a summary or objective, we recommend you use a professional profile statement stating the job you're targeting within the company and demonstrating how your expertise is in correlation with the position.

3. Highlight job specific skills
Ensure you highlight only top skills relevant to your target position on your internal resume.
One great way to do this is through perusing the job description and looking out for required skills. These skills should be used as keywords on your internal resume.

4. Chronologically tailor your work experience
Write your work history in chronological order, from top to bottom.
Have you already moved positions internally List them as you would separate job experiences on a traditional resume.
If you've remained in the same position as long as you've been with the company, list job milestones or major accomplishments, such as new responsibilities or successful projects.

5. List your educational experience
Your educational experience should be listed at the bottom of your internal resume.
Along with listing your educational experience, if you have relevant certifications, you can boost the section with it.
Any new relevant qualifications you've earned since your first time working at the company should be listed to demonstrate your growth process.
You might like: Words and Phrases to Remove from Your Resume Right Away

Critical Guidelines for Writing a Resume for Internal Position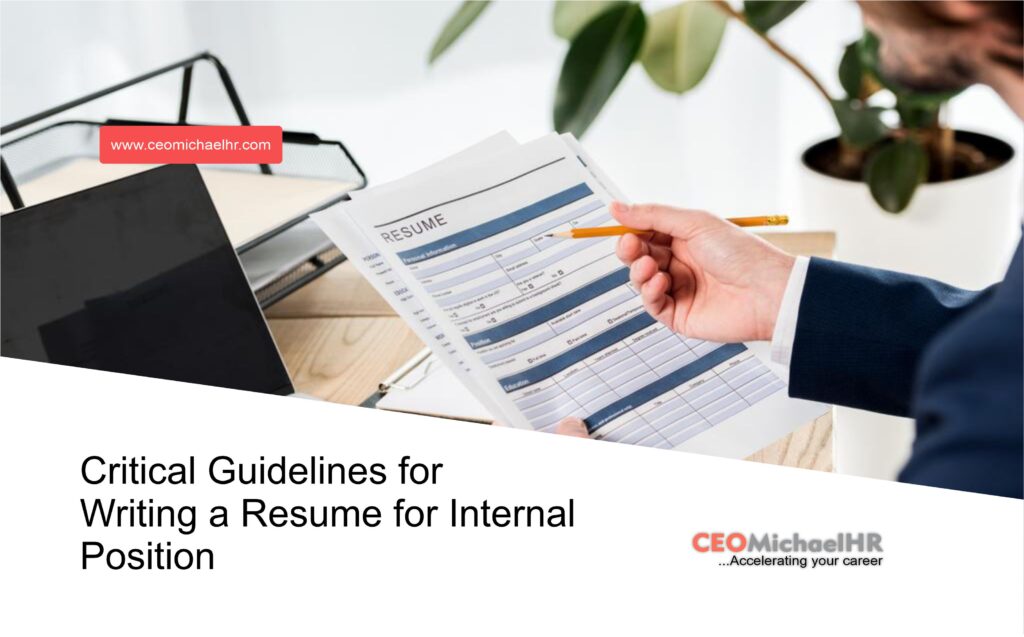 The following tips below will help you write a highly effective internal resume. Let's get to it.

Before applying, make essential inquiries
Ensure to have a soft conversation with your manager about the opening so as to get all the information you need to tailor a more targeted internal resume.

Have an open communication with the team
Perhaps the new job will migrate you to another department, ensure to identify and communicate with team members connected to the potential position.
This is especially important if you have a trusted source in that department who can help you review your internal resume to ensure it matches the needs of their department.

Incorporate internal references
While references are usually presented upon request, it's essential you have internal references ready just as you would for an external role.
Internal references create more trust than outside contacts.

Write in company tone and culture
When applicable, when defining your qualifications and achievements, endeavor to use company language.
Take for instance, your company has been focused on mentoring and leadership growth as part of its goals and vision, infuse this language into your explanations or skills lists as applicable.
You might like: What You Need to Know Before You Hire a Resume Writer

Sample Resume for Internal Position
Applicant Name
Address
Phone
email@email.com

Professional Profile (one that mirrors the job description)
Loyal front office clerk dedicated to achieving the organizational mission, vision, and values. Earned a promotion to full-time employee after three months as an intern. Known as the face of the company and serve as a resource for more than 150 customers each week. Consistently employ expert knowledge of company offerings to provide elite customer service to a diverse population. Seeking the opportunity to step into a new role to further the ABC Company mission of 'white-glove' customer support.

Highlights
> Leadership
> Knowledge of Product and Service Offerings
> Complex Problem-Solving
> Autonomous
> Decision-Making
> Positive Approach
> Sales
> Stakeholder Relations
> Internal Collaboration

Professional Experience
ABC Company
Front Office Clerk | 2015 – Present

> Prevent loss and mitigate risk by maintaining control over equipment and office supplies valued at $10K.

> Manage customer flowthrough by evaluating wants and needs and assisting sales with closing approximately $125K in new business.

> Professionally respond to customer complaints, resolve escalated issues, and prioritize shifting priorities resulting in a 35% increase in NPS (Net Promoter Scores).

ABC Company
Intern | 2015

> Established long-term relationships with key customers and kept exacting records of their preferences, behaviors, and purchases.

> Developed new procedures surrounding the disbursement of incoming correspondence which improved efficiency and got mail to representatives 30 minutes faster than normal.

Supplementary Experience
DEF Company
Receptionist | 03/2012-12/2014
GHI Company
Mailroom Clerk | 01/2011-02/2012

Education
Name of University
Bachelor of Business Administration (BBA) | 2019



You might like: Is It Worth Paying for a Professional Resume Service? (Full Guide)

Conclusion
By following the outlined steps in this article, you'll be gunning for a new internal position with an outstanding resume.
It might be challenging to know the differences between a resume for internal and external positions.
The trick to a great resume for an internal position is to stand out unique.
Of course, that involves a usual mix of determination and expert preparation.
Our CEOMichaelHR affordable resume writing service can help you get that balance right.
Let's get you started today!