In all seriousness, many think hiring a professional resume writer wastes their time, energy, and resources altogether.
As a career coach with experiences from numerous job seekers, we'll be debugging this perception to know if it's worth paying for a professional resume writer.
Writing a professional resume is challenging but essential.
You might have heard that some people pay for the service of a resume writer or have seen an advertisement for resume writing services promising a free review of your resume.
This you will frequently notice, especially if you are desperate for a new job or your job search has dragged on for a while.
Our answer to the question: " is it worth paying for a professional resume service?" is an absolute yes!
This could be your last step to landing that dream job.
I'm sure you know that there are more fresh qualified graduates every year aside from those already in the labor market desiring precisely the same position you're shooting for.
Sometimes these other candidates may be more qualified than you are.
Nevertheless, there are unique attributes peculiar to you that only a professional resume writer can identify and tailor to suit your goals and the company you are applying to.
This ability to deliver lies solely at the bosom of a professional resume writer.
So, what will you do to land that dream job if your only gateway is through the service of a professional resume writer?
The obvious answer is to pay for it or lose out!
Whether you choose to pay for a professional resume service or not, there are a few facts we want you to know before hiring a professional resume writer.

Things To Know Before Hiring A Professional Resume Service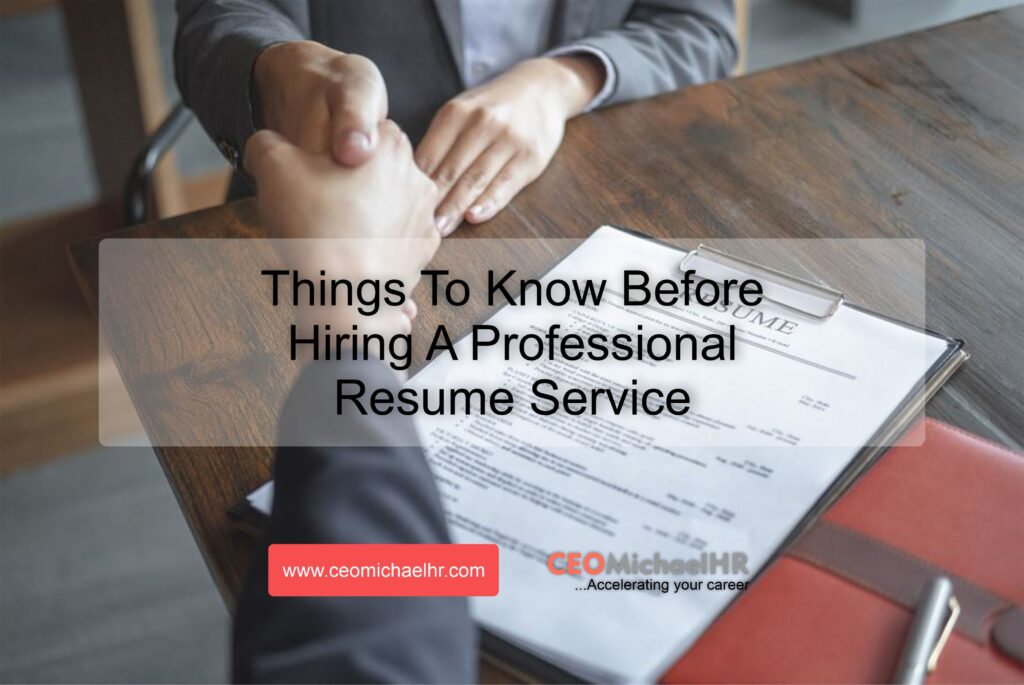 Before you spend your hard-earned dollar, there are a few things you should know, such as; what a resume writer or reviewer does, how you should decide whether to hire a professional resume writer, and, if you decide to go for it, how to do your research so that you pick the right one suitable to you.
Importantly, you should know what a resume writer can and can't do for you.
If you don't have expectations about this, you might be disappointed in the end.
Don't get this twisted because during your time with a professional resume writer, you might notice them using terms like resume writing and reviewing.
It is essential to understand what these terms can mean. They are almost but not in any way interchangeable.
However, we'll say; resume reviewing can mean professionally looking over your resume and providing some actionable advice to update it.
This kind of service does well in helping you write a better resume in the future.
On the flip side, resume writing involves crafting basic information about your career goals and objectives and tailoring it to fit perfectly the goals and objectives of the company or organization in which you are aiming.
It entails designing your resume to look professional. But mark you, cookie-cutter companies and individuals offering such services may not write a resume from scratch for you.
What these companies refer to as resume writing is simply rewriting.
You might like: Best Resume Writing Services in Austin, TX

Does your job search situation fall into one of these tricky categories?
There are scenarios where using the expertise of a resume writer can be particularly helpful.
So, if you fall under one of these categories, it indicates that your resume requires the expertise of a professional resume writer.
You are making a career change
Your career history is elaborate, and you need help in narrowing it down
You have not submitted your application or updated your resume in a while
You are going back to work life after a long time of inactive service
You might have had a lot of jobs in the past or side gigs that seem unrelated
As a freelancer looking for a job
You are in a niche market or moving from one industry to another (such as the government, military, or academia)
Your job employment search has gone on for a while with little to no success
You are not a strong writer or probably have not been active and need a hand to write out your accomplishments

You might like: How to Get More Results with a C.A.R. Resume

How To Hire The Right Resume Writing Service?
If you have decided to pick a resume writer to help you with your resume, you will realize that there are a thousand and one professionals out there who claim they can help you write one.
While many of these professionals are legitimate, not all of them will be a fit for you.
Here are probably a few questions you need to ask yourself before choosing the right professional resume service for your need.

Is the resume writer or service a reputable one?
Before selecting a professional writer or service, you want to know if you are getting the service of a qualified professional and to ensure that the package promised can be delivered.

What is your timeline?
The idea of when you need your resume should be at the back of your mind to ensure that the resume writer you have chosen delivers on time.

What is your planned budget?
Resume writing and review prices can range from free to hundreds of dollars.
Usually, you should plan to pay at least $99 to a few hundred dollars when you desire to rewrite your resume.
Overall, the kind of professional services you will get depends on how much you have and what you want.

Do they have expertise and experience in helping people in your role, situation, or industry?
While sourcing for an expert resume writer or service, look into what areas they have a lot of experience in to ensure they have track records of helping people in your industry, situation, or role.

Are their personality and style a good match for you?
Consider this before making a final choice on your resume writer or service.
Try to get a feel of who the writer is beyond their experience.
Read everything they have written on their social media platforms, LinkedIn profiles, websites, etc.
With these few questions in mind, you will discover that the choice you make at last will be the right one for you.
Many clients choose CEOMichaelHR over other service providers because they have tried and tested us with these questions. 
Don't take our word for it. You can read our extensive testimonials to make a more informed decision.

Benefit Of Hiring A Professional Resume Writer
For HR, the phrase "first impression is the last impression" fits completely.
When reviewing a resume, a recruiter takes only 15 seconds to determine whether to continue reading or not.
If you have been on a job hunt for quite some time without success, perhaps it is high time you got a better resume.
This is where the help of a professional resume service comes in.
They have lots of experience to make your resume stand out from the crowd.
Below are a few benefits of paying for a professional resume service and why such services can be a good investment:
Professional look – a crisp resume is the first impression you give to a hiring manager. 
An expertly formatted resume looks clean, polished, straight to the point, and professional.
In addition to its appearance, the resume should be free from any form of error, and grammar should be perfect.
Nothing turns off a hiring manager more than a poorly structured resume. It shows a lack of seriousness and a negative attitude towards building a well-grounded career.

Projects an objective view – most people today find it challenging to take an objective view of their education, career, knowledge, and skill.
Knowing what to include in your resume can be difficult.
Having an experienced resume writer browse your work history allows you to concentrate your resume on what matters to potential employers.

Emphasize Essentials – mark you; your resume isn't an autobiography; therefore, it's not essential to include everything you have done in your career.
It is great only to include your most relevant accomplishment and career highlights.
In doing this, a potential employer can determine whether you fit the company's purpose.

Saves your effort and time – there are employment seekers who throw in weeks and months into fine-tuning their resumes.
Instead of delaying the early stage of your job search and the commencement of your new job, hire a CEOMichaelHR resume professional to help you prepare your resume within a reasonable timeframe.

Saves from burning a hole in your pocket – searching for a job alone involves spending money.
Paying for a professional resume writer's service might mean a bit of extra spending; however, this can be a worthwhile investment.

Conclusion
In summary, hiring a professional resume writing service can imply spending your money well and wisely.
A resume writer ensures your resume best portrays your career summary, your goals, skills, experiences, and how you can come in to improve the performance of your desired employment.