Oh, the joys of job hunting! You've found the perfect opportunity and checked all the boxes, from required skills to past experience.
You're ready to take on the world and show them what you're made of!
But then, as you're about to hit 'apply', the doubt creeps in. "What about all those other applicants? They're probably more experienced than I am."
Well, here's a little secret for you. Experience isn't everything. You can totally outshine the competition by crafting a resume that makes you stand out like a sparkly diamond in a pile of rocks.
Trust us, if you believe in yourself, recruiters will too! Your resume just needs to be the final persuasion to help them see the light.
In this guide, you will:
Discover real-life resume transformation of CEOMichaelHR readers that will inspire you to level up your resume game
Get a taste of how to make your resume stand out and irresistible to recruiters with our hook-em-fast ideas
Say goodbye to

bad resumes

and long hours of resume revamping with our quick and easy-to-use strategies
Pave the way to your next job interview with our standout resume examples

Want to save time and impress recruiters in the Public Utilities industry?
Let our CEOMichaelHR affordable resume service craft you a branded and powerful resume that land interviews 3x faster.

One of our clients, Ashphu, had this to say:
My resume writer Rolyns, did a great job with the format, as well as the content. He wonderfully conveyed my skills in a concise and direct manner. I started getting phone calls from potential employers almost immediately after the resume rewrite.

See more success stories



Only interested in the bottom line of this article? Here you go!
Make your resume stand out with these top strategies:
1. Enhance visual appeal.
2. Customize to match job requirements.
3. Highlight achievements, not just duties.
4. Incorporate quantifiable results.
5. Adhere to appropriate resume length.
6. Limit content to relevant information only.

HOW TO MAKE YOUR RESUME STANDOUT: EXAMPLE 1- Barry With Switching Careers.
It was a sunny day in Florida when I first met Barry, a French man with a dream of finding a job overseas.
He was a goalkeeping extraordinaire, but had his sights set on Customer Service or Human Resources.
Barry had all the skills, but his resume was lacking in the right department. You see, his expertise was in the goalkeeper glove industry, where he served as a Player Liaison Officer, Goalkeeping Coach, and Head of the Goalkeeping Department.
He even added a little flavor to his resume by moonlighting as a freelance event manager at international sports conferences.
Barry's journey to find a job overseas was not going to be easy, but with a little help from yours truly, we were able to highlight his transferable skills and land him a job in no time. And who knows, maybe one day he'll be back to his goalkeeping roots. Until then, let's hear it from the goalkeeping legend who found a new purpose in Customer Service and Human Resources!
In Barry' words: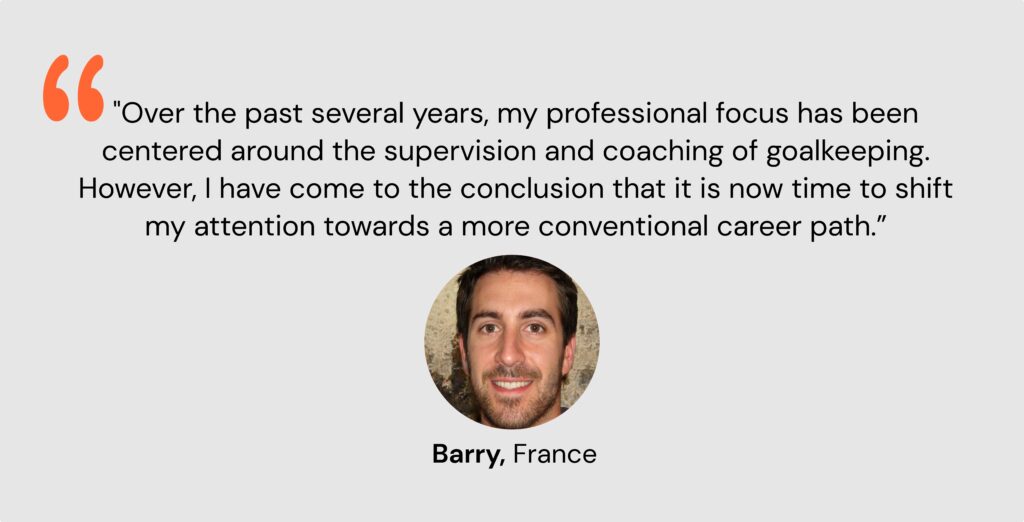 Barry may have had the skills to conquer the corporate world, but when it came to putting it all on paper, he was as clueless as a blind man in a dark room trying to find his way to the light switch.
The challenge, however, didn't stop there. Barry had been hopping from job to job like a kangaroo on steroids, and had worked in various industries and countries.
Some may say that his international experience is a gold star on his resume, but to be honest, it makes his career look like a game of pinball. Zipping from one place to the next with no rhyme or reason.
But don't just take my word for it, have a look for yourself:

Barry's Resume Pre-Evolution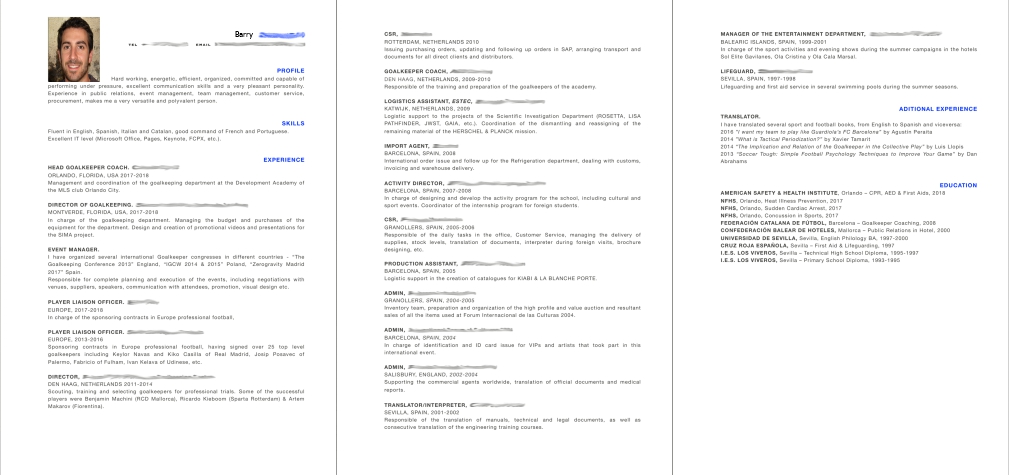 It is not of quality, let me elaborate on the specific reasons:
A perusal of Barry's three-page long resume revealed a concerning lack of relevance to the desired career path in customer service and HR.
Despite ample opportunity presented in the profile section, the introduction failed to effectively convey his intention for a career change and demonstrated a lack of initiative to aid in the achievement of his future employer's objectives.
Regrettably, a one-size-fits-all approach was taken with this document, as it was utilized for all job applications, further hindering his chances in the competitive job market.

In the eyes of a customer service hiring manager, it would not be surprising if the resume of Barry was swiftly disregarded.
His qualifications may not meet the standard expectations, but this belies his unparalleled, distinctive skill set. While being acquired through unorthodox means, his exceptional abilities have garnered him commendable professional accomplishments and would undoubtedly make him a valuable addition to any organization.
Despite an impressive track record, Barry failed to highlight the following pivotal experiences on his resume:
He effectively managed budgets in excess of one million dollars and successfully negotiated contracts worth $300,000 or more.
As a Player Liaison Officer for a rapidly growing sports equipment company, Barry secured partnerships with elite goalkeepers, including Real Madrid's Keylor Navas, amidst fierce competition from established brands such as Nike and Adidas.
Barry assumed full responsibility for every aspect of international event planning and execution, including events attended by 100+ participants.

With these noteworthy achievements in mind, I collaborated with Barry, to revamp his resume and make it stand out.
Our initial step was to identify a suitable job opening, to which we would tailor the resume. Barry discovered a role as an HR Customer Advisor in a multinational R&D firm and was confident in his qualifications for the position.

Find below the job advert:
Position: HR Customer Advisor with French and Spanish.

As a highly-skilled HR Customer Advisor with fluency in French and Spanish, you will play a pivotal role within the HR Services Team at [Company Name].

Your expertise and dedication to customer service will be a driving force as you provide valuable guidance to our employees.

To excel in this role, it is essential to possess a fluent to very good command of both French and Spanish or Spanish and Italian, as well as fluent English.

Your problem-solving mindset and ability to negotiate and persuade will be invaluable as you develop and implement elegant solutions.

Furthermore, your passion for customer service, team-working skills, and change-agent personality will contribute to your success.

Your proactive approach and innovative spirit will be a key factor in driving growth and development within the HR Services Team. If you possess these attributes and are looking for an exciting opportunity to make a difference, this is the role for you.




After several hours of consultation with Barry, it became evident that to optimize his chances of securing this position, he needed to adopt a combination resume format.
This format places emphasis on highlighting and verifying his skills, as opposed to merely showcasing his career progression.
Barry's previous resume listed his key skills, however, there was a lack of substantial evidence to support these claims. The combination resume, on the other hand, provides a platform to showcase proof of these skills.
After thorough consideration, we determined that the following skills were of utmost importance to showcase on Barry's resume:
Proficiency in an impressive six languages
Proven problem-solving capabilities
Negotiating skills
Excellent customer service experience

In addition, we revised Barry's profile summary at the top of his resume to reflect the job requirements and emphasize the value he would bring to the employer.
Finally, to make Barry's resume more credible, we linked his strengths to specific job accomplishments, thereby solidifying his qualifications for the role.
Behold the final outcome!

Barry's Resume Post-Evolution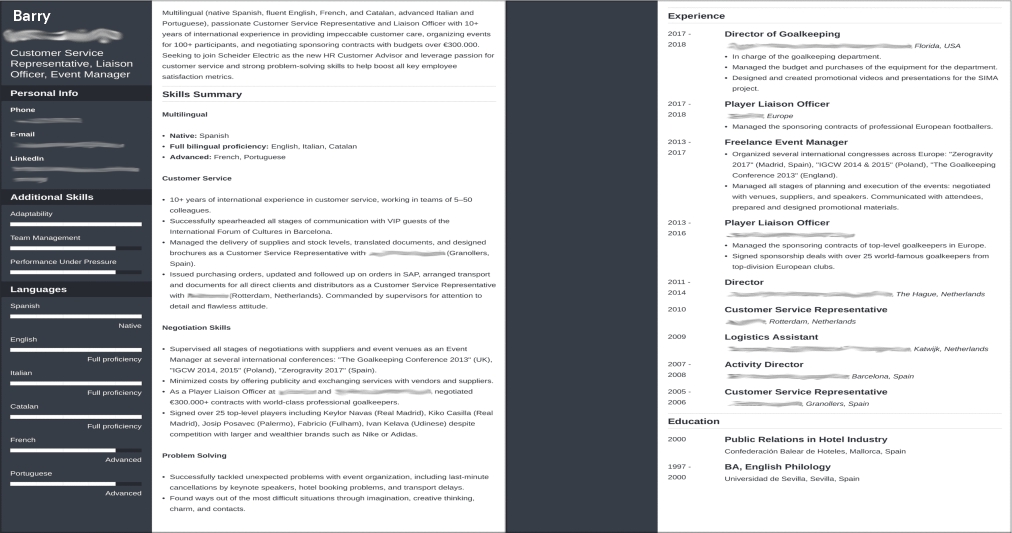 Wow! Impressive?
Ladies and Gentlemen, we present Barry's overhauled resume which now looks like a one-man show, with his skills taking center stage on the first page, backed up by bullet points of proof.
But wait, there's more! This isn't just any ordinary resume, it is a combination resume that combine his skills with a brief summary of his past positions, because let's be real, Barry's work history was a little bit like a rollercoaster.
Drumroll please… Barry nailed the interview! But, alas, the job wasn't meant to be.
But fear not, because Barry learned the secret to writing a fantastic resume and started tailoring them to each job he applied for. And, before you could say "resume wizard", Barry landed a job as a Recruitment Coordinator with a major multinational corporation.
Feeling inspired? Give our free resume eBook a try, and maybe you'll have your own Barry-style success story. All the tips and tricks can be found right here.
At this junction, lets jump into a very different resume-revamp story.

HOW TO MAKE YOUR RESUME STANDOUT: EXAMPLE 2- Nikki Who Shunned Pride.
The next instance originates from Nikki, a highly-skilled candidate located in the United States, who, similar to Barry, desired to pursue a shift in their professional path. However, Barry's circumstances were notably dissimilar.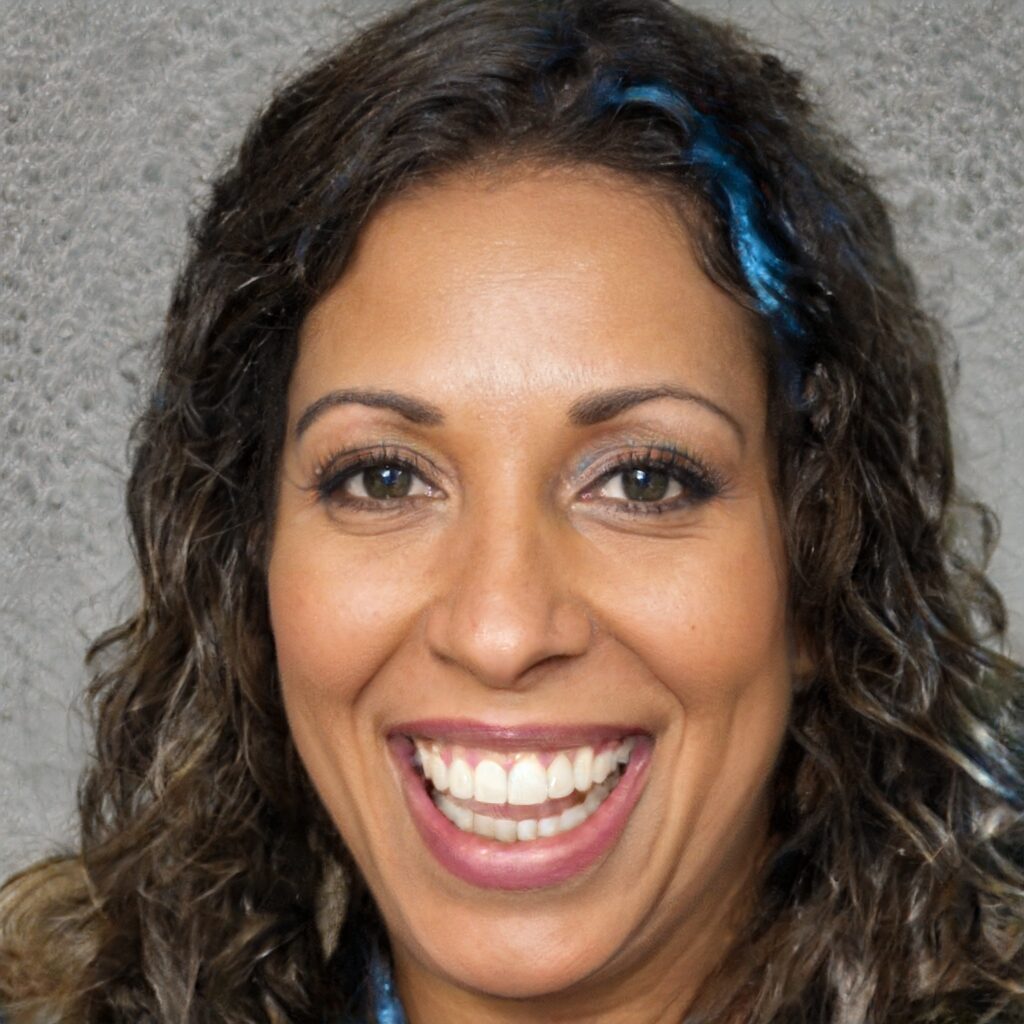 After taking a three-year sabbatical to grieve the loss of her son, Nikki was ready to get back in the game and make a career switch from rocket science to IT project management.
It's not like she was jumping from one planet to another, right?
Nikki was on a mission to create a killer resume, but she couldn't shake the feeling that something was missing. That's when she turned to Debbie Wright, our resident career advice guru at CEOMichaelHR.
Debbie thought it was going to be a piece of cake, but little did she know, Nikki's resume was more than solid. It was out-of-this-world amazing! We're talking about someone who had a stellar career in aerospace.
But before we get carried away, let's take a look at Nikki's old resume.

Nikki's Resume Before the Revamp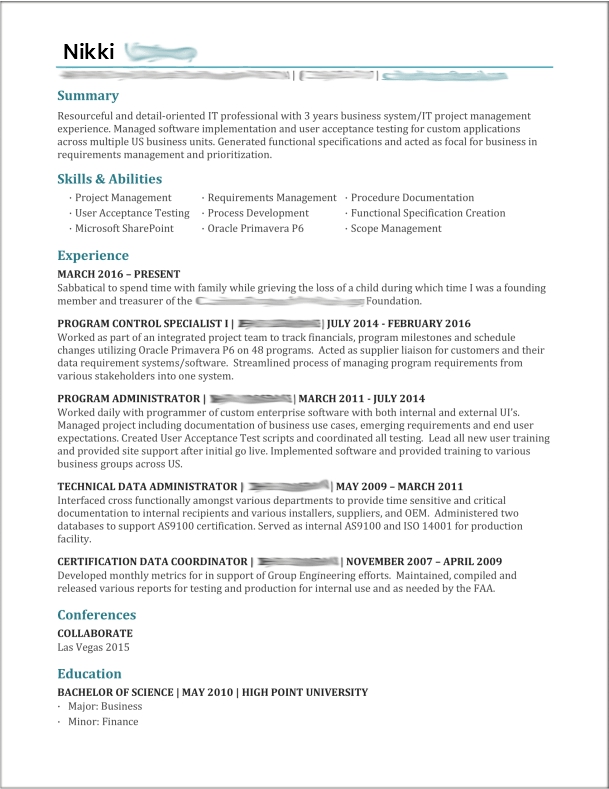 Amazing?
Upon initial inspection, Nikki's resume may seem impressive. However, a closer examination reveals a concerning lack of crucial details pertaining to her employment history.
Allow me to enlighten you – at a former aerospace firm, Nikki implemented strategies that dramatically reduced weekly meeting time for 40 engineers from 10 hours to a mere 2 hours. This game-changing accomplishment was not included in her resume.
In fact, Nikki's efforts resulted in a staggering cost savings of $32,000 per week, yet again, this was not reflected in her resume.
This is merely the tip of the iceberg, as Nikki also automated the tracking of 17,000 customer requirements across 120+ programs, reduced daily disruptions by 60%, and even led a panel at a prominent industry conference.
Unfortunately, Nikki's remarkable achievements were not properly showcased on her resume.
But with the help of Debbie, she has now updated her resume to properly highlight her strengths and accomplishments.
Please take a moment to compare the revised version of Nikki's resume and observe the difference towards the top of the document.

Nikki's Resume After the Revamp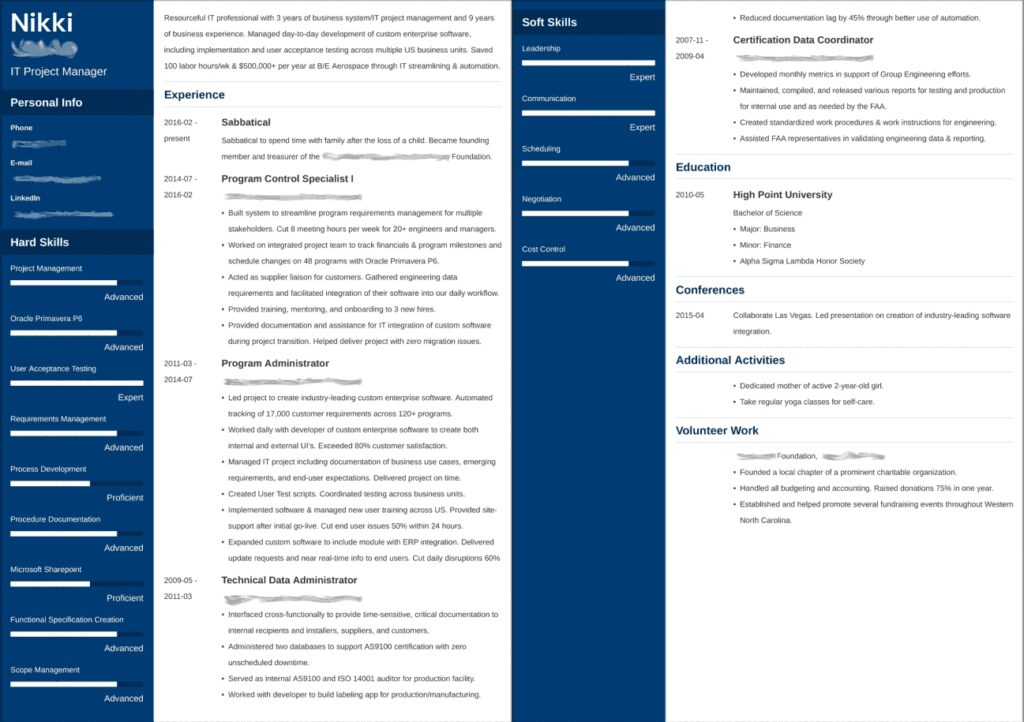 This is more like it!
Studies reveals that recruiters and human resource professionals spend the majority of their time perusing the top third of resumes, where the resume profile usually resides.
Nikki's previous profile, though containing relevant experience and duties, lacked the necessary pizzazz to stand out among her competition.
However, with the implementation of quantifiable achievements, Nikki's resume now shines like a star.
By highlighting her successful implementation of IT streamlining and automation, resulting in 100 labor hours saved per week and over $500,000 in yearly savings at B/E Aerospace, Nikki has differentiated herself as a valuable asset to any team.
Are you looking to make similar improvements to your resume? Our free resume writing guide provides tips on how to enhance your bullet points and showcase your achievements.
The common issue among job seekers is the inability to effectively communicate and quantify their accomplishments.
Whether it be fear of appearing boastful or a lack of understanding in identifying key achievements, this issue is prevalent in the job market.
Even if you believe that quantifying your achievements is not feasible, our free ebook can guide you through the process and demonstrate how even the most seemingly intangible experiences can be translated into measurable results.
Download our Free Resume eBook and learn how to give your resume the competitive edge it needs.
Additionally, a well-crafted cover letter that aligns with your resume can provide added leverage in the job search process. Let our cover letter experts guide you through the creation of a seamless and impactful cover letter.

FINALLY- WHAT ARE YOUR THOUGHTS?
Dear reader, I trust that you have found the resume transformations to be of great value and that they have imparted upon you some insightful information.
To further enhance your knowledge and understanding of how to craft an impactful and effective resume that stands out, I invite you to consult our comprehensive guide, "How to Write a Job Winning ATS Resume."
This guide will provide a thorough, step-by-step breakdown of the key elements and strategies necessary to create a winning ATS resume.
Thank you for your time and I hope you find it helpful.