As the great resignation continues to intensify with millions of Americans quitting their jobs and retention issues across many companies and industries, most companies are laser-focused on devising new ways to keep their employees.
This has led to employees gaining access to juicy offers such as new compensation packages, benefits, and work flexibility, all in an attempt to improve employee retention.
For many organizations, one of the most common employee benefits is a sabbatical leave.
In this article, you'll learn:
All you need to know about sabbatical leave
5 Ways you can benefit personally and professionally from a sabbatical leave
How long does a sabbatical leave take
Is sabbatical leave paid or unpaid

Want to save time and have your interview-ready resume in just 2-5 days?
Let our CEOMichaelHR certified resume writers take the guesswork out of resume writing by summing up and professionally showing off your industry skills and experience.

One of our clients, Ashphu, had this to say:
My resume writer Rolyns, did a great job with the format, as well as the content. He wonderfully conveyed my skills in a concise and direct manner. I started getting phone calls from potential employers almost immediately after the resume rewrite.

See more success stories




What Is Sabbatical Leave?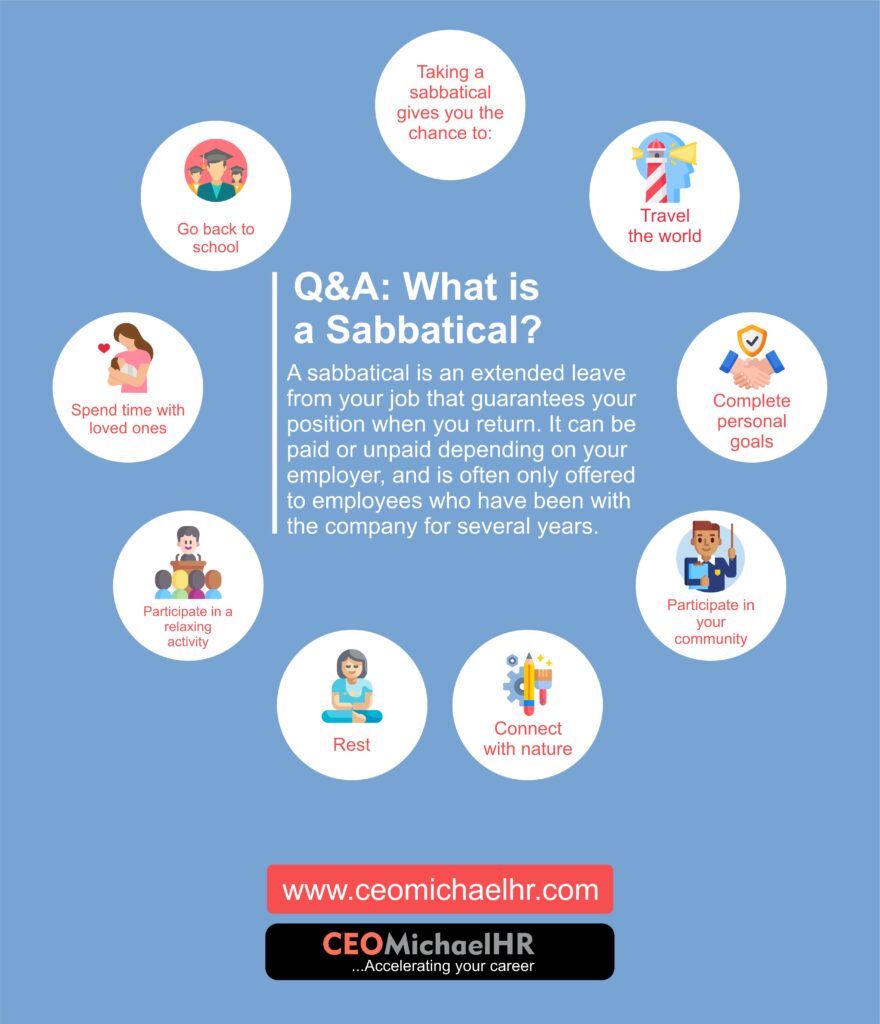 Sabbatical leave, similar to a personal day, is when an employee takes extended time off work to attend to personal interests while maintaining their status as an existing employee.
These personal interests may include traveling, researching, writing, volunteering, or resting.
It is essential you note that a sabbatical leave differs from other kinds of leave.
For example, you may be entitled to 15 days of paid time off annually plus a sabbatical after your third year with the company.
A sabbatical leave allows employees to take their minds off work to focus on their interests and things they love outside their work.
Taking a sabbatical leave can also help them advance their personal and professional skills.
The benefits of sabbatical leave aren't just for an employee alone.
Companies also benefit from granting sabbatical leave to their employees as it helps them rejuvenate and return to work with new energy and motivation to take the company to a new level of productivity.
Furthermore, when companies offer sabbaticals, they tend to attract a pool of talents to their organizations.
You might like: Best Ways to Recharge on Your Day Off

How Does a Sabbatical Leave Work?
Usually, for employees to qualify for this type of time off, they apply for it months in advance.
Once employees requesting this leave meets the criteria, organizations will consider and approve the request.
Before organizations approve, they'll ensure to have made arrangements for replacing the employee going on sabbatical for the period they'll be spending.
Various organizations have peculiar rules regarding sabbaticals.
For example, employees might need to take their sabbatical within a specified period after becoming eligible or lose it.
Also, suppose an employee chooses to take advantage of sabbatical leave. In that case, they may need to commit to staying at the company for at least a specified period after they come back (much like with tuition reimbursement benefits).
Employees on sabbatical remain officially employed by their organizations.
In other words, these employees remain glued to their company's policies, including harassment, confidentiality, data protection, etc.
You might like: 6 Proven Ways To Handle Being Overwhelmed at New Job

How Long Does a Sabbatical Leave Take?
There are variations in how long sabbaticals take based on various organizational policies.
Some companies may grant sabbatical leave for six months, one year, or even more.
Private companies may offer sabbaticals for one to four months based on the service years of each employee.
Adobe, for example, offers four weeks of sabbatical leave to employees employed in the company for at least five years and five weeks to those who've completed 10 years of service.

Is Sabbatical Leave Paid or Unpaid?
While some companies offer unpaid sabbatical leave on rare occasions, usually, sabbatical leave is paid either with the full salary or a percentage of that salary.

4 Essential Benefits of Sabbatical Leave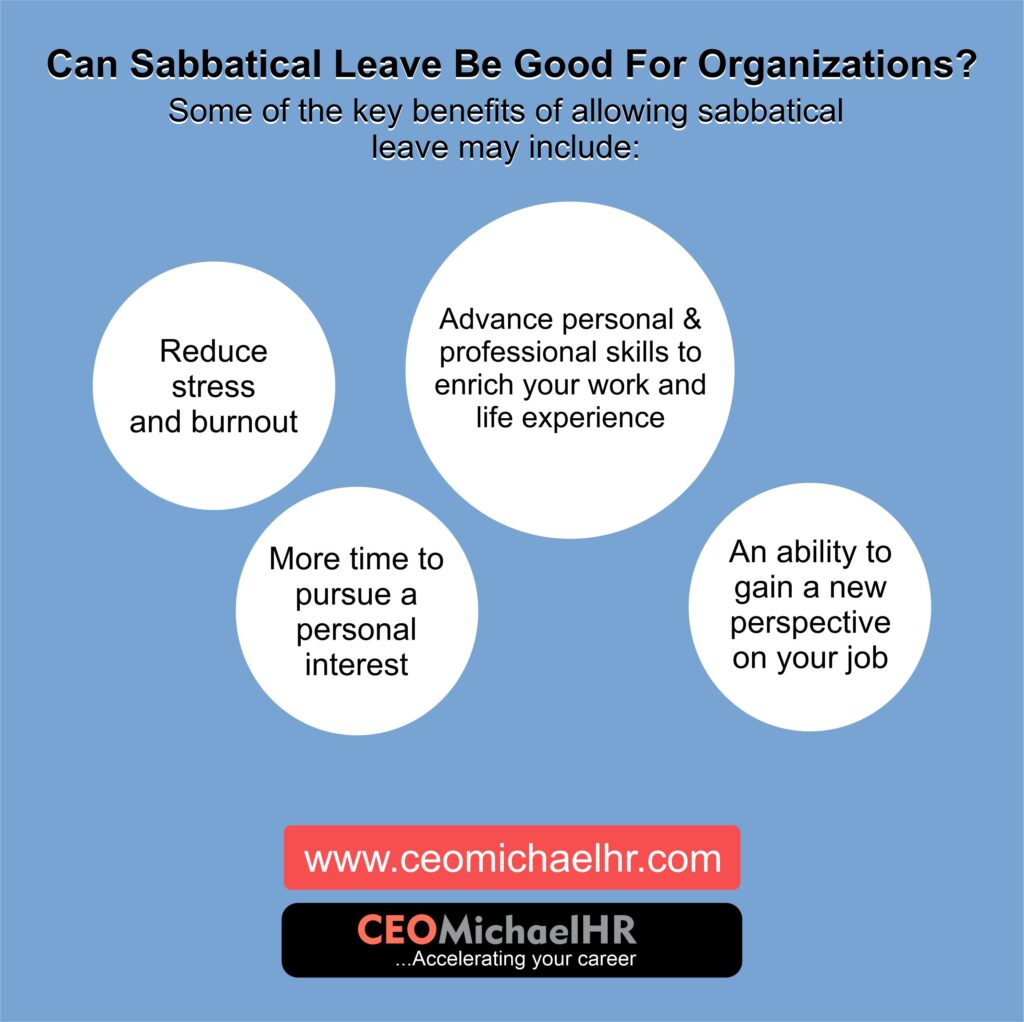 1. Reduce stress and burnout
Various studies and surveys reveal that American workers' stress and burnout rate is at an all-time high.
Research even has it that burnout has been a leading cause of many recent workers resigning from their jobs.
In most cases, the best way to relieve stress and be free from burnout is to recharge and stay a month or two away from the workplace.
Considering a sabbatical leave is a great way to help you restore work-life balance, manage stress, and have a renewal of the mind.

2. Advance personal & professional skills to enrich your work and life experience
Taking a sabbatical leave can help you take time to learn and perfect both personal and professional skills, along with pursuing a hobby.
When you utilize your sabbatical properly, you can gain new insights and abilities that make you a more valuable asset at work and a more well-rounded person.

3. More time to pursue a personal interest
One great benefit of taking a sabbatical leave is the opportunity to pursue your interests or things you love.
You may have travels or tours you've always wanted to take, a hike you've looked forward to, poetry, or a book you've always wanted to write.
Whatever your interest, taking a sabbatical leave can help you pursue and make it come to pass.

4. An ability to gain a new perspective on your job
When you spend some time off work, you can begin to view your job from a new perspective.
This is particularly beneficial for employees beginning to get bored with their daily work circle.
As you spend time working on other things aside from your daily work, your desire to take your career to the next level can be re-activated.

Sabbatical Leave Policy
Organizations must be crystal clear with employees when they introduce relevant policies.
Companies must clearly define what sabbaticals are and how it differs from work break.
They must also be clear if it is a break for a particular purpose, such as volunteering.
After having this clear definition of what sabbaticals are to employees, they must then decide when employees should qualify for sabbaticals.
While for most organizations, the minimum is 5 years, organizations should consider what makes sense based on their peculiar situations.
The final step is for organizations to set clear guidelines on how sabbaticals can be asked for by employees, their obligations, and what applies to their pay, benefits, or contract.
All the above elements must be well articulated, clear, and transparent on an employee sabbatical policy.

Sabbatical Leave Vs Career Break
While a career break is an extended period away from work, just like a sabbatical leave, the key difference is that a career break has a longer time frame.
A career break can run for several years in length.
Generally, a career break is a resignation from your job.

Conclusion
Note that not every organization or company offers a sabbatical leave.
Sabbaticals may not be the best option for every employee.
However, having a sabbatical leave opportunity and approaching it with the right intent can be a great way to recharge and get back on track with your career.
Are you unsure how to highlight a sabbatical on your resume without a potential employer holding it against you?
Hire one of our CEOMichaelHR Experts to put you on track!