As an employee, there are various benefits provided to you by your company, of which a personal day is significant.
The need to observe this time-off cannot be over-emphasized in today's global business world.
Understanding what it is and how to take it is essential to employers and employees.
Every job has benefits that come with it, such as personal days, sick days, and vacation days.
Each company has rules about taking time off, paid time off (PTO) policy, manuals, and how they apply and enforce them.
Companies enforcing these PTO rules must ensure their employees get the time off they deserve when there is a breakdown.
Employees in their workplace must also show loyalty to company policies when there's approval to take time off on their personal day.
This article will review what personal days are, how personal day and PTO work, how you can ask for a personal day, tips for making the best use of your time off, and other key areas of personal days.

What Is A Personal Day At Work?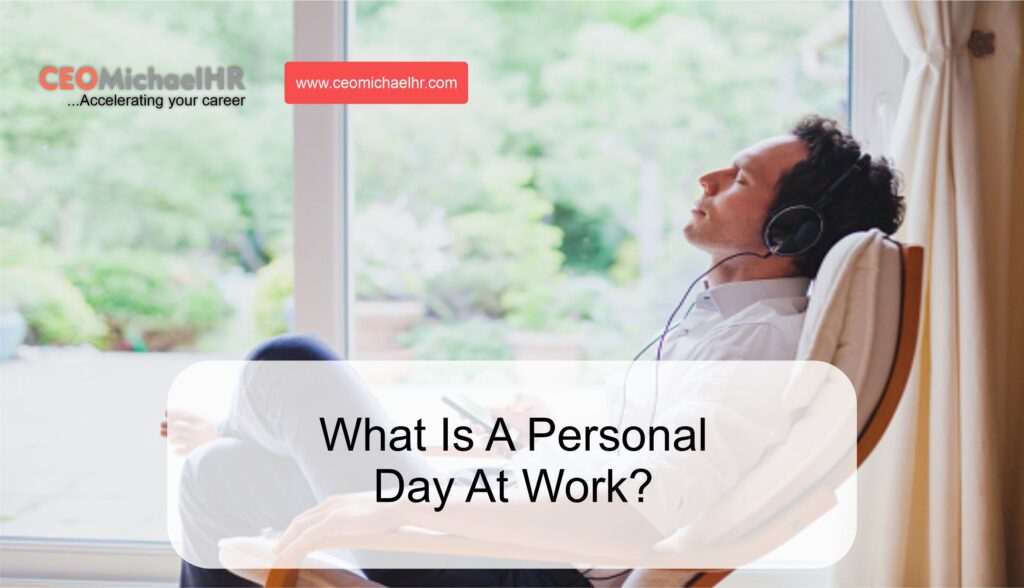 As an employee, taking time off for whatever reason is essential. Personal days are a great way to take time off without using vacation time or sick days.
The purpose of a personal day is to allow you to take time off for personal issues, with little risk of being questioned by colleagues what you were doing and why.
Personal days are benefits allotted by employers to their employees in addition to sick days, vacation days, and paid time off (PTO).
Employees take advantage of their time off for medical checkups, child illness, visiting family doctors, or attending jury duty and other family emergencies.
Some uses their personal day to take care of other events in cases where they run out of other forms of time off at their workplace.
You might like: 5 Ways to Recharge Yourself on Your Off Days

Common "Personal Day" Terminology

Paid Time Off
PTO refers to the time employees can take off work while still getting paid regular wages.
There is, however, an exception when an employee works remotely or telecommutes. In most cases, PTO policies combine vacation, sick, and personal days.

Unpaid Time Off
This is a time-off in which an employee is not paid for the missed days.
This kind of unpaid Time off encompasses a leave of absence, military leave, unpaid personal Time off, vacation beyond paid vacation days, and medical leave.

PTO Banks
A PTO strategy that merges multiple PTO types, most commonly sick leave and vacation time, rather than assigning a certain number of days for each type.

PTO Accrual
Personal Day an employee has earned over a given amount of time, typically over a certain number of hours, days, weeks, or months worked.

How Does PTO and "Personal Day" Work?
Paid Time Off are personal days employees spend out of the office (not working) but still receiving pay for regular wages.
PTO policies can be structured in many ways depending on a company's size, structure, and industry.
The PTO policy typically offers a pool of paid days employees can utilize for various reasons.
Employers use three main PTO strategies: accrual, allotment, and unlimited.
Determining which personal day strategy might work best for your company can be challenging.
However, understanding which policy is right for you can significantly impact overall employee satisfaction.
A company's Personal Day strategy can impact overall retention rates and recruiting strategies.
Personal day policies often include national and floating holidays, paid vacation days, paid family leave, and paid sick leave.
You might like: The Predictive Index Test: (2023) Full Guide

Common Personal Day Types

Holidays
These are specific days off or national holidays an organization observes. As these days are already declared days off, employees cannot request time off during these dates.

Floating Holidays
This type of personal day differs from the typical Holiday in which employees can choose to take a floating holiday as a paid day off or leave in their bank as an additional PTO day in the future.

Paid Family Leave
A personal day taken by an employee in the form of Leave. Employees use these days to take care of family members—most commonly for the birth or adoption of a child or health concerns.

Paid Sick Leave
Personal days taken by employees due to health issues. These days are typically utilized by employees for personal medical care.

Paid Bereavement Leave
This personal day is usually taken by an employee due to the death of their loved one.
They are granted this personal day to mourn a loved one, attend a funeral, or take care of other post-death arrangements.

Jury Duty
Several companies provide paid time off for employees to report for jury duty, as it is federally mandated.
In many cases, some employers provide unpaid time off for this cause.

A Blueprint For Taking A Personal Day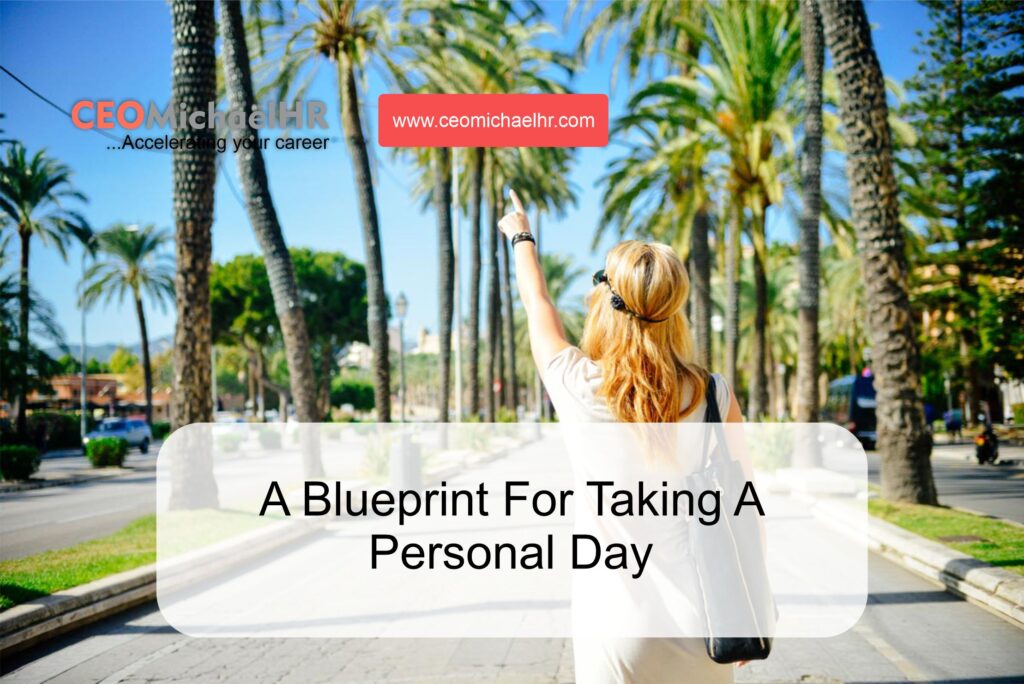 Find below actionable tips on how to take a personal day and make the most out of it:

Make sure you're actually taking time off
It can be overwhelming working all day without taking time off when there's a need to.
Most experts and their teams work tirelessly and become weary of taking time off.
A paid time off is the benefit earned by any employee. It is accounted for as part of your consolation package.
Why not feel the same for personal days if you feel great cashing a payroll check?

Communicate upfront
It is expected to give prior notice when planning to take time off work.
Your team lead, who is in charge, makes sure tasks are completed and will plan, putting resources to meet goals even while you're away.
Opting for personal days may take some time to approve, depending on which.
How much awareness you give and how you present your request is all on you.
Much depends on your rapport with your manager and the principles guiding your organization.

Be gracious and reasonable
Always remember that your earned benefits cover your personal days. Sometimes your employer may not always grant every request you tender.
Consider putting yourself in your manager's shoes, then work to find a solution that will benefit both sides.
You can also earn extra incentive if you are flexible enough to avert any situation resulting from your absence.

Think twice before lying about being sick
Consider life situations like if you ever woke up late. Won't you mind spending a special visit to the lake with friends than in the office?
Are you suffering a mood swing?
None of these reasons are enough to fake illness to get a day off.
You could pretend about it by calling your manager with a shaky voice faking a severe stomach upset but think about the effect it will have on your integrity and working relationship.
You can attempt asking for a personal day if you won't let anyone down and if there are no urgent deadlines.
In your interest, you must not do it frequently or on short notice as doing these will affect your career prospects and make you look unreliable before your manager.
Unfortunately, your manager won't count on you to handle promotion and mega projects because they choose who they can rely on.

Don't use paid time off to avoid complex tasks
We all encounter challenges at work that may arise from a difficult client or a colleague who wouldn't cooperate.
It may get to an extent where you will try to avoid the next interaction; thinking doing this would be best to keep off from them.
I strongly recommend against requesting a personal day off to keep away from attending a crucial meeting.
Sooner or later, work responsibilities will beckon on you.

If you're taking time off, use it wisely.
Binge-watching Ted Lasso may not be the best thing you can do to get recharged!
Try taking a walk, meeting deadlines, running errands that simplify life, eating healthily, and resting longer.
Spend quality time with friends and family, or make your day special by getting recharged.
The most exciting part is knowing yourself and doing the things that make you happy.
You might like: 9 Things to Do on Your Day Off to Really Recharge

6 Reasons Why You Should Take a Personal Day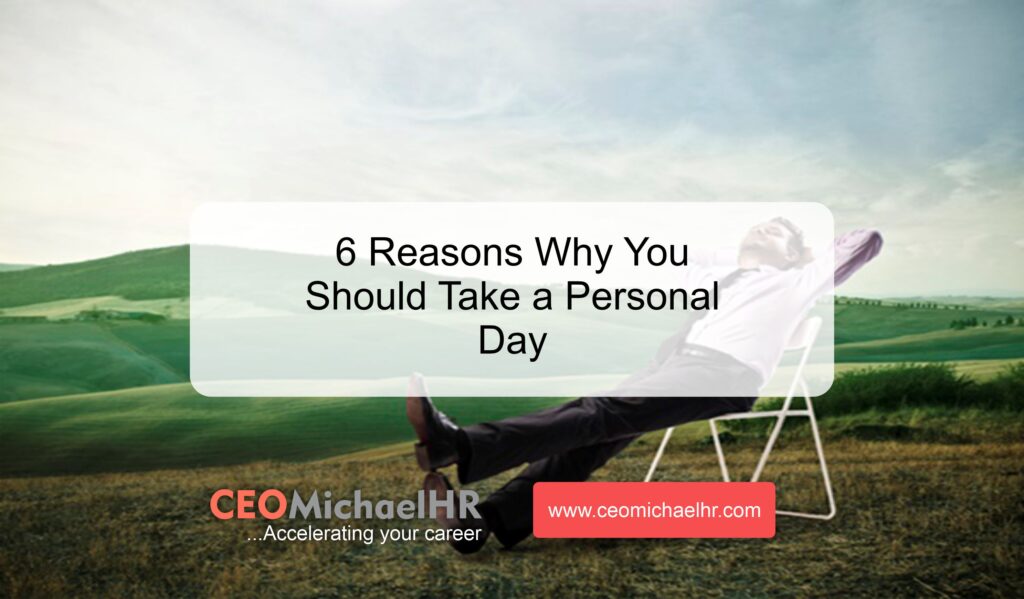 Taking a personal day is synonymous with hitting the "do not disturb" button on your phone.
Personal days cover everything from sick days to vacation days and can be taken at various time intervals.
According to the U.S. Bureau of Labor Statistics, 43 percent of civilian workers (excluding private industry and non-government) accessed paid personal leave in 2017.
Taking a personal day is an essential peel for avoiding burnout, which 23 percent of employees say they often or always experience, according to a study by Gallup.
There are numerous benefits to taking a personal day.
Find below our six crucial reasons why you should consider taking a personal day as a matter of priority and importance:

1. Get some rest and recovery
You'll eventually get burned out if you try to burn the candle at both ends.
Fast-paced workplace stress is a severe problem thousands of Americans are currently facing.
Opting for a break by taking a personal day wouldn't only benefit your work; it's also essential for your overall mental health.
You can make the most of your personal day by reading a book, sleeping, taking a long walk, participating in a yoga class, catching up on your favorite TV show, and meeting a friend for coffee.
Whatever you choose, steer clear of your email.

2. Take care of personal responsibilities
You might have been thinking about changing your car engine oil or behind on paying your bills, calling the credit company, or finishing your taxes.
You can efficiently attend to these crucial tasks when you take a personal day.
Your availability between 9 and 5 is a luxury worth taking advantage of to go to the bank, buy a new bed, or run an errand.

3. Refocus your goals
It's vital to take an overview analysis of your progress towards your set goals at junctions and intervals.
This exercise will help you understand where you are, where you want to be, and how you plan to get there.
Taking a personal day will help you refocus on yourself and your personal goals.
While carrying out this practice, ensure to steer clear from work, especially for entrepreneurs and business owners who work long hours and are at risk of depression and burnout.

4. Regain inspiration
While getting lost in the monotony of work happens easily when caught up in your day-to-day work activities, with signs of feeling bored, uninspired, unmotivated, or mentally burned out, you may simply need to schedule a personal day.
Sciences have proven that taking a break from work can significantly improve your creativity and productivity while spiking your happiness at work.
When you allow your mind to experience some relaxation and break from routine, you'll enjoy the freedom to reconnect with the world, yourself, and your creative mindset, which will benefit you and your organization.

5. Recover your energy level
Workplace stress can negatively affect you, such as impacting your mood, sleep, and, of course, your energy.
Once you feel exhausted, overwhelmed, and need a break, never hesitate to opt for a personal day.
Hit the gym, go to the museum, and get lost in art. You'll quickly see your energy level fast recuperating.

6. Prioritize self-care
Taking a personal day to prioritize self-care can be both physically and mentally beneficial.
These self-care activities include enjoying a spa day, taking a long, luxurious bath, meditating, or going to a therapist.
While it is essential to incorporate self-care into your daily routine, it can be easily neglected, especially when completing projects, meeting deadlines, and stressing about work expectations.
Importantly, it is essential to note that personal days are given for a reason, and taking them can make you a better employee.
Can you beat that?
You might like: The Best Books for Professional Development and Success

Conclusion
In conclusion, focus on understanding the rules and your organization's policy to make the most of your paid time off.
Never tell a lie because you want to take a personal day, and don't use personal days to stay away from challenging tasks.
Use your personal days to engage in activities that boost your energy and inspiration, and help you to recover and get back to work.
With our carefully curated tips discussed in this article, you will elegantly resume at your workplace burning with fresh motivation to get things done!
Want to see how your resume stacks up? Try out our free critique today!