Overview

Retail Sales Associates are experienced persons with expertise in rendering all forms of sales activities.
The sales associate job involves assisting customers in finding the right products that meet their needs.
They process payments and ensure retail sales floors are well stocked and organized.
They serve as the final lap in every sales journey while carrying out their daily function of assisting customers with a great shopping experience.
A retail associate job can be considered the initial step towards a career in sales, especially for an entry-level customer service position with an average educational requirement.
A retail sales associate is responsible for selling products and other merchandise found on the retail sales floor.
They are involved in the day-to-day activities, which include carrying out customer service tasks like ushering in interested shoppers, offering assistance, responding to questions, making sound recommendations and explaining the features behind every product.
A retail sales associate must have experience when it comes to processing payments first by summing up products purchased by customers in various forms such as financial transactions, processing checks, cash and other credit cards.
They must be able to handle customer refunds professionally.
The retail sales associate must also reflect a professional attitude with all honesty and enthusiasm via the store's commitment to customers.
They demonstrate in-depth knowledge of product development by studying current vendor tags and pamphlets and engaging in seminar classes in other to communicate products to customers.
A sales associate must stay current with events and sales that endorse promotion.
You might like: Sales Associate Resume Examples & Templates
The retail sales associate job description should focus more on building strong interpersonal skills between sales representatives and customers since a high level of interaction will be required.
In addition, an outgoing personality and friendliness will be an added advantage if encouraged.
Attractive qualities expected of a retail sales associate are their ability to handle money, dedication to customer service and to be persuasive, for example, to be able to persuasively explain features of a product enough to convince a customer to buy.
This article will look into their job specifications by consulting the retail sales associate job description below.
Let's take a closer view of what retail associates do, how much they make, and how to get the job.

Retail Sales Associate Job Responsibilities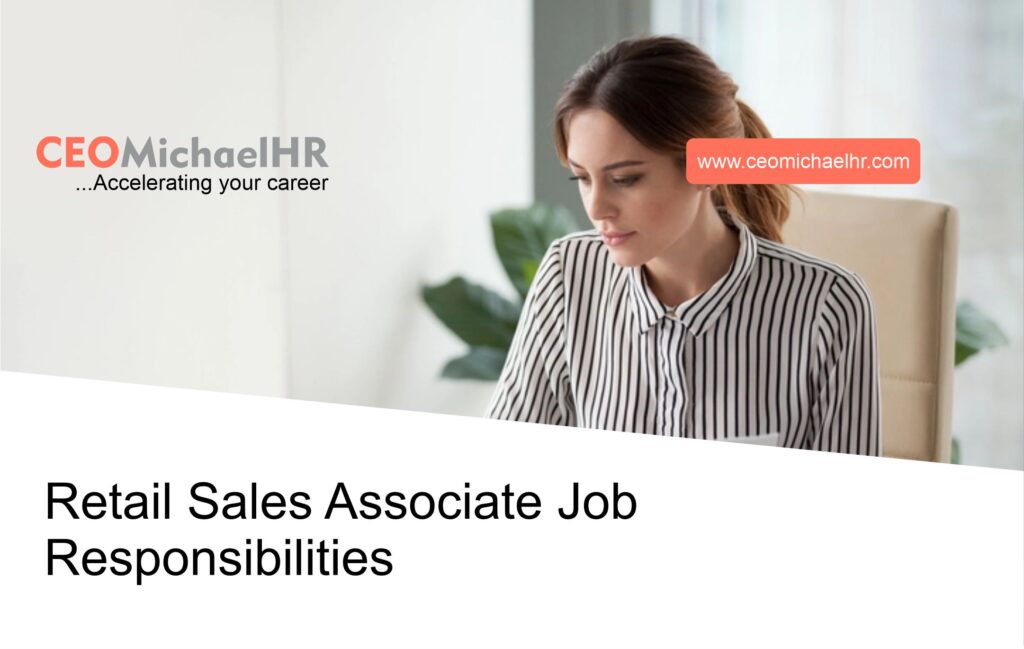 Greet guests as they enter the shop, ask whether they would like assistance with anything and provide help if needed in a friendly, hospitable and efficient manner
Remain knowledgeable about and answer questions related to merchandise, sales, promotions and store policy
Provide recommendations based on customer's stated preferences, needs and desires
Create a warm and cozy atmosphere for our guests in accordance with the vision of the store by acting in a welcoming and approachable manner during customer interactions
Operate a cash register and perform related tasks, including cash handling, credit card processing and opening and closing of the register when on the first or last shift of the day
Straighten, arrange, stock and dust off merchandise, maintain shelving areas as directed by management and participate in the designing of displays in windows and on tables
Locate merchandise for customers, placing special orders to find desired items if necessary
Handle refunds, returns and exchanges with a focus on timeliness and customer services

Retail Sales Associate Requirements
Basic understanding of sales principles and customer service practices
Proficient in verbal and written English language
Knowledge of customer and market dynamics and requirements
Solid communication and interpersonal skills
Ability to read, write, and effectively communicate with customers, peers, and management
Ability to multitask, while being attentive to customers and remaining flexible to the needs of the business
Ability to work as part of a team and take initiative independent of direct supervision
Physical demands: This position involves constant moving, talking, hearing, reaching, grabbing, and standing for at least two consecutive hours. May occasionally involve stooping, kneeling, crouching, and climbing ladders.
Must be able to work in a fast-paced environment
Enthusiastic, friendly, and energetic with a genuine desire to provide outstanding service
Available to work a variety of hours, which may include early mornings, evenings, weekends, and overnight shifts
Previous retail experience or similar experience on the sales floor a plus
High school diploma or equivalent; college degree preferred
BS degree in Marketing or related field would be a plus
Friendly, outgoing demeanor with a strong commitment to customer service
Ability to express oneself clearly and persuasively when making sales
Calm, professional demeanor even when confronted by discourteous customers

Retail Sales Associate Top Skills & Proficiencies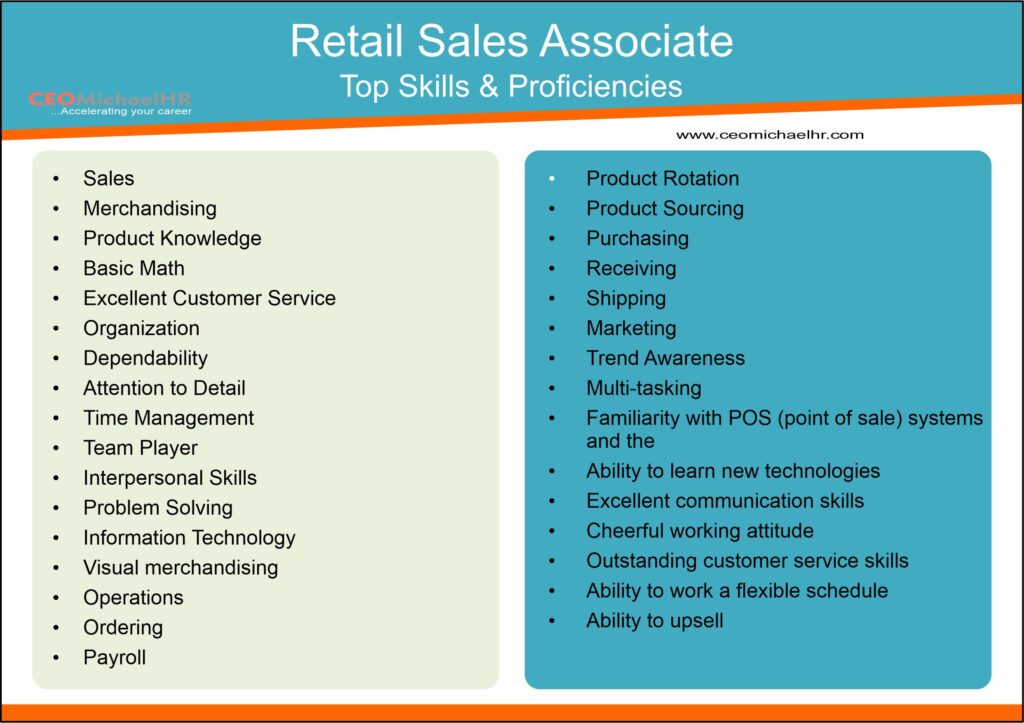 What Does A Retail Sales Associate Do?
A retail sales associate can work independently from home or in an outlet representing a retail sales floor where products and all kinds of merchandise are stocked up in an organized manner and sold to customers.
They work day to day depending on customers' needs.
They are responsible for ensuring customers have a unique shopping experience while at the store by attending to them when necessary.
Their jobs also include putting up reports or taking inventory and deliveries depending on the store size and retail location's needs.
You might like: How to Write a Resume with No Work Experience (Best Guide)

Retail Sales Associate Salary Expectations
The salary expectations of a retail sales associate depend on several factors like location.
Amount targeted will vary based on the position and the exact place where the retail sales associate operates.
According to Glassdoor, the total pay for a Retail Sales Associate is $53,894 per year in the United States, with an average salary of $31,860 per year.
These numbers represent the median, the midpoint of the ranges from our proprietary Total Pay Estimate model and are based on wages collected from our users.
The estimated additional pay is $22,034 per year.
Additional payment could include cash bonuses, commission, tips, and profit sharing.
The "Most Likely Range" represents values within the 25th and 75th percentile of all pay data available for this role.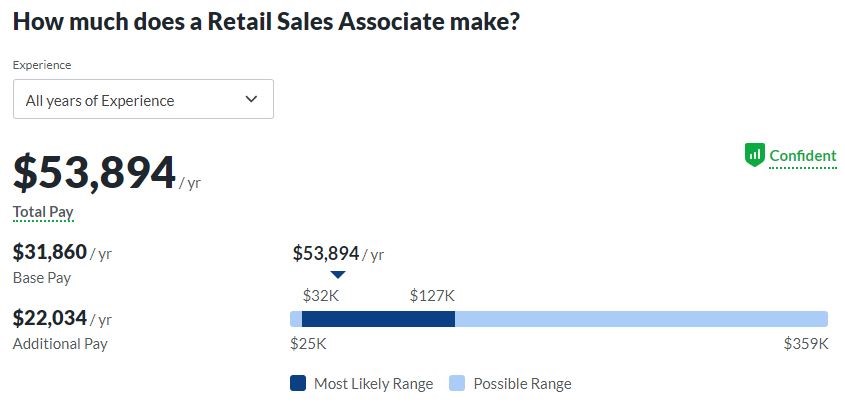 What Makes A Good Retail Sales Associate?
A great Retail Sales Associate tends to share several skills and attributes that allow them to perform exceptionally well at their jobs:
Communication: Communication is a vital skill for Retail Sales Associates. Since their primary focus is helping customers select and purchase products, knowing how to communicate is necessary.
Knowledge: Great Retail Sales Associates have extensive knowledge about the products they sell. They're able to share details and facts with customers when needed.
Enthusiasm: Good Retail Sales Associates are enthusiastic about the products and merchandise they sell and are excited to share their knowledge and appreciation with customers.
Problem-solving: Knowing how to solve customer problems with the right product is essential for a Retail Sales Associate.
Empathy: Occasionally, Retail Sales Associates may encounter customers struggling to make decisions or facing a challenge in their buying journey. Empathy for their situation can help turn an unhappy customer into a happy customer.
Relationship building: Outstanding Retail Sales Associates can quickly develop positive customer relationships, leading to customer sales.
Number literacy: Retail Sales Associates must have a firm grasp of basic math skills to help make sales and complete transactions. 

Retail Sales Associate Education And Training Requirements
When considering education and training requirements for Retail Sales Associate, what comes to mind of store owners are experts with an advanced degrees in management positions.
Most other stores prefer a specific level of education, such as a high school diploma or equivalent, which is usually not a requirement.
However, they may welcome high school students who wish to work part-time as a retail sales associate.

What Is The Difference Between A Retail Sales Associate And A Sales Associate?
Often, you will ask why these two key positions are used interchangeably though the significant difference between the retail sales associate and sales associate depends on where they work.
The retail sales associate works in retail outlets where they physically relate with customers. In contrast, the sales associate works for companies that transact business online or over the phone with their customers.
Usually, many retail sales associates work more in stocking shelves or taking inventory of stocks or products while the sales associate has limited duties.


What Are The Daily Duties Of A Retail Sales Associate?
Based on their job description, retail sales associates are expected to be regular at their stores before customers resume at the store.
They ensure the store is clean and the products are well arranged before it finally opens to customers.
The primary responsibility of a retail sales associate is to enable customers to get what they desire and attend to questions customers may wish to ask just for clarification on the desired product as customers arrive at the store.

What Should You Look For In A Retail Sales Associate's Resume?
When taking the time to review a resume for a potential retail sales associate, there are specific skills and accomplishments you must consider.
You are expected to include the following:
Customer service:
This is one of the most critical aspects when reviewing a retail sales associate's resume.
In this case, they are expected to perform customer service responsibilities in helping customers identify the products and merchandise they need.
Verify for the proof of this skill on their resume.
Sales:
Helping customers make the right decision and close sales is a crucial skill for a retail sales associate.
Ensure they possess this ability.
Knowledge:
This is an excellent skill that must be included in the resume of any detailed oriented retail sales associate.
They must have knowledge of the products in your industry to a large extent.
Quantification:
The best resumes often have quantification, listing the specific number of units they sold or the amount of money they earned for the company in revenue.
Not sure if your resume paints you as a great Retail Sales Associate?
Feedback from a free resume critique will tell you where you stand. Submit your resume here.