Listen up, new graduates! Professional resume writing is a tricky business, even for the pros. And as a college student or new grad, you may feel like you're trying to build a castle out of Jenga blocks- limited work experience and all.
But don't go running for the hills just yet! There are a few things you can do to make your resume stand out like a peacock at a pigeon party. So put on your thinking caps and let's get crackin'!
We've scoured the depths of the internet and used our vast knowledge to create a list of tips and examples that will turn even the blandest of resumes into a work of art. So sharpen your pencils and get ready to make your future employer drool with our expert resume writing tips for new graduates.

What Sections Should You Include On A Resume?
Your resume should be like a fancy wardrobe. It's gotta have all the right sections in the right order, otherwise it just looks sloppy.
Like, imagine showing up to a fancy event in a tuxedo with flip flops. Yikes. So, let's break it down for you.
First up, the basics.
Name and contact information. You know, so people know who you are and how to get a hold of you.
Next, the education section. Think of it like the foundation of your fancy wardrobe. It's gotta be solid and impressive.
Work experience? That's like the fancy suit you wear to a fancy event. It's gotta look good and make you stand out.
Skills? Those are like the fancy accessories that take your outfit to the next level.
But wait, there's more!
As a college student or recent grad, you've probably got some fancy extras you want to show off. Like extracurricular activities, honors and awards, certifications, digital proficiency, and even foreign-language proficiency.
And let's not forget the hobbies and interests section. That's like the pocket square in your tuxedo. It adds a little something extra.
So, in short, make sure your resume is like a fancy wardrobe. All the right pieces in the right order. And don't forget the extras that make you stand out.
Find out: How to Write An ATS Resume- Full Guide

Expert Resume Formatting Tips for New Graduates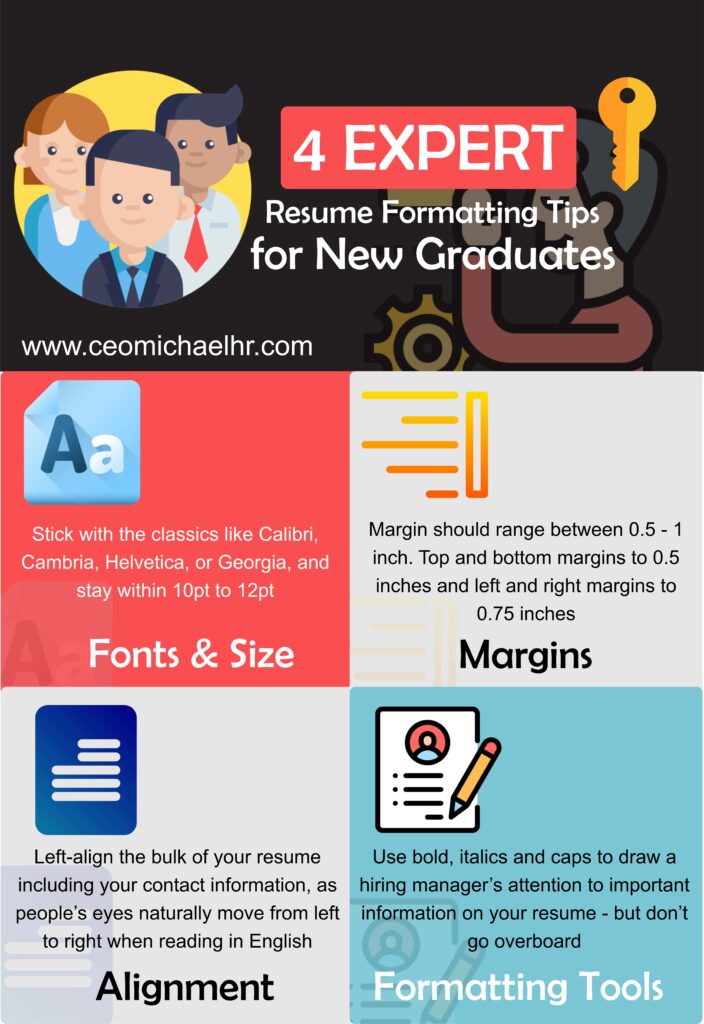 1. Choose a Professional Font and Font Size
Want to make sure your resume looks snazzy and professional? First things first, choose your font wisely.
Stick with the classics like Calibri, Cambria, Helvetica, or Georgia.
Mix it up by using Georgia for your name and section headings, and Calibri for the rest of your resume.
Now, let's talk size. The general consensus is that 12 pt is the sweet spot for body text. But if you're struggling to fit everything in, feel free to drop it down to 10 pt.
Just make sure it's still easy to read at a quick glance.
And don't forget about your headings and subtitles. Give them a little boost by making them 4-6 pts larger than your body text.
Want to make them stand out even more? Use bolding, underlining, or capitalization for your section titles.
Boom, you're done and your resume looks like a boss!

2. Use Appropriate Margins
If you want your resume to stand out and be taken seriously, you must pay attention to those pesky margins.
Think of them as the fashion police of the resume world- they keep everything in line and looking neat.
Now, don't go getting all nervous, Microsoft Word has got your back with their default margins of 1 inch- the industry standard for resumes. But, if you're feeling a little wild and want to mix things up, you can adjust those margins to anywhere between 0.5-1 inch.
Go ahead, be bold, shrink that top and bottom to 0.5 inches and give those sides a little more breathing room at 0.75 inches. Trust us, it'll make all the difference.

3. Left-Align Key Content
Want to make sure your resume stands out from the pile of bland, boring documents?
It's all about alignment! When it comes to organizing your content, you gotta think left, left, left.
Most of your resume should be aligned to the left, including your contact info. That's just how the human brain works- we read from left to right, so it makes sense to have your important stuff on the left.
But don't go crazy with the left alignment! Mix it up a bit. Align your job titles and company names to the left, but move the secondary details like dates and locations to the right.
Just make sure you're consistent throughout the resume. And if you want something to really pop, left align it.

4. Strategically Apply Bold, Italics, and Caps
If you want to catch a hiring manager's eye, you gotta know how to use those fancy formatting tools.
Bold, italics, and caps are your best friends when it comes to highlighting the important stuff on your resume. But don't get too crazy with it, okay? You don't want to come across as a desperate attention seeker.
Now, let's say you're a new college grad with a few internships under your belt, you might want to bold the names of the companies you interned at to show that you've got some real-world experience.
But if you think your job titles will make you look like a boss, then go ahead and bold those instead.
You could also bold your college degree or the name of your school if you want to make sure people know you're smart and educated.
The key is to choose wisely. And a good rule of thumb is to use bold for important titles and italics for secondary information that relates to the bolded titles. And caps? Save those for your name and section headings.
Find out: The 30 Funniest Resumes and Job Applications We've Ever Seen

How To Write a Resume Header

1. Upgrade to a Professional Email Address
Let's face it, using that old email address from high school just screams "I'm not serious about this job." Time to ditch the old and bring in the new.
Go for a popular email provider like Gmail or Outlook and make it easy for potential employers to remember you by using your full name or a variation of it.

2. Keep Your Contact Information Fresh
You don't want potential employers to be playing a game of phone tag with you. Make sure your contact information is up to date and easy to find on your resume.
Include your name, phone number, and email address in the header and double-check that everything is spelled correctly.
If the company cares about where you're located, you can also include your city and state in the header. But don't worry, your full home address is not necessary.

3. Insert Relevant URL Links
Don't have a lot of work experience? No problem.
Show off your skills by adding links to your personal website and/or online portfolio in your resume header.
Also, don't forget to include a link to your LinkedIn profile so the hiring manager can get a better sense of your professional presence.
And remember, unless the job specifically requires it, keep your social media accounts off the resume.

How To Write a Resume Body: 8 Essential Tips

1. Tailor Your Resume to the Job Description
When it comes to sprucing up your resume, it's all about matching it to the job.
First things first, give the job description a good read-through to pick out any buzzwords or keywords. Then, sprinkle them throughout your resume like fairy dust.
Trust us, hiring managers love seeing those critical skills highlighted, even if they're using some automated computer program such as the application tracking system (ATS) to sort through resumes.
If you're feeling lost and can't find any keywords, don't worry. You can always use one of those word cloud generators to help you out. Just copy and paste the job description and it'll spit out the important words for you.
Once you've finished your resume, run it through the same generator to make sure it's a match made.

2. Focus on Education
For new college graduates, your academic history is like the star player on your resume team.
Employers are gonna be all about your education, so make sure it's front and center.
When listing your education, ensure to include your major and degree, the school you graduated from (or will be graduating from), and any minors you might have.
And don't hesitate to brag a little by adding in relevant coursework, your favorite classes, thesis or dissertation titles, and any awards or honors you've earned.
Example:
Bachelor of Arts, Digital Technology and Culture | Washington State University | Pullman, WA
Minor: English Rhetoric and Professional Writing
Relevant Coursework: Writing and Rhetorical Conventions, Technical and Professional Writing, Electronic Research and the Rhetoric of Information, Advanced Multimedia Authoring, Usability and Interface Design"
Find out: How to Create a Job-Winning Resume with No Education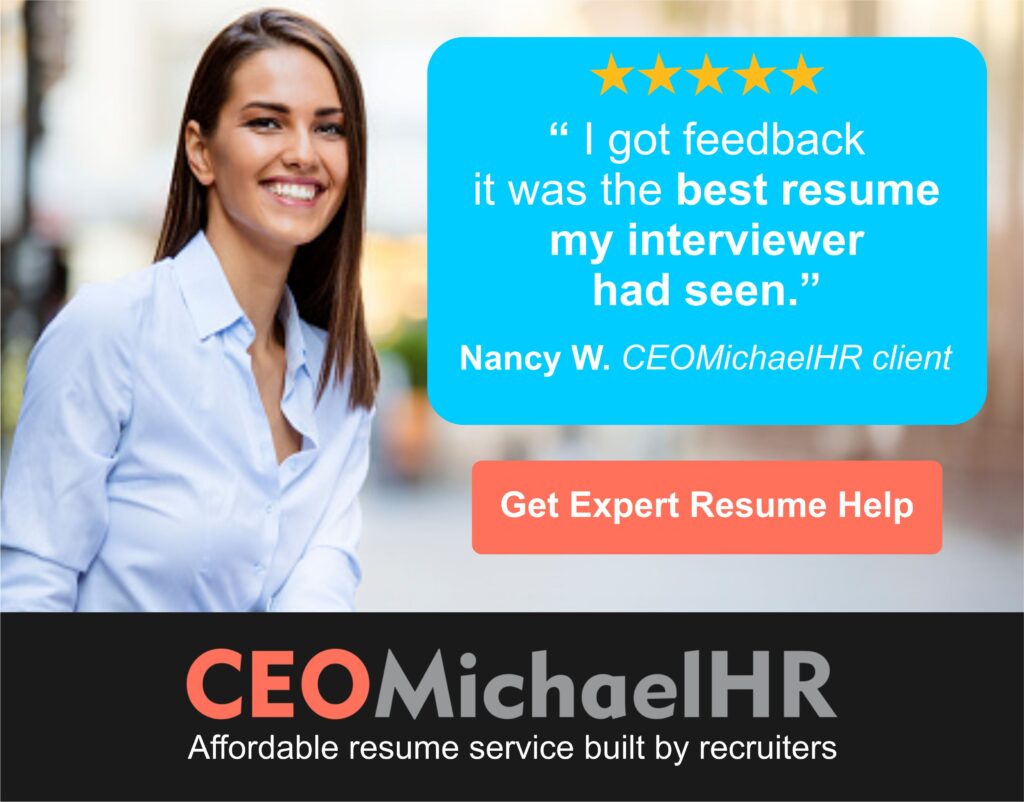 3. Include Work Experience
Sure, your past gigs may not be directly related to the position you're applying for, but that doesn't mean they're not important.
Show those hiring managers that you're a valuable asset by highlighting your transferable skills and experiences.
List your job title, the company's name and location, the dates you worked, and a few bullet points summing up your responsibilities and accomplishments.
And remember, use strong action verbs to start each bullet point. But don't worry if you don't have any work experience, just show off your skills and achievements in other areas of your life.
Example:
Writing Consultant
WSU Writing Center Washington State University — Pullman, WA | 2020 – 2022
Developed and managed a comprehensive list of media contacts.
Investigated potential opportunities through various online media channels.
Crafted compelling product pitches and press kits.
Assisted in the planning and execution of events.

4. Demonstrate Your Skills
Step up to the plate and show off those amazing skills of yours that'll knock the socks off your future employer.
Don't hesitate about mentioning those soft skills too – you know, those charming personality traits and life-saving time management skills that employers are always on the hunt for.

5. Consider Including Additional Sections
Want to make your college resume stand out like a unicorn in a field of horses? Add some non-work-related sections to the end of your resume.
Trust me, it'll be like sprinkles on a cupcake – totally unnecessary but oh-so delicious. Need some inspiration? Check out these sections you can add to make your new college graduate resume extra special:

Extracurricular Activities
An activities section is like the cherry on top of your resume sundae. It's perfect for those of us who may not have a ton of work experience yet, but still have some pretty sweet skills.
It's a chance to show off all the cool stuff you've done outside of class, like leading a group of mischievous scouts or organizing a charity bake sale.
Just make sure the activities you list are a good match for the job you're applying for, otherwise you might end up with a scoop of vanilla instead of that cherry.

Honors and Awards
If you want to make your new graduate resume stand out like a shiny gold medal, you better list all those academic honors and awards you've racked up over the years.
Also, if you've got some awards outside of college that are relevant to the job, go ahead and give 'em their own section.
Just make sure to explain what the award is for, so your future employer knows you're not just showing off your collection of participation trophies.

Certifications and Training
If you've got any training or certifications that show off your great skills, make sure to give them their own little section. Trust me, it'll make you stand out like a glittering diamond in a pile of coal.

Digital Proficiency
If you're looking to land a job that requires you to be a tech wizard, make sure you have a digital proficiency section at the end of your resume.
Show off those software skills and web languages. You can even swap out the boring old skills section for a digital proficiency section. Trust us, it'll make you stand out from the crowd.

Hobbies and Interests
Don't leave any blank space on that resume! Throw in some hobbies and interests.
Companies these days are all about that work culture vibe, and they want to hire people who fit in with the company's personality.
Do your research, pick some hobbies and interests that match the company's culture and the job you're applying for, and voila! You're on your way to impressing that hiring manager.

6. Quantify Wherever Possible
Want to catch a hiring manager's eye? Throw some numbers in there! It's like seasoning on a steak, it just makes it taste better.
For instance, you could say something like 'Boosted sales by a whopping 20% in just half a year!' or 'Served as a one-person customer service army, helping out a whopping 50 people a day!' See? Numbers make everything more impressive.

7. Stick With Action Verbs
Let's face it, resumes can be pretty boring with all the same old words and phrases. But don't worry, you can spice things up by swapping out those tired words with some powerhouse action verbs.
Trust me, it'll be like adding a little hot sauce to your resume – just enough to make it pop!
Think about using verbs like "converted," "analyzed," and "composed" to really show off your accomplishments in a way that'll make the hiring manager sit up and take notice.
And if you're feeling stuck, don't hesitate to reach for a thesaurus or check out Harvard's list of action verbs for some inspiration.

8. Use Reverse Chronological Order
When it comes to organizing your resume, think of it like a time machine. Start with the most recent stuff and work your way back to the dark ages.
Trust me, hiring managers will thank you for giving them a clear picture of what you're up to now, what cool stuff you've accomplished recently, and how it all makes you the perfect candidate for the job.
Find out: Is Your Resume Inspirational? If Not, Here's How to Fix It

FINAL TIPS- Expert Resume Writing Tips for New Graduates

1. Take Time to Edit and Proofread
Before you hit that 'apply' button, make sure to give your resume a good scrub down. Trust me, a resume that's free from grammar gaffes will make you look like a pro and a resume filled with typos will make you look like a top-notch typo-tographer.
Now, don't get me wrong, Microsoft Word and Google Docs are great at catching big blunders, but if you really want to impress, use Grammarly to catch those sneaky little grammar mistakes.
After you've polished your resume to perfection, take a leisurely stroll through it and look for any phrases that make you sound unprofessional, inconsistencies that make you sound like a liar, ambiguous descriptions that make you sound like a mystery, or poor word choice that makes you sound like a poet.
And don't forget to tweak as needed, because nobody likes a typo-tographer.

2. Get Another Set of Eyes to Look It Over
The last and final step before sending off your resume is to get some feedback from a trusted source.
If you're still in school, hit up the career or writing center at your university. If not, enlist the help of a mentor, friend, or family member who won't sugarcoat their thoughts.
They'll give your grammar a once-over and see if your resume makes you look like the best candidate for the job.
Ask them questions like "Does this resume make me look like the ultimate boss for this job?" and "Is this resume interesting enough to keep a hiring manager awake?" If the answer to either question is no, go back to the drawing board and revamp your resume.
Struggling to make an impression on potential recruiters? Let our experienced writers and affordable resume service help you craft a professional resume that will make an impact. Our team will make sure you stand out from the crowd, delivering a resume that's of the highest standard at an affordable cost.