50 out of 100 recruiters require a cover letter from you. But wait, they aren't looking for a long piece of information about your life history.
A typical cover letter by HR standard should range from 100 – 400 words. So, it is of importance you understand the techniques involved in tailoring an effective short cover letter.
Luckily, in this guide you'll learn:
What hiring managers think about short cover letters
What the structure of a short cover letter sample looks like
10 short cover letter sample that'll get you hired

Want to save time and have your interview-ready resume in just 2-5 days?
Let our CEOMichaelHR affordable resume writing services take the guesswork out of resume writing by summing up and professionally showing off your industry skills and experience.

One of our clients, Ashphu, had this to say:
My resume writer Rolyns, did a great job with the format, as well as the content. He wonderfully conveyed my skills in a concise and direct manner. I started getting phone calls from potential employers almost immediately after the resume rewrite.

See more success stories




What Do Hiring Managers Think About Short Cover Letters?
Do you know that the best pitches are often written in few words?
You don't need to fill up a page and over to the next page to convince recruiters you're the best candidate for an opened position.
The world is fast-paced these days, so are your potential recruiters.
Writing a long piece of letter can quickly get the hiring manager bored with a tendency of losing the thread halfway through.
There is this popular saying; your resume has only 15 seconds to capture the attention of a recruiter while your cover letter has just 6 seconds. It'll be in your best interest to make those seconds count in your favor.
For this reason, many recruiters are subconsciously impressed by a short cover letter.
While you may have a lot to say about your career history, your ability to focus on one or two key areas demonstrates how well you value their time.
Sending a short cover letter will put you at zero risk as long as you've attached an incredibly tailored resume.
Our short cover letter sample in this article will prove several scenarios where a short cover letter is your best bet.
You might like: Best Executive Assistant Cover Letter (+Full Writing Guide)

Structure Of a Short Cover Letter Sample
Before delving into the structure of a short cover letter sample, highlighted below throws more light on the key purpose of a cover letter:
To introduce yourself, your skills and the experience you have to stand out from the crowd
To compel and motivate the recruiter to check out your resume
To help you land an interview

Complying with the structure of a short cover letter below, you're most definitely on your way to landing that dream job.

Short Cover Letter Sample Structure
Dear (hiring manager name or simply 'hiring manager')
Paragraph 1: introduction and how you learned about the role
Paragraph 2: your qualifications, expertise, and why you're the best fit for the job
Paragraph 3: your passion and your motivation for the role
Paragraph 4: call to action
Formal closing

Generally, the structure of the short cover letter sample depends on the nature of the contents, but every cover letter should include your contact details, the date, a suitable salutation, two to four short paragraphs, a call to action and a polite sign-off.
You might like: Best Executive Housekeeper Cover Letter Example

10 Short Cover Letter Sample That'll Get You Hired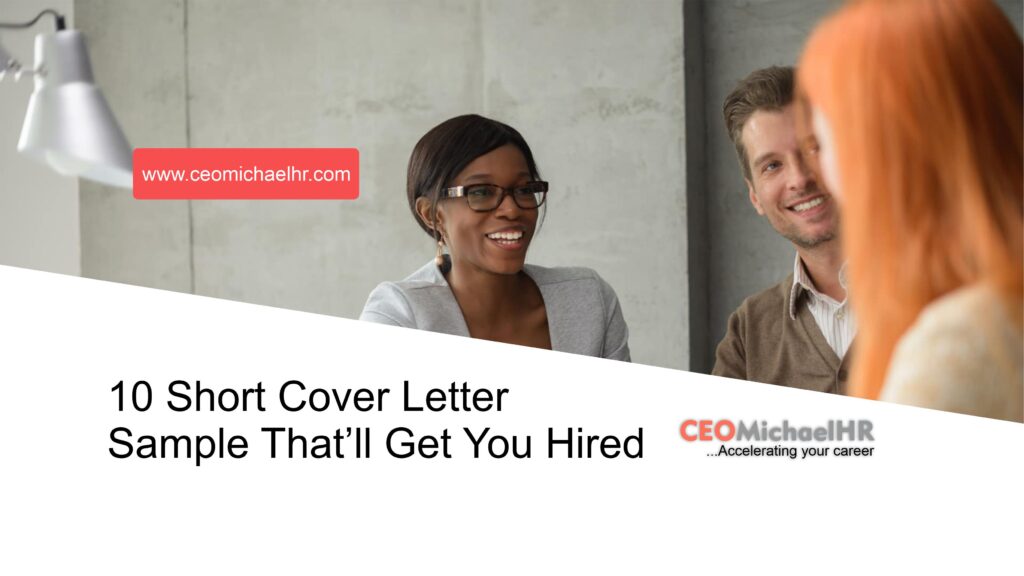 Note that the short cover letter samples in this article are furnished to serve as inspiration that'll help you tailor your personalized letter.
You may not achieve your letter's full potential by merely copying a template word for word.
So, without much ado, let dive in!
Disclaimer: Sample 1-9 templates were sourced from resume.io, & zety except sample 10 which was written by our CEOMichaelHR expert writers.

1. Short cover letter sample
Because a cover letter is short does not make it lose its effectiveness. Peruse the short cover letter sample below to see how the applicant used his success metrics to demonstrate how he'll be of value to the company.
I am writing to see whether you need a talented mathematician in your marketing team? My former colleague Hannah Wilson mentioned that you may be hiring soon.

I have used my data science degree to outstanding effect in my marketing career thus far, diving deep into customer behaviors and seeing profit uplifts of 125% on certain projects.

I know that I will add value as you seek to increase your 12% market share. My expertise in lead targeting and customer segmentation will help you to plot the right path. I would love the opportunity of an interview to discuss my bespoke marketing analytics platform.

Sincerely,

Harry Jones"



2. Short cover letter sample (speculative)
Wasting your recruiters' time when applying for a role speculatively would rather do more harm than good to your application. You'd better demonstrate value to boost their interest in reading your attached resume.
"Dear Ms. Dannison,

Having just moved to Seattle, I am looking to continue my five-year career in customer service. I was in the top 5% of call handlers in terms of call volume and customer satisfaction at my previous employer and I thrive on resolving customer complaints.

My hospitality degree adds to my understanding of the industry and gives me a sound appreciation of the nuances in any situation. I moved into a team leader role towards the end of my last position and this is a career path that I would hope to continue with my next employer.

I know that you are not advertising for roles currently, but I feel that I would be a strong member of the team should you wish to explore the possibility at any point.

Sincerely,

Jhon Andrew"



You might like: 10 Most Inspiring Career Blogs Worth Reading

3. Short cover letter sample (when you know the HR)
Writing a long cover letter is totally unnecessary when you know the hiring manager. While other members of the HR may read your letter, your contact with one of the hiring decision makers will communicate stronger your values.
"Dear Andrea,

It was a pleasure to catch up at the conference the other day. I was fascinated to hear about the role and feel that it would be a potential fit in terms of what I am looking for. I know that my market research skills will certainly prove beneficial.

I would welcome the opportunity to send over my resume to the hiring manager and would love to hear more information when it is available. I understand that you will be running a full recruitment process for the role and do not expect any special treatment. From what you told me about the company culture, I think that I would enjoy working there.

Sincerely,

Martha Kona"



4. Short cover letter sample (short story)
Storytelling about one's career history has become the trend of things in recent times. Once you're able to briefly identify the whole essence of your career journey, you'll quickly spark up the interest of your potential employer.
"Dear Mr. White,

Having cycled across the United States on your bike for charity in 2015 and not experienced one serious mechanical issue, it has been a long-held ambition to work within your procurement department. Only the best parts go into making a RollEasy bike – my ten years of automotive and cycling sourcing experience will help me to make my difference.

I helped a stationary bike manufacturer save 19% and consolidate from 24 suppliers to 18 within a two-year period. I know that cost savings are on your agenda and understand how to achieve them without compromising on quality – I would love to explain how during a potential interview.

Sincerely,

Mark Anthony"



5. Short cover letter example (no experience)
A cover letter is required when you don't have experience, but this creates a conundrum. Do you pen a longer cover letter to go deep into transferable skills or keep it short and hope that the hiring manager will see the value in your resume? Here is the short option.
"Dear Ms. Simon,

Having graduated from college and spent a year in a call center, I am now ready to take on a customer-facing role in retail. I am accustomed to dealing with customers, resolving complaints, and ensuring satisfaction – skills that would enable success at Parath.

I worked in hospitality during my studies and am used to working in a fast-paced and task-driven environment with a wide team of colleagues depending on you. I would welcome the opportunity of an interview to explore any opportunities.

Sincerely,

Linda Marker"



You might like: 15 Top Free Career Aptitude Test

6. Short cover letter sample (internship)

"Dear Terry,

Attached you'll find my CV for the position of summer intern. My 'Drill Instructor' augmented power tool add-on has just won the Northwest Student Award for Tech Innovation. That's because I've had a passion for practical design since childhood.

Fazer's commitment to mentoring the best young talent in the industry is a direct fit with my proven electronic engineering skills and studies.

I would love to improve my skill set to deliver even more cost-effective and industry-leading power tool and machinery solutions, just as I did with my award project.

I am incredibly excited about the opportunity to put my skills to work for you. Could we arrange a phone call to discuss how I can help Fazer gain even more industry plaudits.

Yours sincerely,

Maria Cartwright"



7. Short cover letter sample (Corporate Job)

"Dear Greg,

I have attached my CV for the position of business analyst. My professional achievements include saving £1 million in costs by choosing a new cloud-based data warehouse solution. This was enabled by my superior negotiation skills, expertise in effective procurement and ability to identify cost savings.

As a business analyst at Vantech, I leveraged a new procurement business process to ensure consistency across all teams leading to a saving of 500 working hours equivalent to £12,000. This consistent approach was the first of its kind in the company.

Getting on board with Vermillion as it rapidly scales its operations is an amazing opportunity for me to do what I do best, increasing efficiency in business processes and implementing value-rich changes to the organization.

Let's arrange a quick chat to discuss how my ability to translate stakeholder needs into development goals can help Vermillion at this crucial time.

Yours sincerely,

Kelvin Jones"



8. Short Cover Letter Example (Creative Job)

"Dear Alex,

My CV is attached for the position of senior graphic designer. I've had a number of satisfying career highlights but my most notable to date is leading a team that was a winner in the 2019 UK Package Design Awards. This achievement was made possible by my dedication to meeting client requirements with fresh contemporary design solutions.

As a senior graphic designer at Edwards & Spinks, I designed a fresh layout for the new edition of the cookbook 'Glorious Gluten' that led to the publisher signing a five-year contract worth £600,000.

Leading the graphic design team at Mountebanks & Co. would be an amazing opportunity. I would be honoured to be part of your multi award-winning delivery of unique and functional web design to prestigious corporate clients.

Could we arrange a call at your convenience so I can discuss how I led and developed a team of five junior designers while helping clients cut costs by an average of 25%?

Yours sincerely,

Greta Johnson"



9. Short cover letter example (new graduate)

"Dear Dr. Bradley,

As a recent biotech graduate, I am looking for my first role as a laboratory assistant. I saw that your new lab was hiring at all levels and wanted to see whether you were welcoming applications for recent graduates?

I have spent over 9 months in laboratories over the course of my studies, and am proficient in the use of all relevant technology. My safety record is impeccable, and I thrive in a controlled and high-pressure environment.

Sincerely,

Mika Ivanovic"



10. Short cover letter sample (bullet accomplishments) by CEOMichaelHR

"Dear HR Manager,

I am responding to the advertisement in which your company seeks applicants for an available Marketing and Events Assistant position. Please consider this letter and my attached resume to indicate my interest in this position.

As a personable, organized and detail-oriented individual with 6 years' experience in customer service, along with my proven dedication to propelling successful events, I possess a wide range of knowledge and experience that will allow me to contribute toward the success of your company in this capacity.

Highlights of my qualification include:

> Excelling in series of marketing internships, gaining deep experience across the creative process in areas encompassing market and competitive analysis, website updates, social media and mobile marketing, campaign development and execution, and direct client communications

> Demonstrating effective organization, presentation, and project management abilities

> Collaborating effectively with peers while consistently demonstrating excellent communication, motivation, and time management talents

> Balancing multiple tasks within deadline driven environments while demonstrating strong dedication, problem solving, and technical abilities

> With my key strength in supporting the development of strategic events and marketing initiatives, coupled with my enthusiasm and dedication to achieving success, I believe I will swiftly surpass your expectations for this role. Please review my resume and accept this letter as an introduction to my skills and background.

Sincerely,

Joshua Destiny"



Conclusion
One great way to entice and lure potential recruiters to read your resume is by tailoring an effective short cover letter.
When you do this, it communicates to their instinct how much you value their time, and in return they're likely to favor you.
Keep the following at your fingertips when writing your cover letter:
Ensure to comply with the proper cover letter formatting guidelines and include a heading with all the essential information.
Clarify your values in three to four short paragraphs, demonstrate your passion and drive for applying and prove you'll be the best candidate for the opened position.
Conclude your short cover letter with a call-to-action and a proper sign-off.

Not sure if your cover letter is cutting it? Our expert cover letter writing service can help you ensure an outstanding cover letter that'll land you multiple interviews.