Are you an individual looking to improve your work, find that new job of your dream, or develop your professional skills?
Don't let this new year's resolutions be empty promises to yourself.
In this article, you'll learn how to create professional new year's resolutions to make this year count for success!
We, professionals, have extensive to-do lists filled with deadlines and daily goals. However, while this idea is excellent for achieving our daily targets, we often neglect setting new, broad goals for our overall career.
As one crazy year comes to a wrap, for many individuals, it is time to look for New Year's resolution ideas and set new goals.
The start of a brand-new year is always the perfect time to think about where you'd like your career to advance.
Putting in place a professional New Year's resolution would ace the speed at which you achieve your personal or career goals by providing a clear destination to aim for.
Let's examine an overview of the career goals you may want to target in this new year, along with New Year's resolution ideas and tips to help you succeed.

3 Examples Of Professional New Year's Resolution Ideas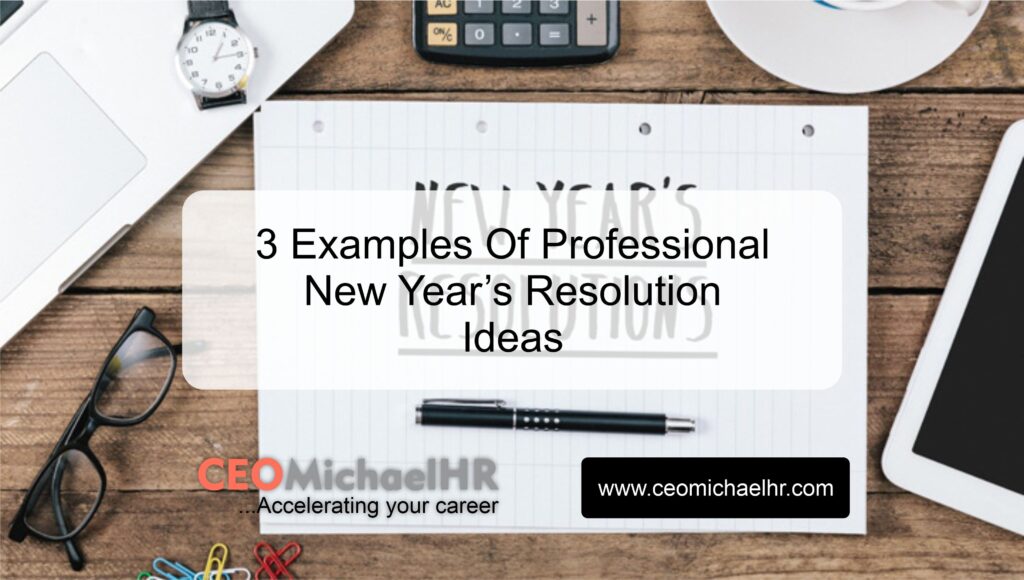 Many identifiable ways to excel in your career include shooting for a more manageable work schedule, attaining new titles, switching to a better job, etc.
Whatever tweak will guarantee your happiness and satisfaction in your work life, you can follow simple, actionable steps in this guide to boldly declare your professional new year's resolution and see them come to pass in your life by the end of the new year.
Use these New Year's resolution ideas for work to figure out what kind of goals you need to work on and also as an inspiration to set your own goals for the new year.

1. New Year's Resolution Ideas for Career Growth
Did you know elevating your career can be daunting and a challenging step to take?
It's expected we're sometimes puzzled over something we want and, most of the time, afraid to go after it.
But if you're laser-focused on overcoming these fears, you'll find it was nothing but a mirage, and the easiest way to overcome the obstacles is by setting goals to achieve them.

Peruse below new year's resolution ideas for career growth:

Ask for Your Raise
Asking for a raise is more about knowing your value or worth and not just setting a financial goal.
This can work in two scenarios; you set a professional New Year's resolution to earn what you're worth by asking for a raise in your workplace or stop devaluing your products or services once you notice they are being devalued as a business owner.
You can effectively go through this process and enjoy a successful raise if you get honest with yourself by understanding the value you offer.

Seek a Promotion
Before you set a resolution to express your desire for a higher position, you must remember that many businesses and organizations like to see a goal-oriented individual with a passion for devising better ways to benefit the company and impact its bottom line.
By proving to your boss how much of an asset you are and how much you could impact the company in a higher position, the company will see that you're ready to step up to a new challenge and ultimately grant your request.

2. New Year's Resolution Ideas for Learning
Many think their professional New Year's resolution revolves around excelling in their careers or increasing their financial capacity.
However, committing to learning or advancing your skills is crucial when defining your professional new year's resolution.
By identifying what you'd be interested in learning, you can define a resolution to explore them.

Peruse below new year's resolution ideas for learning:

Develop New Skills
You may have identified specific skills you know if you learn, would advance your career and make you better at what you do.
By simply setting goals towards learning these skills to become an expert by the end of the year, you can commit to taking classes or educating yourself through lots of practice.

Get Organized
The importance of organization in all areas of life can never be overemphasized. But easier said than done; it can be tough to be organized amid uncertainties throughout the year.
You can stand a fair chance of getting organized by taking out quality time to develop a structured system for yourself and ensuring you do away with whatever will create chaos throughout your workday.
Examples of things you can do to keep you organized are; cleaning up your physical space and arranging your desk in a way that better suits you both aesthetically and in function, sorting your work emails into easy-to-find folders, and developing a more streamlined approach to your workflow.

3. New Year's Resolution Ideas for Work-Life Balance
Experiencing work-life balance brings a satisfying feeling of joy and overall career success.
In many areas, succeeding means doing less.
We've been trained to falsely believe that more money and high authority titles equal success. Unfortunately, constant work fatigue that leaves you mentally drained in other areas of life isn't what success should feel like.
Shoot to set New Year's resolutions for your work and life, which involve weighing the amount of work that works for you in correlation with your personal life.
You might like: 9 Things to Do on Your Day Off to Really Recharge

Peruse below new year's resolution ideas for work-life balance:

Establish Healthy Boundaries
When healthy boundaries are set in the workplace, employees and colleagues will be empowered, and a more manageable work-life for themselves will be created.
Training others to reframe their expectations of you begins with learning to say "no," which may feel awkward initially but great for establishing healthy boundaries.
So, If you feel that work has taken over an unhealthy portion of your life, resolve to set healthy boundaries in the new year.

Maintain Specific Hours
Use a New Year's resolution to limit how much you'll work each day or on the weekend if you find yourself working excessively 12 hours a day or bringing your work into the weekend.
Figure out a reasonable cap based on your specific needs and ensure to commit to it.
Practically speaking, for example, if you decide to only work until 6 pm, you should shut down your computer at 6 pm and continue the following day.
By working on yourself, you can do better work in your career.
Use these professional New Year's resolution ideas as a starting point to craft your own goals for a more productive year.

Workplace Goals For The New Year That Will Make It Your Best Work Year Ever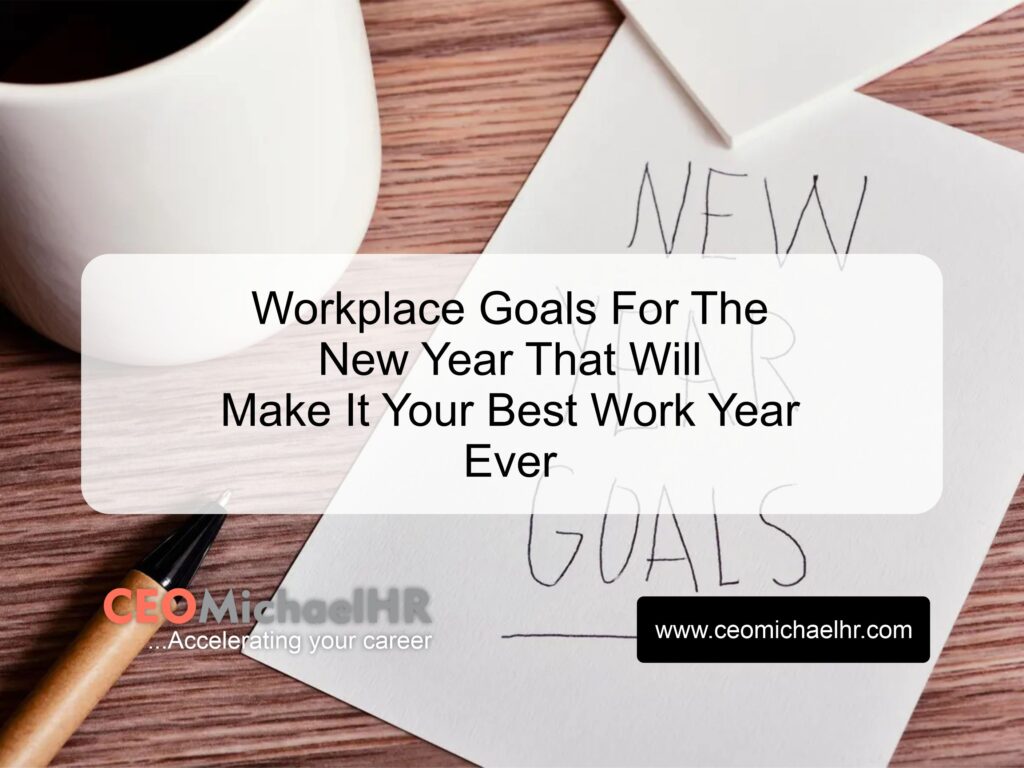 1. Do Five Things to Stay Healthier at Work
Considering health's importance, losing weight seems to be one of the most common New Year's resolutions.
While you spend a lot of time at work, it is great to consider what you can do for your health while you're there.
We recommend trying out these five simple ways to stay healthier at work:
Take the stairs.
Stand up and stretch each hour.
Test out a standing desk.
Switch your office chair for an exercise ball.
Don't miss lunch.

Be consistent with this practice, and you'll discover how these little things can influence your health.

2. Learn a New Skill
Learning a new skill in whatever industry or field you find yourself in could benefit your career.
There are hundreds of new skills available for learning. Perhaps, if there is a particular skill you've had in mind to learn for a long time, set it as one of your work goals and achieve it.
It will be an added advantage for you in the workplace as your company might even be willing to pay for it if it impacts the company's bottom line in your current work.

3. Read One Career-Related or Motivational Book
It doesn't matter if you think you already know what you need to know; you can always gain or learn a fresh perspective by reading a great book on professional development.
It is amazing how you see your mind evolves and your performance, outlook, and personal habits improve when you read career or motivational books.

4. Update Your Resume
You don't need to only have a position in mind before you remember to review and update your resume.
You can quickly lose track of the necessary information if you fail to update your resume periodically.
When you give your resume a critical review, you'll get to know if the style is modern or still current and if the information is correct.
Make it a work goal for the year to review and edit your resume.

5. Review and Improve Your LinkedIn Profile
Like your resume, your LinkedIn profile look, tone, and information must be updated regularly.
In the professional world, your LinkedIn profile is an essential factor to consider when it comes to your overall personal brand.
Peruse a number of your connections' profiles to see if they're doing certain things differently that positively grabs your attention.
If so, tweak your page to create a similar view.
Perhaps, you do not have a LinkedIn profile or want help writing a winning LinkedIn profile for your job search, consider investing in CEOMichaelHR Affordable LinkedIn Makeover Service.

6. Clean Out Your Physical and Digital File Cabinets
Are your file cabinets filled with old papers no longer relevant to your work?
Clean them out, and you'll be happy you did!
Recycle what you don't need, and organize the rest. You can follow the same process for your computer files, too.

7. Sign Up to Follow One Relevant Blog
Thanks to the internet and a lot of online resources, we can have free access to a world of information, insider tips, and great motivational writers.
Find a blog that you enjoy, sign up and follow it.
Unsure how you can find one to follow? It's effortless; type on google search "career blogs to follow," and many of them will be displayed for you to choose from.
Alternatively, you can follow the CEOMichaelHR LinkedIn community to get job search tips and expert advice from industry specialists and career consultants.

8. Find A Work Mentor
Finding the right mentor can elevate your career to a whole new level.
Perhaps, you have someone in your company who you give maximum respect to and who is about a step or two ahead of you; it'll be best to not just look up to them but boldly ask if they will be willing to be your work mentor.
Enjoy your relationship and set workplace goals together for the new year!

9. Get A New Professional Headshot
Are you an individual who winces at the sight of your LinkedIn profile photo?
Then consider the new year a great time to invest in a new one.
Your profile photo may be casual or professional, depending on your career goals and the type of company culture.
Ensure you choose a photo that is high quality — at least 400 x 400 pixels, no larger than 8MB in file size, and does not exceed 20,000 pixels in height or width.
Most importantly, you want a picture that truly represents who you are, both personally and professionally.

10. Send At Least One Thank-You Note Per Month
It feels good and great to send a handwritten thank you note to show your appreciation and professionalism.
This can be easy to achieve by buying a box of thank-you notes that appeals to you.
Each month, think of someone who did something nice for you. It could have been a LinkedIn recommendation, an introduction to a valuable networking connection, a free lunch, or a small, kind gesture at the office.
This positivity will always reflect in your work as you keep the practice of sending thank you notes.

11. Join a Professional Organization
While professional organizations usually cost money to join, the enormous benefits from what you learn and the quality connections you make are priceless.
Try to identify a professional organization focused on the favorite part of your career while checking out conferences they host.
Attending great meetings can significantly expand your professional network and boost your work energy.
Find professional associations that suit you by finding out which groups your colleagues and managers are active in, and also checking out resources like Meetup, 10times, and the Directory of Associations for more options.

12. Volunteer
One of the great benefits of volunteering is positively affecting the world and feeling so good about yourself.
You can volunteer by simply finding a cause that satisfies you and signing up to contribute.
Areas you can demonstrate volunteerism include: feeding the homeless, picking up trash in a park, raising money for a new local pool, and anything that is of interest to you.

13. Get One New Professional Certification
Have you been looking to fill a space in your resume with a certification?
Wish no more and make it a part of your work goal for the new year as you advance your career.
You can see it as a highly profitable investment in your future.

14. Clean Out Your Email Inbox
Is your email box flooded with old irrelevant emails mixed with relevant ones?
You can take time to sort the emails and trash the irrelevant ones.
When you do this, you'll feel way lighter whenever you log in to your box.

Conclusion
Now that you're updated on lots of new year career resolution ideas you can keep, you don't need to set a ton of resolutions this year.
You only need a few that will positively and generatively impact your life and frame of mind.
Keep off the judgment zone, and be inspired to begin a new year that's all about you in the best way possible.