You have gone through these few years at home baby sitting and taking care of household chores.
You made a great sacrifice to put your career away as a mom so as to put your child or children first, and now it's time to pay some attention on yourself which can feel like a transition.
Getting back into the workforce after a long work gap can be particularly difficult for women who took some time off for motherhood.
Where do I begin so I can imbibe back into the workforce?
This is a question many stay at home moms ask themselves when they resolve to put on their work shoes once again.
The great news!
You can actually make the return to an enjoyable career.
However, this can only be achieved with a proper planning/strategy, patience, doggedness and full confidence that you are capable.
In this article, we'll explore career transition tips for stay-at-home moms getting back to work, the importance of preparation and best practices on how to re-enter the workforce.

Why Is It Important To Prepare Before Re-Entering The Workforce?
Developing a proper plan before getting back into the workforce helps you concentrate on the job hunt, get you set for an opportunity when it presents itself, and gives realistic goals.
It can also reduce anxiousness and supercharge your confidence.
Getting a job after being a stay-at-home mother is more common than in years past.
Companies can get gifted prospects in those returning to work.
It's necessary to acknowledge the transition since there may be some modifications in your profession, and while gap years between employment are not rare, it requires a thoughtful explanation.
Notwithstanding, if your discipline dramatically changes or you no longer hold licenses or certifications, your highly transferable skills can apply to other professions or roles, and maybe even a career swivel.
Getting back into the workforce after being a stay at home mother can be a time to compliment your new interests with a career change.
One that may even turn out to be more satisfying than your former line of work.
You might like: How to Get Headhunted: Thrill of the Job hunt

Tips For Stay At Home Moms Returning To Work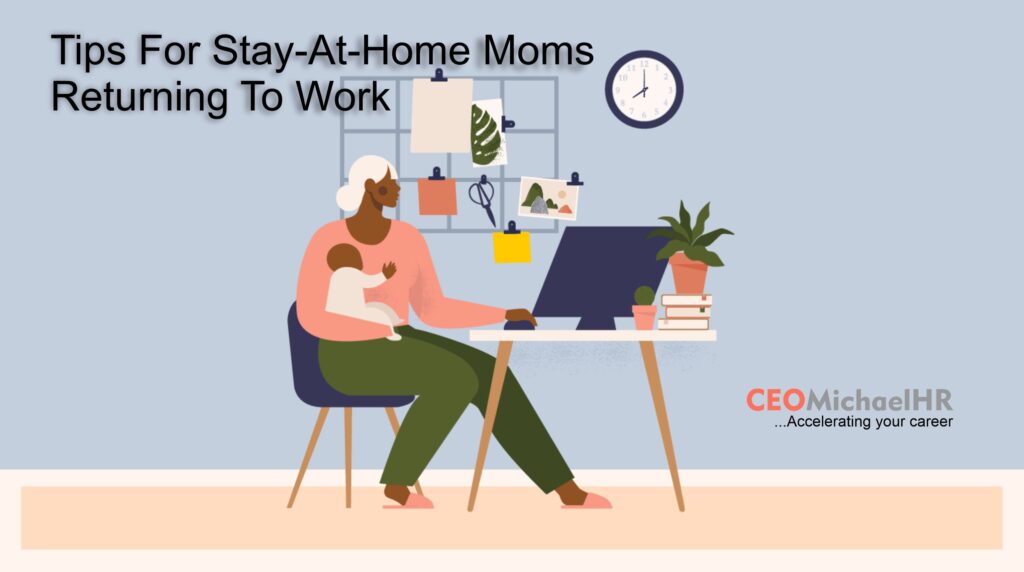 It can be very tasking focusing on what kind of jobs to go after and ways to best present yourself.
Well, consider these career transition guide for mothers' returning to work and see how well it can assist you in finding the right role:

1. Get Clear on What You Desire
Write out a well thought out list of what you're looking for while you prepare to get back to work.
Ensure your needs and desires are listed out because the clearer you are with your desires, the easier it is to constringe the number of jobs you will be applying for, while concentrating on those that matches your list.
Begin by asking yourself what kind of industry, company or position would interest you.
For example, you might be interested to work in a casual environment like a school with room for growth and higher-level opportunities, or you might desire a less demanding role where you contribute valuable work without extra time.
Having a clear target will also assist you to avoid becoming overwhelmed by the many job openings you might be pursuing.
If you're puzzled on the job type that might interest you or fit your new skills, the career self-assessment tools below will help you understand your interests and reveal new skills.
Consider asking yourself these questions:
Am I really interested in finding a job or is there an opportunity to be my own boss?
What kind of career growth am I seeking?
What are my financial goals with getting back into the workforce?
Would I like a part-time or full-time job?
What are my interests, skills, trainings, education and experience?
Am I able to do consulting, contract or freelance work?
What roles matches with the above?

2. Update Your Marketing Materials
You might have worked before perhaps after high school or college and gone on a long employment gap as a stay at home mom, it is necessary to update your resume and cover letter to speak strongly of your experience, skills, education, volunteer work, and abilities when applying for these new jobs.
As a stay at home mom who have been off job for a long time, when updating your resume, consider a skill-based or functional resume format rather than a typical chronological one.
Make sure to include noteworthy experiences and accomplishments that drives attention to your strengths, like:
Personal blogging
Tutoring neighborhood children
Volunteer experience
Bookkeeping for the family's small business

When applying for each position, be sure to tailor your resume and cover letter to match each position for which you're applying.
Use keywords from the job description.
If you have a portfolio, consider building a professional online website to advertise your work and include it on your resume and professional bio.
Digital portfolios are great for many industries and roles encompassing:
Content writers
Editors
Photographers
Videographers
Illustrators
Marketers
Architects
Teachers
Developers
Graphic designers

You can easily build a simple, yet professional website with wordpress.com, squarespace.com, or ehost.com, to name a few options.
WordPress offers free website options, whereas the others mentioned would host your site for a relatively low annual or monthly fee.

3. Get Active on Social Sites
It is important to create or update your profile on professional social sites to grow your connections and be visible to job recruiters.
Site like LinkedIn has over 400 million members in more than 200 territories and countries around the world.
LinkedIn is an excellent instrument you use to advertise yourself, as well as seek out potential employers.
You can also connect with former employers and colleagues, target and follow companies you'd like to work for or research career recommendations and search postings for open positions.
These days, employers and recruiters often Google names of applicants, so be mindful of whatever you are posting on your professional social sites.
Ensure to only post what you would be comfortable with an employer seeing when your name is searched.
Be sure your personal social media profiles are set to private, as well.

4. Get Out There and Network!
It's not about who you know, but who knows you, as the saying goes.
Networking is about creating connections and doing favors as a sign of goodwill.
People are often happy to help when they can.
Some of your connection may know of some opportunities or colleagues they can link you with for jobs, while some may offer career advice and be a source of support and motivation.
This is why it is important to maintain your existing connections and build new contacts.
As a stay at home mother preparing to get back into the workforce, start researching networking events and online groups in which you can participate.
For example, if you're an HR professional, you might seek out the local Society of Human Resource Management (SHRM) chapter to network and keep eyes and ears open for possible job openings.
You can also email your resume to family, friends, former colleagues or managers informing them of your ideal position.
Job leads can come from anywhere, so be sure to tell people you're in search for a new job or invite someone for coffee date to talk about what in your career field has changed or how you can prepare.

5. Refresh Your Skills
You may want to review your work skills or even learn new ones.
Going back to school is always an option, although there are many ways to invest in your skill set and re-engage with your career field.
Here are a few to consider:
Link up with your college or university: Most colleges have job posting board and many offer career counseling for alumni searching for jobs, not just for those who have recently graduated.
Take part in a returning talent workshop: Many big companies and businesses host seminars and workshops channeled towards those returning to work. This is a great way to network and make connections that could lead to an offer.
Do consulting work or volunteer: Engaging your skills to work on a current, relevant project not only refreshes your talents but helps fill the employment gap on your resume, too. Target organization that has volunteer work with a connection to your career field.
Sign up for classes, conferences or certifications: These are great ways to get supercharged and learn about new advances in your career field whether in person or online. Check out libraries, community colleges or business development centers for free or low-cost classes to brush up on skills or gain new ones.

6. Consider Part-Time or Temp Jobs
Once you notice that your search for a particular position is taking longer than expected, consider other options which could be a part-time or contract job, freelancing or a temp role from a staffing agency.
You might like: How to Put Temporary Work on Your Resume
Be flexible to possibilities that are a good match, because one opportunity can lead to another, generate income and help you gain new skills and connections.
Ensure to look out for opportunities based on your skills and abilities.
It is also good to focus on your profession, though often times, skill sets can translate to other industries and roles you might not think about.
For example, a former customer service representative with passion for social media paparazzi who started a blog while being a stay at home mom could be an excellent prospect for other positions within the industry.
If you are lucky enough to get employed by the right company and you prove yourself worthy, your chances of getting a full-time offer will increase.
Another reason to consider part-time job is the fact that it helps you to adjust from being a stay at home mom to being back at work before going full-time.

7. Prepare To Answer the Inevitable Question About Your Employment Gap
Make sure you practice and prepare to answer the inevitable questions about the employment gap on your resume especially if it is longer than a year because interviewers are most likely to ask.
When you prepare for an interview, it helps you build your confidence and become more comfortable answering questions.
Involve a friend or your spouse to do a mock interview with you and get their feedback on your answers, body language and presence.
Once you have an interview lined up, prepare with research about the business or job.
Having background information and knowing the company culture is important to show the interviewer that you're prepared and helps answer the common question: "Why do you want to work here?"
You can decide to answer the question about your job gap in a couple of ways
Lets consider the strategies below in addressing employment gap question:
You can acknowledge that you took some time away for personal reasons, which was the best decision for you at the time, and you're now ready to return to work.
You can acknowledge that you took some time away to be a stay at home mom because it was the best decision for you at the time, and now you're ready to concentrate on your career.

The first choice is not clear and could make the recruiter feel there is something shady as to why you wouldn't share your "personal reasons."
The second option can raise some sensitivities around motherhood.
It's common for mothers to take some time away due to child birth, so this won't be a new scenario to most interviewers.
A good and experienced interviewer will concentrate more on your ability to do the job than your role as a mother.
Be sincere and brief, while disclosing who you are and your abilities.
Bring the interview back to the position and your qualifications, re-assuring the interviewer that you're a perfect match and how very excited you are getting back to the workforce and advancing your career.
Accentuate your transferable skills, make them aware of what you've been up to and how it can be employed to the position.
Display confidence and composure throughout the interview.
You might like: How Do I List Self-Employment & Freelance Work on Resume?

Here are examples of suggested ways to address being a stay-at-home mom:
"My last job was a fulfilling one, though I decided to be a stay at home mom for the past few years so I can focus on grooming my toddlers."
"I focused on babysitting these past few years, and I'm looking to return to the marketing industry in a part-time capacity."
"Now that my children are in middle school, I'm looking for a position in customer service with room for growth. I worked at Punch Publishing almost fifteen years before my children were born and still engross in their work. I've also kept up with the field through my volunteer work at the Kids and Teens foundation where I focused on giving excellent customer service."
Tailoring a functional resume will help detract the attention of the interviewer from your employment gaps.

8. Precede Desperation and Be Focused
When it comes to searching for the right job despite the level you are in your career, you must possess an important virtue which is patience.
Apply for only the position you have interest in and not every position a company has posted because this could make you look desperate and indecisive.
I know sometimes being out of workforce for a long period can cause insecurities, but keep this in mind as you voyage the job search process that you still deserve to land a great position that's the right match for you.

9. Know Your Rights as an Applicant
My intention is not to make anyone too sensible to discrimination or create the mindset that it could be an issue for you.
Quite the opposite, my career transition advice is to go into an interview fully aware that you are qualified for the position and that recruiters want to hire the best person for the position.
Be in charge of the interview!
On a serious note, discrimination does exist, alas, and it's good to be aware of the issue.
Discrimination Laws exist to protect against gender, race, disability, age and other types of discrimination for a reason.
For better understanding about these laws and your rights, refer to the Laws Enforced by EEOC.

10. Believe You Can Do It, And Don't Be Hard on Yourself
Going through the whole process of job haunting and interviewing, as well as adjusting to a new company style can cause anxiety especially if you have been out of the workforce for a while.
Don't be hard on yourself instead enjoy every stage from applying to getting hired with a calm and positive spirit.
You've done it before, so you can do it again.
Once you take a step of re-entering the workforce, give yourself some time to adjust to your new schedule and don't expect to know or learn everything overnight.

11. Communicate with Your Family
Communicating your decision to get back to work in time with your family will help both them and your transition process to be seamless especially if your children are still early school-age and living at home.
This kind of conversation helps to contend expectations for the home and the new demands on your agenda due to work.
Adjustment for the family will certainly take a little time but with a heart-to-heart communication, the adjustment time would flow well than it would without it.

Conclusion
No matter how long you have been out of the workforce, congratulations on making the decision to get back to work.
We hope this guide for stay at home moms getting back into the workforce is of great help to you.
At CEOMichaelHR, we are a team of career consultants and resume specialists.
Are you a stay at home parent ready to return to work?
Consider hiring one of our expert career specialists to help you find the perfect career and revamp your personal branding materials such as your resume, cover letter, LinkedIn, and professional bio. Get started today!