Are you wondering how a machine operator job description looks like?
What are the skills and experience requirements for these professionals?
Read on and learn how to identify what technical and soft skills, credentials and work experience matter most to an employer in the machine operator field.

Who Is A Machine Operator?


A machine operator is a professional responsible for taking care of all machine-specific functions including equipment configuration, machine loading and operation, and machine capability optimization.
They need to ensure that the machine works at its full capacity, oversee its maintenance, and perform timely quality checks.
They must demonstrate a self-starter ability and willingness to undergo training, if need be, to understand the operations of new equipment.
In summary, a Machine Operator is a professional who is responsible for operating their assigned machinery.
They ensure their machine runs seamlessly, works at capacity without issue and is appropriately maintained.
You might like: Senior Business Analyst Job Description

What To Expect From A Machine Operator?
A machine operator is tasked with the job of working with heavy machinery so that companies are able to manufacture and distribute goods effectively.
They're involved in the setting up of machinery to start a production cycle.
They operate and oversee equipment, test machines to ensure they're running smoothly, feed raw materials into semi-automated machines, and always keep abreast of health and safety regulations.
Machine operators are meticulous, and adept individuals with deft hands. They contribute directly to the success of a company's product.
Performing excellently in this role takes years of on-the-job training as it's vital to understand the nuances—and hazards—of each particular machine.
Highlighted below are key things to expect from a machine operator:
Exposure to the production industry and professionals
Hands on experience with machine operating and production lines
Willingness to learn how to operate various machines and processes involved with the production
Strong drive for on the job learning especially best practices in the industry

For the sake of ensuring your professional resume support your goals, use the machine operator job description below to make an informed decision on what you should highlight on your resume.

Machine Operator Job Description Sample 1

Job Overview
We are seeking for an adept Machine Operator to set up, maintain and operate machinery. You'll ensure the seamless and efficient running of all production process.
We seek an adept machine operator who is reliable and able to work with great attention to detail and safety standards.
On-the-job training is a good way to discover how to do the job better, so you should have willingness to learn and improve.
Being a team player is essential since all tasks will require close collaboration with co-workers.
The ultimate goal is ensuring that production procedures will be carried on seamlessly to maximize efficiency and return on investment.
Key Duties
Set up machines (calibration, cleaning etc.) to start a production cycle
Control and adjust machine settings (e.g., speed)
Feed raw material or parts to semi-automated machines
Inspect parts with precision and measuring tools
Test operation of machines periodically
Fix issues that might occur during the shift
Check output to spot any machine-related mistakes or flaws
Keep records of approved and defective units or final products

Basic Requirements & Skills
Previous experience as a machine operator
Working knowledge of diverse high-speed machinery and measurement tools (caliper, micrometer etc.)
Understanding of production procedures
Adherence to health and safety regulations (e.g., constant use of protective gear)
Ability to read blueprints, schematics and manuals
Analytical skills
Manual dexterity
Attention to detail
Teamwork and communication skills
Physical stamina and strength
High school diploma or equivalent; technical degree is a plus

Machine Operator Job Description Sample 2

Job Overview
Founded in 1980, [Company Z] has grown into an international leader in electrical and power solutions.
Our products have helped millions of individuals live happier, healthier lives—and we're just getting started.
As we prepare to open a new facility, we're looking to hire an experienced machine operator to help us meet our production goals.
The ideal candidate must be a team player who's willing to put in the work to ensure standards of quality and communication.
Role Objectives
Accurately and efficiently operate complex machinery
Meet production fulfillment needs of internal and external customers
Maintain high standards of company etiquette and codes of conduct
Contribute to a manufacturing process that is safe, efficient, and sanitary
Daily and Monthly Responsibilities
Verify that safety equipment on machinery is functional prior to operation
Follow production instructions, either written or verbal, as necessary
Set up and perform minor calibrations on machinery, as needed
Operate machinery in a manner that is safe to yourself and others
Perform inspections of machinery to ensure efficient operation and production
Maintain high quality of products as produced through machinery
Skills & Qualifications
High school diploma or general education degree (GED)
1-3 months related experience in a manufacturing setting
Preferred Qualifications
Ability to read, write, and understand simple instructions
Ability to add, subtract, multiply, and divide in all units of measure, using whole numbers, common fractions, and decimals
Ability to use arms and legs, and lift 30 lbs.

You might like: IT Help Desk Resume Samples & Job Description
Average Salary
According to Glassdoor, the estimated total pay for a Machine Operator is $50,830 per year in the United States area, with an average salary of $33,761 per year.
These numbers represent the median, which is the midpoint of the ranges from our proprietary Total Pay Estimate model and based on salaries collected from our users.
The estimated additional pay is $17,069 per year. Additional pay could include cash bonus, commission, tips, and profit sharing.
The "Most Likely Range" represents values that exist within the 25th and 75th percentile of all pay data available for this role.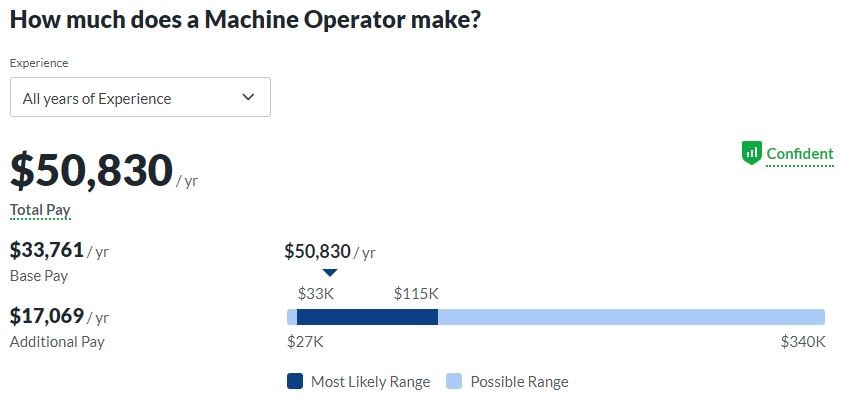 Frequently Asked Questions
What are the responsibilities of a Machine Operator?
A Machine Operator perform extensive functions from monitoring to maintaining and operating warehouse equipment.
They clean and check quality of their machinery to ensure everything is at optimal efficiency.

What are job duties of a Machine Operator?
A Machine Operator is basically responsible for the daily functions, from set-up and loading to operating machinery with detail-orientation and efficiency.
They ensure the machine's performance allows every aspect of production to run seamlessly.

What makes a good Machine Operator?
A good Machine Operator is a self-motivated individual.
They're excellent team players with skills to successfully work with their assigned machinery to keep it running efficiently.
Efficient Machine Operators can think on their feet, make fast productive decisions and have strong attention to detail.

Who does a Machine Operator work with?
A Machine Operator collaborates efficiently with their team to ensure equipment runs appropriately and all production goals are met.
They may also collaborate or work with a Maintenance Technician to complete all required maintenance and repairs for their assigned machinery.
You might like: Senior Software Engineer Job Description

Conclusion
Looking for an experienced, and trustworthy machine operator begins with furnishing a job description that is both informative, inviting, and appealing to a diverse pool of applicants.
By taking this extra step to optimize your job posts using our samples above, you can entice a diverse pool of applicants, and attract more candidates.