Who Is an Operations Manager?
An Operations Manager usually have a niche in companies that offer products and services.
They play an important role in the area of operations and production within a company.
The operations manager job description defines the major tasks, duties and responsibilities of an operations manager.
The main purpose of an operations manager is to plan, direct operations, improve productivity and efficiency as well.
Other job roles expected of an operations manager centers on the conscious monitoring of existing processes and its effectiveness.

What Does an Operations Manager Do?
What an operations manager does may vary depending on the company or industry they work.
For instance, an operations manager can fill a pivotal role in a business, government or other organizations.
The actual tasks of an operations manager depends on the nature and size of the organization. However, a wide range of business and interpersonal skills are required to attain success.
A business operations manager develop plans and organizes the day-to-day activities of a business, government agency or non-profit organization.
They oversee a variety of departments from human resources to accounts payable.
Special duties of a business operations manager may include monitoring expense reports, reviewing budgetary information, coordinating educational assignments for member staff, performing cost-benefit analysis on internal programs and interpreting financial data.
You might like: Senior Business Analyst Job Description

What Is the Workplace of An Operations Manager Like?
The stability and growth of a business is highly dependent on an operations manager.
Job openings for operations managers can be found in just about any government agency, company and industries such as transportation, retailing, insurance, healthcare, construction, hospitality, and manufacturing industries to mention a few.

Operations Manager Job Responsibilities (Random)
Coordination and Supervision
Coordinate, manage and monitor the work of various departments in an organization.
Financial
Review financial statements and data.
Utilize financial data to improve profitability.
Prepare and control operational budgets.
Control inventory.
Plan effective strategies for the financial wellbeing of the company.
Best Practices
Improve processes and policies in support of organizational goals.
Formulate and implement departmental and organizational policies and procedures to maximize output.
Monitor adherence to rules, regulations and procedures.
Human Resources
Organize recruitment and placement of required staff.
Establish organizational structures.
Delegate tasks and accountabilities.
Establish work schedules.
Supervise staff.
Monitor and evaluate performance.
Production
Coordinate and monitor the work of various departments involved in production, warehousing, pricing and distribution of goods.
Monitor performance and implement improvements.
Ensure quality of products.
Manage quality and quantity of employee productivity.
Manage maintenance of equipment and machinery.
Provide technical support where necessary
Communication
Monitor, manage and improve the efficiency of support services such as IT, HR, Accounts and Finance.
Facilitate coordination and communication between support functions.
Sales, Marketing and Customer Service
Manage customer support.
Plan and support sales and marketing activities.
Strategic Input
Liaison with top management.
Assist in the development of strategic plans for operational activity.
Implement and manage operational plans

You might like: Unemployment Guide: 9 ways to make the most of unemployment

Other Duties of An Operations Manager May Include
Improve the operational systems, processes and policies in support of the organization's mission

Support better management reporting, information flow and management, business process and organizational planning

Play a significant role in long-term planning, including initiatives geared towards operational excellence

Develop individual program budgets

Manage and increase the effectiveness and efficiency of support services (HR, IT and Finance, through improvements to each function as well as coordination and communication between support and business functions)

Drive initiatives that contribute to long-term operational excellence in the management team and organization wide

Provide inspired leadership for the organization

Make important policy, planning, and strategy decisions

Develop, implement, and review operational policies and procedures

Assist HR with recruiting when necessary

Help promote a company culture that encourages top performance and high morale

Oversee budgeting, reporting, planning, and auditing

Work with senior stakeholders

Ensure all legal and regulatory documents are filed and monitor compliance with laws and regulations

Work with the board of directors to determine values and mission, and plan for short and long-term goals

Identify and address problems and opportunities for the company

Build alliances and partnerships with other organizations

Support worker communication with the management team



A well-tailored operations manager resume must highlight your relevant skills for an operations manager position.
The skill section will help your resume to match the applicant tracking system (ATS), which is your first move to get your application recognized by the hiring bots.
Make use of these operations manager job description top skills below to help you create your top-notch resume in a brace.
You might also like: The Predictive Index Test (All You Need to Know)

Operations Manager Job Description Top Skills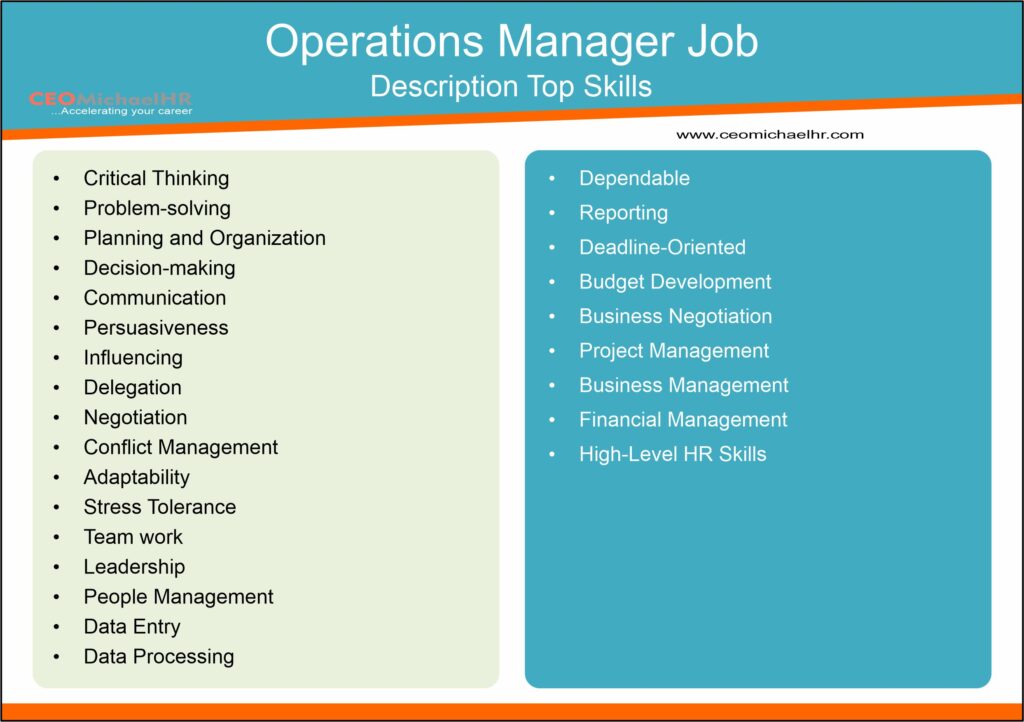 You might like: 15 key skills to put on a resume right away

Operations Manager Education and Experience
The education and experience requirements for an operations manager varies according to the nature of the job responsibilities.
However, the following are commonly required in the operations manager role.
College degree in business administration, commerce, management, industrial technology or industrial engineering. Certain schools offer bachelor's and master's degrees in operations management
Industry relevant production experience
Knowledge and experience in organizational effectiveness and operations management
Knowledge of business and management principles and practices
Knowledge of financial and accounting principles and practices
Knowledge of human resource principles and practices
Knowledge of project management principles and practices
Information technology skills
Bachelor's degree in operations management or related field
Experience in management, operations, and leadership
Understanding of general finance and budgeting, including profit and loss, balance sheet, and cash-flow management
Ability to build consensus and relationships among managers, partners, and employees
Excellent communication skills
Solid understanding of financial management

Conclusion
Do you wish to work as an operations manager but unsure of the effectiveness of your resume?
Our team is ready to supercharge your job search by tailoring a custom resume that land interviews 3x faster.
Reach out to our experts at CEOMichaelHR where your tailored resume advances from hello to hired!