Have you been considering a resume writing service but wondering if it's worth the investment?
Then, this article is specially curated for you!
Don't underrate this quest for perfection as your resume is the single most important tool in your job search arsenal.
I receive a lot of questions from job seekers asking me, "Should I hire a resume writer?" or, "Are resume writing services worth it?"
Before investing your hard-earned money, you sure want to know the pros and cons and it's all perfect.
Seat back as I walk you through all you need to know about hiring a resume writing service for your resume project.

Why do you need to hire a resume writing service?
Before considering a resume writing service, you need to know exactly why you should be looking for this kind of service for your resume project.
There are a few types of individuals who can have maximum benefit from hiring a resume writing specialist.
Below are outlined the class of individuals who should be considering the service of a resume writer:
You're busy and simply do not have the luxury of time to do all the research and learning necessary to create a winning resume on your own

Your background is complicated or you're on a career evolution phase such as changing careers and require the service of a professional who can organize a complex work history and fashion it for your next job role

You see paying for professional help as a good investment and would rather use a bit of money instead of your personal time to learn all the tactics in writing a professional resume

Very importantly, resumes are difficult for non-writers to create, and what worked 5 or 10 years ago might not work now due to constant evolution of resume best practices.
Find out: Professional Resume Writing Basics

You may be considered an expert in your discipline, but that doesn't qualify you to write a resume as resume writing requires specialized skill-set that are not possessed by a good number of applicants.
Unfortunately, without these specialized skills, one may struggle to properly convey their real value as a potential value for companies and organizations they seek to work with.
In today's highly competitive job market, recruiters have devised a means to filter out bad resumes by incorporating the effort of a software called the 'Applicant Tracking System' or the ATS.
As a matter of fact, the emergence of this ATS program has led to giving applicants more challenges in tailoring a winning resume as they need to understand more technicalities involved in tailoring a professional resume such as effective use of keywords, understanding keyword density, proper ATS template formatting etc.
Your resume needs to be written in a way that satisfies the ATS requirements. Otherwise, your resume will be rejected and you'll never even get a chance to have it looked at by human eyes.
Professional resume writers have perused dozens if not thousands of resumes based on years of experience and know what is boring, tiring, unimpressive, or unacceptable on a resume.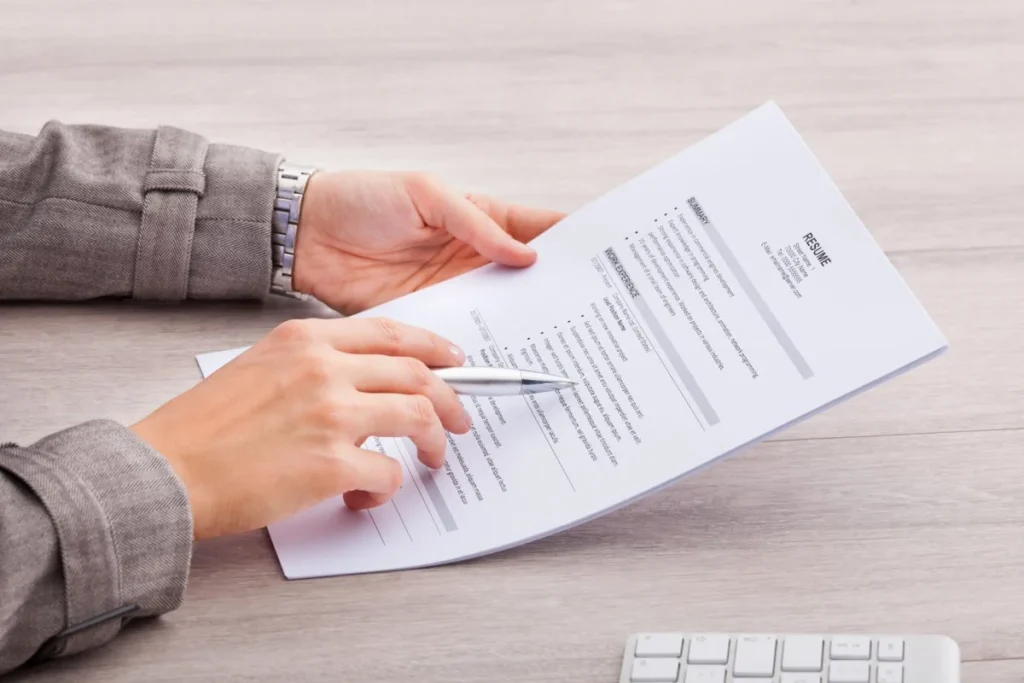 Overall, hiring a professional resume writing service is there to ensure that your valuable skills and experiences are properly conveyed to your prospective employer incorporating all best practices in the resume writing industry.

What type of resume writing service is best?
Next, you'll need to consider the type of resume-writing service you want to work with, as there are several options available.
As you might be thinking, they each provide different levels of service, along with featuring different price schemes.

1. Resume Builders or Template Services
You can't technically count a resume template service as a resume writing service.
I have included this option just to acknowledge its existence seeing you might have already come across at least one of them when researching resume writing services.
Just be aware that such operations tend to be unpredictable, and so always carry an element of risk.
Basically, template services don't actually write resumes. Instead, it provides one or more templates for you to enter all your work history details, and then the service creates a resume based on a template.
For resume builders, however, it's a different ball game.
The best resume builders are far more advanced than outdated templates and enable you to tailor your resume to a specific job description.
The costs are usually reasonable (if hidden), but the results can all amount to being useless.
That's especially true if you need your resume to pass an ATS, since there's no way for an automated template to adequately accommodate the ATS requirements.
Nearly 75% of resumes are rejected by an ATS resume test because they're not correctly formatted or keyword optimized.
As a rule, this template service option is best recommended if you are looking to have basic details of your resume on record and plan to deliver the document directly to the individual who makes the hiring decisions.
However, if you are submitting for online applications, you'll risk having your resume overlooked by the screening software due to a number of formatting errors.
You might like: How to Use LinkedIn to Get A Job
Take for example, your resume template puts your contact information in the header or footer of a document, the ATS scan will not see it.

2. Resume Factories
Every day, more and more people begin to realize that they need a well-written resume to make career advancements, and that they don't have the skills necessary to create a stellar resume.
However, as they look for resume writers to craft them a document which will make them stand out from the crowd, they tend to cut corners and look for shortcuts.
Unfortunately, these shortcuts lead to nowhere and job seekers will only end up unemployed, and a few bucks short.
Ensure great care when it comes to utilizing the service of a resume factory also referred to as mills.
They employ people who possess only a small amount of resume writing skills or expertise.
Many lack knowledge and sometimes even proficiency in your language.
Not only that, the companies behind such operations tend to fail in providing the type of professional guidelines writers need to make your resume the best it can be.
With absolute confidence, this type of resume writing service is almost never worth the money you invest.
Perhaps you get a delivery, it tends to be incomprehensible or rely on "creative" resume formats to disguise the fact that there is less quality content.
This resume writing services can be spotted easily by noticing key things like: No contact details, no resume examples of their work.
One of the first things job seekers notice, when looking for reputable resume writers, is that creating such a document costs money, usually more than they were initially willing to spend.
So they turn to resume mills – cheap, fast companies that make very few promises and deliver even fewer.
Thinking they actually struck a good deal, job seekers are happy to pay resume mills for the job.
The product they receive is poor, and is practically useless in the job hunting endeavour as the delivery will be unable to pass the ATS system.
Let's take a closer look at how resume mills work, and why it would be a poor investment choice.
Just like any other mill, resume mills are companies, individuals or group that earn their living through quantity, over quality.
By the time a reputable resume writing company finishes a single resume, a resume mill company will have completed more than 15 resumes.
The same is with the price.
For the price of a single resume from a high-quality resume service company, a resume mill organization will create a dozen for same price.
From a business perspective – both companies will earn approximately the same, however, the quality of their product is vastly incomparable.
But hey, they're cheap, right? The fact of the matter is – you get what you pay for.
A low investment usually means low returns, sometimes no returns, at all.
And with the competition being as fierce as it is in the job industry, job seekers should avoid looking cheap and amateurish

3. Certified Professional Resume Writers
Your best option will always be to rely on true professionals.
The best resume writing services will have highly talented, experienced writers with a vast amount of resume writing experience as well as local talent, well-acquainted with the job market in their immediate surroundings.
A resume writer committed to their field is also committed to seeing you get results from the work you do together.
The resumes they write go far beyond listing your present and past employers with a laundry list of your core duties and responsibilities. And, a resume writing specialist doesn't use boring resume templates either.
These professionals will be able to take your important information and craft a relevant, effective resume that provides the branding you need to stand out from the crowd.
Employers wade through the "fluff" resumes and focus on the ones that present value and are achievement based.
Template or cookie-cutter resumes, starting off with the obsolete objective statement, or making general fluff statements like "possess excellent communication skills," "fast learner," "team player," etc. doesn't stand out.
High quality professional resume writers will:
Invest a lot of time interviewing their clients, to make sure they understand their needs and career goals
Select an appropriate resume format, and make sure to place greater emphasis on the candidate's biggest advantages
Advise the client on where, how and when to apply, and what to do if they get invited for an interview
Walk the candidate through the entire employment process

As you might expect, though, resume writers will require more time and more money because the process asks for greater collaboration from you.
You might like: Best Resume Writing Services in Austin, TX(2022)

Hiring a resume writer will require you to be involved at different stages of the process.
The writers will need clarify details, and ask for your complete trust that the final product satisfies current industry best practices and your job seeking needs.
A certified professional resume writer can be found on platforms like LinkedIn Profinder or Thumbtack, or via utilizing a trusted service with a wide network of writers.
It's easy to get tempted by the low prices and the promise of a fast turnaround.
The resume is far too important of a document, to be acquired from an assembly line set up somewhere in a third-world, non-English speaking country.
Always note that hiring managers have seen so many resumes in their lifetime that they'll be able to spot a cheap one, bought from the internet, in a glance.
They will form their opinion on the candidate based on that resume, and with a cheap document, how do you think they'll view the candidate?
They certainly won't consider them hard-working, detail-oriented or responsible.
And without those qualities, don't expect to get hired anywhere good.

How to Choose the Right Resume Writing Service

1. Do Your Research
There are a ton range of career service professionals out there who provide resume writing services.
But not all resume writers provide equal stellar services.
If a resume writer claims to be a certified, verify it.
Unfortunately, there are some dishonest people out there claiming to be credentialed when in fact they're not.

2. Carefully Peruse Their Website
Find out if they specialize in your field or industry.
Look for testimonials attesting to the quality of their service and how they've made a difference for their clients or customers

3. Contact Not Less Than 3 Resume Companies
Based on your research and conversation with each resume writer, you'll have a better understanding of how they can help you and if they're a "good fit" or not.
Don't relax.
Take out time to research and make a well-informed decision by contacting at least three resume companies.

Conclusion
At the end of the day, you ultimately get what you pay for.
The key to ensuring that your resume writing service is worth the cost is to choose wisely.
Identify a reputable company that actively works with you to craft the perfect resume and cover letter for your needs.
When you successfully achieve this, your resume will certainly worth the money you paid and you'll be at a competitive advantage when you submit your resume to recruiters or hiring managers.
You'll quickly find that hiring a resume service is really worth it.
You're doing more than just hiring someone type up your resume or do simple updates.
You'll be investing greatly in both you and your career.

WRITTEN BY
CEOMichaelHR Team
CEOMichaelHR is made up of professional writers and career experts located across the USA, Canada & Australia with backgrounds in HR, recruiting, career coaching, job placement, and professional writing.
Is your resume getting ignored?
Land 3x as many interviews with a professional resume overhaul by one of our certified resume specialists at CEOMichaelHR.