Analytical skills are must-have skills for job seekers in this current job market.
And because analytical skill is a vital soft skill in most industries or careers, you must know how to describe them correctly on your resume.
Analytical skills are in high demand and can help you stand out from the crowd.
But how do you communicate them in the right way on your resume?
While simply possessing analytical skills is good, it weighs more benefit if you can describe it clearly on your job search document to land your dream job.
In this detailed article, we'll discuss the following:
What are analytical skills?
Step-by-step guide on how to describe analytical skills on resume
Importance of describing analytical skills on resume
Resume example describing analytical skills

Want to save time and have your interview-ready resume in just 2-5 days?
Let our CEOMichaelHR affordable resume writing services take the guesswork out of resume writing by summing up and professionally showing off your industry skills and experience.

One of our clients, Ashphu, had this to say:
My resume writer Rolyns, did a great job with the format, as well as the content. He wonderfully conveyed my skills in a concise and direct manner. I started getting phone calls from potential employers almost immediately after the resume rewrite.

See more success stories




What Are Analytical Skills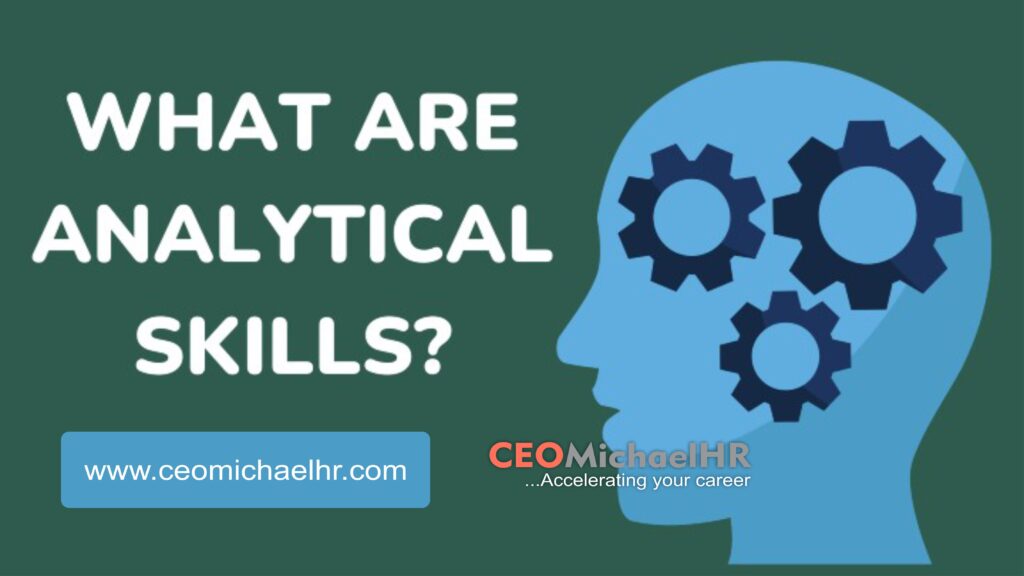 Before we explain how you can describe analytical skills on your resume, it is essential to have a keen understanding of these skills.
Analytical skill is your ability to study information and carefully draw a conclusion based on data.
These skills are 10x more pronounced in industries that rely on data to fuel business strategies such as sales, marketing, data analysis, business management, accounting and finance.
To further explain this, as a Sales expert, you'll rely on analytical skills to identify consumer trends and purchasing behavior to understand company profits changes.
Various skills contribute to demonstrating effective analytical skills. Skills include problem-solving, critical thinking, research, creativity, communication, and data analysis.
Do you need to figure out the type of analytical skills you have?
One great way to be sure is by taking a detailed look at your accomplishments and methods for achieving them.
You'll be amazed you have more than you think.
To get you started, peruse below a few analytical skills:

Critical Thinking
Critical thinking is your ability to see beyond the obvious by exploring impossible angles to find a solution, evaluating information or data and then making decisions based on your findings.
You've demonstrated critical thinking skills whenever you make decisions that solve the company's problems.
Critical thinking skills include benchmarking, big data analytics, case analysis, comparative analysis, correlation, deductive reasoning, inductive reasoning, diagnostics, dissecting, evaluation, data interpretation, and troubleshooting.

Communication
When you have analytical skills, it means you can solve your team or organization's problems. You'll have to communicate to your colleagues how you intend to implement the solution.
With effective communication, you'll be able to communicate patterns, conclusions, and recommendations.
Analytical communication skills include active listening, reporting, teamwork, oral communication, written communication, and conducting presentations.

Creativity
With a creative mind, you can quickly identify trends in complex data.
You can also incorporate creativity in problem-solving when the general solution is only sometimes the best.
Creative skills include brainstorming, collaboration, predictive modeling, restructuring, strategic planning, and integration.
You might like: Is Time Management a Soft Skill? What do Recruiters Say?

Why Are Analytical Skills Important on Your Resume?
Because a company's survival depends on constantly overcoming challenges, an employee with analytical skills can find new solutions to problems, fostering the company's efficiency, productivity, and profitability.
According to recruiters, the most sought-after employees and executives have a proven history of verifiable analytical skills.
Use your resume to demonstrate your analytical skills using metrics.
You might like: 15 Key Skills To Put On a Resume Right Away

How To Describe Analytical Skills on Resume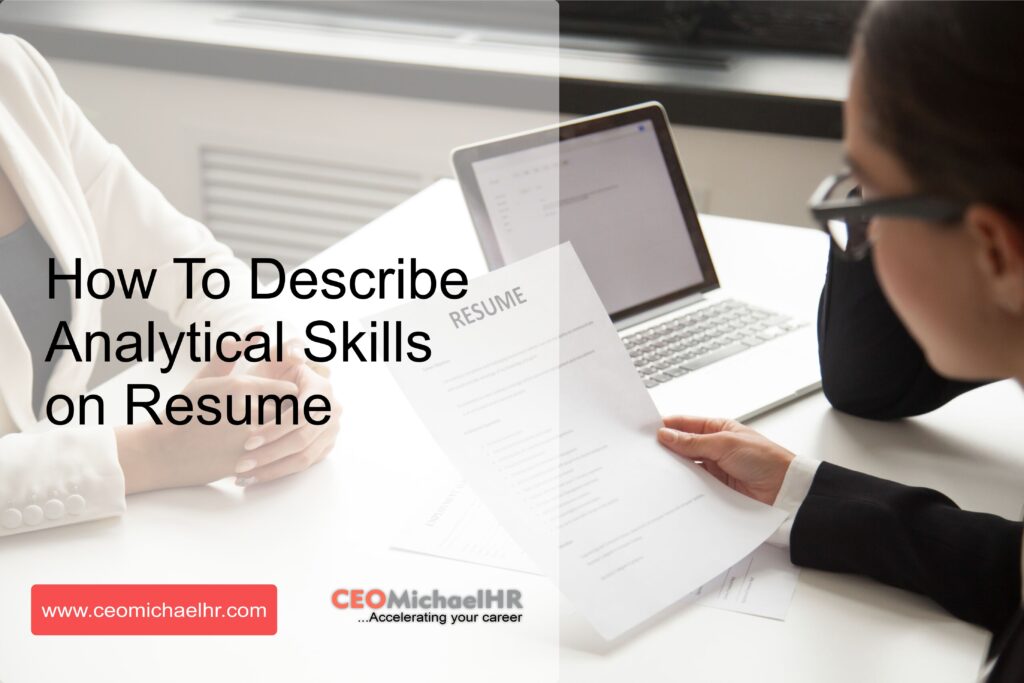 To describe analytical skills is to demonstrate the skill or skills you used in analyzing and solving problems.
Most resumes will use phrases like "critical thinker", "communicator", or "solution-oriented."
You'll, however, be at a competitive advantage showing how you've utilized a skill that has brought value to an employer.
Follow the steps below to ensure you're on track with correctly describing analytical skills on your resume.
Highlight examples of how you used those analytical skills to solve workplace problems.
Identify and describe a specific process you used
List your significant achievements by using your analytical skills
Avoid repeating words like "analyzed," "analysis," and "analytical skills." by using synonyms
Include specific training courses related to analytical skills


Tips For Describing Analytical Skills on Resume

1. Select your most relevant experience
Since resumes are typically one page, you must choose only your most relevant experience for each position you're targeting.
Check which of your experiences used your data analysis or deductive reasoning skill.
This can provide you more insight into examples you can give as evidence when describing your analytical skills on your resume.
For entry-level professionals, examples from your educational experience that relied on research and analysis to present your skills, such as a research project, can be highlighted.
If you have substantial experience, you'd better select the most relevant ones.
You might like: 100+ Powerful Action Words for Resume to Wow Recruiters

2. Consider your data analysis experience
Possessing data analysis skills shows that you rely on diligence and strong deductive reasoning to demonstrate your analytical skills.
This skill weighs more importance for jobseekers seeking roles in sales, finance, software engineering and UI/UX.
Data analysis can go a long way in influencing critical business decisions.
Ensure to highlight the experiences you demonstrated in data analysis.
For example, you may reference using quantitative or qualitative methods to conduct data analysis in a previous role.
This provides a clear image of your analytical skill level and can help an employer decide whether you're a suitable candidate for the opening.
You might like: Top Transferable Skills- 45+ Examples for a Resume

3. Include your research experience
One key element of analytical skill is "research."
This important skill helps you draw conclusions to inform your next steps.
For example, as a marketing specialist, you may research customer engagement to learn that customers wish to see improvements in their products.
You can highlight how your research and conclusion made a tangible difference to your precious company.

4. Show examples of your use of deductive reasoning
"Deductive reasoning refers to the process of drawing conclusions or deductions from data or information analyzed using logic and reasoning."
This analytical skill is vital because you can feed conclusions back to your manager, who can then act on the results.
For example, as an Accountant, you're likely to use deductive reasoning when analyzing a client's financial information and advising them on how to improve their saving and spending capacity to meet their financial goals.
Showcasing your deductive reasoning skill on your resume will give your recruiter a clear image of your intellectual and logical capabilities.

Resume Example Demonstrating Analytical Skills

Example sourced from au.indeed.com.
Tony Brook
Toorak, Melbourne
61 7845 6326
tbrook@mail.com

Professional summary
Results-driven individual with over 10 years' experience as a research assistant. Equipped with knowledge in quantitative, qualitative analysis and a vast portfolio of research project. Demonstrated experience and skills in analysis and deductive reasoning. Able to effectively analyze a high volume of data and make deductions or solve issues accordingly.

Work experience
Research Assistant
Melbourne University | Jan 2020 – Present

> Assisted in numerous research projects for PhD students and academic staff, undertaking many subjects, including English Literature, History and Biomedical Science
> Gathered data for the head researcher and conducted research studies via quantitative and qualitative means
> Summarized results and tested thesis statements against results
> Employed intensive analytical skills to notice trends in the data to advise on changes to thesis statements or entire sections of research papers

Education
Bachelor of Science in Data Science
Melbourne University | 2011

Highlights
> Analytical skills
> Deductive reasoning
> Problem solving
> Communication
> Qualitative analysis
> Quantitative analysis
> Strategic thinking
> Data management systems

"I have analyzed data on over 30 projects using qualitative and quantitative methodology. This has helped me advise head researchers and authors on the appropriate course of action based on the results. For example, I have previously advised students and academics to change their thesis statement when the trend in results has contradicted their initial sentiment. This made a tangible difference to the impact of their research paper, resulting in a high amount of praise from academics."



Conclusion
Analytical skills are highly in-demand skills, and knowing how to describe yours effectively on your resume will help you stand out from the crowd.
Ensure to be specific and authentic in your voice.
CEOMichaelHR understands that discussing your analytical skills and achievements can be difficult. Reach out to our professional resume writers to help build a resume that successfully highlights your skills.
We also offer professional bio writing services that'll give you a competitive advantage.