To ensure your professional resume support your goals, use this senior project manager job description to know what you should highlight on your resume.
This article gives us an insight into the senior project manager job description.
By the end of this post, you will gain substantial knowledge of what recruiters are looking for in a senior project manager resume.

You might like: 3 Ways to Include Testimonial on Your Resume

What Is Senior Project Manager Job Description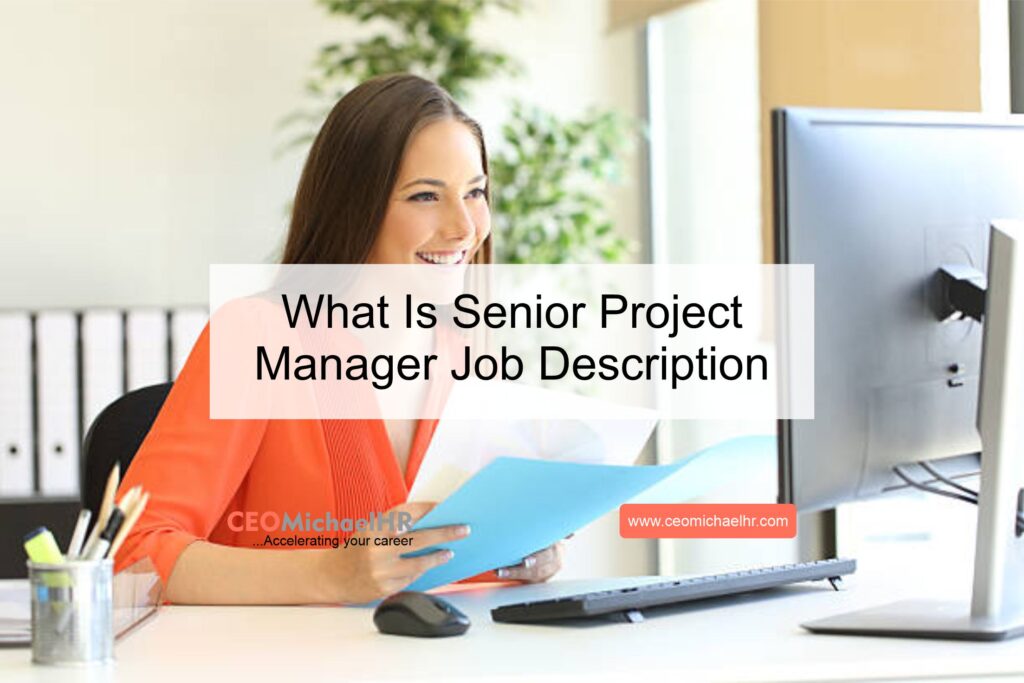 Senior project managers are often more experienced project managers.
They are usually entrusted with larger and more complex projects, and sometimes they may be in charge of several projects simultaneously.
The senior project manager has considerable expertise in developing specialized process improvement initiatives.
They lead teams to deliver the project(s) across various business units, manage resources, schedules, and financials and cohere to stage gate quality and SDLC control guidelines throughout the project.
They manage issues, risks and project change requests to ensure successful and on-time project delivery. They also contribute to process improvement initiatives related to improving project delivery.

What Are The Characteristics Of A Good Senior Project Manager?
Since the ultimate supervision power over project teams is on the senior project manager, they need to have a high level of responsibility and accountability.
Good senior project managers show they are committed to the outcome of a project by providing their team members with the support they need.
They are great leaders that motivate and inspire their team to success.
A good senior project manager can work efficiently under pressure and use their innovative mindset and problem-solving skills to achieve their goals on time.

You might like: How to Write a Resume with No Work Experience (Best Guide)

Senior Project Manager Duties And Responsibilities
A lot is required from a senior project manager when it comes to successful execution and on-time delivery of projects.

Here are some duties and responsibilities of a senior project manager:
Develop project plans that identify resources and budgetary needs for all phases of the project
Host project meetings with team and managers subsequently during the project period
Provide advice, encouragement, project updates and feedback to team members
They ensure that funds required to achieve project objectives in planned time frame are adequately provided
Manage a portfolio of complex initiatives that span one or multiple lines of business
Provide on-site leadership for project team by building and motivating team members to meet project goals, adhering to their responsibilities and project milestones
Observe team members to know if any needs further training and provide this training
Manage all aspects of multiple related projects to ensure the overall program is aligned to and directly supports the achievement of strategic objectives
Prepare progress reports for stakeholders and investors
Ensure that health and safety measures are strictly adhered
Work creatively and analytically in a problem-solving environment demonstrating teamwork, innovation and excellence
Actively participate in establishing practices, templates, policies, tools and partnerships to expand and mature these capabilities for the organization
Manage the day-to-day project activities and resources and leads the project management team meetings
Monitor staff performance and complete performance reviews
Provide status reporting regarding project milestones, deliverable, dependencies, risks and issues, communicating across leadership
Demonstrate a functional insight to support how solutions will address client goals while maintaining alignment with industry best practices
Manage project scope and changes
Keeping up with industry trend innovation research, and best practices
Act as an internal quality control check for the project
Manage ongoing quality control and participate in quality issue resolution
Help in dispute, negotiation, arbitration or litigation, as needed
Support formal/informal schedules to manage the engagement contract
Define the Statement of Work and Specifications for the requested goods and services
Assign tasks and responsibilities to appropriate personnel
Monitor, track and control outcomes to resolve issues, conflicts, dependencies and critical path deliverables
Determine the frequency and content of status reports from the project and program team, analyze results and troubleshoot problem areas
Coach, mentor, motivate and supervise project and junior staff
Deliver appropriate and effective executive level communication
Ensure that projects and programs are proceeding according to scope, schedule, budget and quality standards
In-depth understanding of project and program management principles, methods and techniques
Senior project manager assists with interviewing and hiring new project staffs

Senior Project Manager Qualifications
It is important that a quality senior project manager possesses an effective communication and management skill.
Here are several other skills and qualifications senior project managers should have:
Excellent experience in SDLC Methodologies, Agile, SCRUM, SDLC / Waterfall
Strong leadership, diplomatic and motivational skills including the ability to lead up, across and down multiple business and technology organizations
Proven ability to work creatively and analytically in a problem-solving environment demonstrating teamwork, innovation and excellence
Build and maintain relationships by engaging business leaders to establish credibility, solve problems, build consensus and achieve objectives
Excellent leadership, communication (written, verbal and presentation) and interpersonal skills
Self-motivated, decisive, with the ability to adapt to change and competing demands
Research best practices within and outside the organization to establish benchmark data and use continuous process improvement disciplines to achieve results
Tools: MS Project, Excel, Word and PowerPoint; CA Clarity PPM
Experience negotiating vendor contracts
Experience drafting and submitting budget proposals and recommending subsequent budget changes where necessary
Experience in successfully leading projects and programs to on-time, on-schedule and within budget close
Experience leading, motivating and managing various project and program team sizes, including internal and external resources, while holding team accountable for performance
Strong experience presenting to executive sponsors and demonstrated communication skills; both written and oral with technical and non-technical staff, all levels of management
Experience influencing and gaining buy-in from executive's sponsors, team members, stakeholders and peers
Team-building skills with technical and non-technical staff
Experience working both independently and, in a team, -oriented, collaborative environment
Flexible with proven ability to conform to shifting priorities, demands and timelines through analytical and problem-solving capabilities
Technically competent with various software programs, including but not limited to Microsoft Office (Word, Excel, PowerPoint, Visio), Microsoft Projects, ServiceNow, SmartSheet and Lucid Chart
Adept at conducting research into project-related issues and products
Must be able to learn, understand and apply new technologies
Support diverse and inclusive work environment

Senior Project Manager Education And Experience Requirements
Bachelor's Degree in appropriate field of study
PMP certification
5+ years of experience in project management, including tracking and planning projects
5+ years of experience working with business stakeholders within a cross-functional matrix environment
1+ years of previous experience with gathering requirements from the client / business and documentation
3+ years of experience in a supervisory role
Proven ability to demonstrate a drive for results and accountability of business needs
Proven ability to balance and prioritize multiple projects
Interpersonal skills to influence and spark change, facilitate and enhance performance within a cross – functional environment
Demonstrate decisiveness in resolving business problems, making decisions and identifying priorities

Senior Project Manager Top Skills And Proficiencies
Developing Budgets
Coaching
Supervision
Staffing
Project Management
Management
Process Improvement
Planning
Multi-tasking
Performance Management
Attention to Detail
Analysis

You might like: Are Resume Writing Services Worth It?

Senior Project Manager Salary Expectations
According to Glassdoor, a senior project manager makes an average of $122,019 annually. This salary scale is dependent on the level of experience, education and geographical location.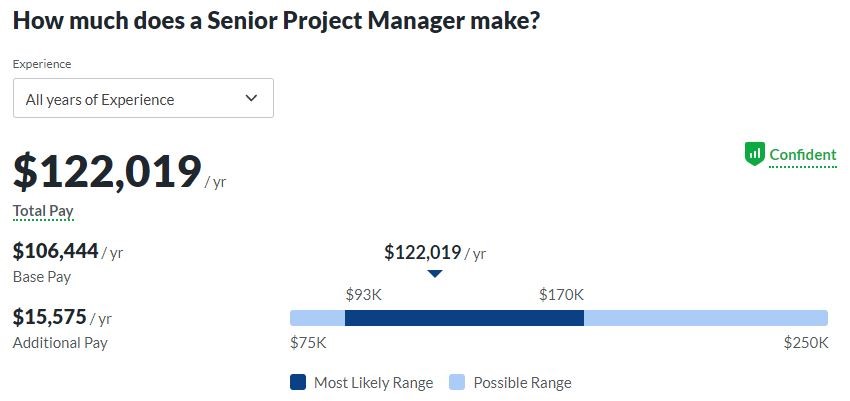 Conclusion
As an employer, do you need a job description for use in hiring the role of senior project manager? If yes, the sample description provided in this article will help you make one for your company.
The elaborated information here about the duties, requirements and lots more of a senior project manager can assist you in creating job descriptions that attract the best candidates for the position.
This article is also beneficial to individuals who are looking forward to becoming senior project managers.
It helps to improve their knowledge of what the career entails so they can prepare better for it.