Catering Sales Manager
Catering sales manager jobs includes overseeing sales and customer relations for a food catering company.
This position is embedded in the hospitality management career industry, and is charged with key responsibility of finding new and existing customers amongst others.
The catering sales manager ensures that customers are assisted with menu selection and planning, they contribute to addressing costs, hiring and training of food service staff.
In most culinary events or social gatherings, a catering sales manager parades, and even acts as an event coordinator.
To become a successful catering sales manager, you must possess a degree or certificate in hospitality career, event planning or culinary arts and you must also have strong customer service and sales skills.
The catering sales manager jobs schedule often focus more on constantly carrying out research and evaluations aimed at welcoming new business opportunities and improving the merchandising performance of the business.
Catering sales managers are expected to bring together catering workers, communicate with prospective customers and further dialogue with dealers and outside parties.
Besides, you can be required to source for menus, perform catering sales presentations and hire new workers.
As a catering sales manager, you are expected to partake in the selling, booking, planning and anchoring of virtually all unique social events while maintaining high-quality client services.
Furthermore, catering sales manager jobs includes marketing catering services via phone calls, taking care of stock control, overseeing monetary strategies, budgets and structuring shifts.
Great skills you must have in order to be qualified and suited for this job are communication, organization, and leadership skills.
The ability to work in a team setting and be of good spirit while working is very essential to this role.
Added to your qualifications is either a bachelor's degree in hospitality management, health care administration and business management.
Based on some prospective employers choice, they may demand an associate degree which can be considered an alternative.
You might like: Sales Associate Resume Examples & Templates

Catering Sales Manager Jobs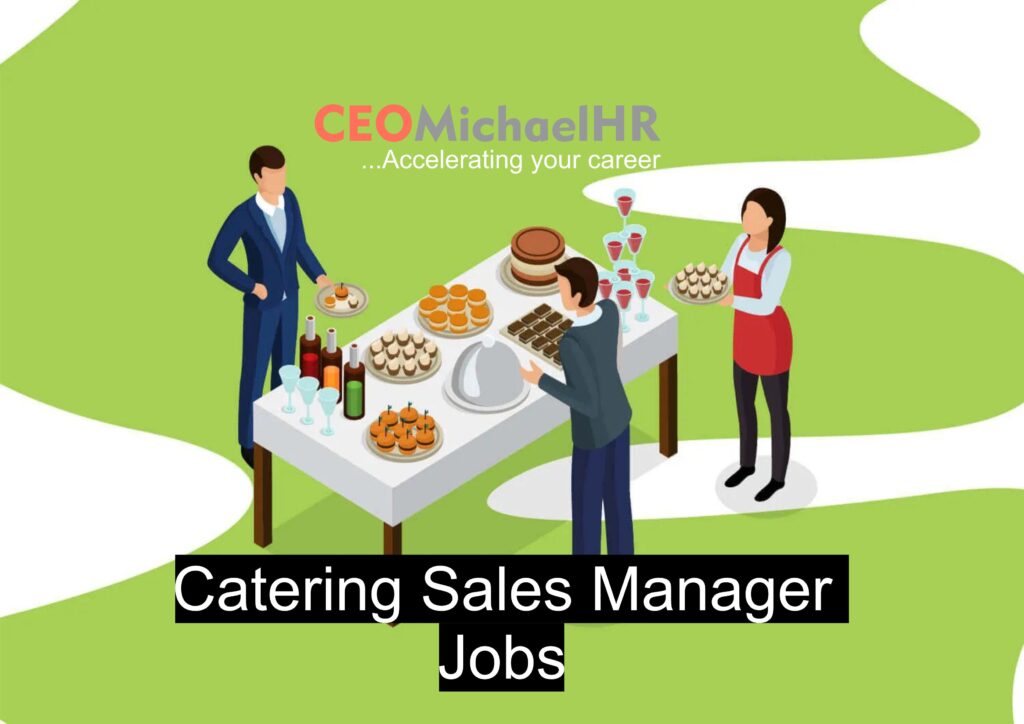 When it comes to catering sales manager jobs, certain relevant experience is of vital importance.
If you look out for a part-time or seasonal job in catering outlets, jobs such as pubs, hotels, restaurants and fast-food chains comes to mind.
Work experience as a catering assistant will offer the relevant skills and knowledge you will need to operate in a catering event or company.
Most employers are specifically attracted to candidates possessing a strong commercial sense, a determination to deliver excellence and the motivation to share positive ideas and upscale the profits of the organization.
Same employers may also be looking out for catering sales managers with people management experience.
Therefore, any experiences you achieve in a supervisory role will position you to be at an advantage.
Vouching for a placement year in the course of your degree can be of advantage as it helps you build up relevant experience, while making good industry contacts.
Engage in research to find out more about the variety of jobs and internships that may be available in catering careers for sales managers.
Employers may seek to hire employees in-house who can either choose to work for an organization's catering department or work for a contract catering company that provides catering services to a range of clients.
You might also like: The Predictive Index Test (All You Need to Know)

Typical Employers for Catering Sales Manager Jobs Includes:
The Armed Forces
Businesses and industries e.g., large factories
Cruise ships
Hospitals
Hotel chains
Local authorities
Prisons
Retail outlets
Schools, colleges and higher education institutions
Tourist attractions and organizations, such as the National Trust
Youth hostels

Catering Sales Manager Jobs Vacancies:
Hospitality Guild Jobs
Travel Weekly & The Caterer

The websites of major hotel groups, restaurant chains and contract catering companies will also advertise Catering Sales Manager Jobs.
You might like: Bartender Resume Examples – Writing Guide

Catering Sales Manager Professional Development
Most employers can make available special regular courses, stand with NVQs and other professional qualifications such as the Level 4 Diploma in hospitality, oriented professional development plans and job swaps.
You can apply to take a Level 2 or above in food safety including health and safety if you don't have a qualification in food safety.
It is great to acquire experience in a range of areas including financial management, sales and marketing, human resource management and operations before focusing on your chosen career provided you are on a graduate training scheme.
You will acquire much experience during this time learning from knowledgeable colleagues and managers and may also take professional qualifications.
It is important for you to keep up to date with relevant skills and training in your catering career.
This might require your ample time attending courses and conferences, conducting in-depth research and reading the trade press.
A Catering Sales Manager projecting to launch further into higher-level management roles may partake in postgraduate qualification, such as MBA.

Catering Sales Manager Jobs Prospect
You will probably handle various catering roles during your early career in order to add to your wider scope of experience, for instance doing a mixture of contract catering and in-house jobs.
The first position you will be allotted is a supervisory role then you gradually ascend to becoming an assistant catering sales manager before progressing to the position of a catering sales manager.
This promotion prospect favors employees who have great passion, strong interpersonal skills and a high level of motivation.
From the role of catering sales manager, you can advance to the head of catering or operations management roles.
Although there are some opportunities that will propel you to the position of a catering sales director role, where you may have responsibility to cater for a whole region and team of operations managers.
In the hotel chains, opportunities will abound to promote you from being a food and beverage manager to director with strategic responsibility for the continuous delivery of food and beverage operations at the hotel.
Accepting to work for a reputable company can gear your way to a broader range of opportunities and greater fend for training and development.
Larger hotels and catering organizations also have their branches operating overseas, so you can tap into opportunities for foreign placements.
You can set up your own contract catering business, taking orders and supplying food to different organizations and companies once you have gathered a substantial amount of experience.
Though you may still decide to advance into other areas of management such as marketing, sales, human resources, training and facilities.
You might like: How to Write a Resume with No Work Experience (Best Guide)

Catering Sales Manager Salary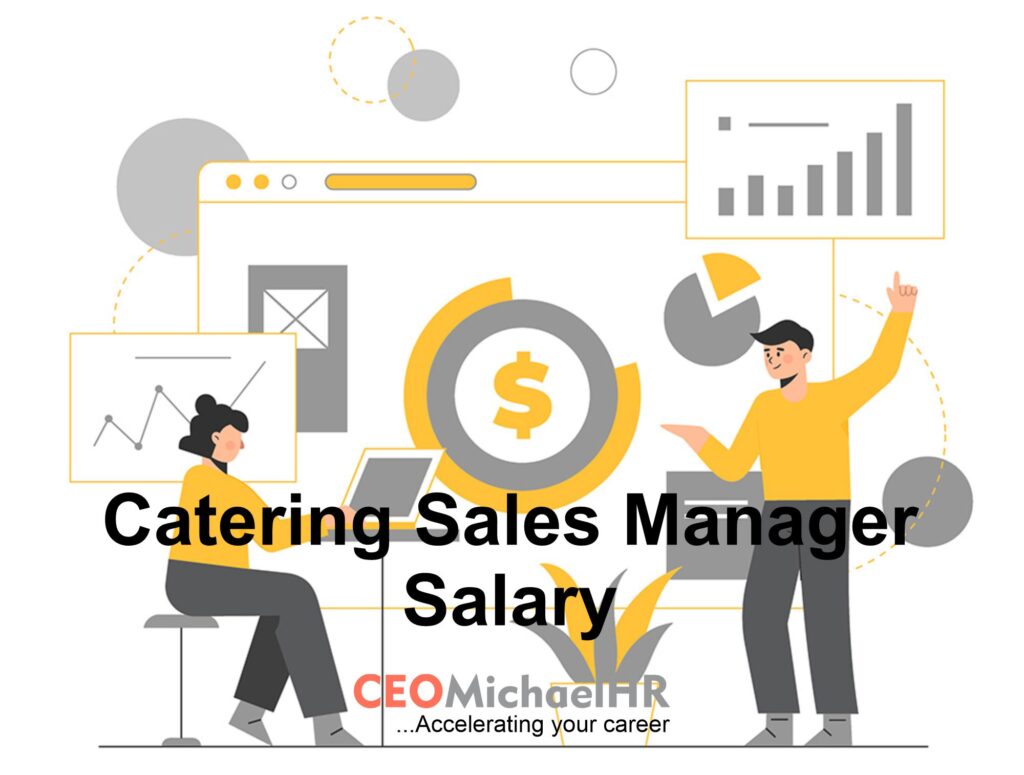 There is more to just being a catering sales manager for instance, are you aware that they make an average of $24.74 per hour?
This amounts to a total of $51,455 per year!
Having an overview between 2018 – 2028, the catering sales manager's career is expected to increase by 5% and yield about 20,600 job opportunities all over the United States of America.
Catering sales manager salary can vary based on their level of education, years of experience and the magnitude of the company or industry.
They can earn more additional compensation in the form of bonuses and commissions.
Median Annual Salary: $51,455 ($24.74/hour)
Top 10% Annual Salary: $89,500 ($43.03/hour)
According to Glassdoor, the estimated total pay for a Catering Sales Manager is $73,518 per year in the United States area, with an average salary of $52,634 per year.
These numbers represent the median, which is the midpoint of the ranges from our proprietary Total Pay Estimate model and based on salaries collected from our users. The estimated additional pay is $20,884 per year.
Additional pay could include cash bonus, commission, tips, and profit sharing. The "Most Likely Range" represents values that exist within the 25th and 75th percentile of all pay data available for this role.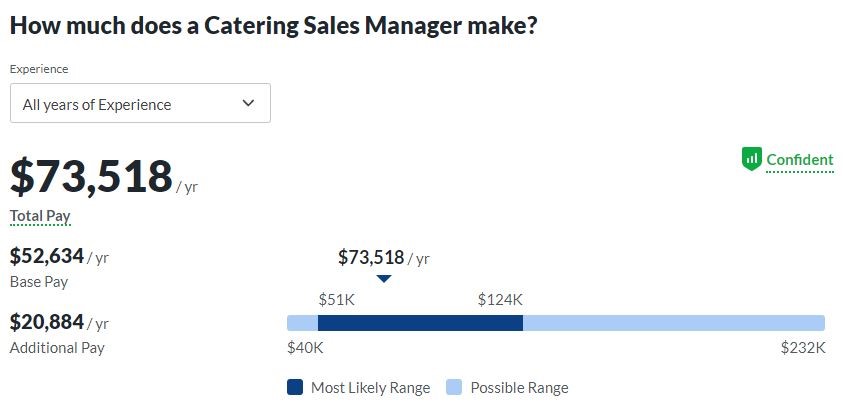 There is a belief that the employment rate of catering sales manager might begin to decline over the next few decades due to growing automation of food preparation and catering equipment.
This automation will allow many customers to be served by fewer employees from these catering companies.
Sometimes catering companies may also outsource their food.

Catering Sales Manager Job Description
Catering sales manager job description can be overwhelming as they are responsible for managing the sales efforts of their company's catering division.
They manage the affairs of a team of salespeople who offer or sell event and planning services to clients, and everything from full-time service catering to rentals to other affiliated products and services.
It's part of their responsibility as a trained catering sales manager to be able to successfully manage a large team of individuals with different levels of experience and knowledge.
They must possess very strong leadership skills in order to align the efforts of the individuals under their care towards achieving the same goals.

Catering Sales Manager Responsibilities
Planning menus and ordering supplies for events such as weddings, birthdays, anniversaries, etc.
Negotiating contracts with clients and event planners to determine prices and terms of service
Creating detailed event plans and timelines to ensure that all tasks are completed on time
Coordinating with venue managers to ensure that all aspects of the event are handled smoothly
Training staff in food preparation, presentation techniques, and customer service skills
Determining staffing needs for each event based on guest count and type of event
Developing new business opportunities by contacting potential clients, attending trade shows, and participating in networking events
Overseeing catering operations during events to ensure that clients' needs are met
Preparing marketing materials such as brochures, flyers, menus, and price lists for prospective clients

Catering Sales Coordinator Job Description
A Catering Sales Coordinator manages food operations for special events at hotels, resorts, and other establishments.
They attend and greet guests, oversee food presentations, coordinate event and decor tasks, manage staff members, and perform administrative duties.

Catering Sales Coordinator Responsibilities:
Welcoming guests and clients
Effectively communicate with all guests and staff in a friendly, courteous, and timely manner
Organize and coordinate an event timeline, ensuring that the service runs smoothly and efficiently
Coordinate and oversee decor set-up and breakdown
Processing and receiving food orders on time
Maintaining an inventory of food and office supplies
Liaising with vendors and external suppliers
Oversee catering and kitchen staff
Assisting management with food and decor budget, and managing finances
Maintain high personal grooming standards and professional demeanor

Catering Sales Coordinator Requirements
A bachelor's or associate's degree in hospitality, culinary arts, or related field preferred
Prior experience in the food service or hospitality industry required
Ability to work in a fast-paced environment
Financial and/or business management skills
Excellent verbal and written communication skills
You might like: How to Get More Results with a C.A.R. Resume

Catering Sales Manager Skills
Catering Sales Manager Top Skills:
Strong communication and interpersonal skills
The ability to think on your feet and take initiative
The ability to lead and motivate staff
Administrative ability and IT literacy
Numeracy and financial skills in order to manage a budget
An appreciation of customer expectations and commercial demands
Stamina and the ability to work under pressure
A well-organized approach to work
Flexibility and the ability to solve problems in a pressurized environment
Customer-facing experience
Experience in improving service delivery
Drive and determination to improve standards and profitability
Language skills may be useful if you're working for an international hotel chain

Catering Sales Job Description
The following are catering sales job description:
Determining customer requirements and proposing catering options
Negotiating prices and preparing meticulous catering order forms
Planning menus and overseeing venue, equipment, food, and service preparations
Hiring, training, and supervising catering staff, as well as scheduling employee shifts
Liaising with customers, sales staff, chefs, and specialized catering equipment providers
Overseeing seating arrangements, the serving of meals and beverages, and the clearing of tables
Monitoring the availability of catering stock and supplies and ordering replenishments
Tracking catering expenses and maintaining accurate records
Adhering to food and health industry regulations and standards
Researching catering trends and promoting competitive catering services

Catering Sales Requirements Includes:
Accredited course in catering management, or similar
Bachelor's degree in hospitality and culinary arts or business management would be advantageous
3-5 years of experience in catering management, or similar
Knowledge of electronic catering management systems, such as Better Cater and Caterease
Exceptional ability to deliver catering services within budget and on time
Experience in hiring, training, and overseeing catering staff
Ability to coordinate catering requirements with customers, chefs, and suppliers
Advanced knowledge of best practices in catering management
Excellent interpersonal and communication skills

Frequently Asked Questions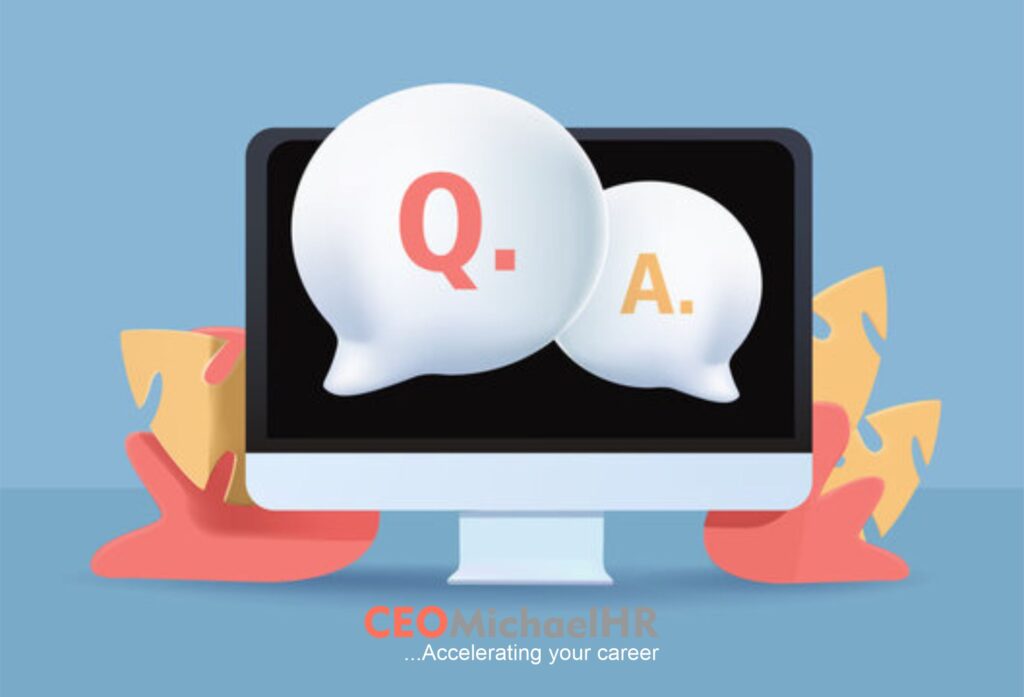 What is the role of a Catering Sales Manager?
A Catering Sales Manager's role is to take over daily operations in the sales department.
Their duty is to hire and train sales staff, convey information from superior officials to staff under their watch, generate leads to assign among sales representatives.
Another role they play is to oversee the sales and customer relations for a food catering company.
Although in the hospitality management career, tasks are scheduled by the catering sales manager which include looking out for new customers while maintaining the existing customers, helping with menu selection and planning, negotiating cost, hiring and training food service staff.

What Does a Sales Manager Do in a Restaurant?
A Restaurant sales manager carries out a lot of duties as they ensure the smooth running of the restaurant.
They also employ and train staff based on company policies.
In addition, restaurant sales managers communicate with customers about any concerns or challenges while creating work schedules.

What do you do as a Sales Manager?
On a daily basis, sales managers are responsible for a variety of tasks.
Aside maintaining their record book of clients, they play a tough role in the success and development of their sales reps by endorsing project completion, monitoring competitive landscape and analyzing overall performance metrics.
The sales manager is responsible for mapping potential customers and raising leads for the company.
He projects to generate new opportunities for the company.
A sales manager is also responsible for promoting the company's brand and ensuring the product becomes popular amongst the customers.

What are the five (5) key responsibilities of a Sales Manager?
Coordinate with other departments
Hire and onboard new sales reps.
Develop and review new sales collateral and materials
Research industry changes and trends

Conclusion
We trust this article has opened your mind and enlightened you on who a catering sales manager is, their job requirements as well as how to become one.
Getting acquainted with their responsibilities, requirements and skills will go a long way to helping you make the right choice and also see yourself succeeding in the nearest future as a catering sales manager or sales coordinator.
Determined to work as a catering sales manager but having trouble writing your resume overall?
You could benefit from a professionally written resume.
Learn more about CEOMichaelHR services today and get started on landing your dream job.