Hiring managers may not look negative on candidates who have been fired from their jobs since they regularly handle numerous cases of candidates who even deliberately let go of their jobs.
You might be thinking about what to put on your job application if you were fired.
As you advance further in this topic, you will encounter common ways you can adopt to explain why you were fired on your application and tips to help justify your reasons for letting go after getting fired.
Prospective employers ask a series of questions during the recruitment process. They may desire to know the reason(s) why you decided to quit a position when conducting a screening exercise on applicants.
Getting fired is not a big deal compared to handling the situation; the way you present it before your new prospective employer.
It would be best if you were already prepared to answer their questions as carefully as expected.
Always consider how to handle the challenge of answering why you were fired by your last employer if any need to defend it arises.
Be certain to know what to put on a job application if you were fired, considering how logical hiring managers are regarding the reasons behind an employee's termination.
Please sit back, and let's get to it!
Related post: How to say you were fired on an application

How To Handle Being Fired On Your Resume During The Job Search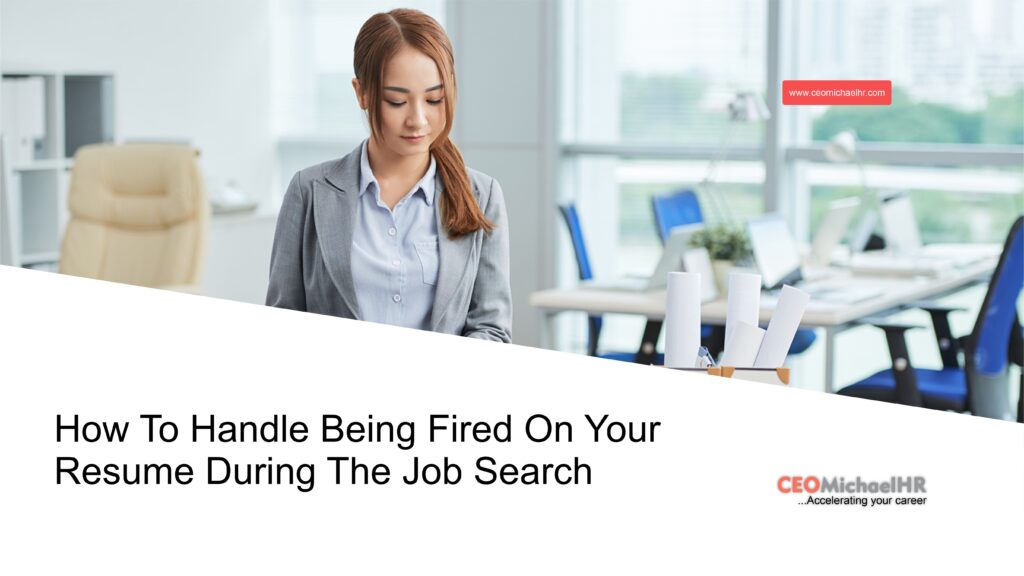 Here, your resume shares a lot about your skills and work experiences; it reveals the positions you handled dating back from when you started working to when you ended.
So, as far as your resume is concerned, you don't have to talk about being fired, as there's no reason to do so.
All you are expected to do is concentrate more on your achievements and the role you played while working in the position.
You should be able to communicate to your new employer how your skills and achievements will be important in your future positions.
You can save time and energy from having to attract attention on how you were fired, except your prospective employer demands to know about it.

How To Handle Being Fired On Your Job Application
One simple way to handle being fired on your job application is first to understand what is required of your job application.
Here, your job application will expect you to summarise why you left your position briefly.
On your job application, you can make your expressions very simple, like "terminated," "laid off", or "job ended" if you want.
This strategy will improve your chances of landing an interview.
Remember, you'll have a better advantage in dealing with the issue face to face than in your resume, where there will be no room to express your reasons when asked.
You might like: Personal Branding: Tips Critical to Your Career's Future

How To Handle Being Fired In A Job Interview
During your job interview, only then will your prospective employer ask you about the circumstances that led to you getting fired.
He will probably ask for specific reasons surrounding your immediate removal.
If this happens and you cannot deny the allegations based on the nature of the termination filed against you, then you can be allowed room by your employer to offer a genuine explanation, preferably without prolonging matters.
It is in your best interest to keep the explanation specific and on point.
While narrating your ordeal regarding what led to your termination, you are found innocent; great pitch! Avoid further elaboration.
However, if the layoff is connected to your personality, you should quickly make a positive or promising statement to convince your employer to build confidence while intending to work with you.
You might like: What to do When Boss Thinks You are Not Meeting Expectations
Don't make derogatory remarks against your former employer; instead, open up about what you learned and how you gained from the negative experience and that you believe in turning it around for your good and in the best interest of the future hiring manager you intend to work for.
Finally, you can now switch on to the next section immediately unless you are interrogated more by your willing employer.
You can still decide to treat each question logically without laying too much emphasis on the questions asked.
Here's an example of what to say in a job interview
For example, this is how to respond to a question that determines your interview success drawing reference from attitude to your previous job during a heated interview.
"Letting go from that position in my former company was a blessing in disguise. I now have a chance to try new opportunities that I'm enthusiastic about and are better aligned with my qualifications, including this position with your esteemed company."
Ensure to always make your answers defined and interesting, do away with the word "fired".
Avoid recalling the past; most importantly, remain truthful, and you will do well.
Read also: What to Wear to a Summer Interview

Remember, Being Fired Is Not A Deal-Breaker
So many job seekers think that being relieved of their duties or probably fired poses a deal-breaker for a prospective employer, not knowing that it is not the case.
Most of them forget that how they handle what happens goes a long way to impacting how their employers think of them.
It is true that everyone makes mistakes and has negative experiences one way or the other.
Not every person is gifted in turning situations around to their benefit, but when a hiring manager sees how determined you are to make a change positively, he will be acquainted with your readiness to adapt and will transfer those qualities to your new workplace.

Practice Your Responses
Taking ample time to consider the questions an interviewer may ask could go a long way to help you work on perfecting your replies in return.
Make sure you memorize your answer while at your leisure or standing before the mirror until you are certain that you can respond to any questions without getting dumbfounded or scared.
Ensure your responses to a range of questions put forward by the interviewer about your termination can help you appear bold and positive enough.
You might like: 7 Tips for The Morning of Your Interview

Conclusion
At the end of this exercise, I believe a lot has been taught and imbibed simultaneously.
It's high time you, as a candidate seeking a job interview, got a brighter view of what you are expected to know, especially when you are laid off from work or even fired.
Ensure you boost your self-confidence on or before your interview day to make the interviewer more confident to hire you.
Be audible with strong body language to prove that even though you were let down by your previous employer, you're still ready mentally for coming opportunities.