The lab assistant resume sample given in this article has landed a lot of our customers their dream jobs as we hope it will land you yours as well.
The most common word associated with a lab assistant in his/her job description is HELP. The lab assistant helps the scientists, medical professionals and researchers with experiments that aid their work(s).
There's no question on whether or not a lab assistant wants to help. The question here is how can the hiring manager know about your qualifications as a lab assistant?
The answer lies in your LAB Assistant Resume.
According to tradingeconomics.com "in the long-term, the United States Job Openings NSA is projected to trend around 5200.00 Thousand in 2021 and 5600.00 Thousand in 2022". This means that there would be a slight increase in Job Openings in the U.S by 2021 and 2022.
The stats doesn't show that you'll land your dream job automatically, because landing your dream job needs a little more effort and an eye catching resume (in which we've got you covered here).
Note: A bad resume will land you zero jobs while a good resume from CEOMichaelHR will… well results speaks for itself. Check out our customers reviews for yourself and let us know what you think in the comment box below.
Lab Assistant Resume Sample (No Industry Experience)
ALEX WATTS
10xx Ross Ave.
Los Angeles CA xxxxx
awxxxxx@ucla.edu
(310) 375-xxxxx
Summary
High energy and results driven Laboratory Assistant adept in performing technical and non-technical procedures required for experiments. Equipped with knowledge of working with harmful materials and sterilization methods, coupled with extensive skills in understanding the objectives of research and following commands of scientists; Service-centered individual with topnotch organizational skills; Diligent with excellent analytical, written, oral, and interpersonal communication skills
Education
University of California, Los Angeles
Psychobiology, B.S. | Mar 2016
Azad University of Naein Branch (Iran)
Associate of Science in Electronic Engineering | Feb 2006
Highlights
Highly analytical
Collaborative communications
Manual dexterity
Results driven
Strong attention to detail
Technical skills
Outstanding interpersonal skills
Familiar with PCR, Gel electrophoresis, ELISA
Lab equipment operation and maintenance
Teamwork/independent
Complex problem solving
Effective time management
Highly organized
Strong multitasking
Technical report writing skills
Comunity/Leadership Involvement
ASDA (Events Hosted Yearly)
Member | Apr 2015 – Present
As an undergraduate student, I was involved in the Big Sib-Lil Sib program, which matches pre-dental students with first year dental students for mentorship.
Became more familiar with the lifestyle of dental students, as well as the dedication required to meet the demands of becoming a competent dentist during the one year involvement.
California Zoroastrian
Center Youth Group, Los Angeles, CA
Member, Sports and Media Groups | Jun 2015 – Present
Member of sports and media groups to coordinate the Zoroastrian sport events and Zoroastrian news on social media
Meals on Wheels America, Los Angeles, CA
Volunteer | Apr 2014 – Jan. 2016
Voluntarily delivered food to the seniors in Los Angeles area
Tutoring | Volunteer
Tutored different Math and Physics Classes at College Level
Experience
Five Point Petro Inc., Huntington Beach, CA
Supervisor | Oct 2010 – Sep 2013
Cashier | Jun 2008 – Sep 2010
Reference
Available upon request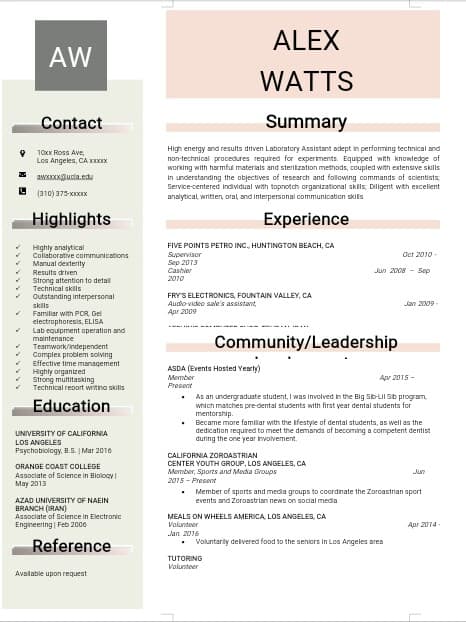 Ready to land that dream job? To make it happen, you'll need a resume – not just any type of resume, but a professional resume designed by our professional resume writers. We guarantee you'll get 3X more job interviews within 60 days or we'll rewrite your resume for FREE!
Give your resume the boost it needs. Use our resume writing services today!
Further Reading: Cover Letter vs. Resume and How to put LinkedIn on resume