Are you shooting for a career in finance consumer services but unsure of the best paying jobs you can find?
Seat back as we learn about the skills, job outlook, salaries, and the best paying jobs in finance consumer services.
In recent times, jobs in the consumer services industry have captured many people's attention as trendy and modern ways of making money.
According to the US Bureau of Labor Statistics, the median annual wage for financial and business occupations is estimated to be $72,250, more than $30,000 higher than the median annual salary for all occupations.
This shows that the consumer service field will generate over 700,000 new jobs between 2020 and 2030.
So, using the above stats, we compiled a detailed list of 32 best paying jobs in finance consumer services for your preview.
But just before we take a leap into the best paying jobs in finance consumer services, let's have an overview of finance consumer service jobs, the salary outlook, and overall job satisfaction.
You might like: 6 Proven Ways To Handle Being Overwhelmed at New Job

Finance Consumer Services Job Overview
According to the US Bureau of Labor Statistics, it is projected that employment in the finance consumer service industry would grow by eight percent from 2020 to 2030.
The spike in growth is linked to a growing economy, globalization, and complex tax and regulatory environments.
With this growth, it is expected to experience a high demand of auditors and accountants. This ultimately makes the job outlook of finance consumer services a highly positive one.
The consumer services field houses a wide variety of professions. Below are twenty popular and in-demand jobs in the consumer services industry: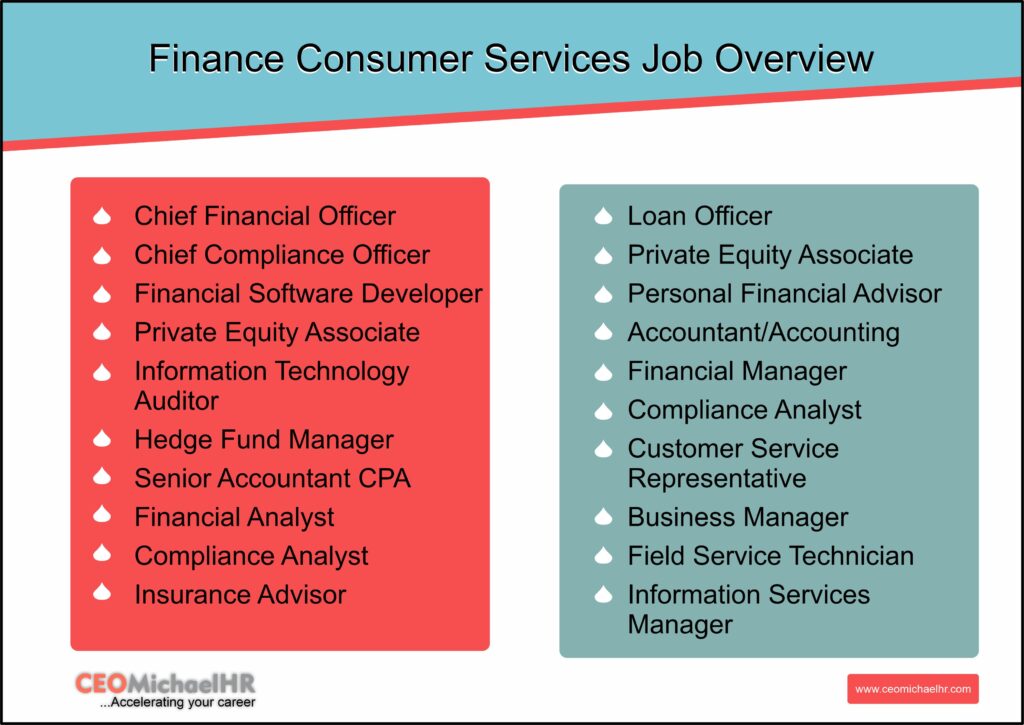 You might like: 15 Jobs For Extroverts And Expert Communicators

The Branches of Finance Consumer Services
Finance is a robust field, and within that field, there are various types of finance consumer services.
Below is a brief overview of some of the most popular branches:
Personal financial planning: Personal financial planners help clients set and reach financial goals. They create custom plans that take into account a client's income, debts, expenses, and investment portfolio.
Investment banking: Investment bankers provide analysis and advice on investments. They work with clients to identify opportunities, make recommendations, and provide guidance on financial planning.
Insurance: Insurance agents help clients choose the best insurance coverage for their needs. They assess a client's risk factors and recommend policies that will provide the most protection.
Accounting: Accountants manage financial records and prepare tax returns. They work with individuals, businesses, and government organizations to ensure compliance with financial regulations.
Lending: Lenders provide loans to individuals and businesses. They assess a borrower's creditworthiness and determine the terms of the loan.
Financial analysis: Financial analysts provide insights on investments, markets, and economic trends. They use data to identify opportunities and make recommendations to clients.
You might like: How to Write the Perfect Goodbye Email to Coworkers & Clients

Finance Consumer Service Jobs Salary Outlook
Data from the Bureau of Labor Statistics shows that experts in this field earn more than the median annual wage of $41,950 for all occupations in the United States.
In May 2020, the median annual salary for business and financial occupations was $72,250.
This data clearly indicates that finance consumer services jobs are quite lucrative.

Finance Consumer Service Job Satisfaction
Because finance consumer services professionals earn more than the average for every occupation in the United States and can work in various industries due to their high demand, these experts are mostly satisfied with their careers.
They also enjoy a wide range of fields to search for work, and can easily choose professions that fits their preference and personality.

32 Best Paying Jobs in Finance Consumer Services
In the finance consumer services industry, there are always enough job opportunities.
The following is a rundown of the different types of employment available within the industry (note that all salaries are sourced from salary.com):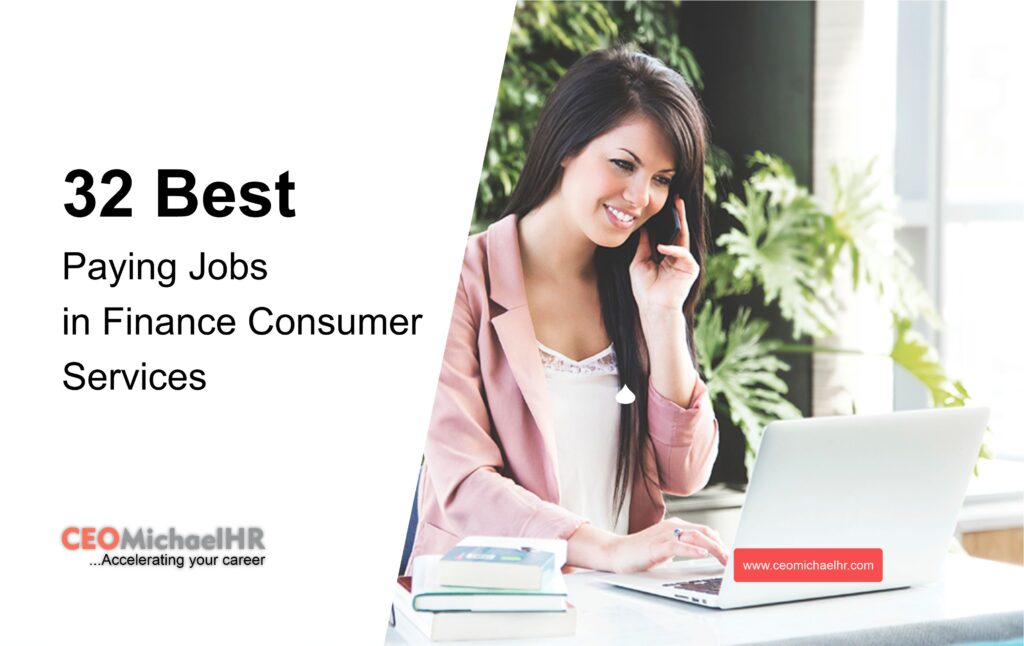 1. Personal Financial Advisor
One of the best paying jobs in finance consumer services is the personal financial advisor job role.
Individuals and business magnates seek the services of a personal financial counselor.
Their primary job responsibility includes counseling customers on the most suitable methods of handling taxes, investments and other aspects of their financial lives.
Additionally, they advice on both short and long-term financial investment opportunities.
As one of the best paying jobs in finance consumer services, the personal financial advisor earns an average yearly pay of $74,895.

2. Accountant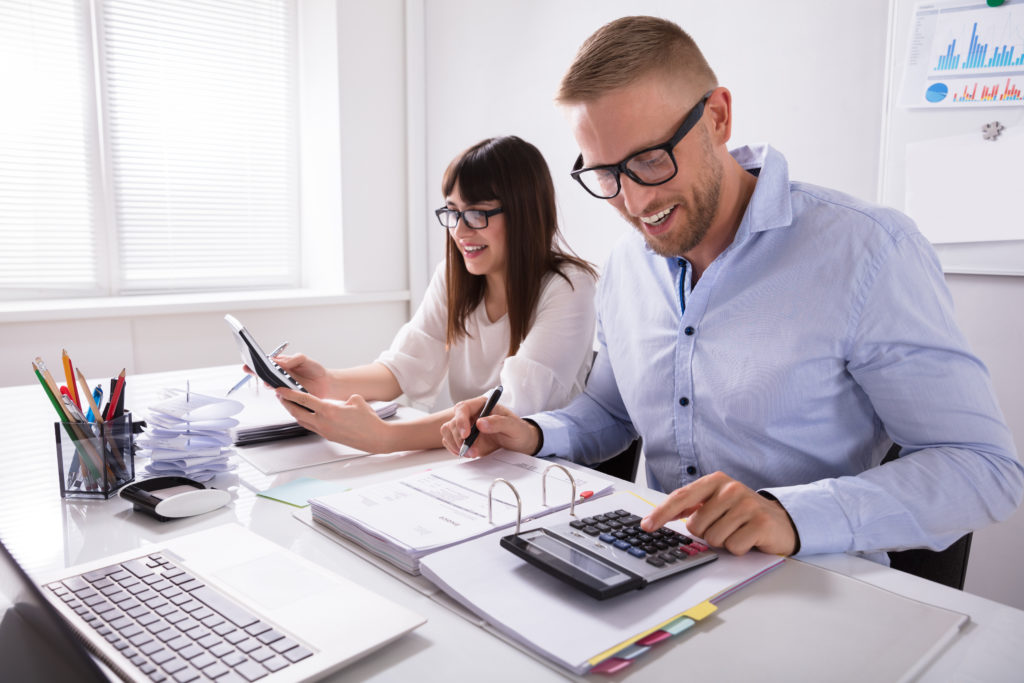 Another high paying job in the finance consumer services is the job role of an accountant.
An accountant is a professional who is saddled with the responsibility of maintaining accurate records of financial transactions on behalf of an organization.
They also carry out the duty of providing feedback on company's financial activities.
The annual average salary earned by these professionals is about $52,471.
You might like: Best Senior Accounting Manager Job Description

3. Financial Manager
Financial managers are executives who monitors an organization's overall financial health, while contributing to the maintenance of its viability.
They carry out duties including tracking cash flow, determining how profitable a business is, managing spending and designing concrete financial information.
Other best jobs in financial consumer services related to financial managers includes; financial analysts, financial auditors, financial consultants, financial controllers, and financial planners.
As one of the high paying jobs in finance consumer services, a financial manager earns an annual salary that averages $74,659.

4. Compliance Analyst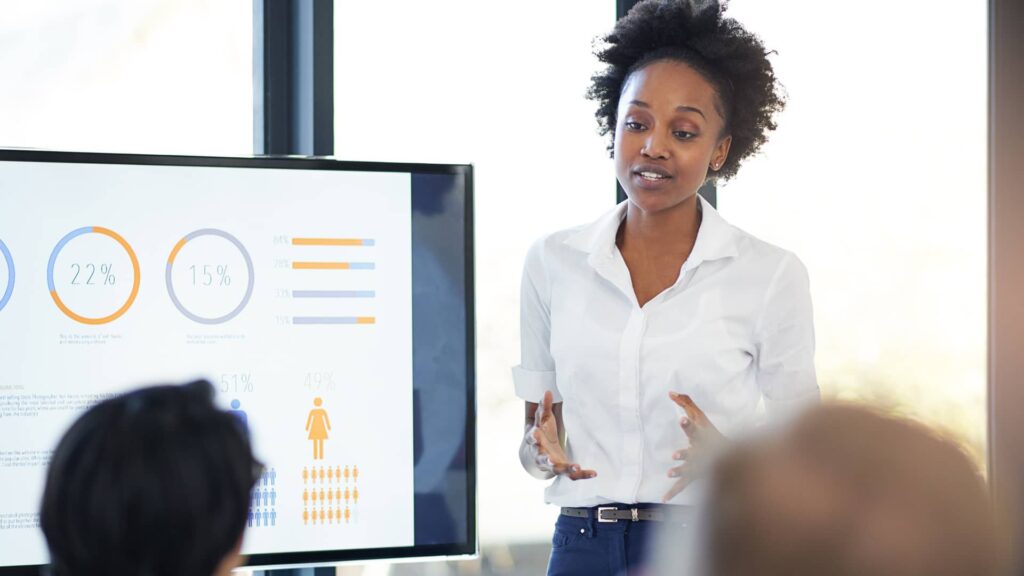 Compliance analysts contribute to the security design process that enable the seamless delivery and maintenance of compliant systems.
Compliance analysts also help businesses comply with organizational set rules and regulations.
A compliance analyst typically earns $77,456 per year on average and so far one of the best paying jobs in finance consumer services.

5. Private Equity Associate
A private equity associate is a company executive who executes investment banking operations and locate possible investors.
These financial experts carry out due diligence with an investment bank's existing clients.
A private equity associate is considered one of the best paying jobs in finance consumer services with an average yearly salary of $97,432.

6. Loan Officer
A loan officer is an individual who counsels potential borrowers on loan applications.
They are employed by financial organizations such as banks, credit union, or other types of financial institutions.
Other jobs comparable with loan officer include; loan collectors, loan credit risk analysts.
As one of the best paying jobs in finance consumer services, a loan officer earns an average yearly salary of $48,789.

7. Chief Financial Officer
A senior executive in charge of supervising all company's financial operations is called the chief financial officer, or CFO.
Majority of the financial decisions made in a company takes place in the office of the chief financial officer.
The salary for the CFO position is relatively substantial.
Average yearly salary of a Chief Financial Officer amounts to $139,452, making it one of the best paying jobs in finance consumer services.
You might like: CEO Resume Examples and Tips (+ Writing Guide)

8. Financial Software Engineer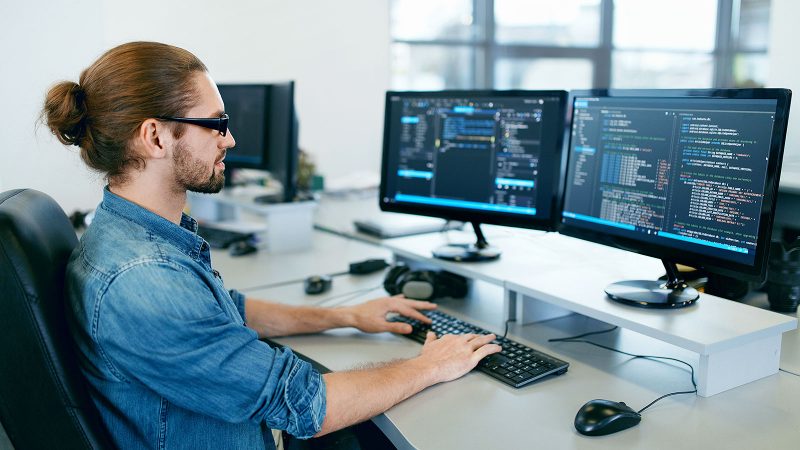 A financial software engineer is an expert who creates, modifies, and maintains software applications for the banking and financial industries.
They work together with a wide range of businesses to develop software for various purposes, including financial education software and software for debit and credit card processing.
As one of the high paying jobs in finance consumer services, the annual salary of a financial software engineer amounts to an average of $106,345.
You might like: Senior Software Engineer Job Description

9. Compliance Officer
A compliance officer ensures that a firm complies with both the external regulatory standards and the internal regulations that it has established.
Compliance officers actively monitor their employers to ensure they follow company policy.
Compliance officers can advance their careers to chief compliance officer.
An annual average salary of $121,698 is considered for a chief compliance officer within the finance consumer services industry.

10. Hedge Fund Managers
A hedge fund manager performs duties analogous to those of an investment banker.
They are often employed at hedge funds, where their primary duty is to monitor investment accounts.
Additionally, they assist investors in managing their investments by tracking liquidity.
The average yearly salary for a hedge fund manager is $145,768, making it one of the best jobs in finance consumer services.

11. Investment Banker

Among their primary responsibilities, investment bankers manage the portfolios of companies and government organizations that hold investments in various enterprises.
These experts guide clients through the process of building up capital and making investments in a way that helps the company reach its goals of boosting revenue.
An annual salary of $61,929 is considered to be the national average.
You might like: Top 10 Female Dominated Professions in the US

12. Information Technology Auditor
Information technology auditor is highly lucrative and one of the best paying jobs in finance consumer services.
IT auditors work for government agencies or private companies to confirm technology infrastructure meets compliance needs and other enterprise IT needs.
They spend their days conducting IT audits.
National average salary for information technology auditor is $101,751 per year.

13. Insurance Advisor
Insurance advisor primary duty is to help customers find the best insurance products to meet both long and short-term insurance needs.
They provide guidance on purchasing decisions with regard to insurance for people, home, auto, investments and more.
National average salary for insurance advisors is $89,295 per year

14. Bank Teller
You can work in a bank teller position and earn an average salary of $36,120 per year.
As a Bank teller, you have to work for banks and credit unions to help customers manage their financial transactions.

15. Call Center Representative
One very popular position under the best paying jobs in finance consumer services is the call center representative.
They earn an average salary of $35,723 per year.
In this position, you have to work for a contact center or telemarketing firm and manage inbound and outbound calls.

16. Receptionist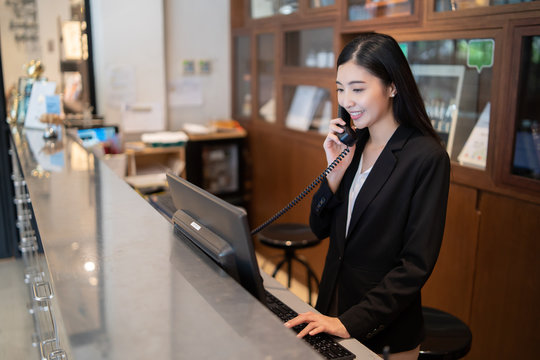 If you have excellent customer service skills, you can work as a receptionist in the finance consumer services industry and earn an average salary of $36,664 per year.
A receptionist works for various organizations in a front desk environment. They greet customers, answer questions and phone calls.
They also document complaints and help direct customers to the appropriate employee or department for their needs.

17. Account Coordinator
The Account Coordinator position makes our list of the best paying jobs in finance consumer services.
Account Coordinators work for marketing agencies to offer administrative support to senior client services staff. They are paid an average salary of $44,139 per year.
You might like: (Q&A) Predictive Index Test: What it is and How to Prepare

18. Client Relations Specialist
Client relations specialist earn an average salary of $43,956 per year.
These professionals work on behalf of various organizations to ensure long-term customer satisfaction.

19. Concierge
If you have an impeccable customer service skill and like to work in a hotel, you can land a job as a concierge with an average salary of $33,886 per year.
Job duties of a concierge is to welcome guests, help to confirm their reservations, show guests around the facilities, and ensure they have everything they need for a comfortable stay.

20. Service Adviser
The service adviser is another high paying job in finance consumer services with an average salary of $43,336 per year.
Service advisers generally work for an auto dealership service center as a liaison between customers and service technicians.

21. Front Desk Manager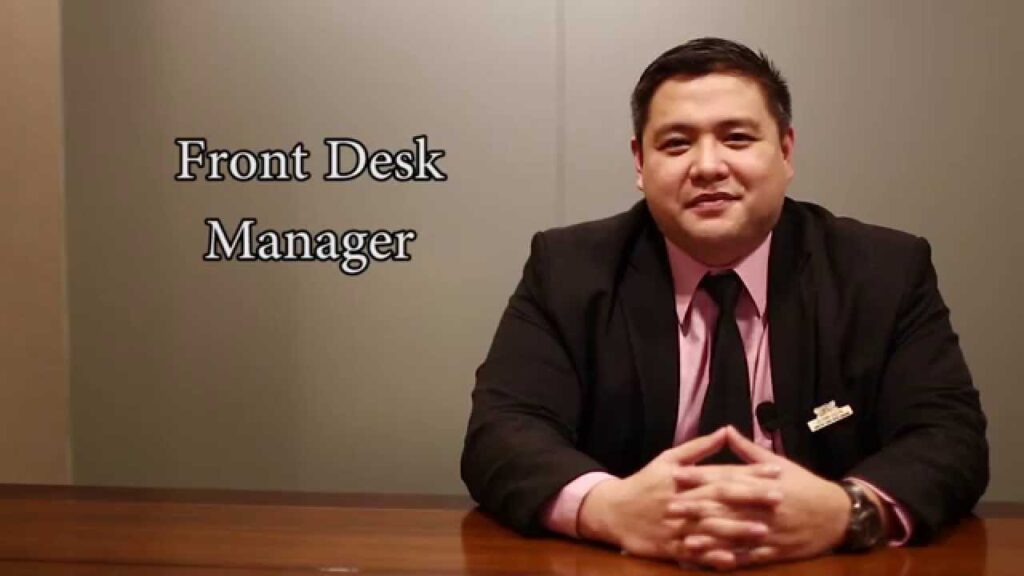 Front desk managers are usually employed at large and mid-sized hotels. They can also be found in finance consumer service industries as front desk supervisors.
They are experienced professionals who oversee reception and front desk operations, train staff and carry out important administrative duties.
As a front desk manager, you're not only required to manage and train staff but to also receive guests or clients, listen to their complaints and try to address them as soon as possible.
They may also be required to fulfill additional tasks depending on the employer
The front desk manager earns an average salary of $67,866 per year.

22. Member Services Representative
A member service representative is a specialized customer service staff who handles all membership-related issues of an organization or company.
They are tasked with listening to members (or prospective members) to identify their requirements and concerns.
Member services representatives must provide information on membership fees and policies and resolve any payments-related issues.
Moreover, these professionals may also make sales pitches to existing clients (cross-selling).
The yearly average salary for member services representative is $36,692.

23. Social Media Customer Care Associate
With the growing influence of social media and its impact, finance consumer services industries are looking for specialized workforce who can handle their online presence.
The job description of a social media customer care associate is to manage the online presence (social media) of a business or an organization.
These professionals are not just required to handle the company's social media pages but also respond to issues and queries on various online platforms.
The yearly average salary of a social media customer care associate in the United States is $47,321.

24. Implementation Specialist
Implementation specialists help customers with products and services after a sale is completed.
Their job objective is to ensure that the purchased product satisfies the customer's technical requirements.
An implementation specialist is required to work closely with customers/clients to make necessary customization in the software. They may also help customers with software installation.
Communication skills, advanced technical knowledge, and an in-depth understanding of the company's products are a must to excel in this profession.
The average base salary of an implementation specialist is $65,776 a year.
You might like: How to Prepare for A Career or Job Fair

25. Market Researcher

Every company needs a deep understanding of its market and consumers. This is where a market researcher becomes extremely valuable in the finance consumer services industry.
Market researchers are in charge of analyzing their target market's consumption patterns and market habits. Their analysis influences the design of products and services.
The average base salary of a market researcher is $61.687 a year.

26. Tax Preparers
If you're great with numbers, enjoy meeting people and want to earn a handsome salary, tax preparation might be right for you.
According to report, tax preparers can make an average of $41 per hour.
Career opportunities for tax preparers are expected to grow by 24 percent between 2012 and 2022.
The average base salary of a Tax Preparer is $46.860 a year.

27. Credit Counselors
While credit counselors don't directly deal with finances or consumer goods, they do provide valuable services to both people and businesses.
Also, because many of these counselors work with borrowers who have defaulted on loans, these professionals need strong conflict-resolution skills to remain calm when dealing with unhappy clients.
Credit counselors average salary per year is given to be $46,170.

28. Claims Adjusters
Claims adjusters' reviews insurance claims and notifies policyholders of their options.
To become a claims adjuster, you'll need training in law, and education such as associate degree from an insurance college.
The average annual salary for a claims adjuster is $54,220.

29. Technical Support Engineer
Most technical support engineers have at least a bachelor's degree in computer sciences, robotics, or another technology-related field.
They need to know the specific ins and outs of the programs they support as well as many other pieces of hardware and software.
Most technical support engineers work remotely and talk to individuals through the task at hand.
This requires excellent interpersonal communication skills as well as a great deal of patience.
Technical support engineer earns an average annual salary of $81,000 per year
You might like: 10 Best Engineering Staffing Agencies In America

30. Chief Customer Officer
Not all businesses have a Chief Customer Officer, in fact, this is a relatively new position, but its existence underscores the value of the customer.
This job is in the upper hierarchy of a company, along with the CEO, COO, and CFO.
Their primary focus is the customer's experience when interacting with the brand.
This can be through digital means, in person, marketing, and the product or service itself.
There's a lot of responsibility with this role, and a high salary comes with the work.
Average Annual Salary is a whopping $232,400.

31. Host/Hostess
You'll often find a host or hostess in a restaurant, but that's not the only place they'll be found.
There are more and more businesses in the finance consumer service industry seeing the value of using hosts to greet their guests and start their experience on a friendly approach.
This is an entry-level position and great for individuals who love working with others.
Average Annual Salary: $22,000

32. Retail Customer Support

When people think of customer support jobs, the job of retail customer support is often one of the first jobs that come to mind.
Most people have had to return an item or had questions or complaints about something they've purchased, and it's the retail customer support person who helps.
This is often an entry-level job and doesn't require extensive education or complex technical knowledge.
Average Annual Salary: $27,925

Finance Consumer Services Industry Top Skills
Whether you're a journalist or a data analyst, in financial services you're dealing with a huge amount of information on a daily basis.
It takes a certain kind of individual to channel that flood into useful insight. Here are some of the skills you need.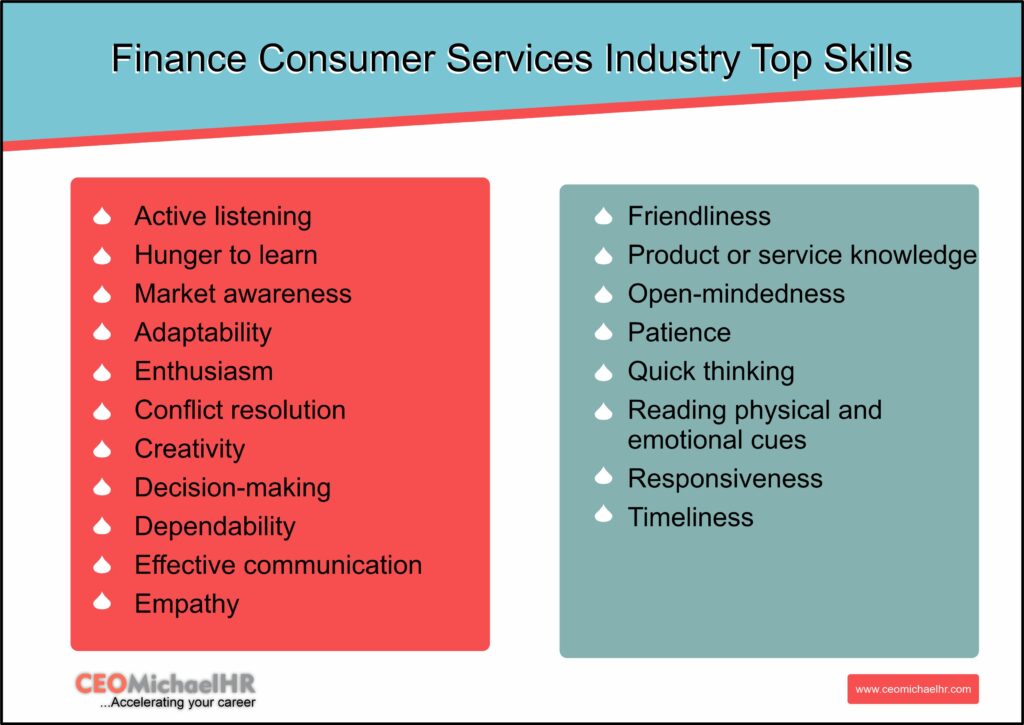 You might like: 15 Key Skills To Put On a Resume Right Away

What Kind of Individual Enjoys the Finance Consumer Services Sector?
You're a specialist: Whatever sector of business you focus on, you love to take a specialized role, and constantly monitor the day-to-day activities. You're encompassed with real interest and motivation.
You're are versatile: You're not just setting information in front of your clients – you're adding value with your interpretations and offering meaningful options.
You are team oriented: There's too much information in a finance sector for one person to handle. You'll rely on insight from colleagues, just as they'll rely on you. You can't let competitiveness stop you from getting the job done.
You're naturally analytical: Data doesn't intimidate you – in fact, you can't wait to get your hands on it and start searching for patterns.
You have passion for business: When you think about a company, your mind can conjure up its business model, target customers, competitors and opportunities.

Advantages of Working in The Finance Consumer Service Industry

The industry is growing
As more individuals seek financial guidelines for their personal or business finances, it helps expand the finance consumer services profession leading to an increase in personnel and workforce.
The finance consumer services industry houses enough job positions for numerous job seekers from entry-level to executives.

Jobs are less stressful
The best paying jobs in finance consumer services are less stressful compared to other industries.
Here, you're not selling or marketing any product or service.
You only focus on supporting clients/colleagues to better understand and manage their finances.

There is enough flexibility in the industry
This industry offers options where you can decide not to work in an office or choose to work from home as the case may be.
Consumers don't care to know if you have an office or not as long as you provide stellar services.
You can choose to work in a call center, work alone or with others on a computer.

Jobs are very lucrative
Jobs in the finance consumer service field are quite lucrative and interestingly, even if you work as an entry-level employee, you will still be paid well.
While salaries vary depending on various criteria, some top executives in this business earn well over $200,000 yearly.

Conclusion
With people constantly looking for ways to save and invest their funds, and the stock market becoming more volatile, there is an out pouring of job opportunities in the finance consumer services industry.
While some jobs within this sector may not be as glamorous as others, they all have the potential to be very well-paying.
So, if you're gunning for the best paying jobs in finance consumer services, don't hesitate to explore all of the available options and choose the one that matches your preference.
Put some work to identify what you want to do with your life, and how you can leverage your strengths into a well-paying career.
With some level of enthusiasm, you can make a lot of money in finance consumer services.
So many opportunities out there, but bad resumes can make you lose out.
Worry not because our CEOMichaelHR certified writers can help you tailor a metric-driven resume that immediately captures the attention of recruiters and make you stand out from the competition.
We're available 24/7. Utilize our affordable resume services today!