Are you searching for high income skills that'll make you money?
Seat back because in this carefully researched article, you'll find our top 6 high ticket skills you can learn to start making money right away.
While having a degree is great, it is unfortunate that most new graduates struggle to draw the line between what they know and what employers are looking for.
Your degree for sure, gave you a set of skills. However, these skills are soft and only a marginal part of who you actually are and what you can offer the world.
What you fail to understand is; you're equipped with a bunch of skills gained from your wide range of real-world experiences, and the more you can focus on these outside-classroom skills, the more relevant and in-demand you will be.
The great news is that these high income skills are easy to learn online and absolutely free of charge!
Your determination for success is all that matters.
So, before we highlight this list, let's have a good understanding of what high income skills are.
You might like: Top Transferable Skills- 45+ Examples for a Resume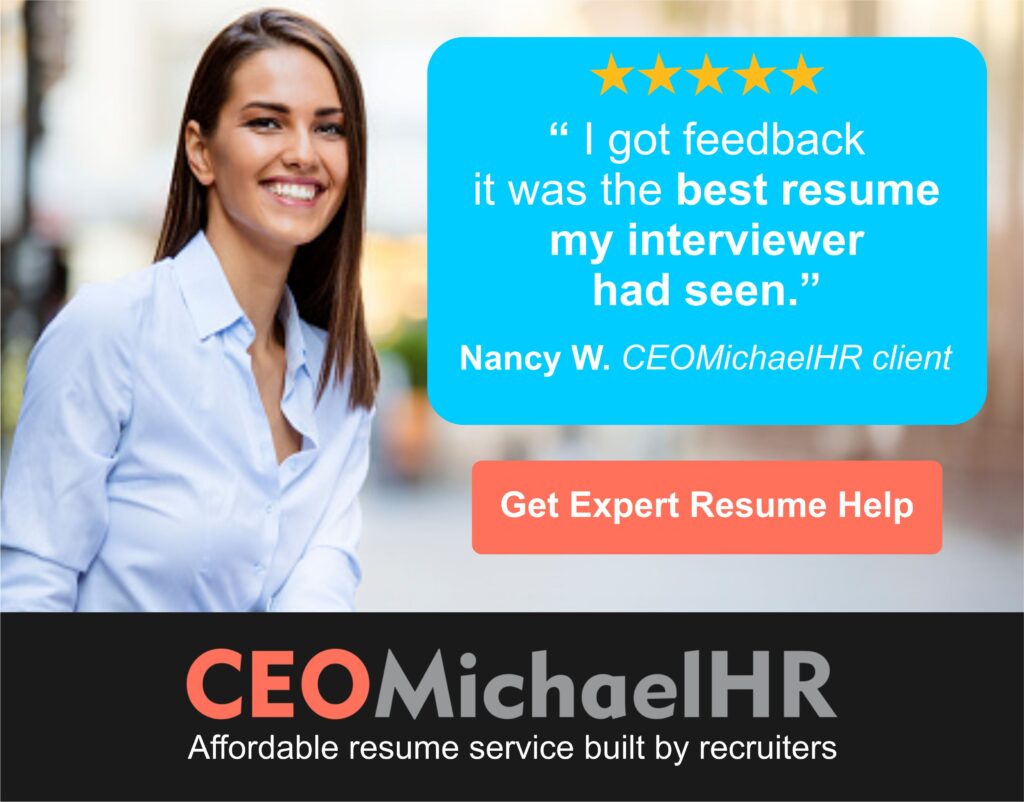 What are High Income Skills?
Every successful company is built by a combination of workplace skills and technical skills.
Chances are you've already developed an outstanding skill set from your education or past work experience.
High-income skills are expertise that employers place a high value on and may make it easier to transit jobs and even industries, according to a 2022 report from McKinsey & Company.
These skills may be rare and are often crucial to running a successful business.
While you might wonder what level of compensation would qualify as "high income" in today's job market, we will define high income as anything over $90,000 per year.
Our top 6 skills highlighted in this post can help you secure jobs with as high as six-figure incomes.
So, without much ado, we present our list of 6 high income skills you can learn from the comfort of your couch to make money.

The Top 6 Best High Income Skills Worth Learning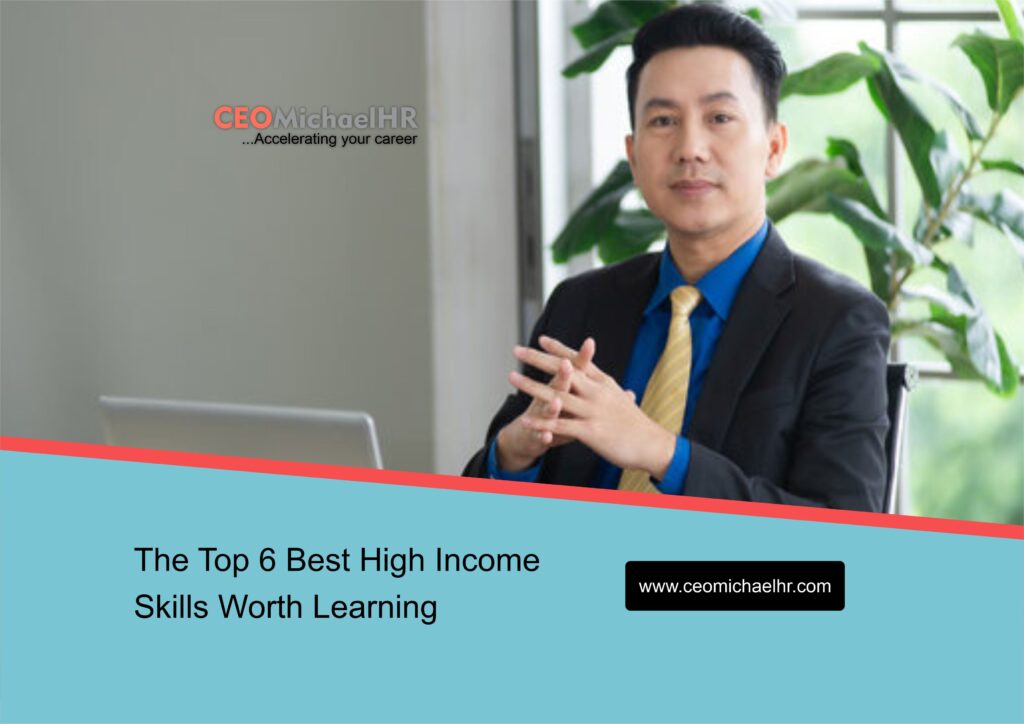 Here, you'll find the 6 best high-income skills you can feature on your resume to impress potential recruiters and stand out from the crowd.
This list was curated by perusing reports forecasting the most in-demand skills through 2030 from the World Economic Forum, Pearson, LinkedIn, and Glassdoor.
The skills listed are all transferable across several career paths.
As you read through, you must align your career goals, past experiences, and the job descriptions of your target position to notice whether any of these skills may naturally facilitate your objective.

1. Content creation & management
The skills required for content creation and management are often essential for marketing industries across social media, digital, content, and brand marketing, as they usually involve storytelling.
You must demonstrate strong creativity, originality, social perceptiveness, and emotional intelligence to develop these high income skill sets.
Taking these skills a step further can also mean adding search engine optimization (SEO) to your toolbox, precisely honing in on marketing analytics so that you can assess how well your content is performing on search engine result pages (SERPS) like Google and how well your audience is connecting with your content.
Careers that use content creation and management skills, along with average total pay (base salary and bonus) in the United States as of August 2022, according to Glassdoor, are: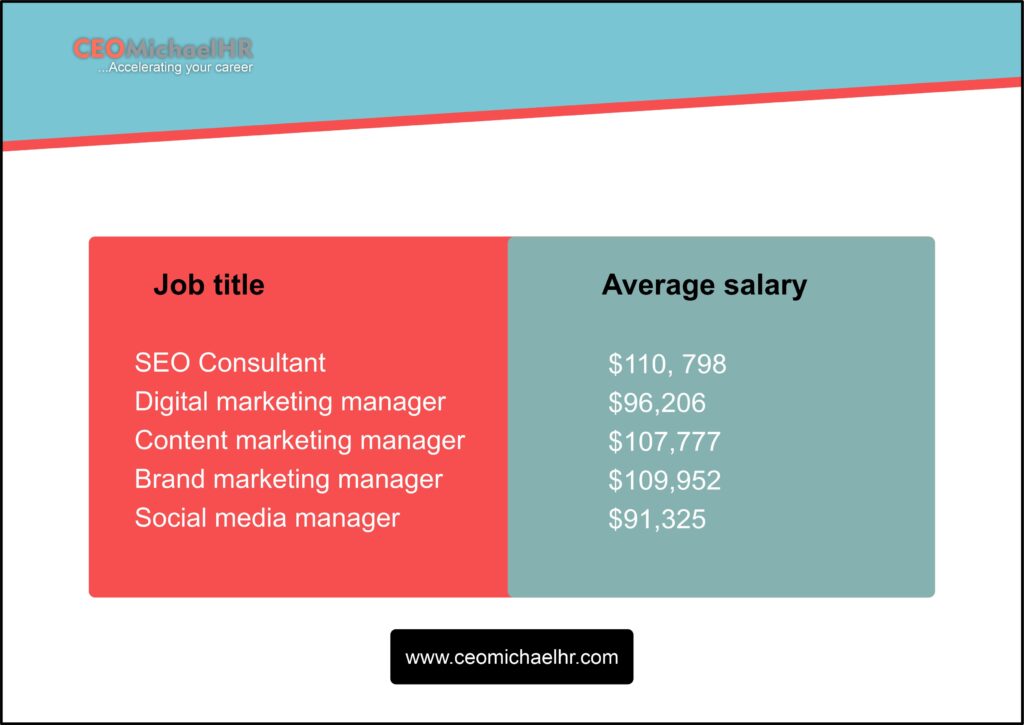 2. Software development
As industries are increasingly turning in the direction of technology to advance their business efficiency, they are actively seeking people skilled in developing, maintaining, and improving their tech systems.
Software developers are the brain behind web & app development. They demonstrate expertise in CSS, JavaScript, and other platforms like Joomla or Ruby on Rails.
These experts can build a website without a website builder like WordPress or Wix.
Skilled DevOps or software engineering experts may use tools like Git, Docker, Jenkins, or Kubernetes and may master coding languages like Python, Java, or C++.
You might like: 15 Key Skills To Put On a Resume Right Away
Careers that use software development skills, along with average total pay (base salary and bonus) in the United States as of August 2022, according to Glassdoor, are: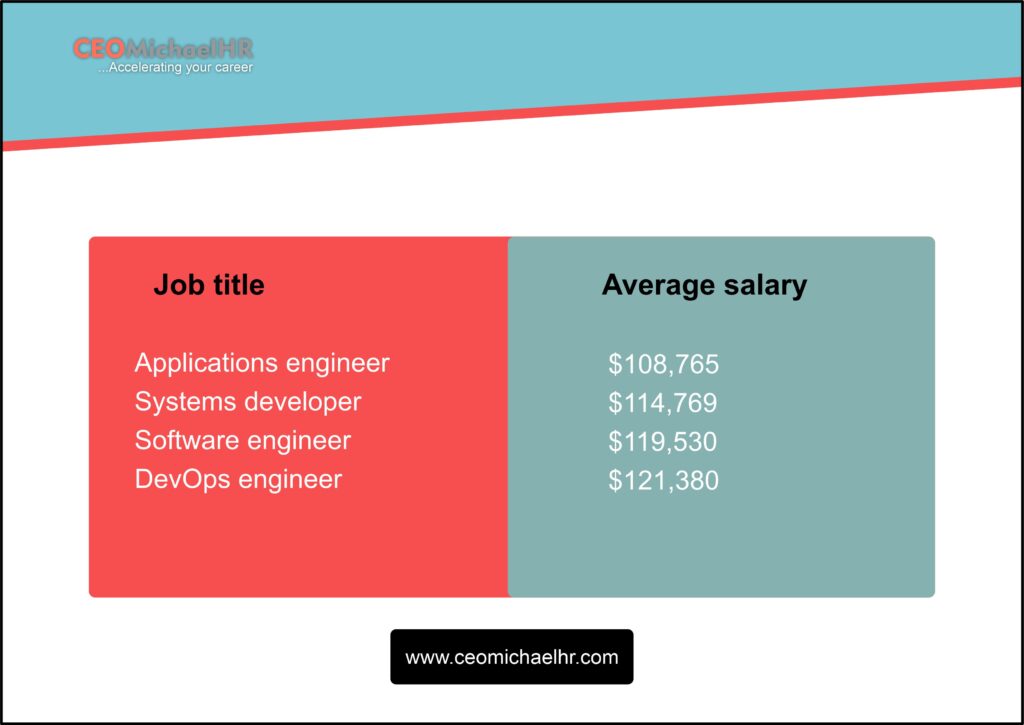 3. Project management
While getting a college degree in project management can take four years, more companies are moving away from traditionally educated candidates.
Recently Google announced grow.google offers certificates through Coursera for specific industries.
The Google Project Management Certificate helps people get started in the high-growth project management field under Google's direction.
Graduates learn how to manage products with the latest technology and methods.
Project management is a catch-all term for leadership, communication, planning, resilience, and organizational skills—all of which are frequently cited as valuable to employers.
Project management can be identified in many careers and becomes especially important as you move into managerial positions.
You might like: 15 Key Strengths to Put on a Resume Right Away
Careers that use project management skills, along with average total pay (base salary and bonus) in the United States as of August 2022, according to Glassdoor, are: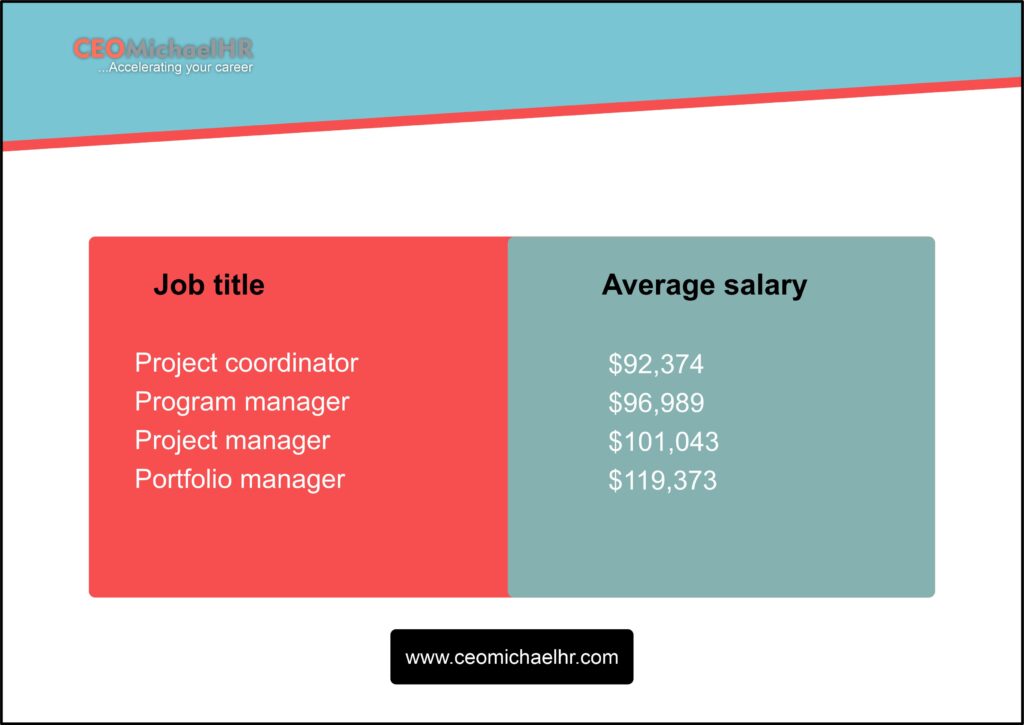 4. User experience (UX)
User experience (UX) works in compliance with technological development.
User experience refers to the way a consumer interacts with a product.
UX professionals identify the best way to present a product to consumers through research, designing, or helping market a product.
While they still involve data, UX positions are grounded in design and tend to offer room for creativity.
This high income skill requires a high level of social perceptiveness.
You might like: 32 Best Paying Jobs in Finance Consumer Services.
Careers that use UX skills, along with average total pay (base salary and bonus) in the United States as of August 2022, according to Glassdoor, are: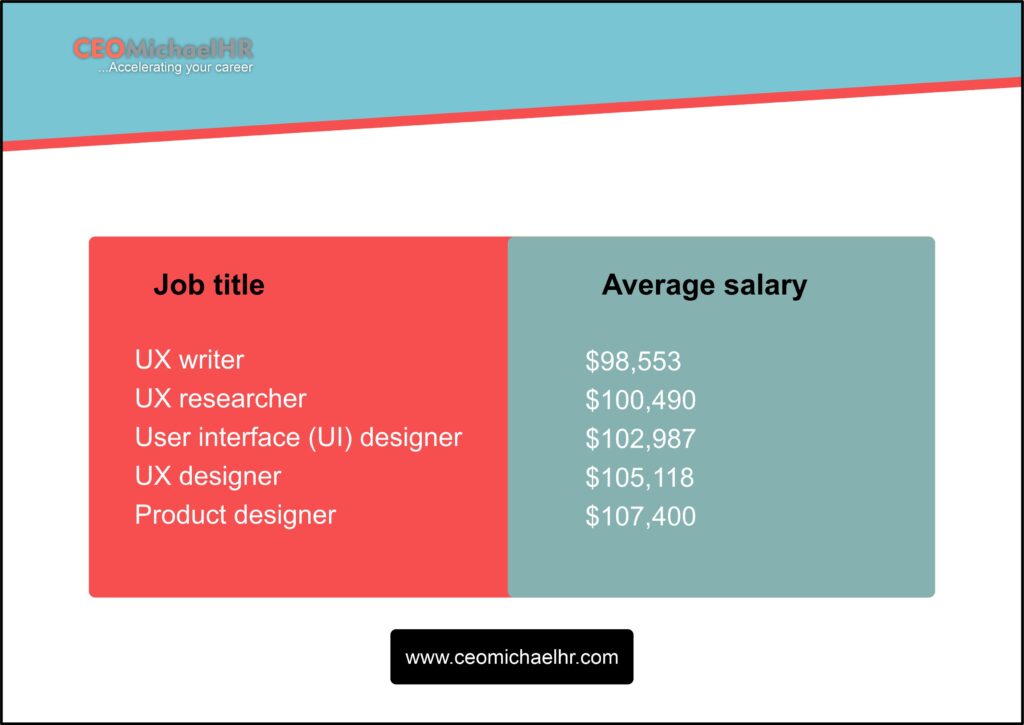 5. Blogging
Starting a blog is a low-cost way of sharing your knowledge while making money. You can make blogging a part or full-time hustle.
There is more advantage than a disadvantage to being a blogger.
Up to $100,000 per month can be made of blogging, like Melyssa Griffin or Michelle from Making Sense of Cents.
You can make money blogging through:
Affiliate marketing
Sponsored posts
Ads
Selling your services or products (like a course or ebook)

Starting a blog is relatively cheap, and you completely control your finances and time.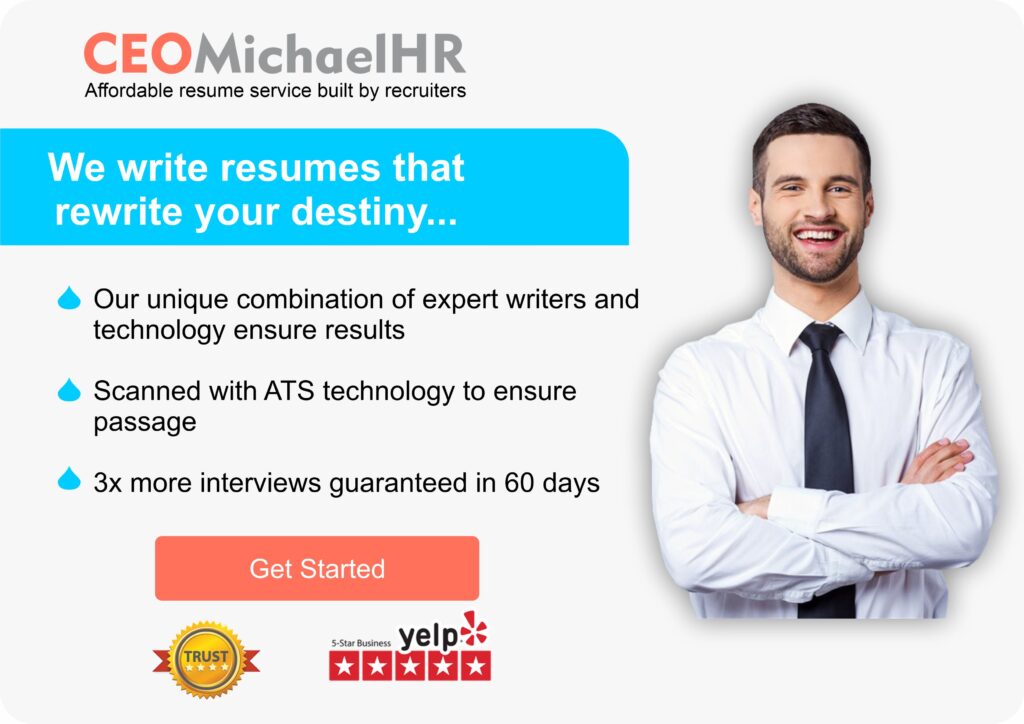 6. Copywriting
Copywriting is the last but not the least of the high income skills you can learn.
Copywriting is an in-demand skill sought after by the digital marketing world and outside.
When done correctly, copywriters can make hundreds of thousands of dollars.
The best copywriters are driven by the goal of writing words that get thousands of people to read every word they have to say.
Copywriters often want you to take a specific action. It can be anything from clicking on a link to signing up for a product to signing up for a webinar.
This is why they get paid so well.
Usually, copywriters receive a flat fee plus a commission based on sales, such as $5,000 plus 5% of sales.
Meaning when they make $1,000,000 in sales, they get paid $50,000 in commission.
You might like: The Predictive Index Test: (2023) Full Guide

3 Ways to Make Money with Your High Income Skills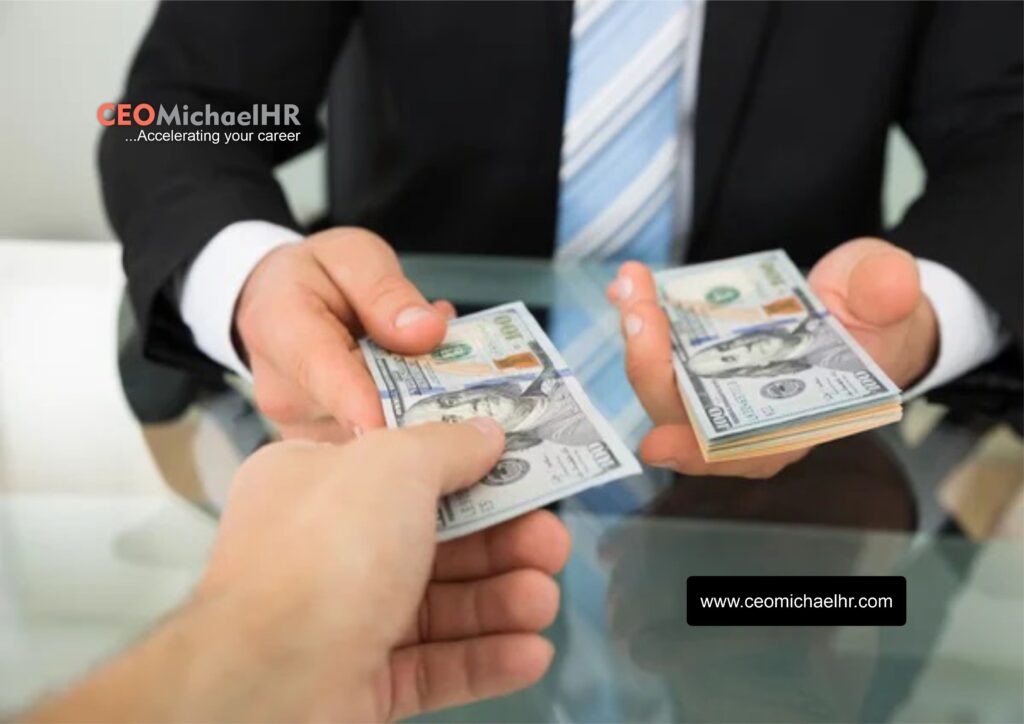 Now that you've gotten a hint of these high income skills worth learning, you may wonder how you can make money off these skills.
Below are 3 sure-fire ways to consider:

Freelancing
The most direct way to make money with your high-income skills is to start working as a freelancer.
Freelancing can help you bring in a relatively steady paycheck while working from home.
With freelancing, you are allowed the flexibility of working on weekends as a side job to earn an extra buck.
You can work your hours, work for multiple clients, and determine your working environment.
You also have the potential of making $1k in a week. Depending on your offering, it can be as high as $10k+ in a week.
If you want to begin your freelance career, platforms like Fiverr are great for using your high income skills to make money.

Make a course
Converting your knowledge into a course is a great way to make passive income from your high income skills.
However, it takes a lot of time to create and sell courses. This time is taken due to the process of making videos and worksheets for your audience to work through.
Creating a course can be highly profitable if you can invest the time.
You can use Teachable as a way to create your online course. They're simple, easy, and responsive, and I highly recommend them.

Write an eBook
Writing an eBook is a great way to build up some side hustle income.
You invest the time to write your eBook once and enjoy a lifetime profit.
Writing an eBook does cost upfront work, and it is worth putting in the effort.

Which High Income Skill is Best for the Future?
Many think they must possess specific technical skills, but those aren't always as important as soft skills.
Your communication skills have to be outstanding in this highly competitive job market.
You'll need to manage your time properly, demonstrate an excellent ability to collaborate with others and work within teams, and be flexible and adaptable.
You'll also need to understand how to deal with ambiguity and uncertainty.
You'll need to develop these soft skills to stand out to thrive in this environment where technology is advancing at a fast pace.

What Skills Can Make a Lot of Money?
An essential skill you need to become successful is communication skills.
Once you know how to communicate effectively, you can sell anything.
In addition to sales, the better your communication skill, the more likely you are to be sought out by others for high-paying roles.

What is the Easiest High Income Skill to Learn?
The easiest high-income skill to learn is how to make money online.
This is not rocket science. It requires keen understanding of how people use the web today.
The easiest ways to earn money online are by writing ebooks, creating web pages, and selling products.
These are just a few of the available methods.

Conclusion – High-Income Skills to Make Money
Are you at a junction where you feel like you're stuck in your career, especially having a degree that feels useless? Why not learn one of these in-demand skills and level up?
They'll help you define the value you offer in the marketplace and get paid more!
When you invest the time to level up your high-income skills, you can benefit from those skills and make a good income.
With these high-income skills, you are guaranteed financial security and flexibility in choosing your career path.
Start making money with high-income skills and break six figures annually within a short time frame.
Not sure where to place your newfound high-income skills on your resume? Engage with one of our Resume Experts to ensure the greatest impact!
Found this post helpful? Why not spread the word and give it a share?
Thank you, and good luck!